Counting down our top 25 players, events and moments of the past 12 months
By Golf Digest Editors
Not since 2001 has there been a year in which the golf world was so profoundly impacted by something "outside the ropes" as 2020 and the COVID-19 pandemic. From the moment late in the evening of Thursday, March 12, when a stunned Jay Monahan, commissioner of the PGA Tour, announced the cancellation of the Players Championship after just one round—the first of several similarly profound (and surreal) declarations from executives throughout the golf community in the days that followed—our sport has been shaken at every level. The saving grace of the coronavirus is that golf has been able to serve as a salve in so many ways for a general public longing for order and comfort and the familiar. Participation in the recreational game skyrocketed, golf becoming an outlet for those in need of distraction as it proved to be among the safer sports to play. And consumption of the competitive game increased as well, Monahan bringing back the PGA Tour in June, the LPGA and European Tours returning shortly after, the majority of the men's and women's majors played successfully at later dates, without fans but not without fanfare.
While the days run together during a pandemic, the calendar professes 2020 is coming to a close (finally!). Which means it's time to embark on our annual review of the last 12 months. As always, our "Newsmakers" package aims to revisit the year in golf and retell the stories that helped define the sport. In counting down the top 25 during the next several days, many entries have been directly touched by the spectre of COVID-19. But you also might be surprised at how many of our favourite people, events and moments rose above the pandemic and stood out for what they said about the individual or the group. As always there were a few clear choices—spoiler alert, Bryson DeChambeau is pretty high on our list—but also some characters who are less obvious yet, we think, no less worthy, once again, of our collective appreciation. —Ryan Herrington
• • •
No. 1: THE 'NEW' GOLFERS
Two decades ago, a golf boom was spurred by a magnetic young star named Tiger Woods and an expanding real estate market. The 2020 version, borne from a pandemic in which no one could do much else, was never part of anyone's grow-the-game strategy. But a year in which COVID-19 disrupted so much of life provided an unlikely opening for golf. According to the National Golf Foundation and Golf Datatech, there will be some 50 million more rounds played in 2020 than 2019, an increase partially attributed to good weather, but mostly the serendipitous ways golf fit a social distancing world. Those who couldn't go to work or the gym could still meet up with friends and play 9 or 18. Handshakes were replaced by elbow bumps and a whole new cottage industry arose in developing creative ways to safely extract a golf ball from the hole. Other than that, the game remained blessedly intact. While the year-end statistics point to an encouraging influx of new players—about 20 percent more beginners and junior players, respectively—the surge appears to have been driven more by core golfers who were simply afforded the chance to play more. Yet one could argue those of us who had played all along were still "new" golfers this year. Because we were suddenly around to play at Wednesday at 2. Because we stored our masks and our hand sanitiser in the same golf bag pocket as our keys. And because every trip to the golf course was a welcome refuge from a distressing new world. We might have always loved golf, but in 2020, we savoured it like never before. —Sam Weinman
• • •
No. 2: BRYSON DECHAMBEAU
Where do we begin? There's so much to talk about with Bryson DeChambeau that we created a separate list of 101 things that happened to him in 2020. But first and foremost, Bryson became one of the game's biggest stars. Literally. A process of putting on pounds that began in 2019 revved up even more during quarantine, and when DeChambeau returned, he was some 40 pounds heavier than the previous year. And the gains were apparent in places other than the scale. DeChambeau overpowered golf courses—and even driving ranges—in ways we hadn't quite seen before. The 27-year-old wound up leading the PGA Tour in driving distance in the 2019-'20 season and, more importantly, strokes gained/off the tee. But Bryson didn't just drive for show, he also putted for some serious dough by improving to a career-best 10th in strokes gained/putting. Not surprisingly, that dangerous combination eventually led to a pair of wins, first at the Rocket Mortgage Classic in July and then his maiden major title at the U.S. Open in September. Winged Foot's treacherous rough was supposed to be this golf zealot's kryptonite, but it proved to be no problem for mighty Bryson as he swatted driver after driver on his way to a dominant six-shot victory. And in doing so, he may have ushered in a new era in which extreme length isn't just an advantage, but a necessity. "What he's done in the gym has been incredible," Tiger Woods said at the Masters in November. "What he's done on the range and what he's done with his entire team to be able to optimize that one club [driver] and transform his game and the ability to hit the ball as far as he has and in as short a span as he has, it's never been done before." Beyond all the results, though, was Bryson's knack for creating buzz. From those booming drives to his crazy diet to an aggressive shirtless photo to run-ins with rules officials to continued run-ins with Brooks Koepka, DeChambeau was constantly in the news. And whether you're a fan or not, this overpowering and analytical golfer isn't going anywhere. In fact, there will undoubtedly be a lot more like him to follow. —Alex Myers
• • •
No. 3: GOLF'S STAKEHOLDERS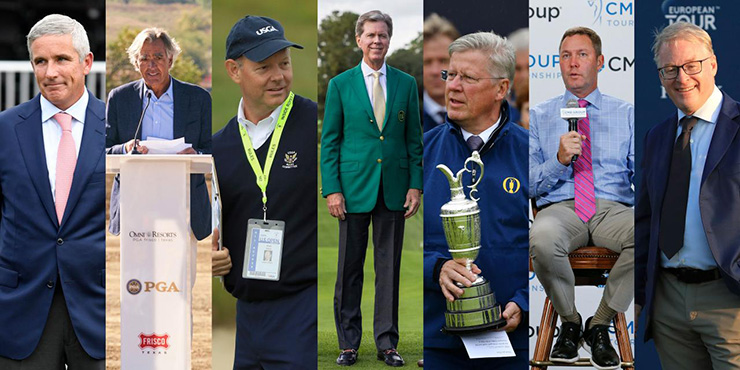 If golf were Gotham and every leader in the game had a red Bat Phone on the desk, the ringing would have been incessant on Thursday, March 12, 2020. In the hours after sunset that day, the PGA Tour decided it could no longer safely stage one of its prized events, the Players Championship, and shut it down after only one round. It was golf's COVID-19 reality check. The coronavirus wasn't going to be a mild inconvenience. It was going to rock our world at every turn, and the stakeholders in competitive golf would have to face it head-on. It was a daunting proposition, considering there are so many voices in the choir—the PGA Tour (led by Jay Monahan), PGA of America (Seth Waugh), USGA (Mike Davis), Augusta National (Fred Ridley), R&A (Martin Slumbers), LPGA (Mike Whan) and European Tour (Keith Pelley). They all have personal interests and agendas, with cumulative billions of dollars at stake. But in a fairly remarkable accomplishment, golf's presidents and CEOs and COOs and tournament directors—along with the medical community and the athletes themselves—glued the year's broken pieces back together into a one-of-a-kind mosaic. Recalling those manic moments of March and April, Slumbers, chief executive officer of the R&A, told Golf Digest, "In those 13 to 14 days, we covered ground that in normal time would have taken a year's worth of thinking." To be sure, there were sad casualties, the most wrenching being the Open Championship's cancellation for only the fourth time in its 149-year history. But golf also served as a model of cooperation and ingenuity. Prime example: The Ryder Cup was postponed to 2021 (as was Olympic golf), and the PGA Tour agreed to push back the Presidents Cup to 2022, thus permanently altering the rotation of the men's biennial events as well as the women's Solheim Cup. Also, the PGA Tour and European Tour came together late in the year to announce an unprecedented strategic alliance. The three other majors were shuffled around—the most jarring being the Masters' move from April to a display of fall colours, not flowers, in November. And while the PGA Tour lost 11 events due to the pandemic, it didn't cut the prize money and put together a COVID-19 protocol plan that proved to be one of the most successful in all of sports. The effects of the virus will be felt well into 2021, particularly with few or no fans in attendance in the early part of the schedule—a development that will further drain the coffers of tournaments around the country. Still, as the calendar turns, there is optimism, considering what already has been accomplished in the most trying of times. "I'm hopeful we're going to get through next year," Monahan said at the Tour Championship in September. "We're going to get back to normal fast, and that puts us in a position where we continue on the normal growth pattern that we're projected to be on this year, that unfortunately, we were not able to be on because of the events associated with COVID." —Tod Leonard
BONUS READ: Where do preparations stand for the men's majors and the Ryder Cup for 2021?
• • •
No. 4: DUSTIN JOHNSON
Peculiar as it seems in hindsight, Dustin Johnson was trending towards being somewhat of an afterthought halfway through 2020. Heading into the third tournament of the PGA Tour's restart, the Travelers Championship, Johnson owned a lone top 10 in a full-field tour stop over the past year, falling out of the top five in the World Rankings for the first time since 2016. To be fair, Johnson underwent arthroscopic knee surgery at the end of 2019 and showed hints of his former self in the early spring. And yet, as the sport has callously shown, there's always the possibility of not returning from the wilderness. As we now know, Johnson not only returned, he asserted himself, unequivocally, as the game's sheriff. The revival started in Connecticut, riding a hot Saturday into contention at TPC River Highlands and staying cool down the stretch for his first win in 16 months. He finished runner-up in August's PGA Championship, won The Northern Trust by a dominant 11 strokes, could have won the BMW Championship if not for a miraculous Jon Rahm putt in sudden death and captured his first FedEx Cup with a steady performance at East Lake. Even a bout with COVID couldn't slow down DJ, who returned from quarantine with a runner-up at the Houston Open in his first outing back. Alas, in spite of these accomplishments, Johnson's career continued to be defined for what it lacked. Specifically, more major titles to accompany his 2016 U.S. Open victory. He couldn't close out his 54-hole lead at the PGA, the fourth time he had failed to do so at a major, and after entering September's U.S. Open as an overwhelming favourite, he was never in contention at Winged Foot, his T-6 finish of the backdoor variety. The knock on Johnson, some asserted, was he could not rise to the moment, that the poise that worked so well at rank-and-file events needed giddy-up at the four championships that matter most. Those knocks were forever addressed in November. Johnson's 65-70-65 Masters start translated into a four-shot lead heading into the final day at Augusta National, and though his 54-hole advantage was nearly wiped away after five holes, Johnson answered when it mattered most. He kept the mistakes at bay, didn't flinch in tight spots and attacked when given the go-ahead in route to a tournament-record 20-under score to lap the field by five. In resounding fashion, with new wardrobe in tow, Johnson rewrote his legacy in 2020. And rather than wonder what might have been, the only question on Johnson is what he'll do next. —Joel Beall
RELATED: The highs and lows of Dustin Johnson's spectacular 2020
• • •
No. 5: A NOVEMBER MASTERS
If the first wave of tournament cancellations in pro golf due to the surging coronavirus stunned golf fans in March, the news from Georgia shortly thereafter landed like a punch to the stomach. A month before the 84th Masters was to be played, officials announced it was being postponed. Even Augusta National couldn't escape the wrath of COVID-19. On what would have been Monday of Masters week, there was more news: Golf's governing bodies released a joint statement outlining an unprecedented plan: a reshuffling of virtually every golf tournament of note, including a Masters in … gasp … November.  November?!? What will the course be like? (Softer). The weather? (Virtually the same). Will there be fans? (Nope). How would Augusta handle exemptions? (Sorry, Daniel Berger). What played out was a tradition unlike any other, unlike any other. Instead of marking the unofficial beginning of the golf season, the Masters marked the end. Instead of back-nine roars echoing through the pines and accompanying fist pumps, there were smatterings of applause and polite waves. Instead of fiery greens that force you to hit the ball high, there were soft putting surfaces that punished you for having too much spin. What resulted was a week of low scoring that broke plenty of records—most notably, the lowest cut in tournament history (even-par 144) and the lowest winning 72-hole score, courtesy of Dustin Johnson's 20-under 268. Of course, there were other stories, too. There was Bryson saying Augusta was a par 67 for him, only to lose a ball in fantastic fashion and never factor on the weekend. There was Tiger's title defense, which got off to a hot start then crashed and burned with a career-worst 10. And there was Johnson's runaway win, a performance that culminated a three-month stretch of dominant golf with a five-shot win that served as a much overdue victory lap for one of the best players of his generation. Still, maybe the most important legacy of the event was that it was played at all, much in the same way the PGA of America and USGA pulled off the PGA Championship and U.S. Open in their altered time slots. Long story short, Augusta National made the most of a bad situation, which is all anyone could have asked for in 2020. —Daniel Rapaport
RELATED: The major that never happened—The story behind the cancellation of the Open Championship
• • •
No. 6: DISTANCE DEBATE
The past year put a lot of things on hold, but the debate over distance in golf continued almost non-stop. In February, the USGA and R&A released their much-anticipated Distance Insights Report. The lengthy document, crafted after two years of research, offered this ominous language in the Conclusions section: "Golf will best thrive over the next decades and beyond if this continuing cycle of ever-increasing hitting distances and golf course lengths is brought to an end." Then COVID-19 hit and further "research topics" the governing bodies intended to explore were delayed until March 2021. Still, a lot happened to fuel the debate, Exhibit A: Bryson DeChambeau. It wasn't just his 400-yard drives but the discussion surrounding them. Colin Montgomerie got so freaked out by what DeChambeau was doing at the tour's re-start at Colonial he stated he was in favour of a tournament ball for professionals that went 80 to 85 percent of the current ball. That's a position long held by Jack Nicklaus, who spoke up again when the tour visited his Muirfield Village in July, telling Golf Channel, "The USGA and the R&A have got to wake up sooner or later. Guys, stop studying it and do something!" Doing something, however, comes with potential risks. DeChambeau off the tee became must-see TV, particularly after his once-questioned methods resulted in a six-stroke U.S. Open victory. Others, such as Rory McIlroy, started pondering swinging for the fences, posting ball-speed and carry-distance numbers on social media. Then there was Collin Morikawa's memorable driving of the green to within seven feet on the par-4 16th hole at TPC Harding Park in the final round of the PGA Championship. Distance sells, and there appears to be no reason for the PGA Tour to want less of it. The governing bodies, however, seem to remain steadfast that something must be done. On Dec. 4, the USGA sent a release regarding the association's commitment to charting a sustainable future for golf courses in collaboration with other stakeholders in the game. Included was language that could be construed as not only pro-rollback for everyone, not just the professionals. "As owners feel the pressure to lengthen courses, they face significant capital expenditures and larger areas to maintain, which have contributed to an average increase of 6.7 percent in maintenance costs." The takeaway? The rhetoric will continue and don't expect this nearly 20-year debate to end anytime soon. Stay tuned. —E. Michael Johnson
BONUS READ: Professional golf witnessed first-hand the power of evolution in 2020
• • •
No. 7: GOLF VOICES FOR SOCIAL CHANGE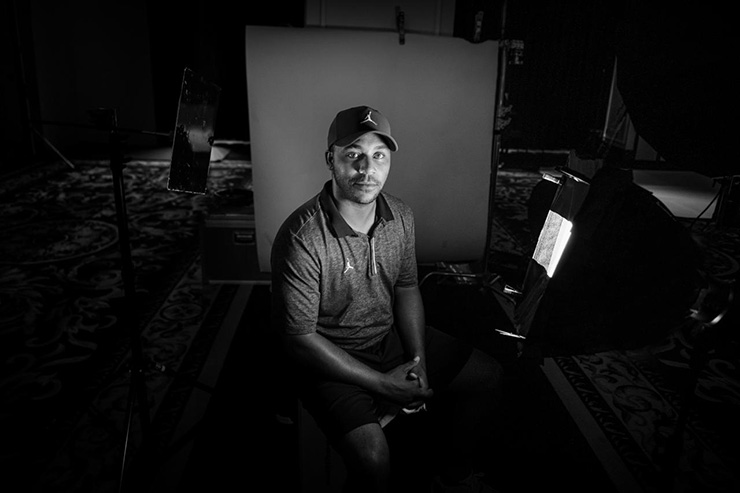 Golf is often measured in its reaction to social matters, and from afar it may seem that the game was muted in its response to the protests of racial injustice across America in 2020. Yet golf was far from silent. Long Drive champ Maurice Allen penned a moving letter about being Black in a mostly white sport. "Golf is supposed to be an accountable sport. You hit a bad shot, that's on you. You break a rule, you call it on yourself. Stop making excuses or guessing someone's intention," Allen wrote. "Start using that same accountability you apply to golf to racism, sexism and injustice." Kirk Triplett, who is a white man with a Black son, became the first player to brandish the Black Lives Matter logo on a PGA Tour circuit. "Look, golfers are great with charity, and on the whole are socially conscious," Triplett told Golf Digest. "But the game never crosses the line into some of the more uncomfortable stuff. Well, this is an uncomfortable time, and we can't ignore it." Cameron Champ, one of just four players with Black heritage on tour, followed with his support of BLM and backed up his actions by establishing scholarships at Prairie View, a HBCU in Texas. Augusta National named Lee Elder an Honorary Starter at the 2021 Masters, and announced it will fund golf programs at nearby Paine College. The latest rendition of The Match played the day after Thanksgiving had the proceeds—more than $5 million—also go to historically black colleges and universities. And then there is Harold Varner III. Days before the PGA Tour's restart at Colonial, Varner spoke of his experiences with inequality. The message was eloquent and passionate, offered perspective and understanding. Then the most remarkable thing happened. Varner, at a juncture where the lines of sport and society are blurred, contended at Colonial. He ultimately did not win the event; didn't even finish top 10. But with his words and resolve, with a performance that can only be measured against the pain and uncertainty and fear we all face, Varner showed us the best that golf can be. —Joel Beall
RELATED: Maurice Allen—Being Black in a white sport
• • •
No. 8: PHIL MICKELSON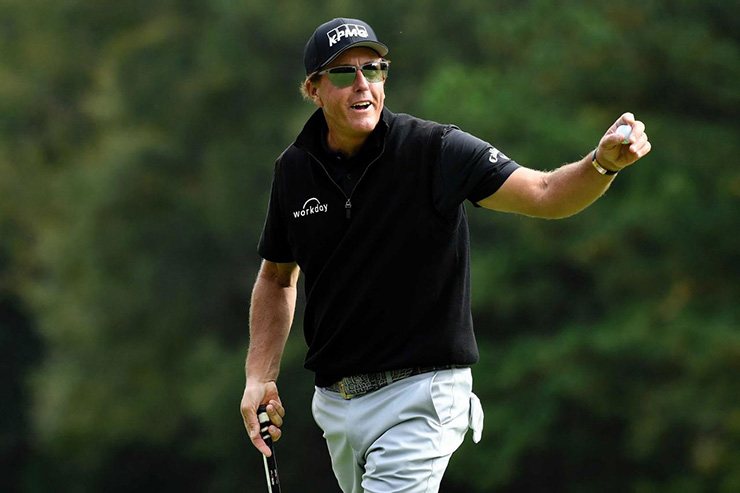 It's been one of pro golf's favourite parlour games for years: What will Phil do next? Trying to anticipate the mercurial Phil Mickelson's next move is a bit like playing charades blindfolded, and there was at least the usual number of questions surrounding Lefty in 2020—most notably because he celebrated his 50th birthday in June. That opened up the possibility of Mickelson venturing onto the PGA Tour Champions for the first time. Phil was coy about it the season's outset, saying he wanted to focus on the regular tour. But after a pretty lacklustre effort before and after the COVID-19 shutdown (the only highlight was a solo third at his personal playground, Pebble Beach), Mickelson decided the time was right in late August for his senior bow. And boy was it a show. In the Charles Schwab Series at Ozarks National, Phil drained 11 birdies and shot 61 in the first round and then cruised to a wire-to-wire victory at 22 under for 54 holes. Tiger Woods' reaction? "There's no reason he can't win every time he plays out there." To prove that plausible, Mickelson played on the Champions again in mid-October in the Dominion Energy Charity Classic—and won again. Feasting on wide fairways and benign pin placements, Lefty is 2-for-2. Now about still competing with the youngsters … that's becoming a bit more daunting. Mickelson has posted only two top 10s in his last 21 starts on the PGA Tour. Probably more disappointing was never being a factor in trying to pad his resume of five major victories. In 2020, Phil tied for 71st in the PGA Championship, started the U.S. Open with a 79 to miss the cut, and had no chance on Sunday in the Masters after a third-round 79. Boasting that his swing speed is better than ever, any power gain has been erased by erratic play in virtually every asset. For the 2019-'20 season, Mickelson was better than 75th in only one of the tour's important strokes-gained categories (around the green). He was poor with his irons (129th, strokes gained/approach) and putter (124th, strokes gained/putting). He's going to have to get a lot better to contend very often on the big tour. So, what will Phil do now? Here's betting he beats up more on the graybeards and picks his spots with the kids. —Tod Leonard
RELATED: Our 50 favourite 'Phil being Phil' moments
• • •
No. 9: TIGER WOODS
That Tiger Woods occupies real estate on this list is a testament to his star power, because he did really very little of note on the golf course in 2020. He played in just nine tournaments and managed one finish better than T-37. He was not a factor in any of the three majors, and he putted miserably. And yet he still commands the attention of the entire golf world in a way no one else can. He began the year ranked No. 6 in the World Rankings and now sits at No. 38, but his status as the game's biggest star has not diminished. And it's still not close. As for his golf, as we mentioned, it was a year to forget. He started 2020 well enough, with a T-9 at Torrey Pines. That would prove to be his only top 10. And yet he still did stuff, and people still cared. In no particular order: He sent the golf world into a panic when he pulled out of the Players Championship with a sore back; He, Phil Mickelson, Peyton Manning and Tom Brady produced a highly entertaining trash-talk fest (The Match 2) during the height of the sport-less wasteland; all eyes turned to him to make a statement on the killing of George Floyd, which he did; he opened his first public course design, Payne's Valley, with another well-received exhibition in Missouri; he gave fans an early Christmas present by announcing he'd play in the PNC Championship this week with his son; and he made a 10 on Sunday at the Masters, the worst score of his professional career. It was, however, the response to that 10 that warrants optimism for 2021. Directly after failing as he never has before, Woods did something he's also never done before: birdie five of his final six holes at Augusta National. It was a reminder of Woods' fighting spirit, of his total and complete unwillingness to pack it in. Sure, this was a down year on the golf course. But he's trudged through way worse and still managed to climb back to the mountaintop. What lies ahead in 2021 is anyone's guess, but one thing is for certain: We'll be watching his every move. —Daniel Rapaport
BONUS READ: What's 2021 look like for Tiger?
• • •
No. 10: SOPHIA POPOV
There isn't a story from 2020 that more exemplifies why we love sports than Sophia Popov's win at the AIG Women's British Open. A player no one had ever heard of, who wasn't a member of the LPGA Tour, who was on the cusp of quitting the game a year ago, who struggled with weight loss and other complications as she battled Lyme disease for years, plays her way to a two-shot win over the best players in the world. It's hard not to root for that story every time. Popov wasn't even supposed to be in the field at Royal Troon. The 27-year-old had been bouncing around tours since graduating from USC in 2014. She lost her LPGA Tour card in 2019 and was going to be spending 2020 on the Symetra Tour—likely 2021, too, once the pandemic hit, limiting the number of spots Symetra Tour graduates would get on the LPGA Tour for 2021. But LPGA Tour players not wanting to travel during the pandemic opened up some extra spots in the early tournaments when play resumed. Popov caddied in the first event back and then got a start the next week at the Marathon LPGA Classic. She took full advantage, finishing T-9. It was enough to get her into the field at Royal Troon. With her boyfriend on the bag, she started out with a 70, good enough for T-2. At that point, she was just a name near the lead no one had really heard of, the kind of player who has one good round in a major and then falls away. But Popov didn't go away. She shot 72 on Friday, staying in the T-2 position. A 67 on Saturday gave her a three-shot lead. She remained unflappable on Sunday, winning by two to become the first German woman to win a major championship. She also earned full LPGA Tour status. No more Symetra Tour events, no more considering giving up all together. Popov had finally, officially arrived. —Keely Levins
• • •
No. 11: PREMIER GOLF LEAGUE
The idea of a world golf circuit to combat the PGA Tour is far from new. Yet few proposed competitors have generated as much interest and curiosity as the Premier Golf League. Tracking its roots to 2014, the PGL's blueprint., revealed publicly in January, is a league with 48 players divided into 12 teams—which players owning a share of said teams—competing in 18 no-cut, 54-hole events. It boasts shotgun starts (so an entire round could be compacted into a five-hour broadcast) and a team-only finale, with 10 of the tournaments set for the United States. And money. Lots of money—$240 million in prizes, to be exact. A sum the PGL hopes will pry the sport's superstars to its pastures. However, most of the game's marquee, in-their-prime attractions (including Rory McIlroy, Jon Rahm and Brooks Koepka) have thus far distanced themselves from the PGL, with the strongest rebuke coming from McIlroy, who said he "didn't really like where the money was coming from," a nod to the PGL's alleged Saudi backers. Some big names, though, sounded curious. Phil Mickelson played with PGL financers in January and said the concept was "intriguing." The recent alliance between the PGA and European Tours added another obstacle for the fledgeling league, as the PGL had sought a partnership with the Old World circuit. Despite an inauspicious rollout, the PGL remains, as Mickelson said, an intriguing—and in the eyes of the PGA and European Tours, formidable—concept, one fan could be hearing more about in the coming months. —Joel Beall
• • •
No. 12: COLLIN MORIKAWA
In football, pundits often debate whether a quarterback is ready to make "the leap"—loosely defined as the progression from promising up-and-comer to bona fide franchise player. Ideally it happens in the QB's second year in the league, after he's had one full season and offseason under his belt. Extrapolated to golf, Collin Morikawa followed the timeline perfectly. The former world No. 1 amateur who graduated from Cal-Berkeley in May 2019 hit the ground running, going T-2/T-4/WIN in his fourth, fifth and sixth starts as a professional. That firmly established him as one of golf's most promising young players, as did making 22 straight cuts to start his career (three shy of Tiger Woods' record). That put Morikawa at 44th in the World Ranking when the COVID-19 pandemic halted play in March. Come June, however, when the season resumed—13 months after he turned pro—Morikawa kicked it into an entirely different gear. A shoved three-footer saw him lose in a playoff in the first event back, the Charles Schwab Challenge, and the nightmare nearly repeated itself three starts later at the Workday Charity Open at Muirfield Village. But that par putt on the 72nd hole lipped in, rather than out, and he beat Justin Thomas in one of the more entertaining mano-y-manos you'll ever see: Thomas holed a 50-footer for birdie on the first extra hole before Morikawa punched back with a 24-footer of his own, then won it with a par on the next. The true breakthrough came a month later at TPC Harding Park, a short cruise across the Bay from his college stomping grounds. On a typically gray San Francisco Sunday afternoon, Morikawa emerged from a seven-deep pack of contenders at the PGA Championship with a chip-in for birdie on 14 and an eagle for the ages on the par-4 16th, where his tee shot finished seven feet from the cup and he finally sunk an important putt right in the heart. Two closing pars gave him the Wanamaker—and gave golf its newest superstar. —Daniel Rapaport
• • •
No. 13: THE PGA TOUR CHAMPIONS
What began as a year focused largely on PGA Tour Champions perennial headliner Bernhard Langer and his assault on Hale Irwin's record 45 career senior victories quickly made way to a new and "younger" storyline: the tour's impressive 2020 rookie class. Five golfers playing in their first year on the senior circuit won eight titles in the 14 events contested during the COVID-interrupted year. The headliners were names familiar to golf fans. Ernie Els, in just his third senior start took the title at the Hoag Classic in March, the first of two wins that the four-time major winner would collect. As Jim Furyk turned 50 in May, the tour was still in its COVID-19 hiatus, but when play resumed at the Ally Challenge in July, the 2003 U.S. Open champ won in his senior debut. He also won his next start, the PURE Insurance Championship at Pebble Beach. Meanwhile, Phil Mickelson, who sounded hesitant to join the seniors at first, chose to play the Charles Schwab Series in his debut in July, opened with a 61 and cruised to a four-stroke win. Two months later, he entered the Dominion Energy Charity Classic and won it, too. Impressively, the two other rookie winners, Brett Quigley and Shane Bertsch, also were quick senior studies, each winning in just their second career starts. Suffice it to say, the fivesome helped bring a new energy to the 50-and-older circuit, as did the emergence of former major winner Darren Clarke (who claimed his first senior title in the fall) and the continued success of the coolest senior around, Miguel Angel Jimenez. And, of course, there was Langer, who at 63 grabbed his 41st PGA Tour Champions win, and finished in the top 10 in 12 of 15 starts. —John Strege
RELATED: How the PGA Tour Champions became competitive again
• • •
No. 14: RORY MCILROY
"A game of two halves" may be one of soccer's hoariest cliches, but it is an apt description of Rory McIlroy's play during the 2019-'20 season and beyond. Between October 2019 and March 2020, the now 31-year-old Northern Irishman won once (WGC-HSBC Champions) and was never out of the top five in seven consecutive PGA Tour appearances. But when the tour returned after the COVID-19 lockdown in June, that high level of consistency was gone. In his next nine starts, McIlroy's T-8 finish at the season-ending Tour Championship was his only top 10 and his distinction as World No. 1 was no more. Meanwhile, the 2020-'21 season, so far, ranks somewhere between those two extremes. Four appearances contained a T-8 at the U.S. Open and a T-5 at the Masters. Good obviously, but not even McIlroy's biggest fan would claim he was ever in serious contention to win either. So what to make of it all? In a recent interview, McIlroy—who also became a new father to daughter Poppy, born Aug. 31—gave himself a "C" grade for his play. "I think any year you don't win a tournament is a disappointment, and that's why this year is disappointing," McIlroy said, acknowledging once more his struggle getting comfortable with fanless tournaments. "It maybe took me longer to adjust to it than some other people. Every time I went out there for the first few weeks it felt like a practice round, like it didn't matter." Still, the world of golf is trending upward. A virus vaccine is reportedly on the way, and the return of crowds could follow. If the ever-inspirational McIlroy follows that same direction, it would hardly be a surprise to see a fifth major victory—and the first since 2014—added to his resume in 2021. Then again, maybe he won't do anything of the sort. As 2020 has illustrated, with Rory you never quite know anything for certain. —John Huggan
• • •
No. 15: CHARITY GOLF EVENTS
Hit-n-giggle events have historically been specks of dust in the golf galaxy. They featured big names and bigger money but the stakes never matter, if they were even remembered to begin with. Their existence was derided as the sport's "silly season." But in 2020, these matches moved from the game's fringes to centre stage. Rather than line the pockets of the rich, a series of high-profile exhibitions generated millions for charities and food banks and HBCUs in a time when every dollar counts. And if these events were just charity generators, that would be well and good. Yet they were entertaining, all in their own rights. Through the TaylorMade Driving Relief charity event fans got their first glimpse of the uber-private Seminole Golf Club. Charles Barkley showed his infamous swing had drastically improved during a Thanksgiving showdown with Peyton Manning, Steph Curry and Phil Mickelson. Speaking of Mickelson … well, he did a bunch of Phil Mickelson things in both two iterations of "The Match." Fans got to watch him stomp around with Tiger Woods, Tom Brady and Peyton Manning (above) at Woods' home course, and the PGA Tour's weekly nine-hole Wednesday games showed us the personalities of players not normally given the spotlight. And while the stakes remained low, they sure felt high. A sentiment best encapsulated by Brady at "The Match II" at Medalist. The Buccaneers quarterback was exposed as a sandbagger, received an ungodly amount of schadenfreude from his competitors and broadcast and social media, and he ripped his pants in the one nanosecond where things weren't going wrong. Yet his hole-out for eagle the first "Oh-My-Did-You-See-That?!?!!" sports moment since the world shut down in March. Yes, it was a golf exhibition. In the best possible connotation. —Joel Beall
• • •
No. 16: BROOKS KOEPKA
There's a bluntness to the way Brooks Koepka plays golf, or at least to the force that he delivers to a golf ball. His words aren't much different either, so when asked recently to sum up his year, he cut right to it: "I don't know if I could say that without getting fined. Pretty bad." Such is the standard for a player who won four majors in just less than two years and began 2020 as the No. 1 player in the world only to go winless and dip to 12th, his lowest ranking since 2017. On one hand, it was a disjointed season—pun intended—as the 30-year-old missed two months, including the U.S. Open in September, because of lingering knee and hip issues that also sidelined him for three months in 2019. On the other, his ego wrote some checks his game couldn't cash, most notably in August at the PGA Championship, where he entered the final round at Harding Park tied for second just two strokes off the lead of Dustin Johnson. Koepka proceeded to offer a dismissive assessment of Johnson and the other contenders, then promptly imploded with a Sunday 74 to tumble to a T-29. He also missed more cuts in 2020 (five) than he had in the previous two years combined (three), had just four top 10s (the fewest in a calendar year of his career) and seemed at times to have trouble adjusting to the lack of buzz without fans in attendance because of the COVID-19 pandemic. Then there was his continued trolling of Bryson DeChambeau over everything from ants, to slow play, to more serious insinuations over DeChambeau's newfound bulk. On the bright side, there was a T-7 at the Masters. On the brighter side, 2020 is in the rear-view mirror. —Brian Wacker
• • •
No. 17: DANIELLE KANG
When the LPGA Tour returned on July 31 after having not competed since February due to the COVID-19 pandemic, there was no way of knowing how players' games would come out of the long hiatus. Danielle Kang, however, made the state of her game immediately clear when she won the first two events, and emphatically put her stamp on the 2020 season. After taking the title at the LPGA Drive On Championship at Inverness Club by one shot over Celine Boutier, Kang gave credit to her coach, Butch Harmon, saying they spent the time off back in Las Vegas working on her 3-wood and wedge game. "Butch was the mastermind behind it," Kang said. "He knew exactly what I needed to accomplish and work on, and I had the time." Another one-shot win the next week, this time over Lydia Ko at the Marathon LPGA Classic, made it five career victories and bragging rights over her boyfriend, PGA Tour pro Maverick McNealy. Kang remained one of the tour's top guns through the rest of the year, finishing top 12 in four other starts and moving up to fourth in the Rolex Women's Rankings. Always a fiery competitor—she picked up the game at age 12 and 18 months later had qualified for the U.S. Women's Open—Kang is clearing living up to her potential. With the season's two biggest events still to come—this week's U.S. Women's Open and next week's CME Group Tour Championship—the 28-year-old California native has the chance to become the first American since Stacy Lewis in 2014 to win LPGA player-of-the-year honours.—Keely Levins
• • •
No. 18: GOLF & GAMBLING
Once a back-room taboo topic, the legalization of sports betting continues to transform how we watch our favourite games, golf included. In 2020, golf broadcasts—notably the PGA Tour's live digital streams and Golf Channel's coverage—began showing and discussing odds. Made-for-TV exhibitions such as The Match 2 and The Match 3, the TaylorMade Driving Relief Skins Game and the Payne's Valley Cup at Big Cedar Lodge all included heavy integrations with major sports-betting companies. It might've been a bit bizarre for some to hear announcers talking about who to bet on during a telecast, but given how momentum is shifting, it's a sign of things to come. Consider that when the PGA Tour returned to action in June at the Charles Schwab Challenge, that first tournament was the most-bet tour event in DraftKings history. So what's next? Prepare to see the PGA Tour continue to embrace the industry, including its partnership with IMG Arena, which will release a live-betting product in the 19 states where legal sports betting is available (with more states to come). The tour's partnerships with most of the major betting operators will allow it to try almost anything it wants—notably develop new products and TV integrations to continue to engage their audience. There is a massive shift in behaviour—and a way to encourage non-golfers but fantasy golf players or bettors to be watching golf. It might not be the method many envisioned when they talked about growing the game decades ago, but it's already happening. —Stephen Hennessey
• • •
No. 19: WILL ZALATORIS
What if we told you the most consistent men's golfer in the world didn't earn status on the PGA Tour in 2020 until November? Such was the case with Will Zalatoris, a former All-American at Wake Forest, who picked the wrong year to light up the Korn Ferry Tour. A record stretch of 11 consecutive top-20 finishes on the developmental circuit, including a first pro win at the TPC Colorado Championship in July, was enough to easily finish first on the money list. But thanks to COVID-19, Korn Ferry Tour players will have to wait until the end of the 2021 season to earn PGA Tour cards. The good news for Zalatoris? The Plano, Texas, native kept his hot play going in the limited opportunities he got in the bigs, most notably a T-6 at the U.S. Open. The 24-year-old's form was so strong by the time fall came around he was even made the betting favourite at the PGA Tour's Bermuda Championship. Zalatoris didn't win that week, but a T-16 was enough to earn Special Temporary Member status on the PGA Tour. In other words, we're betting you hear a lot more about him in 2021. —Alex Myers
BONUS READ: The best things for golfers to come out of the pandemic
• • •
No. 20: PUSH CARTS
Golf not only became the "it" participation sport during COVID-19, but walking the course came back in a big way. With golf carts a non-starter in most parts of the country during the early months of the pandemic, golfers who loathed the thought of lugging their bag looked to push carts as a viable alternative. Even pro golfers got into the act; LPGA up-and-comer Lindsey Weaver used one when the tour resumed play in lieu of a local caddie, including at the AIG Women's British Open at Troon. It all resulted in a sales explosion in the category, a scarcity of supply and, eventually, price gouging on the secondary market with some non-motorized pushcarts going for close to $1,000 on some auction sites. Sun Mountain, a leading producer of push carts, ramped up production 250 percent—and still couldn't keep up with demand, its pre-sales pushing availability out some three months during the summer. Results were predictably strong at retail as well. Ken Morton Jr., VP of retail & marketing at the Haggin Oaks golf facility in Sacramento, Calif., said the push-cart boom remains strong, with sales in August-September more than double the norm. "And that's virtual without any inventory," Morton said. "Everything we get in from the manufacturers is gone within a day or two of it arriving. At one point, we had a waitlist nearly 100 customers long." Although 2021 will see demand for push carts slow somewhat, it likely will still far exceed pre-COVID levels. Golfers have not only grown used to hoofing it, but many have found they prefer the walk—as long as the bag stays off the shoulder. —E. Michael Johnson
• • •
No. 21: NICK WATNEY
When the PGA Tour resumed its season in June with the COVID-19 pandemic ongoing, there were those who figured it wasn't a matter of if a player would test positive for coronavirus but when. Unlike the NBA, which locked down its league in Orlando, the tour would be playing tournaments at courses around the country, with players, caddies and officials going in and out of "the bubble" each week. And while 40-plus pages worth of safety protocols were in place, they would only go so far. So when Nick Watney tested positive during the second tournament back, the RBC Heritage on Hilton Head Island, the surprise wasn't so much that it happened but who it happened to first. The 39-year-old tour veteran with a wife and two kids had the reputation of being a rule follower. "At the time it was extremely surreal because I felt like I had followed all the suggested protocols," Watney told Golf Digest last week. Thankfully, the five-time tour winner experienced only mild symptoms and returned to play three weeks later. Unfortunately, the rest of 2020 was a struggle, with eight missed cuts in his 10 remaining starts. The tour, meanwhile, played on, confident its plan could limit exposure and keep other players safe. And, indeed, it did. While there were more positive tests among players, compared to other sports (notably the NFL and college football), the numbers were relatively low: 15 in total over a span of 17 tournaments and thousands of tests administered. Watney's place in history remains, but thankfully it isn't all that infamous. —Brian Wacker
BONUS READ: The first PGA Tour pro to test positive for COVID-19 reflects on his surreal experience
• • •
No. 22: SHEEP RANCH
Like the age-old gifting question, What do you get the person who already has everything?, it's difficult to envision what could possibly make Bandon Dunes better. The golf world received the answer this year: Sheep Ranch, which opened in June and earned Golf Digest's Best New Course honours for 2020. The trick to enhancing a golf destination that seems to offer everything—including four courses currently ranked among Golf Digest's America's 100 Greatest Courses—is to make any new addition distinct. Sheep Ranch accomplishes that by playing across a property that's unlike anything else on site—a broad, open plain of seaside bluffs to the north of Old Macdonald. Where Bandon's other courses dip in and out of sandy dunes and forests, Sheep Ranch fans across a mostly naked and ferociously windswept expanse that used to be home to a rustic and secretive 13-green course of the same name. The task for architects Bill Coore and Ben Crenshaw was to find a way to assemble, in limited space, 18 holes that were broad enough to handle balls that would be blowing in all directions. In doing this they were also able to locate a remarkable nine greens along a majestic run of Pacific Ocean bluffs. Sheep Ranch is a gorgeous, bouncy course with its own look and playing characteristics, giving guests a different kind of golf experience and travellers yet another compelling reason to make the trek to southwest Oregon. —Derek Duncan
• • •
No. 23: PAUL AZINGER
It's hard to believe now, but in a pre-COVID world the most-heated debate—at least, in the golf world—stemmed from Zinger's zinger at Tommy Fleetwood during the final round of the Honda Classic in March. For a moment, the NBC commentator sounded more like an American Ryder Cup captain trying to fire up his squad when he said, "These guys know, you can win all you want on that European Tour or in the international game and all that," Azinger said, "but you have to win on the PGA Tour." More than what Azinger said, though, was how he said it. Many European players from Ian Poulter to Lee Westwood rightfully found the words condescending, particularly the line, "that European Tour." To be fair to Azinger, though, even Fleetwood acknowledged the importance of winning in America. And whether it was the pressure of doing so or not, his chances of doing so disappeared when his second shot found the water on the par-5 18th at PGA National. In any event, Fleetwood enters 2021 still in search of a win on U.S. soil, and Azinger remains in the 18th tower for NBC. At the very least, like his predecessor Johnny Miller, Azinger seems to get golf fans—and golfers—talking. —Alex Myers
• • •
No. 24: HOODIES
Like seemingly every controversy in golf, the heated debate that centred around the acceptability of wearing hooded sweatshirts—aka Hoodies—during a golf tournament was manufactured on social media. While well-known players like Tony Finau, Justin Thomas and Rory McIlroy had worn them in competition before, HoodieGate didn't really "explode" until Tyrrell Hatton won the European Tour's BMW PGA Championship in September wearing one. And by "explode," we mean a handful of folks with 26 Twitter followers were upset with Hatton's Bill Belichick-ian look at Wentworth. Nevertheless, the debate persisted, becoming less of a Hoodie-specific controversy and more of a diatribe on proper golf attire in general. One English golf club doubled down on its no-hoodie rule after Hatton's victory. Ewan Porter, a former tour pro, told the story of being kicked out of an Australia golf club for wearing black socks. These two situations had many up in arms over golf's outdated "dress code," the argument being that if we want to grow the game, forcing people to abide by archaic rules ain't the way to go. One thing is clear: There is still a divide regarding golf's dress-code debates, be it on social media or behind the closed gates of an exclusive club. —Christopher Powers
• • •
No. 25: MIKE DAVIS
Mike Davis soon will break new ground as he segues into a career in golf course architecture with partner Tom Fazio II. Of course, many would argue—some saying for the better and, yes, more than a few for the worse—that Davis, 55, has been doing that for years during his tenure at the USGA, which will come to a close at the end of 2021. Davis said in September that he'll be stepping down as CEO of the organization where he's worked since 1990 and been in charge since 2011, leaving to pursue his first love, because, he said, "I'm closer to 60 than I am 50, and there was almost a sense that if I don't do this, I'm going to regret it." During his tenure, Davis oversaw, among many initiatives, the modernization of the Rules of Golf, the launch of the World Handicap System, the creation of the USGA Foundation, the debut of four new championships and plans for a second USGA headquarters in Pinehurst, N.C. He also, with mixed results, took the U.S. Open in a different direction with the selection of new courses like Chambers Bay and Erin Hills, and with the setup of old standbys like Winged Foot, Oakmont and Shinnecock Hills that featured graduated rough and multiple teeing grounds. Critics harped on tests that were either too easy (Erin Hills) or too tricked up (Shinnecock Hills) or simply not of true U.S. Open character (Chambers Bay). In the end, however, he put his stamp on the association, and though he said, "I hate the idea of leaving," he nevertheless leaves as he served—on his own terms. —Dave Shedloski
RELATED: Who will replace Mike Davis? This is what the USGA is looking for