Tracy Wilcox
Phil Mickelson watches his tee shot at the eighth hole during the second round of Dominion Energy Charity Classic.
By Ryan Herrington
The sample size is small. Very small. And yet, it's big enough to generate some numbers that will grab your attention.
With a victory on Sunday at the Dominion Energy Charity Classic, Phil Mickelson became only the third player in PGA Tour Champions history to win his first and second starts. He joined Bruce Fleisher, who originally accomplished the feat in 1999, and Jim Furyk, who matched it last month. Furyk has finished T-9 and T-13 in his next two starts, apparently having already hit his senior career peak. (Kidding!)
Telling, too, is the fact that neither of Mickelson's two victories were nail-biters. Rather, they've been dominant performances suggesting that if the five-time major champion were to focus on playing the senior tour, he could have a chance at re-writing many of the records on the 50-and-older circuit.
On Sunday, Mickelson beat fellow Masters champion, Mike Weir, by three strokes at the Country Club of Virginia in Richmond, Va., shooting a 17-under 199 total. This comes after he won by four over Tim Petrovic in his PGA Tour Champions debut at the Charles Schwab Series Ozarks National event in August, tying the tour's record for low 54-hole score (22-under 191).
Phil checks in after his second consecutive @ChampionsTour win! 🏆 pic.twitter.com/kbEi444x5A

— KPMG Mickelson (@MickelsonHat) October 18, 2020
Six rounds of play doesn't qualify Mickelson for any of the stat categories on tour (a minimum of 27 rounds is needed), but checking out his stats in those six rounds makes for interesting reading. Here are five numbers that have captured out attention.
65.0
This is Mickelson's stroke average on the PGA Tour Champions. That's after rounds of 61-64-66-68-66-65. By way of comparison, Ernie Els is currently the scoring leader on tour with a 68.29 average in 34 rounds. More context: the tour average for the 2020 season is 70.97.
311.7 yards
This is Mickelson's driving distance average through two events. He would easily be No. 1 on tour if he qualified for the ranking, as John Daly is the current leader with a 298.7-yard average. The overall tour average for the season is 276.0 yards.
79.63
This is Mickelson's greens-in-regulation percentage. Once again, he'd be the tour's leader if he was eligible, with Els holding the top spot right now with a 77.61 GIR percentage. The tour average is 67.81.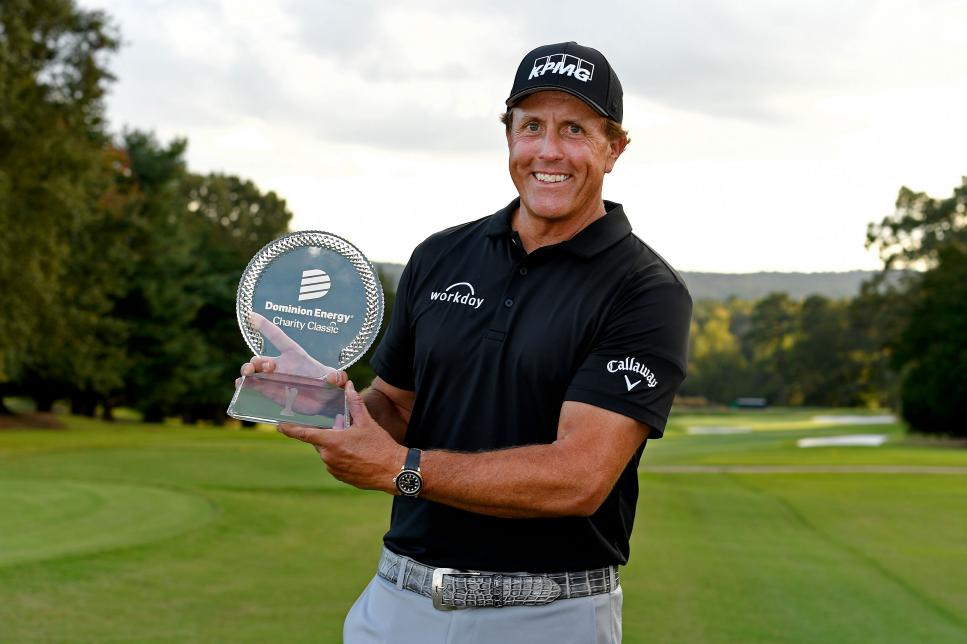 2.85/3.67/4.33
This is Mickelson's average on par 3s, 4s and 5s. Of course it would stand to reason that if his overall average was 65.0, that these numbers would be equally low. Each is lower than the leaders in any of the three categories: Jerry Kelly on par 3s (2.92), Bernhard Langer on par 4s (3.88) and Robert Karlsson on par 5s (4.40).
56.79
This is Mickelson's driving accuracy percentage. Not surprisingly, this would NOT be leading the PGA Tour Champions. Furyk is doing that with his 68.29 percent fairways-hit clip. And it's well below the tour average of 70.97 percent. But, it's interesting to not that it's better than the 54.0 percent mark Mickelson posted on the PGA Tour during the 2019-'20 season, or his 50.77 from 2019, or his 52.91 in 2018. In fact, you have to go back to 2014 when he finished the PGA Tour season with a 58.01 percent mark, to find Mickelson putting up a better number.