By Alex Myers
Gather round, golf fans, because it's the most wonderful time of the year! Actually, it's not that time just yet despite what many radio stations blaring Christmas music way (way) too early are telling you. And, actually, we aren't celebrating anything wonderful. But it's still always fun handing out our annual turkeys of the year.
We'd love to hand out actual turkeys to each and every one of our honourees, but have you seen how much turkeys cost these days? Instead, we'll continue to simply name golf's biggest turkeys of the year — especially because there were a LOT of them in 2022. Let's get to it.
Mito Pereira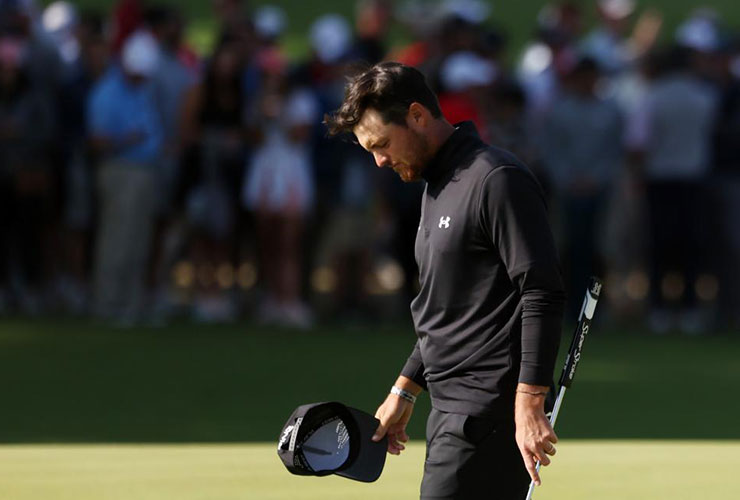 We're going to try to keep these light for the most part, but we'd be remiss if we didn't mention the guy who let a major championship trophy slip through his hands as if it was covered in turkey grease. All Pereira had to do on the final hole at Southern Hills to NOT lose in regulation was to NOT hit his golf ball into that creek down the right side … and he hit it in the creek.
Justin Thomas should really send him a turkey with all the trimmings as a thank you.
Danny Willett
Winning is hard.

3 putts from 4 feet and Danny Willett loses by a stroke. pic.twitter.com/mfljIjUAOt

— PGA TOUR (@PGATOUR) September 18, 2022
Similarly, Willett had an all-time crushing loss when he went from having a four-footer for birdie and an easy win at the Fortinet Championship to three-putting and losing.
The only good thing for Danny is that it was the Fortinet Championship and not the PGA Championship, so not as many people will remember him losing as they will Mito. It didn't help that Max Homa chipped in before Danny's disastrous three-putt, and to Danny's credit, he handled the situation as well as could be expected. But still, you can't lose that tournament.
Sergio Garcia
Official W/D reason given https://t.co/dK93E4cxuV pic.twitter.com/bgs1rO8JfD

— No Laying Up (@NoLayingUp) September 10, 2022
Just like you can't beg to play in the DP World Tour's flagship event and then WD after you get off to a bad start and while the tournament, being held in England, has been delayed because of the death of Queen Elizabeth II. Making matters worse, Garcia then showed up in Austin, Texas, for a UT football game that Saturday while the event played on (something he was later fined for).
Bad look.
Timothy Kelly
Worst bogey I've made all season. Left my golf shirts hanging in my hotel room in Huntsville. Time to suffer the consequences and drive back to get them. Luckily only 1.5 hours away

— Tee-k Kelly (@teekkelly) May 2, 2022
OK, let's get into the "forgetful tour pro" portion of the menu. First, we have Kelly, AKA Tee-K, who forgot his entire golf wardrobe in his hotel. Tough. But at least Turkey, we mean, Tee-K got them all back. After spending a good amount of gas money, that is.
Adam Schenk
Nice round for a guy that missed his flight on Monday morning because he forgot his golf clubs at home when we left for the airport.

— Kourtney Schenk (@Kourtney_Schenk) October 27, 2022
And then there's this guy, who forgot his golf clubs at home when traveling to a tournament. Yep, his golf clubs. How is that possible?! Thanks to Adam's wife, Kourtney, for always keeping him in check. We'd say tour pros are just like us, but I don't know any golfer who would forget his clubs going on a golf trip.
Syed Zaki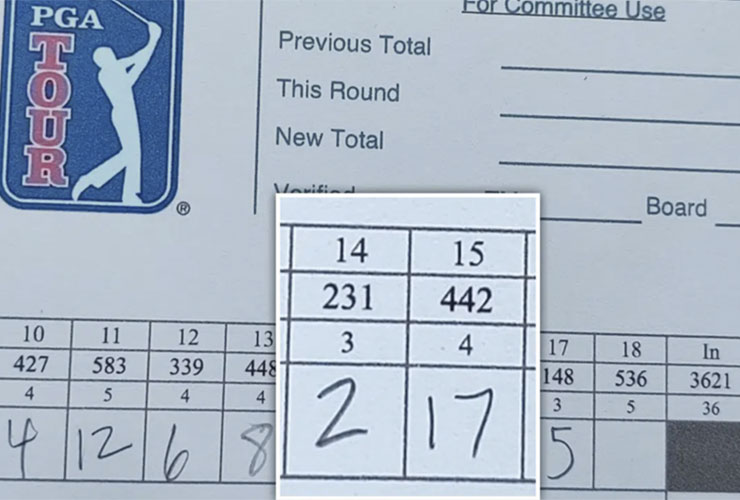 This guy is definitely NOT a tour pro, but apparently he said he was before playing in a PGA Tour pre-qualifier, where he fired a 69. For nine(!) holes. As you can see, he did manage to birdie a 231-yard par 3. Impressive. Before making 17 on the following hole. Impressive for different reasons. Hopefully, Zaki will be better vetted before trying to "compete" in another qualifier. Our thoughts go out to his playing partners that day. And anyone playing behind his group.
Whoever set up this pin
Today at the Girls 3A State Golf Tournament at The River Valley Golf Course in Adel, the average score on hole 18 was a quadruple bogey.

No, the golfers weren't bad, but this had to have been the most unfair pin placement I've ever seen. This slope gave the athletes no chance. pic.twitter.com/F7OyqIjbkO

— Jake Brend (@JakeBrendTV) May 28, 2022
There were plenty of high numbers at the Iowa Girls 3A State Golf Tournament as well, but they were mostly due to one of the most devilish pin positions in history on the 18th hole of the River Valley Golf Course in Adel.
Matt Moroz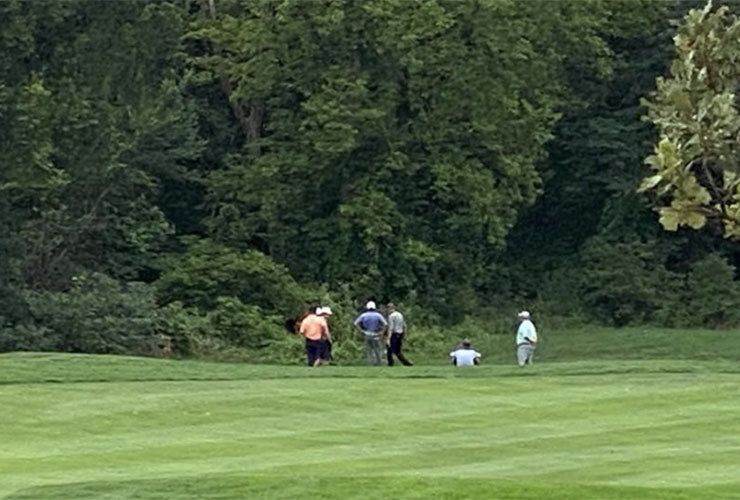 Basically, Moroz was DQd from Korn Ferry Q-School for cheating. Multiple times. Across multiple days. And in multiple ways. "Finding" golf balls that had no way of being found? Check. "Finding" golf balls at the bottom of the cup that never had a chance of going in? Check. Bottom line, if you ever find yourself playing with this guy for any type of stakes, you better keep an eye on him.
Tom Watson
#gokartrollover#leftshoulderreplacement#foryoungerguys Thank you to my doc Felix (Buddy) Savoie and his great team #nopain! pic.twitter.com/wNjjf3d3KZ

— Tom Watson (@TomWatsonPGA) November 19, 2022
We never thought we'd be writing about this eight-time major winner riding a go-kart. That being said, if you told us Watson was going to ride a go-kart, we wouldn't have been surprised that he'd wind up getting hurt doing so. Tom, you're 73! Your go-kart days are well behind you! We shouldn't have to tell you that!
Bryson DeChambeau
Bryson just got DEMOLISHED by a rope. 😂 pic.twitter.com/x6e4b0ixah

— Rick Golfs (@Top100Rick) September 18, 2022
Then again, you don't have to be doing a dangerous activity to sustain an injury. You can be doing something like playing golf. Or, really, just walking. Such was the case with Bryson, who gave golf fans the biggest blooper of 2022 when he walked into a gallery rope at the LIV event outside of Chicago — and then acted like he'd been shot in the face:
Poor guy. At least, not too many people noticed. Kidding! Everyone in the world seemed to notice. Well, at least everyone on Golf Twitter.
Katie Sigmond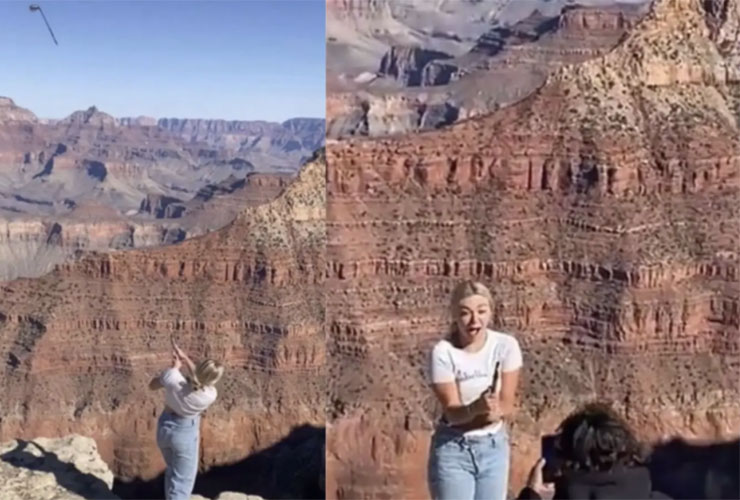 Speaking of viral moments, TikTok star Katie Sigmond treated her six million followers to a golf shot into the Grand Canyon. But after launching a golf ball — and part of her club — into this treasured landmark, she got slapped with three misdemeanours and a court appearance.
Apparently, the people at the United States National Parks System are as protective of their surroundings as the people at Augusta National.
Anyway, try not to do anything too dumb. We'll be monitoring — for next year's list.
You may also like:
Rare data shows how dominant Tiger was some 20-odd years ago
All you need to know on the new golf rules for 2023
Cam Smith right at home at Australian PGA Championship
Gainer leads the way at LET finale in Spain
Adam Scott making big changes for 2023
Cameron Smith eyes winning return to Australia
'I thought I was dying. How golf kept me going'
PGA Tour University star earns trip to Dubai Desert Classic
Jumeirah Golf Estates secures 10-year deal for DPWTC
City boss Pep enjoys World Cup break in UAE
LOOK: Augusta's new-look 13th hole revealed
Was Rory at his best in 2022? Take a look at the stats
Tiger's latest victory in PGA Tour 2022 PIP standings
Legends of the fall: Rory and DJ among the big winners this autumn
Gareth Bale's crafty World Cup golf hack
Take a look at the players who have qualified for the 2023 Masters — as it stands
Dubai Duty Free Golf World Cup returns
LOOK: Rare Tiger Woods shirt up for auction
DP World Tour 'Race to Dubai' to return from 2023
LOOK: Prize money payouts at DP World Tour Championship
Rory deserves to brag after DP World Tour triumph
Rahm raises the bar with third DPWTC