By Ryan Herrington
It might not be the full PGA Tour card being given to the top-ranked player in the PGA Tour University points standings at the end of the 2022-23 college season. But the reward for being No. 1 at the end of the autumn season is still pretty nice: namely a spot in the field at the DP World Tour's Dubai Desert Classic in January.
That's what Texas Tech senior Ludvig Aberg has to look forward to having finishing atop the Velocity Global Ranking heading into the winter break. The 23-year-old from Sweden ended the autumn with 1220.39 points, 73.98 clear of North Carolina's Austin Greaser in second place and 118.89 ahead of Florida's Fred Biondi in third place.
"It's an honour to be No. 1 in PGA Tour University and I'm very thankful for the opportunity to play in such a prestigious event," Aberg said.
The PGA Tour University programme ranks college seniors based on the results in college and pro events during the last two years of college. Aberg has been No. 1 in the ranking for 11 straight weeks, fuelled by 11 top-10 finishes and two wins, including the 2022 Big 12 title. Aberg also is No. 1 World Amateur Golf Ranking, thanks to a win at the 2021 Jones Cup.
This won't be Aberg's first appearance in a DP World Tour event. He competed in the 2018 Nordea Masters, finishing T-344, and the 2021 Scandinavian Mixed, finishing T-30. He's also made the cut in one of three PGA Tour starts, finishing T-51 in the 2021 Butterfield Bermuda Championship.
This is the second time that the No. 1 player in the PGA Tour University standings at the end of the fall will play in the Dubai Desert Classic at Emirates Golf Club. Texas A&M's Sam Bennett claimed the honour a year ago, missing the cut by a single shot. In August, he went on to win the US Amateur title at Ridgewood Country Club.
Earlier this month, the PGA Tour Policy Board approved a change that will give the No. 1 playing the final ranking after the NCAA Championship in June a PGA Tour membership for the remainder of the 2022-23 tour season. Players finishing 2-5 get fully exempt status on the Korn Ferry Tour and those finishing 6-10 will conditional KFT status. Players 6-20 also are exempt on the PGA Tour Canada and PGA Tour Latinoamerica.
PGA Tour University Velocity Global final fall ranking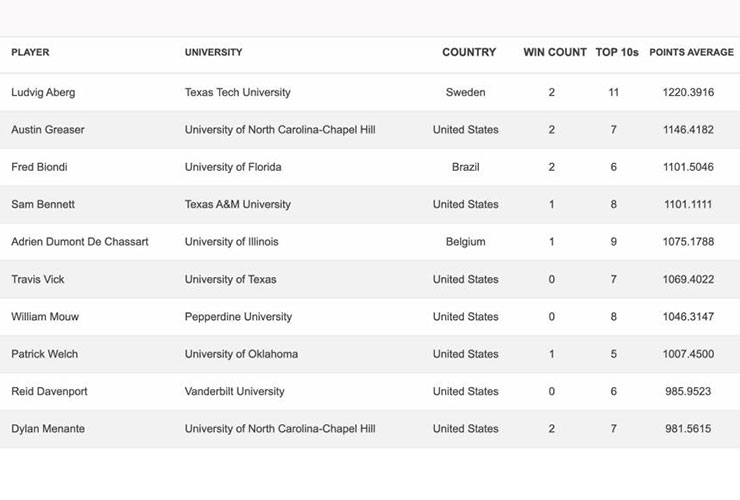 You may also like:
Jumeirah Golf Estates secures 10-year deal for DPWTC
City boss Pep enjoys World Cup break in UAE
LOOK: Augusta's new-look 13th hole revealed
Was Rory at his best in 2022? Take a look at the stats
Tiger's latest victory in PGA Tour 2022 PIP standings
Legends of the fall: Rory and DJ among the big winners this autumn
Gareth Bale's crafty World Cup golf hack
Take a look at the players who have qualified for the 2023 Masters — as it stands
Dubai Duty Free Golf World Cup returns
LOOK: Rare Tiger Woods shirt up for auction
DP World Tour 'Race to Dubai' to return from 2023
LOOK: Prize money payouts at DP World Tour Championship
Rory deserves to brag after DP World Tour triumph
Rahm raises the bar with third DPWTC
How Lydia Ko returned to LPGA glory
Get your FREE November issue of Golf Digest Middle East here
How Bryson dropped 20 pounds with new diet
PGA Tour to lose long-time and loyal sponsor
How South Australia landed the LIV gig
Rahm slates 'laughable' OWGR, open to LIV Golf players earning ranking points