By GolfDigestME.com
Ryan Fox is looking to make a fast start to his 2023 DP World Tour season when he hits the opening tee shot on Thursday morning at the Australian PGA Championship at Royal Queensland.
Fox, fresh from finishing runner-up to Rory McIlroy in the 2022 season-long rankings, will tee it up at 6am local time and is hopeful of producing some of the form that saw him win twice — at the Ras Al Khaimah Classic and the Alfred Dunhill Links Championship — in 2022 and record a further eight top 10 finishes as he moved into the top 50 in the world.
The New Zealander is one of the main contenders following his brilliant season on the DP World Tour and is excited to return to Brisbane for the first of back-to-back Australian events co-sanctioned with the PGA Tour of Australasia — marking the start of another global season that will see the DP World Tour play a minimum of 39 tournaments in 26 different countries.
A six-hour stopover to drop his young family off in Auckland meant that Fox arrived for Wednesday's pro-am bleary-eyed and with his brain in a different time zone. Yet, such as been his form in 2022, the 35-year-old combined with his amateur partners to win the morning wave by 12 points.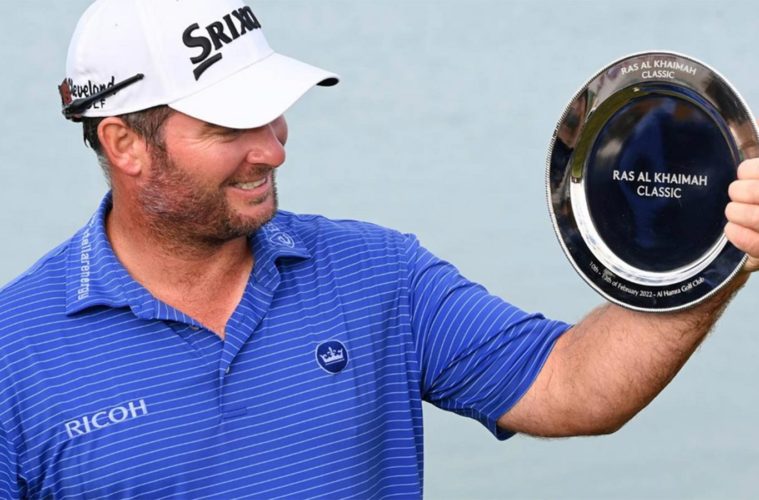 Former world No. 1 Adam Scott has not played on home soil in three years and arrives in Queensland targeting his third Australian PGA Championship title. He first won the event in 2013 — when it was held at Royal Pines — before repeating the feat six years ago, the last time the event was part of the DP World Tour schedule.
Adrian Meronk, the first Polish player to win on the DP World Tour, has made the trip to Australia for the first time since 2017 and he is joined by Danish twins Rasmus and Nicolai Højgaard, having finished tied seventh alongside Rasmus at the season ending DP World Tour Championship last week in Dubai.
"It's definitely a blur at the moment," admitted Fox. "Yeah, it still feels a bit surreal. Obviously, it's not on the goals list to finish in the top 10 on the order of merit, to be honest. After the last couple of years I had where I was probably more trying to keep a card than finish high up.
"I guess the big goal at the start of the year was to get another win and I got that under the belt pretty quickly [at RAK] and that just let everything kind of free roll the rest of the year. You don't get often in golf where you feel like you can have a free run. You're always playing to something and after that it was kind of everything else is a bonus and obviously I got myself in contention a bunch more times and to get the win in Dunhill was amazing.
"Arguably there could have been a couple more in there, but it's pretty tough to win out on any Tour nowadays and to give myself as many chances as I did was great.
"It will probably take a little bit to sink in when I get home, but I think with these two events it kind of doesn't quite feel like the season's finished. I know we're in a new season this year or now, but I think I'll get a bit more time after the Aussie Open where I can go home and celebrate properly and enjoy some time. I think it will probably sink in a bit better then.
"I've tried to take it pretty easy this week, to be honest. The golf game's in decent shape, so I was just trying to get some rest and I will be straight back to bed after this I think. As I mentioned earlier, six o'clock is a pretty early start tomorrow, but I feel like if I can get some good rest tonight, I should be okay. As I said, the golf game's still in decent shape after the last couple of weeks, so hopefully I can contend this week."
You may also like:
City boss Pep enjoys World Cup break in UAE
LOOK: Augusta's new-look 13th hole revealed
Was Rory at his best in 2022? Take a look at the stats
Tiger's latest victory in PGA Tour 2022 PIP standings
Legends of the fall: Rory and DJ among the big winners this autumn
Gareth Bale's crafty World Cup golf hack
Take a look at the players who have qualified for the 2023 Masters — as it stands
Dubai Duty Free Golf World Cup returns
LOOK: Rare Tiger Woods shirt up for auction
DP World Tour 'Race to Dubai' to return from 2023
LOOK: Prize money payouts at DP World Tour Championship
Rory deserves to brag after DP World Tour triumph
Rahm raises the bar with third DPWTC
How Lydia Ko returned to LPGA glory
Get your FREE November issue of Golf Digest Middle East here
How Bryson dropped 20 pounds with new diet
PGA Tour to lose long-time and loyal sponsor
How South Australia landed the LIV gig
Rahm slates 'laughable' OWGR, open to LIV Golf players earning ranking points