Golfers in the uae are, admittedly, spoilt for choice when it comes to courses to choose from right here in the emirates, with more than 20 to choose from — from Abu Dhabi to Ajman and all stops in between and beyond.
However, most will admit it is always a memorable treat to head abroad to play a foreign course for the first time. This can be a lengthy and expensive undertaking, if a keen golfer is looking east to Asia, or west to mainland Europe or the United States.
But for those on a tighter schedule (and budget), there is a real treat you may not know about only a short hop away in Oman.
A 50-minute budget flight will take you from Dubai to Muscat International Airport, which is quite literally on the doorstep of one of the Middle East's best golf clubs — Al Mouj Golf. 
Set amid the glamorous new Wave complex on the outskirts of the city, Al Mouj is a wonder to behold set in what almost feels like a wildlife park — a walk around the course is worth it alone to admire the natural lakes and reserves and the flora and fauna that comes with that. Al Mouj has more than 170 bird species throughout the year, from flamingos to eagles, that call this green oasis home, adding to an unforgettable experience on an iconic course.
Al Mouj, Oman's first links-style course was conceptualised by former world No. 1-turned-course-designer Greg Norman when he visited the area in 2006. The club opened its doors in 2012 alongside the Wave resort's hotels, residences, marina and luxury retail outlets. 
The club incorporates an award-winning 18-hole championship course and a flood-lit nine-hole track — both designed by Norman.
The Championship Course is a treat from the first hole to the last and — as Head Golf Professional Marcus Casey says: "Every hole could be a signature hole on another course. All 18 are a perfect challenge, there are no fillers here" — it is difficult to pick a standout among this collection on the Indian Ocean coastline.  
With the Hajjar mountains flanking the opposite side of the sea, Al Mouj has nine holes either side of the clubhouse along a two-kilometre stretch. While the lengthy course has no shortage of challenges — water (lakes and sea) is in play on eight holes, while every hole bar the fifth is heavily protected by deep bunkers and rough — in true links style, the wind whipping off the sea in the afternoon makes things even tougher. 
While distance is one factor, strategic placement is of more importance as the approach shots can take on a whole new degree of difficulty if you are out of shape off the tee. 
Al Mouj has played host to the DP World Tour's Oman Open since 2018, with past winners including Joost Luiten, Kurt Kitayama and Sami Valimaki.
While each hole offers its own unique challenges, if pushed, the standouts are the short fifth, which demands a carry over water to reach the green 150 yards away, the gorgeous 11th which carries straight downhill to the coastline and the Indian Ocean, and the iconic par-4 18th, where players must play across the Indian Ocean itself to safely reach the fairway from the black tees.
[divider] [/divider]
Where to stay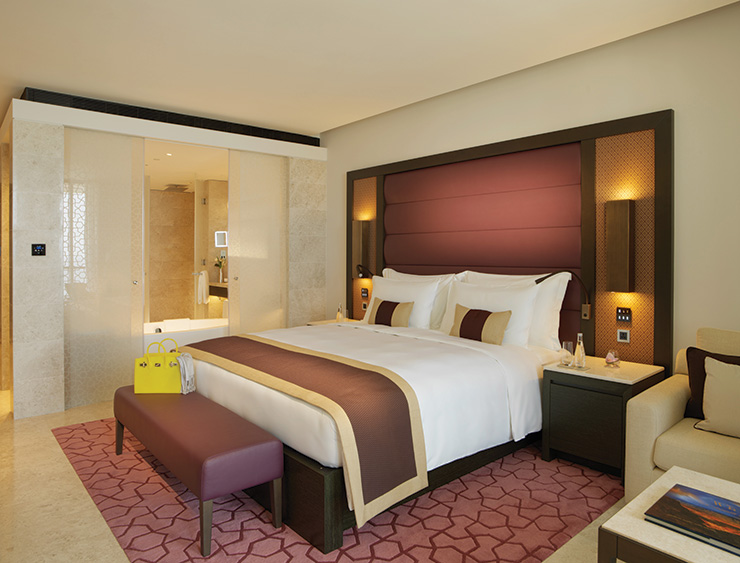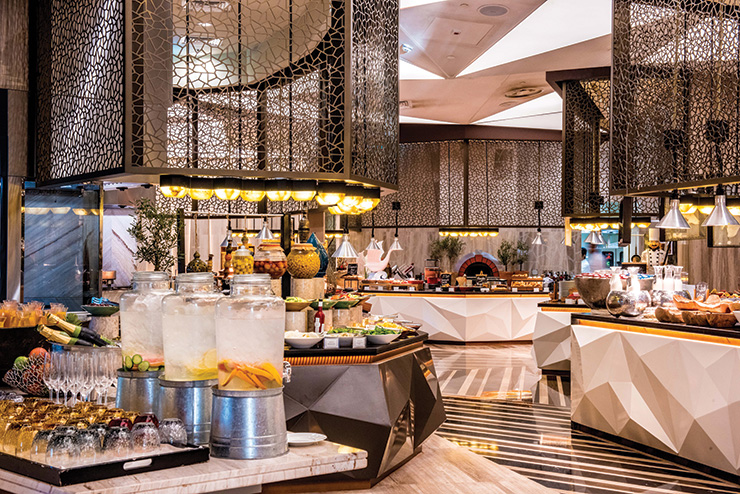 Kempinski Hotel Muscat
Located five minutes from Al Mouj Golf in the modern community of the same name, sits the luxurious Kempinski Hotel Muscat beach resort. The hotel features 310 rooms and suites, and can also accommodate corporate meetings and events. You will not go hungry with 11 restaurants and bars onsite offering a global range of culinary treats. There are two main swimming pools, plus a kids pool and club, tennis courts, various outdoor and water sport activities, a spa and even an in-house bowling alley.
kempinski.com/en/muscat/kempinski-hotel-muscat/
[divider] [/divider]
Other things to do
Visit Sultan Qaboos Grand Mosque
Back in 1992, the then Sultan of Oman, Qaboos bin Said al Said, decreed the nation must have a Grand Mosque, and construction began at the end of 1994 and took six years and seven months to complete. The wait was worth it as what is now the major landmark of Muscat and dominates the skyline is a 420,000 sq m beautiful building that blends history and culture with a hint of modern architecture that can accommodate up to 20,000 worshippers at one time. Open to visitors, appropriate dress required.
sultanqaboosgrandmosque.com
Tour the Old Quarter
At the eastern tip of modern Muscat, away from the shimmering glass and Royal Opera House lies the Old Quarter. A short journey on new roads carved through the mountain takes you back in time to narrow bustling street, mountaintop 16th-century forts and 500-year-old city walls, and the must-see warren of the massive, ancient Mutrah Souk.
Go snorkelling
Al Mouj Marina offers all kinds of see trip, from dolphin spotting to fishing and overnight island camps. But top of the list has to be a day trip to go snorkelling. A 35-minute boat trip to the Daymaniat Islands with Captain Fahad's Daymaniat Shells boat tours company will take you to two spots for hour-long snorkelling experiences, where the sealife sights include turtles, rays, moray eels, clown fish — even blacktip sharks and a variety of marine creatures and corals.
daymaniat-shells.com
[divider] [/divider]
A WEEK IN IRELAND SERIES
DAY 1: The K Club
DAY 2: Lahinch
DAY 3: Dromoland Castle
DAY 4: Mount Juliet Estate
DAY 5: Druids Heath
BE AT 1 SERIES
Tame 'Sea View', stroke index 1 at Saadiyat Beach Golf Club
Tame the 15th, stroke index 1, at The Els Club Dubai
Tame the 5th, stroke index 1, at Tower Links Golf Club
Tame the 15th, stroke index 1, at Yas Links Abu Dhabi
Tame the 7th, stroke index 1, at Dubai Hills Golf Club
Tame the 12th, stroke index 1, at Royal Greens Golf & Country Club
Tame the 13th, stroke index 1, at Al Zorah Golf Club
Tame the 10th, stroke index 1, at Al Ain Equestrian, Shooting & Golf Club
Tame the 5th, stroke index 1, at Abu Dhabi Golf Club
Tame the 5th, stroke index 1, at Arabian Ranches Golf Club
YOU MIGHT ALSO LIKE
The Middle East's 18 favourite holes
The Middle East's best par 3s
Top 10 Golf Courses in the Middle East: The Class of 2020