A new entry, the demise of a celebrated European Tour venue and plenty of snakes and ladders action highlight our 6th biennial ranking
By Kent Gray
A new entry in our 2020 Top 10 Courses in the Middle East ranking is irrefutable proof of two things: the list is not a closed club but only providing you prove your worth in a region that is home to one of the finest concentrations of golf on the planet.
But something has changed from the 2018 iteration. Rather than being a tough club to crack, the 2020 ranking proves it is now becoming increasingly difficult to hold station, or even remain in this elite collective altogether.
Like Doha Golf Club in 2018, Abu Dhabi Golf Club will sadly attest to that after slipping outside the 10 from what seemed a relatively safe eighth position in 2018. The disappearance of the European Tour venue and no place for elsewhere celebrated Dubai Hills Golf Club, among other notable omissions, will inevitably be met with incredulity in some quarters but speaks to the region's quantity of quality. It also highlights the continual push for perfection by agronomy teams around the Middle East – even the slightest slip in playing conditions can see a club tumble given the high, region-wide quality of course design.
Indeed, just as the scoring is again incredibly tight inside the 10, those looking in from the outside aren't doing so from any great distance. The Class of 2020 can't say they haven't been warned.
In short, the Middle East's best courses remain extremely difficult to separate and just as tough to compare, borne out by a radically different Readers' Choice Top 10 this time round; it's not all gloom for Abu Dhabi and Dubai Hills.
The discrepancy is okay. There is nothing more subjective in golf that the apples versus pears ranking of courses; how do you measure a manicured hybrid of parkland and desert against a modern-day seaside layout, or an inland links wannabe for that matter? The most impartial way is with Golf Digest's internationally trusted formula (explained overleaf). With new courses like Tiger Woods' first Middle East creation in the pipeline, what is clear is that 2022 promises to be just as tough to judge, making the top 10 an even more coveted club of which to belong. How lucky we are to golf in the desert.
Meet the panel and how they ranked the courses
Check out the best in the Middle East
Readers' Choice: Your favourites revealed
Top 10 Golf Courses in the Middle East 2018
—
1) The Majlis, Emirates Golf Club 
2018 Ranking: 1 • Design: Karl Litten (1988)
Dubai, UAE • Par 72 • Yards 7,301 • Total Score 66.17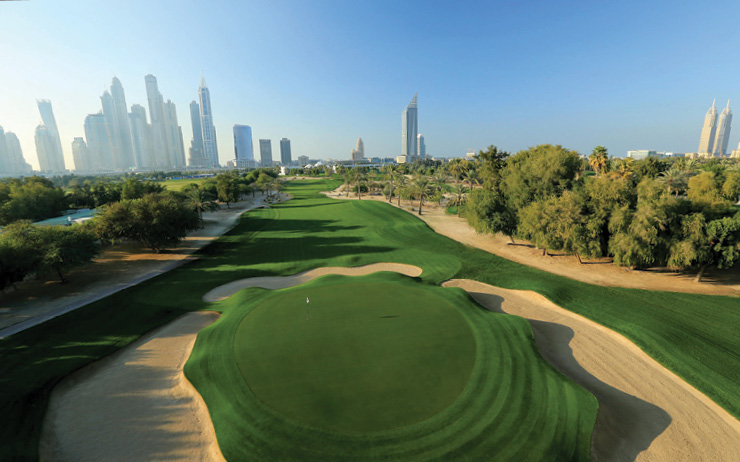 Khalid Yousuf on The Majlis, EGC
(UAE National Team stalwart)
For as long as I can remember, the Majlis Course at the Emirates Golf Club has been considered the pinnacle of golf course design in the Middle East. Karl Litten has done a fantastic job creating a true 'gem' in the desert, utilising the natural dune formation and topography at his disposal.
From the moment you stand on the 1st tee, you know you're in for a treat. The course is challenging off the tee and doesn't get any easier as you reach the green. Sharp run-offs and strategically located hazards protect the generously-sized greens from even the purest approach shots. The greens are relatively flat but by no means easy. Lightning-fast during the first few months of the year, the subtle breaks catch even the top European Tour players out, as witnessed during the Omega Dubai Desert Classic each year.
The standout hole has to be the 8th, a long, uphill par 4. A well-placed tee shot is key if you plan on attacking the well-protected putting surface. What makes this hole special though, is the view. Off the tee, you have the spectacular backdrop of the Dubai Marina and as you approach the green, you are greeted by a single 'Majlis,' a small teaser of what is to come. The perfect blend of the old and the new.
The inaugural Middle East Top 10 winner in 2009, the Majlis Course deservedly keeps its top spot from 2018. Always a pleasure to play, it keeps you wanting to come back for more.
Khalid Yousuf has played seven Eisenhower Trophy world amateur teams championships.
—
2) Al Mouj Golf 
2018 Ranking: 3 • Design: Greg Norman (2012)
Muscat, Oman • Par 72 • Yards 7,300 • Total Score 65.00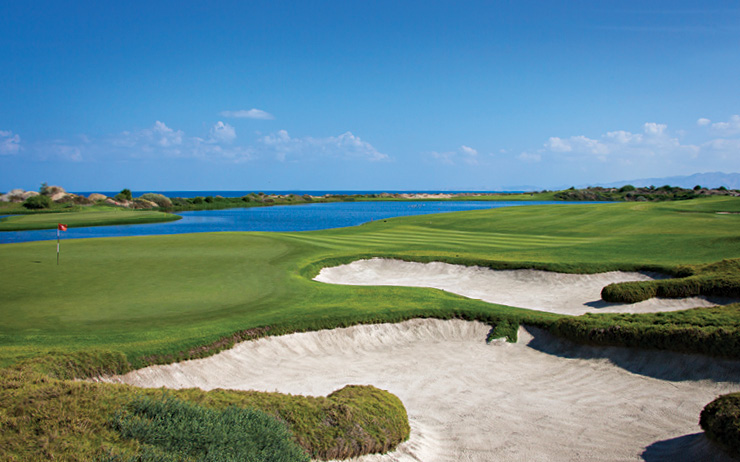 Kent Gray on Al Mouj Golf
(Golf Digest Middle East Editor)
Eddie Pepperell calls it the "best course I've played in the Middle East". The popular Englishman's compatriot Chris Wood has been bowled over by the European Tour venue too. "It's a bit of a mix between a links and a desert course. The design is really good and there are so many players saying the same things. It's in perfect condition and the practice facilities are awesome."
We can only concur with the high-profile assessment of Greg Norman's Muscat gem which continues its giddy rise up the rankings. Just a 70-minute flight from Dubai, the 7342-yard, 18-hole championship course is Oman's first links, a rugged, windswept brute of a layout which is as strategically challenging as it is beautiful. The outward nine features a pair of particularly memorable par 3s, the first to a partial island green, while any par on the 9th with its intimidating over-water tee shot and approach to a green guarded by the Gulf of Oman is to be celebrated. The excitement level – and shot-making examination – ratchet up on the homeward nine, particularly at the par-3 11th hole which plays directly out to sea, and at the 12th and 13th holes, a par-5 and par-3 combo that play adjacent to the coast and require as much to clever course management as they do pure ball striking. Then there's the 18th, as picturesque – and daunting – a closing hole as you'll anywhere in the region, a hole where every shot risks ending up wet.
Hugging a pristine two-kilometre stretch of Indian Ocean coastline and with the stunning Hajjar mountain range as it's inshore backdrop, you'll travel a long way to find a finer stay and play. There's even a floodlit par-3 9-holer to get you in the mood. But don't take our word for it. Listen to Pepperell, not a player prone to hyperbole. "It's a must-play if you are ever in Oman."
Kent Gray has been covering golf in the UAE since 2013 and has reported on the game globally since 1989.
3) Yas Links Golf Club
2018 Ranking: 2 • Design: Kyle Phillips (2010)
Abu Dhabi, UAE • Par 72 • Yards 7,414 • Total Score 64.17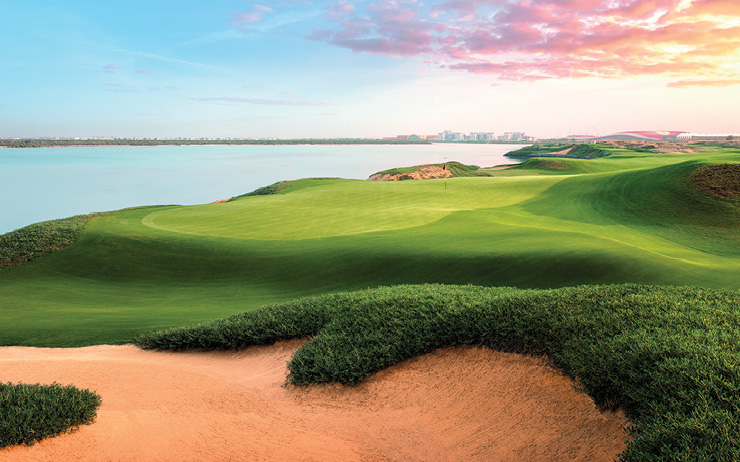 Simon Corkill on Yas Links GC
(Tournament Director)
When I first arrived in the UAE, I was told Yas Links Abu Dhabi was a 'must play'. The recommendation wasn't overstated. This is a truly enjoyable layout with a variety of holes that test golfers of all abilities. Every hole has its own unique challenges – hit the ball in the right spot and you get rewarded, miss and you'll be faced with a tricky up and down to save par…or worse. What I loved about it was that you use every club in the bag, something that has always been my barometer for a stern golfing test. Luckily there wasn't a strong breeze the day I played but I would imagine it would be tough in a blow. The beauty of this layout is that you have to shape shots both left and right and you have to be creative with your approach shots to get the ball close to the pin. Designer Kyle Phillips has created an absolute gem here and this course will only get better as time goes on. The setting and views are the other obvious selling point – only you and your clubs are in control of whether this is a walk spoiled or not! A clear favourite for well-ensconced expatriates, Yas Links is also a must for all visitors to the region.
Simon Corkill​ is the Executive Tournament Director for the Omega Dubai Desert Classic and LET's Omega Dubai Moonlight Classic
4) Dubai Creek Golf & Yacht Club
2018 Ranking: 4 • Design: Thomas Bjørn Redesign (1993)
Dubai, UAE • Par 71 • Yards 6,967 • Total Score 63.86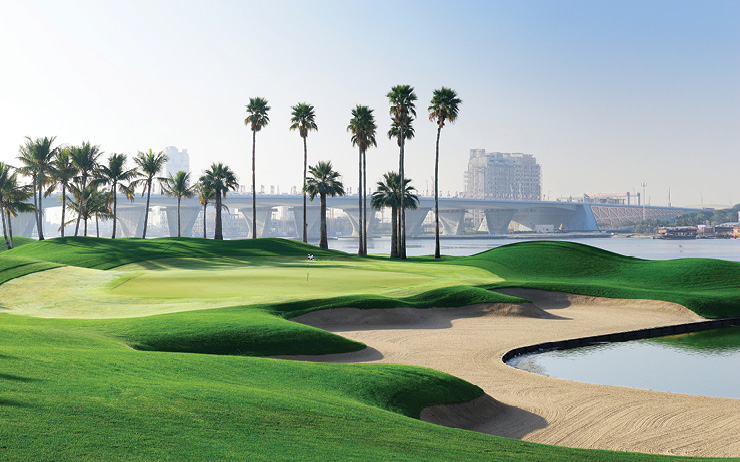 Danny Jakubowksi on 'The Creek'
(PGA Professional)
Dubai Creek Golf & Yacht Club has stood the test of time with its iconic clubhouse, championship golf course and emphatic closing stretch of holes. The superbly conditioned layout, dramatic views and creative design lends itself to accurate and strategic driving, solid iron play and deft touch around the beautifully manicured green complexes.
One cannot be amiss to recognise some of the Middle East's most memorable holes. The 6th with that often downright daunting tee shot that tests the golfer from an island tee box hanging over the water, and that magnificent closing stretch ready to measure a golfer's mettle. Quite simply one poor shot over this stretch can easily result in a double bogey or worse. The once host of the Omega Dubai Desert Classic has long been a favourite location for both professional and amateurs golfers. With a Par 3 golf course, Golf Academy and mini-golf, it is more than just a championship golf course and definitely worth the visit. Offering sweeping city views, romantic waterside walks and that iconic clubhouse, Dubai Creek Golf & Yacht Club is a must for serious golfers, thoroughly memorable from start to finish.
Danny Jakubowski is the Group Director of Instruction at Abu Dhabi and Saadiyat Beach Golf Clubs.
5) Saadiyat Beach Golf Club
2018 Ranking: 5 • Design: Gary Player (2010)
Abu Dhabi, UAE • Par 72 • Yards 7,806 • Total Score 63.50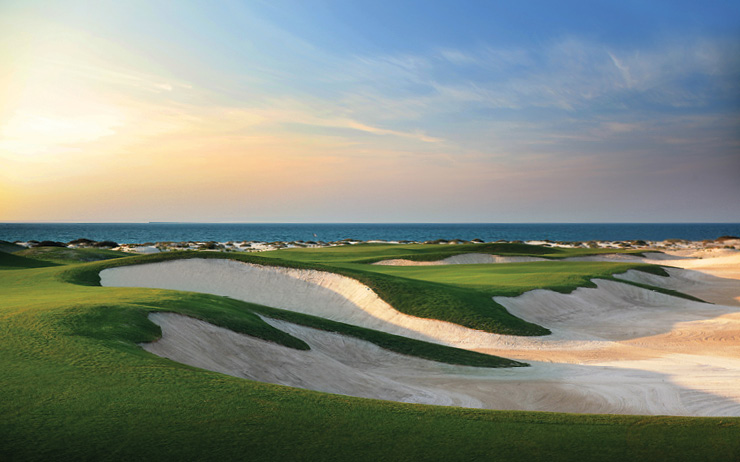 Sujjan Singh on Saadiyat Beach GC
(PGA Professional)
The first thing that catches your attention at Saadiyat Beach are the gazelles gently ambling around this picturesque facility. Carts and balls whiz by as little deterrent to the four-legged local residents.
Gary Player's links-style design is protected by deep bunkers and raised green complexes which call for precise iron play and a good short game. Leave yourself on the wrong half of the green and you could be faced with a long and very undulating putt. The breeze usually picks up in the afternoon and can become almost a three club wind on certain days. A number of the holes hug some of the Arabian Gulf's bluest waters, only adding to the allure.
Each hole is memorable in its own right and the course conditions to a very high standard but choosing the correct tee boxes is essential to enjoy your round. After a relatively benign start, the challenge ramps up from the 3rd hole with the 5th and 6th being outstanding for both their views and difficulty. From the drivable par 4 10th to a closing stretch from the 15th, the back nine is as demanding as it is different. This is one course where a low handicapper will enjoy the shot-making opportunities and novice golfers the experience and the wonderful seaside views. I'd highly recommend Saadiyat Beach to any player looking for a challenging and enjoyable golfing experience in the Middle East.
Sujjan Singh is a former Asian Tour player and a serial winner on the UAE PGA Tour.
6) Earth, Jumeirah Golf Estates
2018 Ranking: 6 • Design: Greg Norman (2009)
Dubai, UAE • Par 72 • Yards 7,675 • Total Score 63.09
Claudine Foong-Riggs on Earth, JGE
(Golf wellness and performance coach)
I love a great parkland-inspired course where you're nestled in amongst trees, nature and greenery. The Earth layout at Jumeriah Golf Estates Earth is not your typical desert course, as each hole is surrounded by beautiful foliage.
Designed by Greg Norman, it's home to the season-ending DP World Championship. This adds to the experience as many of us are used to seeing some of the world's best walk the same fairways.
Each time I've been fortunate enough to play the Earth course, it has been in tremendous shape. Firm, fast fairways and big greens with tricky slopes can leave you guessing your line. Visually off the tee, it can look quite forgiving. Miss the fairway, however, and it can be challenging to recover if you happen to find yourself amongst the trees or the mulch.
The infamous 18th has created a lot of Race to Dubai drama over the years and it's easy to see why when you play it. A meandering creek zigzags through the centre of the hole creating a risk-reward decision and a truly memorable finish.
The combination of nature and great course design makes Jumeirah Golf Estates' Earth Course a layout you will enjoy playing time and time again.
Claudine Foong-Riggs is a former Symetra Tour pro and regular golf fitness contributor to Golf Digest Middle East.
7) The Els Club, Dubai
2018 Ranking: 7 • Design: Ernie Els (2008)
Dubai, UAE • Par 72 • Yards 7,538 • Total Score 62.95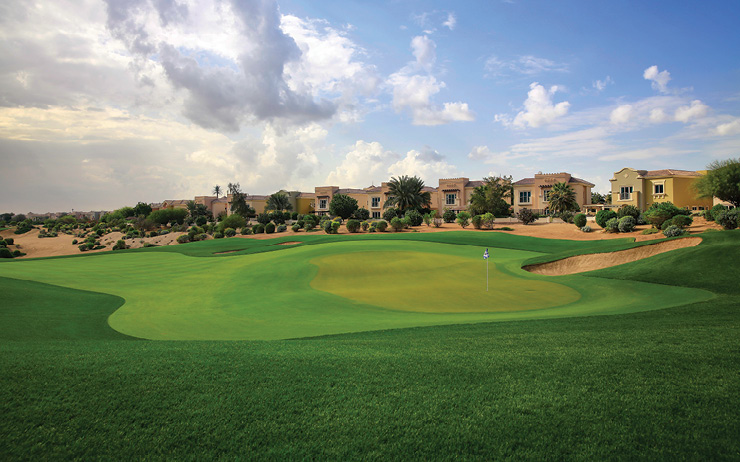 Robbie Greenfield on The Els Club
(Radio Host)
It's a bane of modern golf, but celebrated designers often come with a healthy sadistic streak that they're all too willing to unleash upon the general golfing populace. Island greens, winding creeks and enforced 250-yard carries off the tee may be meat and drink for your average tour pro but for the plucky weekend enthusiast, such layouts can be a soul-destroying journey through an industrial-sized quantity of golf balls.
This is why I love the Els Club. Eponymous designer Ernie Els, aside from being a legend of the game and an all-round good egg, understands that regular golfers just want to enjoy their day and emerge unscathed. But the beauty of this track is that while the Big Easy makes this simple philosophy his priority, the course itself is endlessly challenging.
Ernie's objective with this course is to get you in play off the tee, then bamboozle you with some of the trickiest approach shots to be found anywhere in the UAE. The par 4 1st is a shining example of this. A generously wide fairway, followed by a second shot to a two-tiered green that will funnel all but the most accurately struck shots into one of the trademark swales that surround the putting surface.
At The Els Club, you're typically in play, but you're never in cruise control. And that's what makes it an endlessly fascinating and enjoyable challenge. Over the past 11 years the course has matured like one of Ernie's fine South African vintages, and its tremendous condition, which is maintained to immaculate standards all-year round, sets it apart. There are courses in the Middle East that command a higher profile, but few that provide as enjoyable a day out as The Els Club, Dubai.
Robbie Greenfield has been covering golf in the Middle East since 2005
8) Al Zorah Golf Club
2018 Ranking: 9 • Design: Nicklaus Design (2015)
Ajman, UAE • Par 72 • Yards 7,169 • Total Score 62.51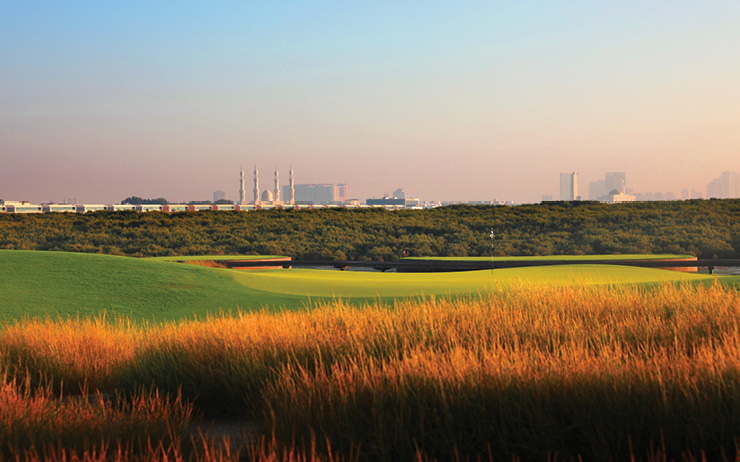 Darren King on Al Zorah GC
(Golf Sales Manager)
Playing Al Zorah Golf Club reminds me why I love golf so much. The much talked about tidal flow system was peaking as I drove my cart out onto the course for the first time and seeing all those mangroves made me feel a million miles away from the hectic existence that the UAE often presents. The energy and tranquility is unrivalled.
The course has earned the right to be regarded as elite and right up there with the premier facilities in the UAE that receive continual global recognition. Its condition rivals anything that I have played around the world which is a credit to AZGC's agronomy team. Every time I make my way down to this gem in Ajman, it honestly feels like they have prepared the course for an international tournament. It is consistently world class every time. The par 3s as a quartet are memorable and in my opinion up there with the finest in this part of the world. Holes 15 and 17 are nothing short of spectacular especially when the sun is setting. My favourite par 4s are holes 9 and 16. Holes 11 and 18 are stunning par 5s playing right alongside the mangroves.
General Manager, Phil Henderson, prides himself on delivering 5 star quality, and has every right to be proud of what has been achieved at Al Zorah since opening in 2015. It is a course to be respected and also cherished, a credit to Dirk Bouts and his team from Nicklaus Design who have created 18 holes that truly inspire the discerning golfer.
Darren King is Senior Sales Manager for Emaar Hospitality Group (Dubai Hills, Address Montgomerie, Arabian Ranches) and a former Geelong Aussie Rules representative
9) Ayla Golf Club
2018 Ranking: New Entry • Design: Greg Norman (2016)
Aqaba, Jordan • Par 72 • Yards 7,152 • Total Score 61.75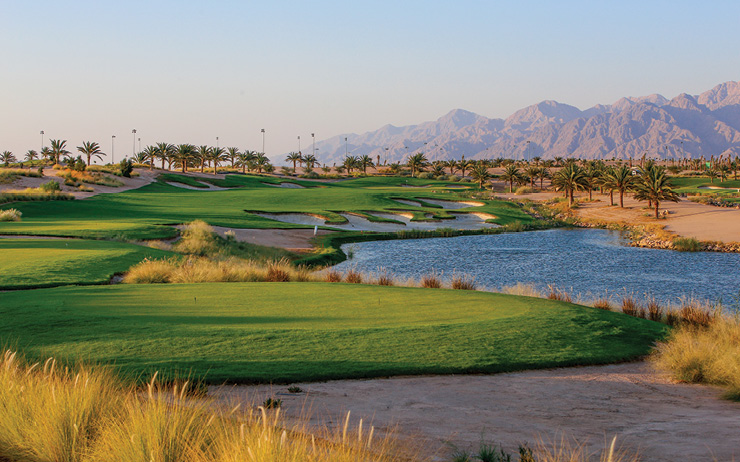 Luke Joy on Ayla GC
(Touring Professional)
Since first visiting Ayla Golf Club back in 2017 for a Mena Tour event, I have had the pleasure of returning two years later to see an amazing infrastructure transformation. The recently completed clubhouse has been transformed beautifully into an ergonomic base for the club in the base of the Aqaba valley, the host destination of the 'Journey to Jordan', the MENA Tour's answer to Jumeirah Golf Estates and the Race to Dubai. The course itself is a great layout designed knowing that generally the wind will blow. As such, Greg Norman, whose creations notably feature three times in the 2020 Top 10, has made a true test for all abilities to enjoy. Every time I have played the course it has been in impeccable condition and with the floodlight par 3 also available for stay and play adventures, it is a simply superb facility. Always a treat to visit.
Luke Joy has won seven professional titles including two on the MENA Tour
10) Trump International Golf Club, Dubai
2018 Ranking: 10 • Design: Gil Hanse (2016)
Dubai, UAE • Par 71 • Yards 7,300 • Total Score 61.05
Tom Buchanan on Trump International GC
(PGA Professional)
One of the newest additions to the Middle East's eclectic collection of courses, Trump International Golf Club Dubai is a fair test for all levels of ability. The proviso here is to select the tees that match that ability or this fantastically shaped Gil Hanse design will punish.
Wide, undulating fairways can give a false sense of security (miss them and you'll be penalised) as the course comes alive with its green complexes and slippery surrounds where accuracy and yardage control is a must. Missed approaches often result in severe difficulties in saving par.
Housing and apartments have sprouted up around the course adding to the completed feel of this fantastic golf course. In my opinion, holes 9-13 are a great stretch with two par 5's, a drivable par 4 and two complex holes testing every part of your game.
Every time we go back, Trump International Golf Club, Dubai has improved, no doubt keeping it in this very competitive Top 10 and making it a definite must-play for anyone visiting the Middle East.
Tom Buchanan is the Acting Operations Manager at Al Ain Equestrian, Shooting & Golf Club and qualified for the 2018 Abu Dhabi HSBC Championship
•  MEET THE 2020 PANEL
•  READERS' CHOICE 2020
•  THE BEST IN THE MIDDLE EAST 2020
•  TOP 10 GOLF COURSES IN THE MIDDLE EAST 2018