Even the European Tour's best struggle with the 5th hole at Abu Dhabi Golf Club. Luckily, Danny Jakubowski, Group Director of Instruction for Abu Dhabi's three Troon clubs, has the secret to taming one of the toughest par-4s in the Middle East.
The 5th hole at Abu Dhabi Golf Club is both breath-taking and nightmarish at the same time. It's a beautiful, sweeping par 4 that doglegs to the left, testing golfers of all abilities from every tee complex. Here's my strategy to tame this potential card-wrecker.
Off the tee: The landing area off the tee, while spacious and inviting, asks for a gentle draw in between strategically placed fairway bunkers. Hitting it in the left hand bunkers will likely surrender any opportunity to hit the green in regulation so the most sensible play is to favour the right hand side. The right bunker, while further away and mainly out of reach, is the ideal starting line for your drive but beware as the prevailing wind is a left to right brute which often plays directly into your face. A slightly leaked tee shot to the right introduces rough and a potential chip out from waste area, so an accurate tee shot is a real key to success.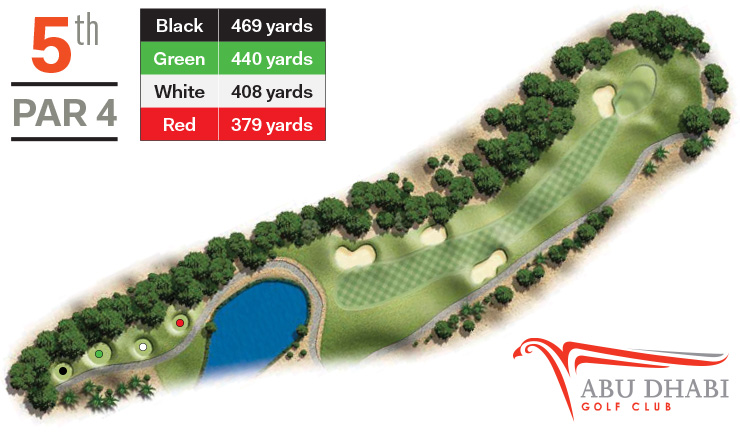 Approach: The approach lends itself to another dilemma. As the second shot is generally a long one, the looming left hand greenside bunker is always a factor in the golfer's decision making. Playing safe to the right hand portion of the green is the smartest option but clever architecture by course designer Peter Harradine means that the narrow opening is often hard to find as the slope tends to direct the ball towards the right hand portion of the green. In short, only a well-flighted approach will find the putting surface. 
Holing out: There is some good news when you finally discover the putting surface: keep the ball below the hole and you will be left with a reasonable attempt at birdie. Local knowledge suggests that you should look at the line from both in front and behind the hole however, as there are some subtle slopes that can be hard to see. The 5th hole is both a physical and tactical marvel that will surely stand out during your round at Abu Dhabi Golf Club. Good luck! –with Kent Gray
---
BE AT 1 SERIES:
Tame 'Sea View', stroke index 1 at Saadiyat Beach Golf Club
Tame the 15th, stroke index 1, at The Els Club Dubai
Tame the 5th, stroke index 1, at Tower Links Golf Club
Tame the 15th, stroke index 1, at Yas Links Abu Dhabi
Tame the 7th, stroke index 1, at Dubai Hills Golf Club
Tame the 12th, stroke index 1, at Royal Greens Golf & Country Club
Tame the 13th, stroke index 1, at Al Zorah Golf Club
Tame the 10th, stroke index 1, at Al Ain Equestrian, Shooting & Golf Club

YOU MIGHT ALSO LIKE:
The Middle East's 18 favourite holes
The Middle East's best par 3s
Top 10 Golf Courses in the Middle East: The Class of 2020