(Photographs courtesy of the clubs)
What would a compilation of the Middle East's favourite holes look like? Stunning. Long. And very, very tough. Welcome to the region's dream 18.
By Kent Gray
"The ideal hole is surely one that affords the greatest pleasure to the greatest number, gives the fullest advantage for accurate play, stimulates players to improve their game, and never becomes monotonous."
Alister MacKenzie departed this life 86 years ago, more than 50 years before golf first met grass in Dubai and longer still before the game spread its virtuous tentacles around the Middle East.
But if he could, the revered British course architect surely would doff his Tam o' Shanter to this, our compilation of the Middle East's favourite holes.
Judged by the expert panel that brought you Golf Digest's Top 10 Courses of the Middle East 2020 ranking (click here) and dreamed into a composite 18 by the editorial team, this is an impressive and imposing test of golf.
The criteria to be considered for the region's dream 18? The same exhaustive process that determines the world's most respected course rating system, a series of seven categories which reward shot values, design variety, resistance to scoring, memorability, aesthetics, conditioning and ambience. The kicker is that holes had to receive at least 75 per cent of the panel's collective 'your favourite hole' vote at a respective course to be considered.
There is nothing more subjective in sport than the apples versus pears ranking of players or matches from different eras. The same can be applied to the rating of golf courses where one players manicured hybrid of parkland and desert, is another's modern-day seaside layout, or, in the Middle East at least, yet another's inland links wannabe. Drill down further to individual holes and the debate is even hotter. The most impartial way to measure that is with Golf Digest's internationally trusted formula.
What is indisputable is that our composite layout complies to the criteria of the ideal hole as MacKenzie once famously hypothesised. Each and every hole inspires, demands accuracy (or acceptance of a lack thereof), will send you to the range searching for solutions and could never, ever be considered tedious. Enjoy.
---
1. The 16th, Saadiyat Beach Golf Club
488 Yards, Par 4, Stroke Index 1
We're fans of course architects who like to ease you into a round with a simple hole, providing, if not a birdie chance, then a relatively straight forward shot at par. There is no such luxury at our composite course. With its tight tee shot, magnetic waste bunker hugging almost the entire right-hand side of the fairway and approach over yet more sand to a deceptively large green well protected by humps and hollows, par is no cinch. Add in a breeze off the Arabian Sea and, well, good luck. This hole is stunningly brutal, a bit like designer Gary Player's fitness regime.
READ MORE: Tame 'Sea View', stroke index 1 at Saadiyat Beach Golf Club
---
2. The 16th, Royal Greens Golf & Country Club
180 Yards, Par 3, Stroke Index 16
We've gone for a par-4, par-3, par-5 opening to our composite 18 to test every club in your bag early. You won't find many short holes in the Middle East more picturesque than the last par 3 on the Kingdom's most recognisable course but don't be lulled by those turquoise Red Sea views. Dustin Johnson nearly lost the inaugural Saudi International here before producing a miraculous recovery from the drop zone for a bogey to hold off Li Haotong in 2019.  Take par and run.
---
3. The 18th, The Address Montgomerie Dubai
656 Yards, Par 5, Stroke Index 1
How many good and great rounds at The Monty have been sunk by Colin's (in)-famous closing hole? Finding dry land off one of the numerous teeing grounds is cause for mini celebration but this par 5 will keep you sweating till the end. The hole is relatively straight forward if you can get off the tee but isn't it amazing how sensible strategy goes out the window with so much water everywhere, or how you suddenly chunk a wedge that has been co-operating so well until now? The potential sucker punch is under clubbing what should be your third (but probably your fourth, fifth of sixth) shot into the green. You deserve a drink but we are only getting started…
---
4. The 18th, Al Mouj Golf
410 Yards, Par 4, Stroke Index 9
Speaking of tough closing holes with watery graves…
The 18th at Greg Norman's Muscat masterpiece tests the mettle of the European Tour's top players at the Oman Open so it's a given that it will keep the blowtorch focused on your ball striking now you've warmed your way into our composite course. Slicers can't aim far enough left off this tee – and invariably they'll hit it straight into trouble if they do. Don't be tempted by any pin cut in the right half of the putting surface or you could be playing pinball with the rocks which elevate this green, and hole, to favourite status among our judges… a big call on a layout overflowing with memorable holes.
---
5. The 16th, Al Ain Equestrian Shooting & Golf Club
421 Yards, Par 4, Stroke Index 5
This par-4 ranks as just the fifth toughest hole at AESGC but don't be fooled by the stroke index or the alluring design aesthetic. A telephone number awaits any player who strays from the fairway off the tee and that's just the beginning of the fun. Ideally you'll shape your drive around the dogleg and past the two furthermost palm trees on the right, hopefully without needing a second or third ball with all that water right and sand and OB left. Now play smart, ignoring any back left (bunker bound!) or centre-right (you're wet!) pin. Simply rifle your mid-iron to the centre of the green, two-putt and walk off with a big smile and plenty of lead left in your pencil.
---
6. The 18th, The Faldo, Emirates Golf Club
485 Yards, Par 4, Stroke Index 5
We find The Faldo one of the region's most exacting tests off the tee, particularly on the outward nine with all those tight doglegs. And sand. And water. To be fair, the closing hole on the Majlis' sister course at Emirates G.C. offers a generous landing area for all but the biggest slicers but there are few more intimidating approach shots than here. Sir Nick was one of the game's great shotmakers. You'll feel like one too if you escape with par of better here.
---
7. The 18th, Trump International Golf Club, Dubai
425 Yards, Par 4, Stroke Index 3
Just don't go left, right? Easier said than done on designer Gil Hanse's closing hole at Trump Dubai. With that man-made lake hugging the dog-legged par 4, it's easy to push it way right off the tee which then brings the wet stuff into play with your approach. Aim right of the green and hope for a members' bounce onto the putting surface because any chip, downhill and with that ever-present water begging, is sure to unearth any jitters in your short game. In effort not to thin it? A frustrating fat? Fun and sometimes frightening.
---
8. The 16th, Al Zorah Golf Club
354 Yards, Par 4, Stroke Index 14
The 16th at Nicklaus Designs' Ajman gem will have you umming and ahhing like the ebb and flooding tides that engross the hole's island tees. The smart strategic play, with sodden marshland left and desert despair right, dictates a hybrid or mid-iron off the tee and a flick of a wedge in. But maybe, just maybe, you could get there with driver, maybe even a 3-wood? A classic risk and reward hole from another classic course Jack (kinda) built.
---
9. The 4th, The Track, Meydan Golf
358 Yards,  Par 4, Stroke Index 7
For further, irrefutable proof, that a hole needn't be long to be memorable, welcome to this feisty little dogleg at The Track, Meydan Golf. You could almost throw it off the tee and have a shot at a green that is generously proportioned. Isn't it amazing how even the silkiest of swings suddenly becomes a little twitchy though when you have to negotiate a bit of H20. And good luck if you over club (prudent) with your approach and leave yourself a slippery downhill chip, looking back at that hypnotic water.
---
RELATED: Top 10 Golf Courses in the Middle East: The Class of 2020
You've done well to make it to the turn with balls left in your bag, not to mention the will to carry on. Grab yourself a nice drink and perhaps an extra sleeve or two of your favourite ammo and prepare for yet more fun.
10. The 18th, Majlis, Emirates Golf Club
546 Yards, Par 5, Stroke Index 12
It's the scene of so much OMEGA Dubai Desert and Moonlight Classics glory – and amateur heartache. Go straight off the tee and you run the risk of not reaching the corner of the dogleg and blocking yourself out or overpowering things and running out of fairway. Hit it too far left and you're in the trees or lush rough at best. Somewhere in between and either wooden or watery fate potentially awaits. Then you must decide to go for it or lay-up and test your nerve over the water. Short is wet while air mailing the green brings another chance of the same. A brilliant strategic test.
---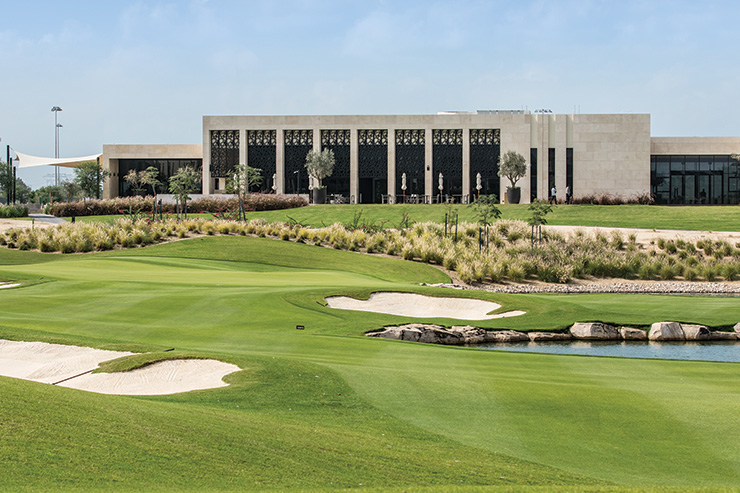 11. The 18th, Dubai Hills Golf Club
486 Yards, Par 4, Stroke Index 10
European Golf Design architect Gary Johnson wanted to differentiate Dubai Hills' finale from the par-5s that predominate the UAE golfscape. The Scot surely did – the 485-yard finish is an absolute brute. Getting it in play off the tee of this par 4 (don't go too far right) is the (not so) easy bit. Afterwards you'll need to rifle a mid-iron to a peninsula green guarded by water left and magnetic bunkering front right that looks like it's cut tight to the green but is actually a clever optical illusion. Par? You've just roared up the leaderboard.
---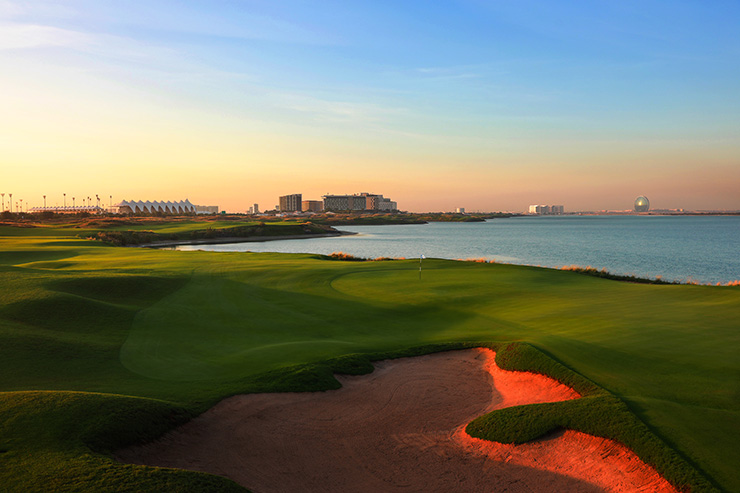 12. The 18th, Yas Links Abu Dhabi
646 Yards, Par 5, Stroke Index 3
There is arguably no tougher finish in Middle East golf than Yas Links' closing par-5, a hole that just keeps coming at you. That's why we've slotted it in early in our inward nine, to leave you some energy to get back to the 19th! You'll need a solid drive and two decent whacks from there to stand any chance of reaching a green large enough to make three-putting almost inevitable. Into a breeze? Your blob won't be the first or the last today.
---
13. The 16th, Earth, Jumeirah Golf Estates
486 Yards, Par 4, Stroke Index 10
The best players on Earth breathe a sigh of relief if they escape here without a scorecard glitch during the DP World Tour Championship each November so who are we to sniff at par? Proof again a hole needn't be long to be challenging. Watch that your tee shot doesn't bound right, never to be seen again. Commit fully to the approach shot too, ignoring the water that frames the partial island green. Yeah, we can't either.
---
14. The 8th, Majlis, Emirates Golf Club
459 Yards, Par 4, Stroke Index 3
Is there a more iconic hole in the Middle East? Is there a hole where more golfers miss right off the tee anywhere in the world? Dust yourself off at the end of this famous par 4 and remember that no matter your score, you've got a marina views selfie your pals the world over will be jealous of.
---
15. The 15th, The Els Club Dubai
489 Yards, Par 4, Stroke Index 1
Thankfully in our composite 18, you haven't had to play the par 4 that mirrors the 15th at The Els Club Dubai because, no doubt, you'd rock up to this tee with the mental scar tissue from negotiating the 6th hole at Ernie's course still fresh in your mind. Instead, rid your thoughts of the water right, that welcoming pot bunker in the landing zone off the tee left, and the bailout area left of the green, a no go zone for those with a twitchy wedge game. Instead, find the fairway, pure your approach to the heart of the green, two-putt and walk away with a par and the lingering admiration of your playing partners. If only golf was as simple as the Big Easy makes it look.
---
16. The 18th, Dubai Creek Golf & Yacht Club
421 Yards, Par 4, Stroke Index 3
Likewise, be thankful you haven't had to play the previous hole at the Creek (see p.39) before you roll up to this beautifully brutal par-4. There is actually no option here other than hitting it arrow straight down the middle and then purposefully onto the green. There is no Creek. Or sand. Or rocks guarding the green to send your ball there anyway. Who are we kidding. Grab a group selfie with the iconic clubhouse in the background and forget that double. Or was it a triple?
---
17. The 17th, Yas Links Abu Dhabi
204 Yards, Par 3, Stroke Index 13
For golf eye candy, it doesn't get much better than the penultimate par 3 at Kyle Phillips' Abu Dhabi masterpiece. Aesthetically pleasing yes, easy no. You'll need to strike it crisp, long and straight to walk away with a score anywhere as attractive as those shots your entire group did manage to nail off the tee – with their camera phones. Majestic.
---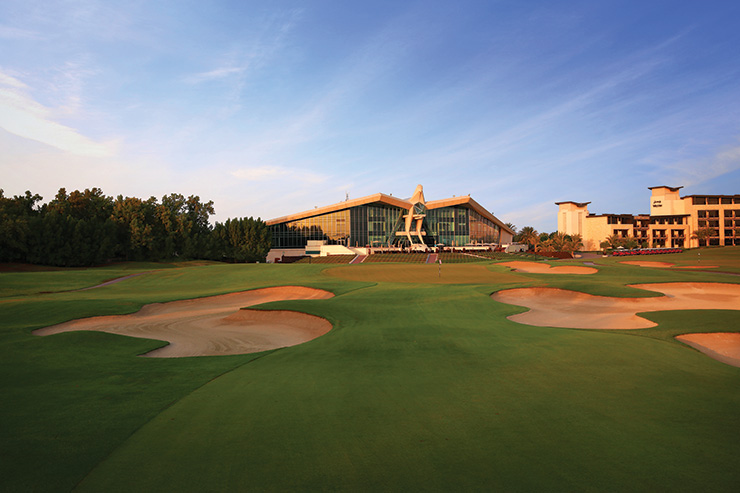 18. The 18th, Abu Dhabi Golf Club
567 Yards, Par 5, Stroke Index 5
Great closing holes effortlessly conjure great late drama. A doff of our cap then to architect Peter Harradine for the climax to the European Tour's Abu Dhabi HSBC Championship each January. Risk and reward comes in wet and sandy waves, tempts the big hitter, teases till the end with its speedy, sprawling green and lures all to the most astonishing clubhouse anywhere in the Middle East. You've made it and well played, regardless of your score. Enjoy your drink and the debrief of the Middle East's favourite holes.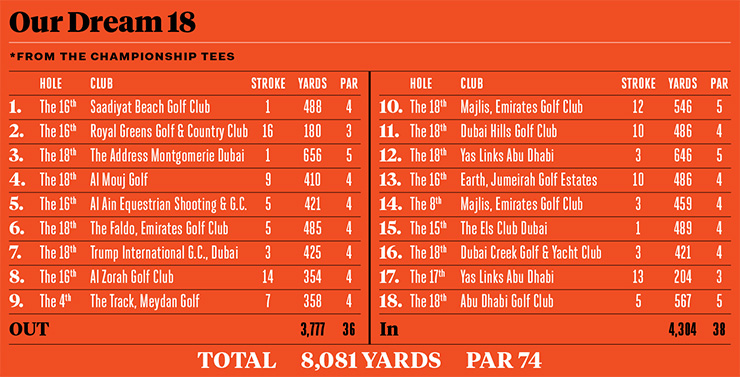 RELATED: Top 10 Golf Courses in the Middle East: The Class of 2020