The 5th hole at Arabian Ranches Golf Club looks relatively straight forward from the tee but Ian Baker-Finch's design subtly makes it anything but. Here, Golf Operations Manager Ryan Smith explains how to negotiate this testing par 4 as part of our ongoing series designed to help you tame the Middle East's toughest holes. 
The 5th hole at Arabian Ranches Golf Club is a great long par 4. It's actually not the longest par 4 on the course but given it is played into the predominant wind, you'll soon discover why it is our stroke 1 hole. It always feels like it plays a little longer than the yardage and it definitely requires accurate placement off both the tee and with your approach shot.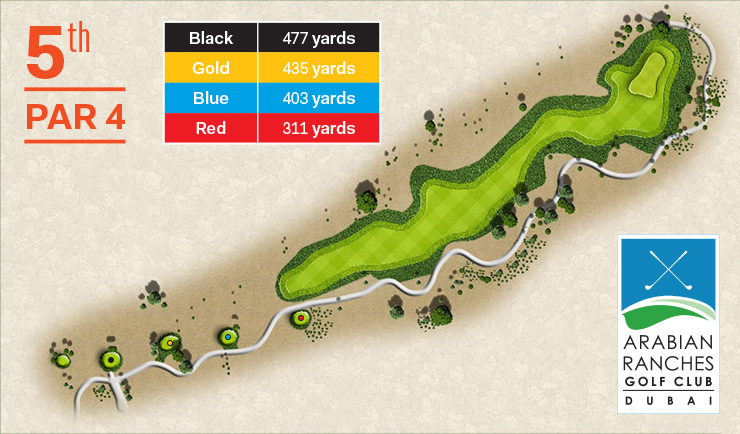 Off the tee: Although it's a fairly straight hole, your tee shot demands accuracy. Ideally, you want to try and hit it as far up the fairway as possible in order to leave yourself a shorter shot in. However, the longer you hit it, the tighter the landing area. Hit it left and you will find yourself in the waste area, while a miss right will see you in the trees and most likely requiring a chip out. 
Approach & closing out: With severe drop offs both left and right of the green, your approach requires yet more accuracy or you'll be faced with a challenging recovery shot. Indeed, any up and down here is to be celebrated. 
Although the green is fairly large, the better player will be mindful of leaving themselves on the correct side of the pin to give the best shot at birdie. The green is home to numerous subtle breaks so take care with your putter. Par here, be it off the stick or with the assistance of any handicap allowance, is always a good score. Enjoy. –with Kent Gray
---
BE AT 1 SERIES:
Tame 'Sea View', stroke index 1 at Saadiyat Beach Golf Club
Tame the 15th, stroke index 1, at The Els Club Dubai
Tame the 5th, stroke index 1, at Tower Links Golf Club
Tame the 15th, stroke index 1, at Yas Links Abu Dhabi
Tame the 7th, stroke index 1, at Dubai Hills Golf Club
Tame the 12th, stroke index 1, at Royal Greens Golf & Country Club
Tame the 13th, stroke index 1, at Al Zorah Golf Club
Tame the 10th, stroke index 1, at Al Ain Equestrian, Shooting & Golf Club
Tame the 5th, stroke index 1, at Abu Dhabi Golf Club

YOU MIGHT ALSO LIKE:
The Middle East's 18 favourite holes
The Middle East's best par 3s
Top 10 Golf Courses in the Middle East: The Class of 2020