Struggle no more with the Middle East's toughest holes. In the latest instalment of our monthly series, Al Zorah Golf Services Manager Sam Markram helps you safely negotiate stroke index 1 at Ajman's Nicklaus Design gem
Thirteen is an unlucky number for some. At Al Zorah Golf Club, it is the number of a hole that can make you feel like a really unlucky golfer, a proven a scorecard wrecker for those who approach without a prudent strategy. Even the pros at past MENA Tour events have run up big numbers here. Water on the left side will play on your mind from the moment you stand on the tee box with your driver until you drop your final putt. The approach shot, yeah that's a nerve-jangler too.  Summed up, making par on this hole is an achievement in its own right but it's not impossible. Here's my strategy:
Tee shot: This is the most demanding tee shot on the golf course as water lies to the left and bunkers wait for anyone who bails out right. The perfect shot would be a soft draw off the bunkers. Playing a draw off this tee is still a daunting prospect with all that wet stuff left but trust yourself to set up a decent approach.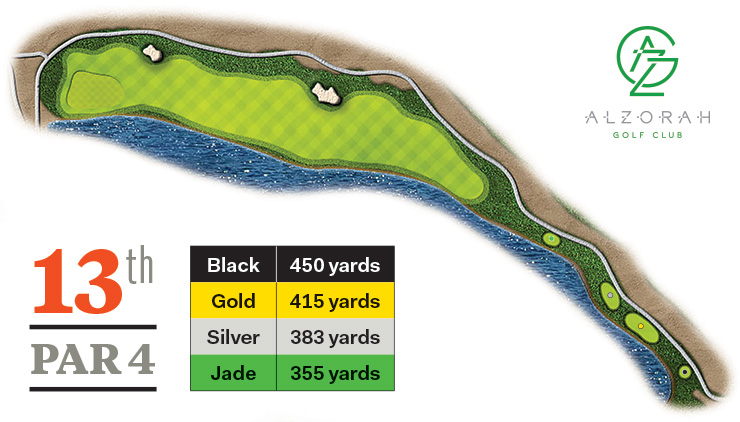 Approach: Find the fairway and you'll likely be left with long to mid iron in. The challenge? The water hazard hasn't gone anywhere. It's still hugging the entirety of the hole which means any shot which has a touch of left in it ends up wet.  The bailout is short and right which can leave a straightforward pitch shot into the pin. If you go long and right then a treacherous chip shot to the pin with water in the background will give all but the surest of short game exponents pause for thought.
Finishing off: The green on the 13th has an array of movement which can easily lead to annoying three-putts. If the pin is at the back and you come up short with your approach, you'll need to negotiate a multitude of breaks and undulations.  If the pin is on the left side, then putting into the water can also be a real threat. This is a hole where you need to maintain concentration on every shot until your ball disappears into the cup. A pure par or one with the assist of a stroke or two? Perfectly acceptable. A birdie? Well played indeed. – with Kent Gray
BE AT 1 SERIES:
Tame 'Sea View', stroke index 1 at Saadiyat Beach Golf Club
Tame the 15th, stroke index 1, at The Els Club Dubai
Tame the 5th, stroke index 1, at Tower Links Golf Club
Tame the 15th, stroke index 1, at Yas Links Abu Dhabi
Tame the 7th, stroke index 1, at Dubai Hills Golf Club
Tame the 12th, stroke index 1, at Royal Greens Golf & Country Club
Tame the 10th, stroke index 1, at Al Ain Equestrian, Shooting & Golf Club
Tame the 5th, stroke index 1, at Abu Dhabi Golf Club
YOU MIGHT ALSO LIKE:
The Middle East's 18 favourite holes
The Middle East's best par 3s
Top 10 Golf Courses in the Middle East: The Class of 2020