Tackle the region's toughest holes with more than blind hope
By Kent Gray
Amateurs everywhere will know where this nightmare scenario is headed. You've got a good round going – you're on track to take the post-round drinks off your pals or perhaps even steal away with the monthly medal – only to run smack bang into a stroke index 1 monster bearing its teeth. Suddenly the air is sucked out of your sails and that once tidy scorecard, well that sucks now too.
The scene of such scorecard horrors is a hole that's invariably long. There'll be some combo of water, sand and gnarly rough to contend with, a mound here and a perhaps a false front there. There's nothing truer than the fact that headwind has just stiffened upon your arrival on the tee. Just hope the greenkeeper didn't have a bad evening the night before or a nasty pin position will up the ante just a little more, not that the hole needed any help thank you very much.
So how do you not only survive but thrive on these potential card wreckers? Start by staying tuned to our new series where we've enlisted the help of the Middle East's leading club professionals to help you negotiate your way through the region's toughest holes. First up, Jaco Stander shows you how to tame the beautiful beast that is the 16th hole at Saadiyat Beach Golf Club, Gary Player's ever-challenging coastal gem in Abu Dhabi.
[divider] — [/divider]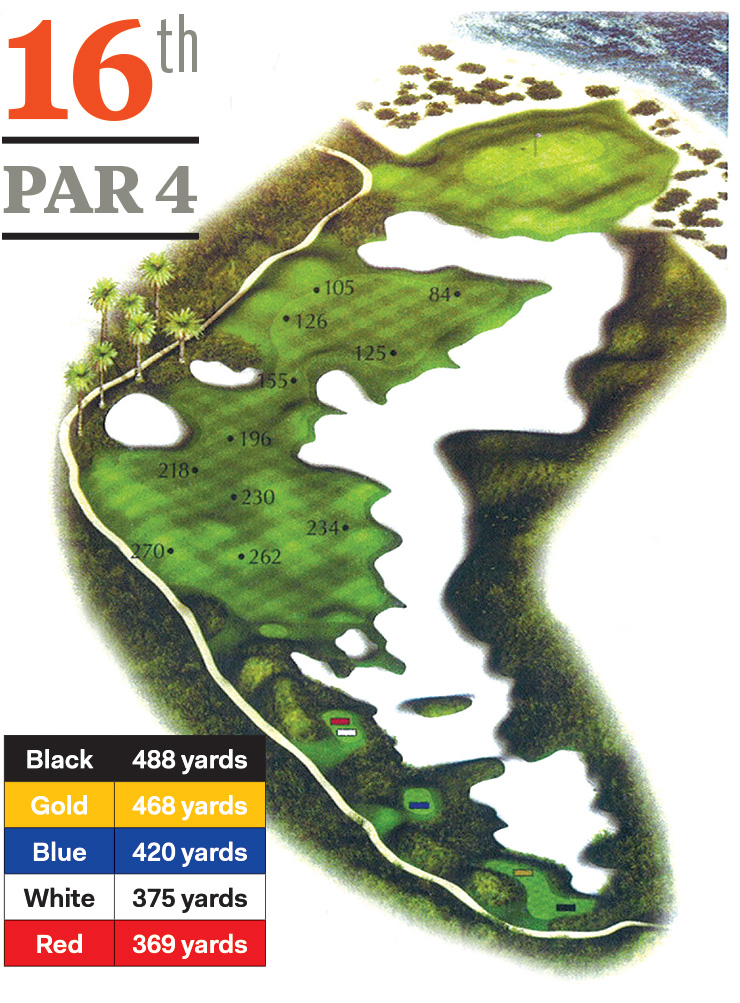 Tame 'Sea View' with Saadiyat Beach Pro Jaco Stander
Known as 'Sea View', the 16th holds the title as the most difficult hole at Saadiyat Beach Golf Club for good reason. Big bunkers on both sides of the fairway, a green that demands precision with your approach and awkward run-off areas are just part of the challenge. Probably the biggest factor is the sea breeze which is always into you so practice those long irons, even if it's just for this one very important approach shot. I've had my share of drama here, everything from almost holing out for eagle to walking off the green with my tail between my legs after marking an eight on my scorecard. Here, I share lessons learned so that you don't have to go through the same heartache.
Tee shot: Unless you can carry your driver 270 yards, forget trying to take on the right-hand bunker. For the longer hitters, aim instead between the two bunkers on the left of the fairway. This area has a little speed pocket where, if your ball catches the slope, you'll add 20–30 yards to your drive and be left with a short iron in. Shorter hitters should aim towards the left-most bunker to open the view to the green, essential given your approach will be a bit longer.
Approach: Now lets navigate this tricky approach, first making 100 percent sure to stay out of the fairway bunker 30–40 yards short of the green. If you find yourself in there, hope might be the only option. Indeed, your approach needs to be precise to find the right landing area on the green – get it wrong and you'll be faced with a potentially long first putt or even tricker, a shot from one of the natural run-off areas. And probably a long first putt anyway.
Closing out: If your ball has been taken hostage by the 16th's nasty run-off areas, do whatever it takes to get it on the green ASAP because this is a place where you can easily leak shots with short game shots on repeat. The green itself has many slopes which will challenge you on the best of days so concentrate on rolling it close and sneaking off without too much punishment from a hole that can definitely tarnish a good round. Good luck!
BE AT 1 SERIES:
Tame the 15th, stroke index 1, at The Els Club Dubai
Tame the 5th, stroke index 1, at Tower Links Golf Club
Tame the 15th, stroke index 1, at Yas Links Abu Dhabi
Tame the 7th, stroke index 1, at Dubai Hills Golf Club
Tame the 12th, stroke index 1, at Royal Greens Golf & Country Club
Tame the 13th, stroke index 1, at Al Zorah Golf Club
Tame the 10th, stroke index 1, at Al Ain Equestrian, Shooting & Golf Club
Tame the 5th, stroke index 1, at Abu Dhabi Golf Club
YOU MIGHT ALSO LIKE:
The Middle East's 18 favourite holes
The Middle East's best par 3s
Top 10 Golf Courses in the Middle East: The Class of 2020