Tower Links Golf Club is next up in our new series designed to help you tame the Middle East's toughest holes. Here Australian General Manager Simon Payne, who mixed it with the likes of Norman and Grady in his day, tackles the start of the RAK club's famed "Green Mile".
The drive from the 4th green to the 5th tee gives you time to contemplate the task ahead as you enter the "Green Mile", a stretch of three holes under the road comprising two par 5's and a long par 4. The par-5 5th, which thoroughly warrants its stroke index 1 status, poses a challenge to even the most skilled players. At no point can you allow your concentration to waiver. Depending on the tee box you are playing from, the first task is to select a line from the tee which allows you to carry the mangroves which hug the entire right side of the hole. The sensible play is towards one of the bunkers on the left side of the fairway, reducing the risk of a re-loaded tee shot. Care must be taken to ensure the bunker just over the mangrove does not catch your tee shot leaving a long lay-up shot. Longer hitters can use the "twin towers" in the distance as a guide. Thread them with your drive and it offers an opportunity for the longer hitters to take on a very risky second to a well-protected green. Normally the prevailing wind is straight into your face and must be considered when deciding your line, regardless of which tee you peg it up from.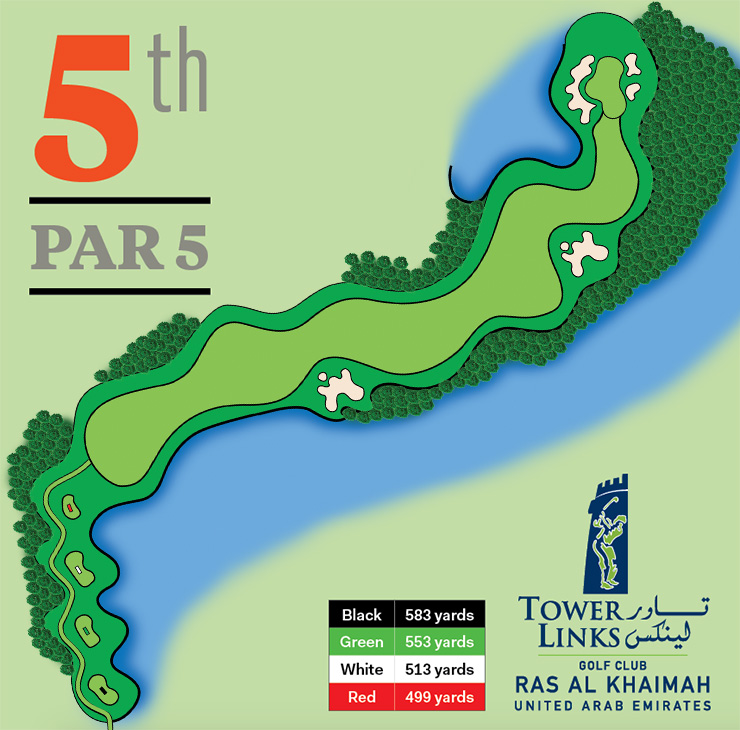 Decisions, Decisions
Once you are in play off the tee, focus turns to a second shot into a tight landing area. Beware the water on the left which runs from 150 yards out all the way to the green. On the right side there is a large sandy waste area and mangroves beyond waiting to swallow your ball. The braver you are will dictate the length of the third shot where pinpoint accuracy is key. Anything short or left will catch water. Should you carry but not hit the green a steep run off onto a speed zone will catch your ball. To the right and long of the green are small bunkers. These present a very scary shot heading back towards the speed zone and water.
Clever Closing
The green offers a number of great pin positions. Take care wherever it is cut as the green slopes from back to front. The clever design often sees those generating a lot of spin finding themselves bringing the speed zone in to play by spinning the ball off the green, especially with left sided pin positions. The toughest pin position is back right on a small shelf surrounded by subtle breaks.
This really is a hole not to get greedy on. The 5th at Tower Links can bite but also offer a good chance of birdie providing you stick to a plan. Always remember you still have two tough holes ahead as you complete the first phase of the "Green Mile" so use your handicap allowance wisely. — with Kent Gray
BE AT 1 SERIES:
Tame 'Sea View', stroke index 1 at Saadiyat Beach Golf Club
Tame the 15th, stroke index 1, at The Els Club Dubai
Tame the 15th, stroke index 1, at Yas Links Abu Dhabi
Tame the 7th, stroke index 1, at Dubai Hills Golf Club
Tame the 12th, stroke index 1, at Royal Greens Golf & Country Club
Tame the 13th, stroke index 1, at Al Zorah Golf Club
Tame the 10th, stroke index 1, at Al Ain Equestrian, Shooting & Golf Club
Tame the 5th, stroke index 1, at Abu Dhabi Golf Club
YOU MIGHT ALSO LIKE:
The Middle East's 18 favourite holes
The Middle East's best par 3s
Top 10 Golf Courses in the Middle East: The Class of 2020