Yas Links has this month's honour in our new series designed to help you tame the Middle East's toughest holes. Here we join Yas Pro Karl Dunn on the 15th tee at Kyle Phillips' Abu Dhabi masterpiece.
The 15th hole at Yas Links is the start of one of the toughest stretches of finishing holes in the Middle East. Not only is it deservedly the stroke index 1 hole, it doubles down by invariably playing straight into the prevailing wind that sweeps across Yas Island.
Par or better is no cinch because even if you safely negotiate the fairway bunker and run-off areas designed to gobble up drives that stray too far left, the approach into the large, double-tier green shared with our 12th hole calls for a crisply struck shot.
The putting surface is then protected with a large bunker to the left, a hidden run-off area to the right and a fairway bunker short right, catching miss-hit or miss-judged approach shots which are common-place hitting into this challenging green. But fret not. Here's my blueprint to walk away with a Stableford point or three. — with Kent Gray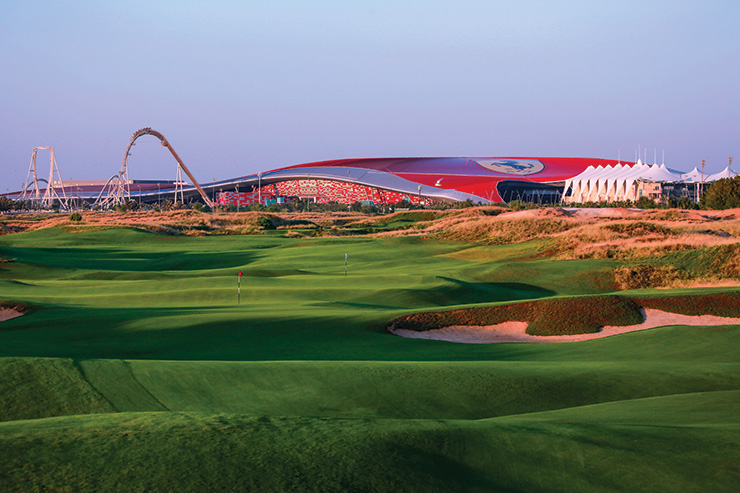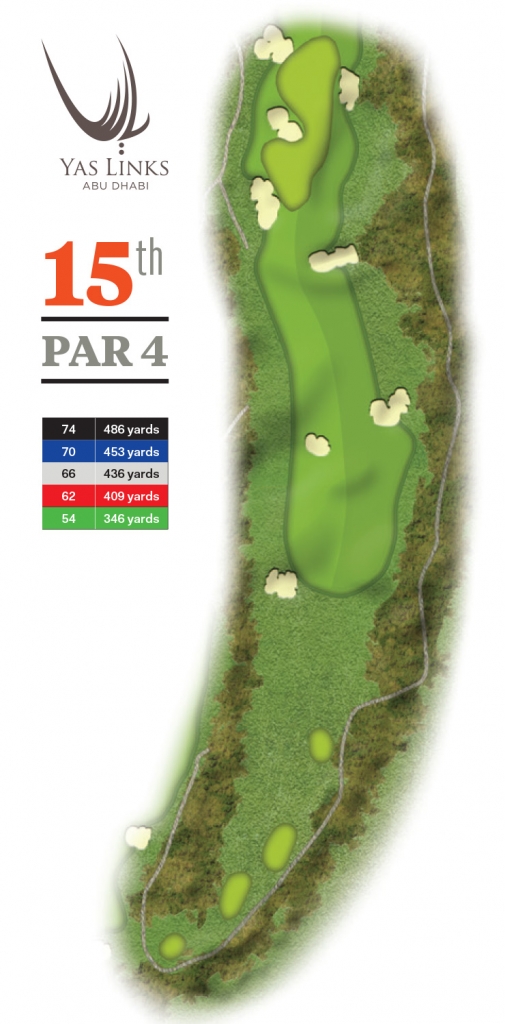 Tee shot: There's not much reward here if you're tempted to take on the bunker on the left-hand side of the fairway. It sits about 276 yards out and because of its depth, you're looking at bogey at best if your drive ends up in the trap. So for even the big hitter, right is your best chance of avoiding early punishment. There's a large area that opens up to the right side of the fairway which you cannot see from the tee.  The left side, meanwhile, is cambered, leading to a runoff area which Is laced with thick rough, a magnet for anything that bounces left.
So aim for the right side and leave yourself a nice angle into the green from somewhere between the fairway bunkers.
Approach: Your number one task here is to simply hit the middle of the green. Manage this and it sets you up for a good start for the final three holes. The deep greenside bunker left and a fairway bunker 30 to 40 yards out is just waiting to catch those poor shots previously mentioned. Miss the green right and the nasty run off area will leave you with a shot from a tight lie over a steep bank guarding the green. So, to reiterate, take a short game blowout out of the equation by aiming for the middle of the green.
Closing out: The large two-tier putting surfaces sees its share of three (or more) putts on any given day. My advice is to accept a two-putt even if you are chasing a score. Don't get greedy because the undulating green can easily leave you second-guessing with the flat stick, not something you want as you move onto the final stretch.
BE AT 1 SERIES:
Tame 'Sea View', stroke index 1 at Saadiyat Beach Golf Club
Tame the 15th, stroke index 1, at The Els Club Dubai
Tame the 5th, stroke index 1, at Tower Links Golf Club
Tame the 7th, stroke index 1, at Dubai Hills Golf Club
Tame the 12th, stroke index 1, at Royal Greens Golf & Country Club
Tame the 13th, stroke index 1, at Al Zorah Golf Club
Tame the 10th, stroke index 1, at Al Ain Equestrian, Shooting & Golf Club
Tame the 5th, stroke index 1, at Abu Dhabi Golf Club
YOU MIGHT ALSO LIKE:
The Middle East's 18 favourite holes
The Middle East's best par 3s
Top 10 Golf Courses in the Middle East: The Class of 2020