By Matt Smith
They say the more things change, the more they stay the same — and that adage could not be more applicable to the Open Championship last week as golf's oldest major celebrated its 150th outing.
The PGA Tour posted an intriguing image of the 18th green at St Andrews back in 1937 alongside one from Sunday on the Old Course.
The contrast is stark, with the 2022 colour image catching the eye with looming grandstands, garish sports gear cladding the players and fans alike, and a sea of mobile phones capturing the moment on the green.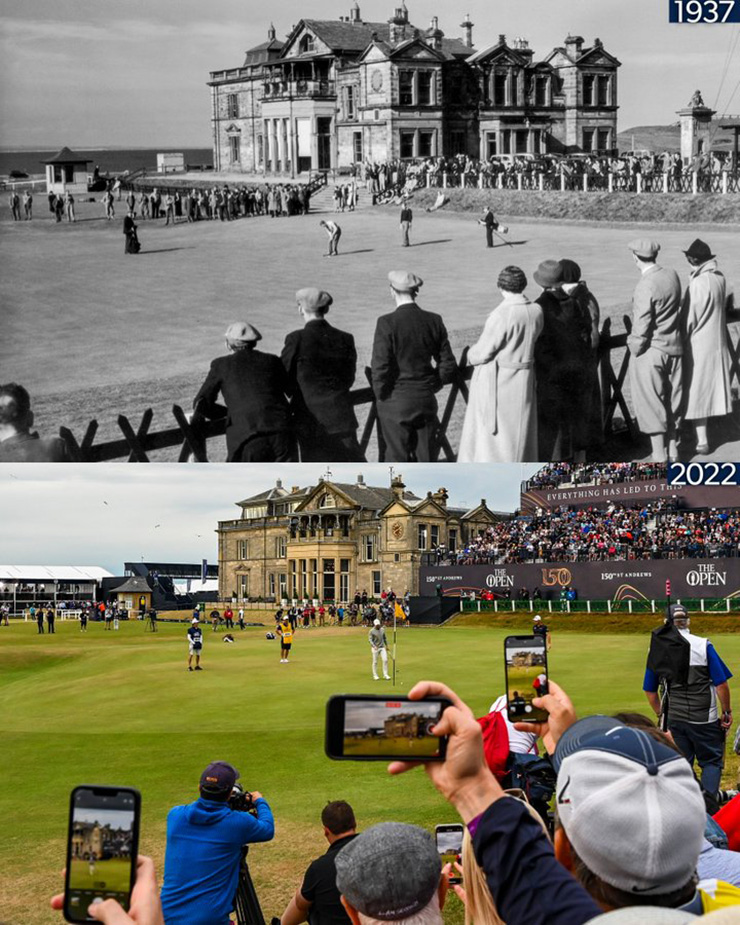 But then the similarities creep in. Those traditional similarities that give this ancient tournament its resonance. The playing surface in both the black-and-white and colour images looks almost identical; the throng of spectators, while dressed differently, look on in deferential silence; and that famous clubhouse takes centre stage, hardly looking a day older despite the 85 years between the two snaps.
Technology, fashions and equipment may be ever-changing and advancing in golf, but some things stand the test of time to remind us where it all began.
You may also like:
Parting thoughts from the 150th Open Championship
Ryder Cup captain Stenson set for LIV Golf switch
2022 major winners accomplish historic first
Rory's grim record at The Open
Cameron Smith's awkward answer when asked about LIV Golf interests
Who won what prize money at record Open
Calm Cam's Road Hole putt proves pivotal
Cam Smith is the Wizard from Oz
LIV Golf: Casey and co considering Asian Tour avenue
LIV Golf unity for players at the Open
Watch: Back-to-back Lowry eagles
What next for Tiger Woods?
WATCH: Poulter's record putt on the Old Course
WATCH: Haotong Li hits the wall at The Open
Asian Tour offers LIV Golfers ranking points opportunity
Weather at St Andrews is way too nice for those who like carnage
Why a St Andrews Open just hits different
15 St Andrews landmarks you need to know
R&A fires warning to LIV Golf players
Jack Nicklaus honoured in St Andrews
The 15 best battles for the Claret Jug at St Andrews
LIV Golf to discover OWGR fate
PGA Tour under investigation over LIV Golf
Record prize money at 150th Open Championship