By Shane Ryan
On the morning of December 15, 2019, just before the Sunday singles session began at Royal Melbourne in Australia, the Presidents Cup had reached a high-water mark. Perhaps that was a low bar, considering how lopsided the results had been since its first instalment in 1994, but nevertheless, the biennial competition had seemed to finally coalesce. The International team were leading, which was most important since the main ingredient required to boost the status of this event was, quite frankly, an American loss. More than that, though, the captain, Ernie Els, was taking the event as seriously as a European Ryder Cup captain, right down to hiring statistical analysts. The International team were not just there to play, but there to win.
Unfortunately for them, they were blown out in that singles session, 8-4, losing the Cup by two points. In the aftermath, their great play and Els' great leadership started to evaporate, and the most common narrative was familiar: Even when things go wrong, the Americans just can't lose. It later became clear that Els wasn't returning, COVID delayed the next match by a year, and in the run-up to this week's 14th playing of the event at Quail Hollow Club in Charlotte, North Carolina, the International team has been gutted by departures to LIV Golf and subsequent bans on the PGA Tour and Presidents Cup. The momentum from that fateful morning seems to have vanished, or at least gone dormant, and the widespread belief is that we're on the verge of another American beatdown.
With that, we've seen a renewed clamour to alter the structure of the Presidents Cup. Some have suggested turning it into a mixed event with LPGA golfers but US captain Davis Love III made a strong point when he said that there's no reason a mixed format has to be employed at the Presidents Cup. The changes proposed below are a little more subtle, and in line with what should be the ultimate goal: Raising the Presidents Cup in stature to be one day equal in prestige and excitement to the Ryder Cup.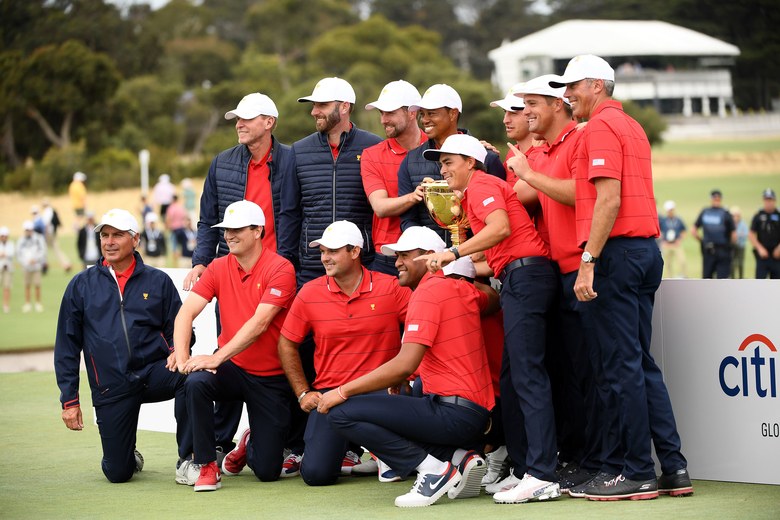 1. Have fewer matches overall, and per session
Prior to the 1987 Ryder Cup, officials with the PGA of America proposed a format change — they wanted it to be held over four days and to include a second singles round. This was partly for TV revenue and ticket sales and all that — the public was finally starting to come around on this team competition — but it was also partly strategic. America had the best players, and more matches (particularly in singles) meant they'd have a better chance to win. Coming on the heels of 1985, Team Europe's first win, it would have been devastating to the psyche of a group gaining momentum and for the event overall. Luckily, Tony Jacklin was a visionary who saw exactly how bad this would be for everyone, and he used the greatest weapon at his disposal — he threatened to resign. His influence and leverage was just enough to get the European Tour fighting on his behalf, and eventually the PGA of America dropped the idea.
The point here is that, statistically speaking, fewer matches overall benefit an underdog, and the fact that the Ryder Cup has just 28 points at stake, with less than half of them held as singles matches, has allowed Europe to compete toe to toe with a nation that has remained superior in terms of raw talent throughout the years.
Now turn to the Presidents Cup, which started with 32 points at stake, moved up to 34 at one point, and now has come down to 30. That might not sound like a whole lot more than 28, but every point counts in a tight match, and there's another big difference, too: the first two days, there are five matches per session, meaning that each team can only sit out two players instead of the usual four. This, again, benefits the stronger American team, because it prevents the weaker International Team from "hiding" two of its weaker players. It also diminishes strategy, which is always bad, and decreases variability, which is bad in match-play exhibitions.
If you want to make the Internationals more competitive, this is an easy way to start. You don't even need to get rid of Thursday golf; just make the first two days four matches only, and you've reduced the total matches to 28 and taken a big step toward preventing Americans depth from overwhelming the competition.
(Note: For what it's worth, they should also get rid of Thursday golf. It's more fun when it's all stacked in close proximity and the captains have to make immediate tough choices.)
2. Pay the players
While the four-day schedule mentioned above is one in which the Presidents Cup has tried — and failed — to distinguish itself positively from the Ryder Cup, there are other differences that are hugely successful. The snake draft method of determining match-ups, for one, produces wonderful drama that is totally unique in the sport and a great change from the Ryder Cup. Allowing both captains to go to six captain's picks, while no longer dissimilar from the Ryder Cup, was also a strong move. Here's an idea for another: Pay the players.
By raising the idea of a financial incentive to play in the event, we're not looking at it as a form of persuasion to keep players loyal to the PGA Tour; paying someone like Cameron Smith $500,000 for a President Cup appearance wasn't going to keep him from moving to LIV Golf. However, it's practically criminal from a business standpoint that these team events, which stand on the shoulders of the players, offer those players no profit! A stipend and a donation to charity won't cut it; these guys should be making millions.
If the Presidents Cup wants to grow in stature, at least among the players, paying them a fair share of the profits would be a great way to distinguish it from the Ryder Cup. It's unclear how much a fair share would be — surely it's less than the PGA of America and DP World Tour should be parting with at the Ryder Cup — but practically any amount would at least show the players that they were being taken care of and not used under the guise that they should simply be proud to play for their country/geographical area. If you think about it, it's really not that different from the NCAA failing to pay its own revenue-generating athletes. So why not make a bold move and lead the way?
3. Give each team complete control over its own destiny
Here was Ernie Els, the International team's best ever captain, after his near-upset in Melbourne in 2019:
"I know it's a PGA Tour-sanctioned event, but to really be able to do what you need to do, you need to be almost a separate … you need to be away from the PGA Tour. I love these guys, they work for the tour and all that, but to make our own rules, to get our own choices, to do our own thing, it's hard to explain. But we need to be separate. That's a long, long process. I don't think it will happen very soon … the Ryder Cup works because the Europeans do their own thing, and the US do their own thing … we're trying to do it under one umbrella, so under the tour's office, under their roof, you know, and there's a lot of things that clash."
It's unlikely PGA Tour officials are going to give free licence to anyone else to run the event. (Total autonomy might lead to a scenario in which the International roster is full of LIV golfers, for instance.) That said, there has to be a compromise solution that allows the International team a degree of strategic independence. Now that you have guys like Els and Immelman who are taking their leadership roles very seriously — as opposed to the more laid-back ceremonial approach of previous three-time captains like Gary Player, Greg Norman and Nick Price — you need to encourage that as much as possible. Not that it's simple, of course.
"We've had conversations," Immelman told Golf Digest. "While that sounds good, it's not as easy as that … I don't think people realise how much work is done to make PGA Tour events run smoothly."
Simple or not, one of the biggest challenges across the board in the Presidents Cup is fostering a team identity for the Internationals. It's hard to get the players to feel team pride when the team is so broadly defined, much less to create a fan base that simply does not exist and expect it to cohere around a team that is defined as "the entire world except the US and Europe." (Despite the best efforts of the green-and-yellow clad "Fantastic," a group that has travelled to root for the Internationals for several of the matches.) This is a massive challenge, and the tour and visionaries like Els have taken important steps, like designing their own logo in 2019 and getting the players together as much as possible before the week of competition. It's an uphill climb, but one quick way to accelerate it is to let the Internationals pave their own way as much as possible. It's not just good for them; it's good for the event.
4. Let the home team control the course
One of the critical elements Tony Jacklin used in the 1980s to jump-start the European Ryder Cup movement was to creatively and strategically manipulate his courses for the benefit of his team. The Americans caught on, eventually, and now it's one of the staples of the Ryder Cup, heightened to crazy degrees due to the introduction of statistical analysts that turn course alteration into a science. These little advantages add up and, again, the underdog needs them in order to compete.
In 2019, KJ Choi, an assistant captain for the Internationals, approached the superintendent of Royal Melbourne and encourage him to speed up the greens. He was (politely) dismissed. That authority belongs to the PGA Tour. But if he had had his way, and Els had more control over the course, it's very easy to see the Internationals winning 16-14 instead of losing by that score. Which, in the end, is what you need, because International victories will bring parity, and parity will make all of this more compelling.
(And yes, giving the US this same power will likely lead to blowouts on American soil, but that ship has already sailed.)
5. Keep investing in global golf
Ultimately for the Presidents Cup to work, all of these tweaks will need to take place while the talent on the International side continues to improve. The better global players become, the better and more competitive the Presidents Cup will become. The PGA Tour's success in this arena, in Latin America and Asia particularly, can actually be measured by the composition of Presidents Cup International teams, which now have more global variety than ever before. The Presidents Cup will shine when the rest of the world becomes better at golf, but first, we have to give them a chance.
You may also like:
Golf Digest Middle East presents Oktoberfest 2022
Every player at the 2022 Presidents Cup ranked and rated
Davis Love finds his voice — thanks to LIV
WATCH: LIV Golf highlights from Chicago
WATCH: Willett's three-putt to lose Fortinet
Pay day in Chicago: Who won what at LIV Golf?
Loud and proud crowd the difference at Presidents Cup
WATCH: Bryson gets in a tangle at  Chicago LIV event
Laklalech becomes first Arab to win on LET
Chiara Noja secures LET card for 2023
Max Homa claims Fortinet title
MacIntyre holds off Fitzpatrick to claim Italian Open
Cam claims LIV Golf title as Sergio responds
Greg Norman gets a Cam mullet
Cam turns on the style at LIV Golf Chicago
Rory to face LIV Golfers at Dunhill Links Championship
Van Dam aims for double impact in New York
Team Europe should fancy Ryder Cup chances
DP World Tour Championship set for a week of fun
Meet Carl Yuan, your favourite golfer you don't know yet
Dubai Desert Classic set for January return — without Slync
Get your FREE September edition of Golf Digest Middle East here