Dutch star eager to get back in winner's circle at Aramco Team Series in New York — with two titles to play for
By Matt Smith
Following one of the most dramatic competitions on the Ladies European Tour this season, it is fair to say the Aramco Team Series (ATS) — New York event has a lot to live up to.
Ahead of the return to the States in October for its second staging of the innovative team tournament, it was two Americans — and two sisters — who lit up the $1 million Spanish leg of the ATS.
Nelly and Jessica Korda fought out an engrossing tug-of-war over three days at La Reserva Club in Sotogrande on their first ever visit to Spain, with younger sibling and world No. 3 Nelly prevailing. Jessica looked out of reach having opened up a six-stroke lead after the first two days, but Nelly's class once again shone through as she reeled in her sister over the final 18 holes to pick up her 10th professional title. 
Jess had the consolation of claiming the team tournament alongside Tereza Melecka, Noora Komulainen and amateur Malcolm Borwick in Sotogrande, and both Kordas will be aiming to get their names on the trophies once again in New York at Ferry Point.
Jessica is a two-time winning captain on the ATS, having also claimed the team event in New York last year and, while she will be determined to defend that title, there will be no shortage of competition standing in her way with as many as 29 other team captains also out for glory.
One such skipper is Anne Van Dam, the Dutch 2019 Solheim Cup winner who is known for her monster drives, and is looking forward to getting back to New York, and a new venue at Ferry Point.
"It is such a great event — all of the Aramco Team Series events are, and I can't wait to get out and try the format on a new course at Trump Ferry Point," Van Dam, who has won three of her five LET titles in Spain, told Golf Digest Middle East from Sotogrande. 
The ATS was launched last year, with backing from Golf Saudi and Aramco, offering attractive prize money and extensive broadcast coverage — two things that have been lacking in the ladies game until recently. Van Dam, something of an ATS 'veteran' now, is thrilled to see how the tournament has grown in such a short time and how it has added to the LET experience.
"Aramco is such a huge add," the 26-year-old said. "I played in the first ATS event in Bangkok last year and to see how it has grown and the set-up has improved is amazing. Every week it is getting better, and New York will be no different. 
"To me any ATS week is a bit like the majors, the way we are treated, our caddies are treated, the whole set-up, it is amazing and I love it."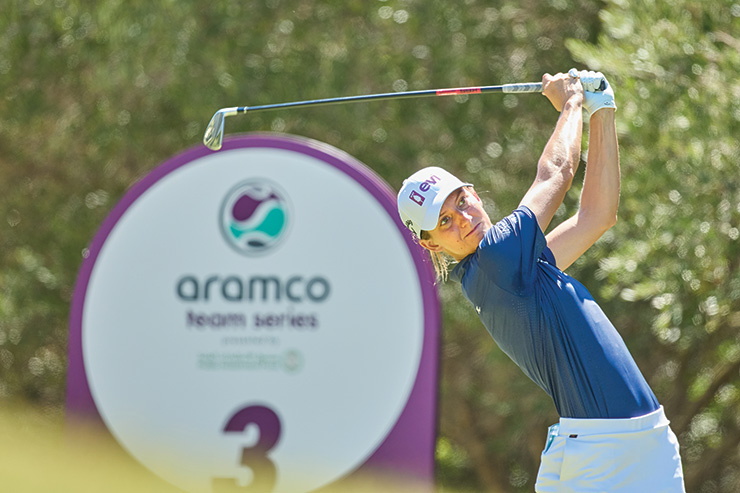 The Kordas appearance in Spain also shows how the series — where players compete individually and as teams of four in two parallel tournaments — is growing globally.
"I play alongside them a lot on the LPGA and they are good friends. It is cool to see them and other big names coming out here for these events as it shows how these team events are helping promote the game — ladies, men and amateurs — and ensure a bright and entertaining future. With guys like the Kordas coming along, it can only be a good thing."
Van Dam is a Golf Saudi ambassador and was thrilled to hear that young Dubai-based golfer Chiara Noja has also signed up to represent Golf Saudi and help promote the game. 
"It is quite a new thing for me still, but it really is a cool partnership, as you get to compete in world-class events and take part in some fun media events, all the while inspiring the next generation of players — especially young females — to get into the game," Van Dam said. 
"That is really why we are all here doing this at the end of the day. With Chiara, I will help her enjoy every moment and she should really be able to connect with and inspire the younger players out there." 
While Van Dam has yet to get back in the winner's circle since the Covid-19 pandemic, she insists she is not far away.
"I have been playing really consistent on the LET and LPGA and have had some good results," she said. "The travel can be tough at times but I always give my all and I aim to finish the 2022 season strong to get myself into contention for another win."
With four top-10s on the LET so far this season, a trip to New York could be just what Van Dam needs to get her hands on another trophy — even if those pesky Kordas are there.
You may also like:
Golf Digest Middle East presents Oktoberfest 2022
Watch Nelly Korda nail Sawgrass 17th — left-handed
Annika Sorenstam to get her own LPGA event
A tale of two sisters at Aramco Team Series — Sotogrande
Team Europe should fancy Ryder Cup chances
DP World Tour Championship set for a week of fun
Meet Carl Yuan, your favourite golfer you don't know yet
Puig prepares for life as a pro in Chicago
Dubai Desert Classic set for January return — without Slync
DP World Tour set for a band of brothers
How did LIV Golfers get on in rankings points race at DP World Tour BMW PGA?
Get your FREE September edition of Golf Digest Middle East here