By Matt Smith
First place in the inaugural LIV Golf Invitational Series competition: $4 million
Share of first place in the inaugural team competition during the same three days: $750,000
A hug from the kids and a first trophy in six years: priceless
King Charl 👑🏆#LIVGolf | @CA_Schwartzel pic.twitter.com/2K1x3daus0

— LIV Golf (@LIVGolfInv) June 11, 2022
Charl Schwartzel made history on Saturday to win the first ever LIV Golf event at Centurion Club and the relief on his face after holing the final putt was more to do with victory in its own right rather than the whopping pay cheque that came with it.
Yes, the South African took away $4.75 million for his work over 54 holes in Hertfordshire this week, but the 2011 Masters winner honestly just looked more delighted to embrace his son and daughter and prove he could be a champion once again.
Schwartzel's last win came way back in 2016 before some steely nerves and a hot putter took him home by one stroke at Centurion Club on Saturday.
Scorecards signed 🎬#LIVGolf pic.twitter.com/Z1Hvjvykzj

— LIV Golf (@LIVGolfInv) June 11, 2022
He was clear by five at one point but hit the wobbles on the back nine, and had to hold it together to hole out for a one-stroke triumph over 'Stinger' teammate and fellow South African Hennie Du Plessis with the final shot (third-placed Branden Grace and skipper Louis Oosthuizen made up the winning foursome).
The definition of domination 💯#LIVGolf pic.twitter.com/CvPFv5jGbr

— LIV Golf (@LIVGolfInv) June 11, 2022
"I really wanted to win again," Schwartzel told the media here, with both individual and team trophies sitting beside him. "I worked very hard the last few years and there were signs of good golf and just haven't really been able to be in contention, and I played really god the first 11 holes. I hit a wayward shot on 12 and it sort of derailed me.
"From there on, I was just trying to hang in. Hennie was playing some really good golf, he was hitting good shots and playing pressure.
"It was a little bit like 'just get in the house' at the end. But I couldn't be more pleased and happy with how it turned out today."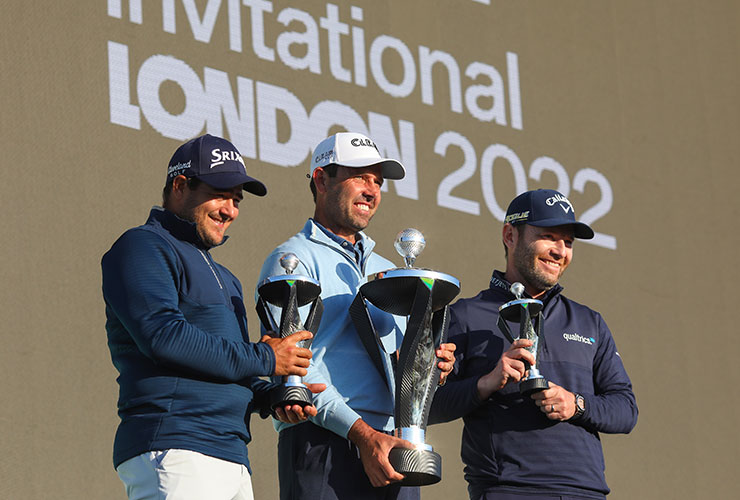 "I'm tired," he joked after the three-day shotgun tournament, as opposed to the usual 72-holes. "I came here last Saturday. I played Monday, Tuesday, Wednesday. So I've played a full week of hard preparation, and I think for the amount that's at stake, what LIV has put up, I could see myself doing that for almost all the event, really trying to prepare like I did for majors. Majors I used to come early and be real prepared. Because you have got three rounds now, so you don't have four rounds to maybe catch up if you were behind. You have to play well all three rounds, otherwise you won't win.
"So, 54 holes was the tournament, but my week has been very long.
The Masters champion also reflected on what this week meant compared to his famous week at Augusta back in 2011.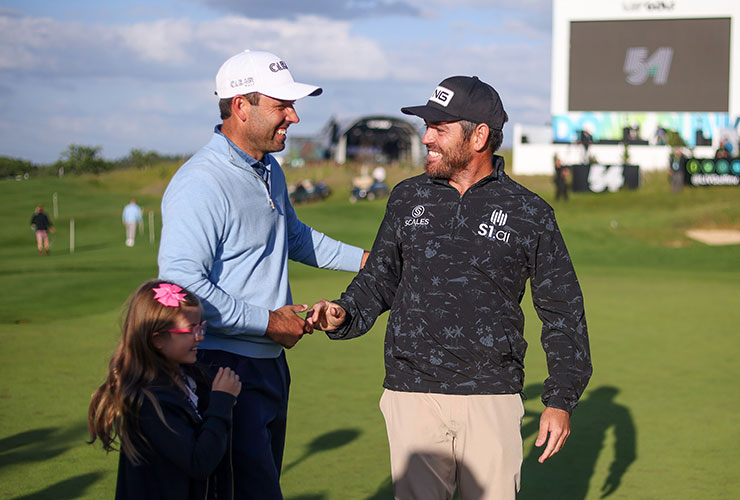 "I don't know if there's anything that will ever come close to a green jacket. Majors are what define our careers. Obviously I was fortunate to win the green jacket and I'm very proud of that.
"Money is one thing but, there, you're playing for prestige, history. Yeah, winning a major will always top anything you do."
Du Plessis took $2.875 million for his week's work and he was quizzed how he felt after it was suggested he had just tripled his career earnings.
"Obviously I've worked hard to be in this position and to earn this amount of money," he said after his near miss for the title. "I've got LIV Golf to thank for that, for giving me the opportunity. It's been an incredible week and I'm very grateful and I'm very happy.
"It's hard not to think about the money. But you're still trying to win a tournament and put a decent result in. So I didn't really think about the money. I just thought about the trophy."
There was a real camaraderie in the Stinger team, as they are all South African, and captain Oosthuizen admitted that was part of his plan from the start. He is aiming to keep them together for the next LIV event in the US at the end of the month.
"So Charl and Branden are in my team going forward to the next event in Portland," he said. I sort of looked them up and said I want them on my team. I would love to have a full South African team every week.
"I know Hennie has got a few things struggling with visa appointments and stuff like that with the backlogs, and so, if he can sort that out, there's a space on my team for him. If it works out, the four of us play the next ones."
It was quite a closing day in St Albans as — following the announcement of Bryson DeChambeau on Friday — both Patrick Reed and Pat Perez were confirmed as signing up to LIV Golf, despite the confirmation of suspension from the PGA for any player who made such a move.
During the event, Reed joined the commentary team in London online to explain his decision: "I'm super excited. Just the thought of being a part of an evolution and a change in golf for the better for me, it's unbelievable. I have been watching all weekend and the format and just the way everything is, I'm super excited and can't wait to be a part of it.
"I have been talking to a few of the guys after the first round and second round and they have told me how well not only the tournament is run but also the turnout with the fans and the excitement and energy — and I think that's the biggest thing is the energy seems so lively and every player seems so pumped and ready to go. Portland can't get here fast enough."
Fellow Pat, Perez, added shortly afterward: "DJ (close friend and former world No. 1 Dustin Johnson) was about 100 per cent the reason that I have this deal. He wanted me to be part of it. A deal like this doesn't really come across to a guy with my rank and this and that, even though I've been on tour 21 years and I've got three wins and I've made 335 cuts.
"But DJ wanted me on his team and you know, the opportunity to follow a world-class player like that, two majors and FedEx, 24 wins and world No. 1 for a really long time, it's really an honour to be by his side and to be on his team."
You might also like:
AS IT HAPPENED on Day 3 at Centurion
Highlights from Day 2
Final round pairings
All you need to know for the inaugural LIV Golf Invitational event at Centurion Club in England
The LIV Golf teams are announced
Big Phil confirms LIV Golf participation
Analyzing the 42 players who have signed up for LIV Golf
Your top players to watch at LIV Golf Invitational
DJ to headline LIV Golf Invitational