Greg Norman's brainchild series is finally set for its big curtain-raiser at Centurion Club outside London
By Matt Smith
Greg Norman's dream is finally about to become a reality as the LIV Golf Invitational Series tees off at Centurion Club, St Albans, just outside London this month.
A long time in the making, the former Super Golf League has been backed by the Saudi Arabia Public Investment Fund (PIF) and will come to fruition on June 9 in England for the first of eight lucrative three-round events with no cuts, shotgun starts, guaranteed payouts for all and a whopping $255 million purse. 
With each event offering at least $25 million in prize money — dwarfing the amounts on offer in even the flagship events on the PGA Tour and DP World Tour — the LIV Golf Series has certainly turned a lot of heads.
MORE: Dustin Johnson to headline LIV Golf field in London
Watch all the action live right here
Since Norman, the CEO of LIV Golf Investments, whose chief shareholder is the Saudi PIF, announced the launch of the series in March, the rumours and accusations have been flying. But one thing is for sure — it is happening, and in some style.
Back in March, a statement announcing the eight-event LIV Golf Series described the league as "100 per cent additive" to the pro game rather than a rival to the PGA and DP World Tours, with the "building blocks of a next generation golf experience".
"I want golf to grow, players to have additional opportunities, and fans to have more fun," said Norman.
"My mission is to help the game reach its full potential and we know the role of golf as an entertainment product is critical to overall participation in the sport. In many ways, we are a start-up. We have a long-term vision and aim to grow. I believe we have a very bright and exciting future."
Inspiration
Greg Norman was working as a commentator at the 2021 Ryder Cup at Whistling Straits when he had his epiphany. Team golf is such a fan favourite — why not make a series? 
And so he began his journey, with team golf at the "heart of the new structure" with $5 million of the $25 million purse on offer at each of the first seven LIV Golf Invitational Series events going to top three placed teams.
There will also be a Team Championship grand finale, played in a match-play format for a whopping $50 million, at the conclusion of the series in late October in Miami. 
With $20 million on offer for individual performances at each event, plus a $30 million bonus pool for the top three players after the seven 'regular season' events, the team spirit will add a fresh element to the sport.
The Venue
Centurion Club in Hertfordshire is where it will all begin on June 9. The parkland course is nestled in a tall pine forest, with middle nine holes offering more open play after a wooded beginning. 
The course only opened in 2013 but has firmly stamped its place as a favourite in the UK, having previously held the DP World Tour GolfSixes and Ladies European Tour Aramco Team Series events.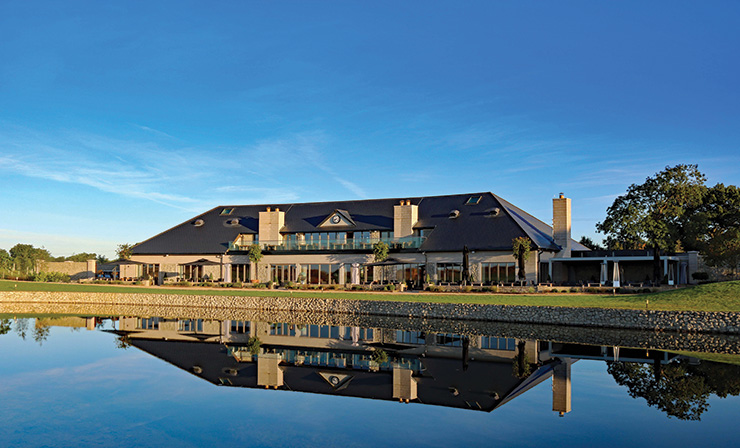 At over 7,000 yards from the back tees, the par-70 course near St Albans reflects the area's links with its Roman history (hence 'Centurion'), and each hole has been given a Latin name. The pine trees return on the final few holes, creating a dramatic setting for the finale. 
The course traditionally plays as a par 72, with six par 5s, six par 4s and six par 3s measuring a total of 7,064 yards, but the pros at the LIV Golf event will be playing the three par 5s on the front nine as par 4s, adding to a real mix of challenges. Raised tees offer clear views over the fairways on most of the holes, but the 80-odd bunkers and four major water features are sure to cause plenty of problems for the 48 hopefuls over three challenging days.
Fan Village

 
The Centurion Club is going all out to make a big opening statement, with all tickets — starting from just over AED 300 — including access to all the activations over a fun-filled weekend.
Gates will open at 11am all three days of tournament play in advance of the 2pm shotgun start, so guests can enjoy and take part in all of the interactive activities onsite. Grounds passes will allow fans to walk the course, view the tournament from select viewing platforms and grant entry to the Fan Village, with Covent Garden-style street performers and a food and drink festival atmosphere inspired by the best of Borough Market. A specially designed Kids Zone will also engage youth with children's entertainers, face painting, soft play equipment for climbing, crazy golf putting challenges, and educational activations based on STEM lessons.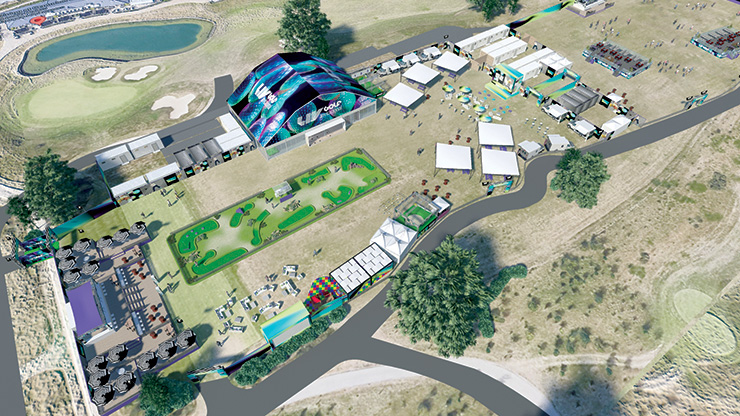 Also in the Fan Village, LIV Golf's Performance Centre will feature professional coaches who will offer tips as guests test their skills on simulators and putting area. Meanwhile, gamers can deploy in the Metaverse Tent, where e-sports and virtual reality exhibits will take fans inside the game through friendly competition.
As part of the shotgun start, fans will enjoy an air show featuring The Blades aerobatic team, while London black cabs will transport the field of 48 players to their respective starting holes.
The event will also include 'Apres Golf' entertainment from local artists and DJs and free concerts each day. "LIV Golf is about more than just hosting a new golf tournament. It's about creating an event experience," said Norman. "We want players and fans to feed off a unique energy rarely encountered through this game. From intense competition to entertainment, there will be something for everyone at Centurion."
How it works
The 48 players will be split into 12 teams of four, with big-name stars taking on captain roles — much like in the Ladies European Tour Aramco Team Series — and those skippers choosing from a pool of available players. 
The teams will tee off simultaneously around the course with a shotgun start, meaning all marquee players will be on course at the same time, so no need to wait for your favourite to tee off, with all the action crammed into a few hours rather than the sometimes arduous 10+ hours of golf we see on the regular tours.
Also keeping up the pace is the fact that, with no cut, each tournament will take place over three days rather than four, the 54-hole events running from Thursday to Saturday.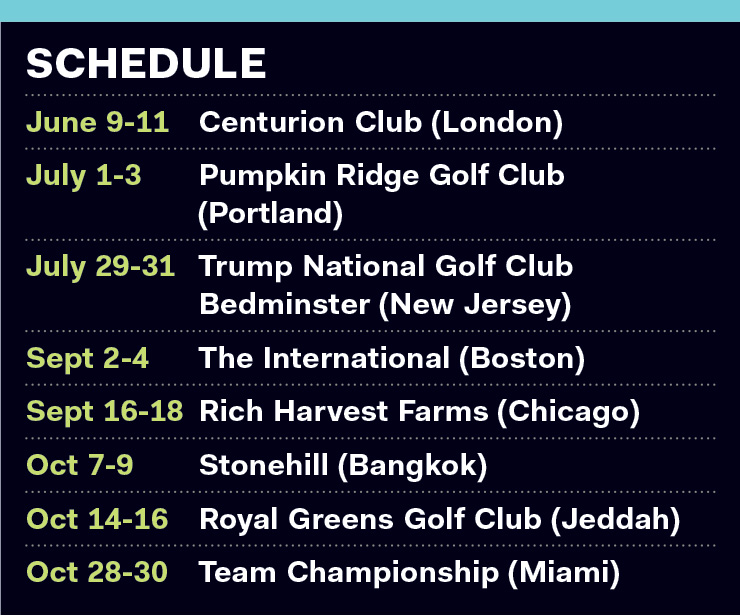 As mentioned, there is no cut, so you are guaranteed to see your favourite players all three days, even if they are having a stinker. That team factor also means players will continue to push even if they are out of the individual running as their team could still earn a title — and a tidy pay day.
There will be an eye-watering $255 million in prize money alone, and with Norman having been pledged a further $2 billion by the Saudi PIF, those purses are only going to get bigger, in the hope of luring the biggest names along the way — the carrot of a hefty signing-on fee also helps sweeten
the deal. 
Norman has said he's keen to work with the DP World Tour and PGA Tour, despite both tours threatening players with bans if they compete in the LIV events.
Norman described the move as "anti-golf" and said several top players have told him they will play without a release.
"Sadly, the PGA Tour seems intent on denying professional golfers their right to play golf, unless it's exclusively in a PGA Tour tournament," said Norman.
"This is particularly disappointing in light of the Tour's non-profit status, where its mission is purportedly 'to promote the common interests of professional tournament golfers.'
"Instead, the Tour is intent on perpetuating its illegal monopoly of what should be a free and open market.
"The Tour's action is anti-golfer, anti-fan, and anti-competitive. But no matter what obstacles the PGA Tour puts in our way, we will not be stopped. We will continue to give players options that promote the great game of golf globally."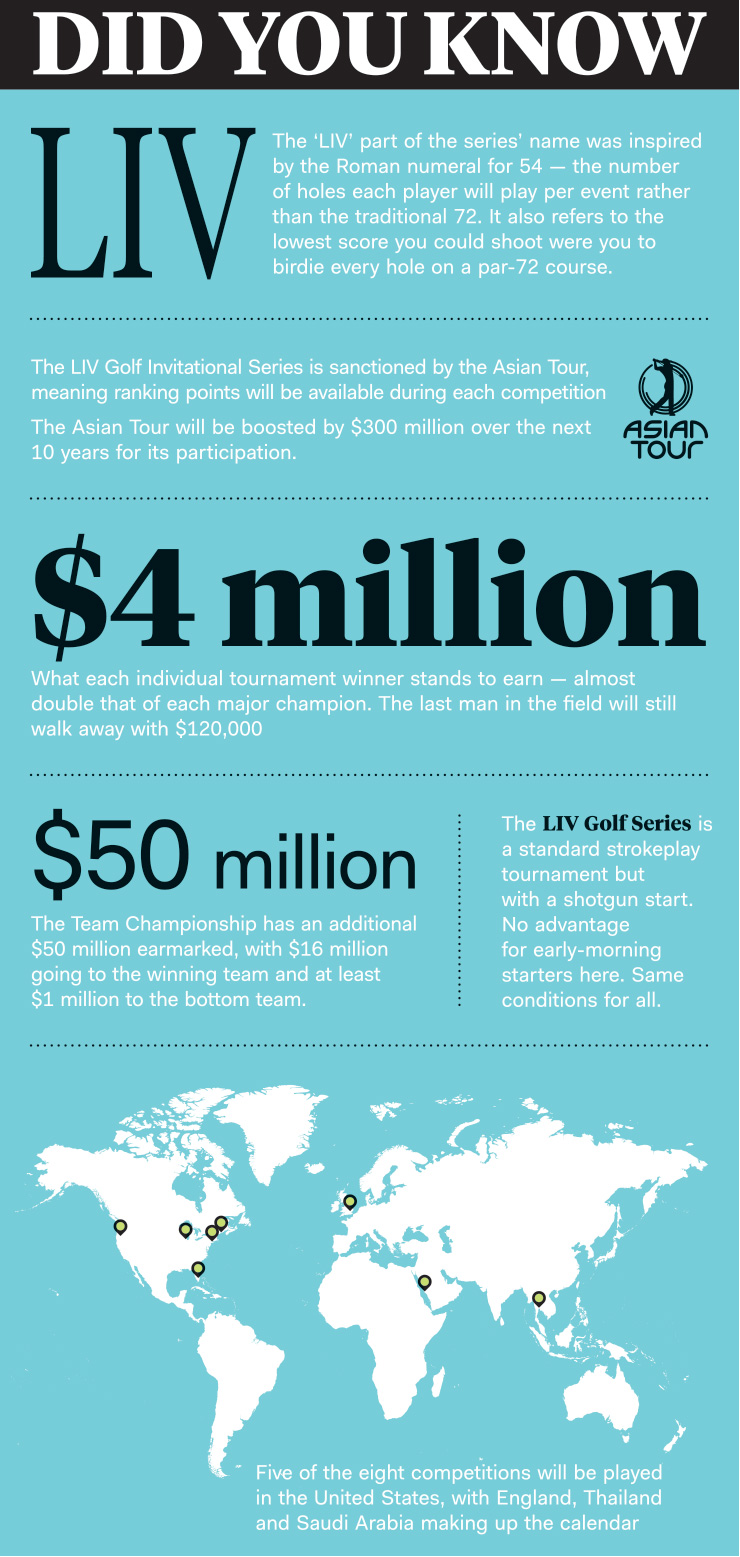 Who is playing?

 
News broke on Wednesday morning of the field finally being announced for the inaugural tournament in London from June 9-11 at Centurion Club. Click here for the full list and players to watch.
"Free agency has finally come to golf. This is an opportunity to start a movement that will change the course of history by bringing new and open competition to the sport we all love. The desire shown by the players to participate in LIV Golf demonstrates their emphatic belief in our model and confidence in what we're building for the future," said Norman. "We couldn't be happier at the diversity of our field, featuring players from around the world including major champions and those making their debut with us competing in their first professional event. We can't wait to start our journey at Centurion Club with this group of first movers who are committed to growing the game in new and exciting ways."
You might also like:
Bland to play LIV Golf, even if it means ban
Rickie Fowler considers LIV Golf options
Shiv Kapur hails Asian Tour opportunities thanks to LIV Golf and Saudi Golf
The Gulf Club: The latest golf news from around the UAE
Meet Malak, the first Arab to play at US Women's Open
Stellar line-up set for Newcastle
Dubai Golf Trophy: The best weekend
Pros regain the Dubai Golf Trophy
In the mix: Olivia Jackson
Impossible pin position causes havoc at high school event
WATCH: Dubai golfer's insane par save