By Matt Smith
We are 18 frenetic holes away from discovering who will be the inaugural LIV Golf champion, and discover who will walk away with the cool $4 million first place prize money at Centurion Club in England.
You can catch up on Day 2 here, and follow the live action from 2pm here.
Charl Schwartzel starts the day in prime position on nine-under, three strokes ahead of his fellow South African and Stingers teammate Hennie Du Plessis.
With the inaugural team title also on the line on Sunday, there will be plenty to keep an eye on as play begins with a 2.15pm shotgun start.
Stay right here for all the updates as they happen.
Schwartzel in the driver's seat ⬇️#LIVGolf pic.twitter.com/aw2FhmJmRV

— LIV Golf (@LIVGolfInv) June 10, 2022
1.59pm
Once again we are nearing taxi time for the players.
@PhilMickelson and @SharkGregNorman catch up before tee-off@Mattjosmith @LIVGolfInv #LIVGolf #LIVGolfSerieshttps://t.co/0saxTVpQpk pic.twitter.com/rjWs5ITKEu

— Golf Digest ME (@GolfDigestME) June 11, 2022
2.15pm
So off we go for one more time. Can Chuck hold on or will he miss out? "I haven't won since 2016, so I really just want to hold a trophy again," he said just before tee off.
2.27pm
Dustin Johnson makes the first move of the day, birdieing 2 to to get to two-under in fifth.
Long distance bird watching 🐦#FIREBALLSGC captain @TheSergioGarcia strikes 👏#LIVGolf pic.twitter.com/3zzauG9eNU

— LIV Golf (@LIVGolfInv) June 11, 2022
2.52pm
It's as you were at the top, with Schwartzel leading on nine-under through the first two holes from Du Plessis on six-under.
3.05pm
Peter Uihlein birdies the second to get up to five-under, one behind Du Plessis in second spot.
3.10pm
Oh, Peter! Uihlein gives that birdie straight back on the third!
3.30pm
Still no movement from the leaders as Schwartzel maintains his three-stroke lead at the top.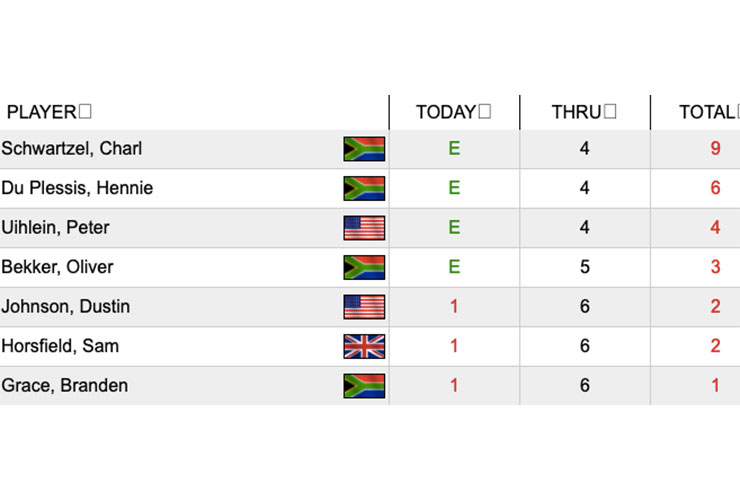 As it stands after four holes.
3.36pm
With the status quo at the top, it means the Stinger team continue to also lead, on 16-unders, with Poulter's Majesticks and Uihlein's Cruchers T2 on seven-under.
3.51pm
Here is what the frontrunners are contending for today
Individual
Win: $4,000,000
2: $2,125,000
3: $1,500,000
4: $1,050,000
5: $975,000
Team
Win: $3,000,000
2: $1,500,000
3: $500,000
4.05pm
Schwartzel's lead is out to four low as Hennie drops one on six.
4.25pm
Hennie is joined on five-under by Uihlein in second spot.
Moving on 🆙@PeterUihlein nails the birdie to jump to second place#LIVGolf

— LIV Golf (@LIVGolfInv) June 11, 2022
Ice in the veins 🥶#LIVGolf | @plessis_hendrik pic.twitter.com/e9tftpYjfJ

— LIV Golf (@LIVGolfInv) June 11, 2022
Hennie nails a monster to hold onto his share of second!
4.33pm
Then Schwartzel stretches to five strokes with his first birdie of the day to get to double digits. 10-under now!
4.54pm
Amazing save from Schwartchel after he found the thick stuff. Another solid putt to stay five up. Nerves of steel at the moment. None to go!
5.08pm
A costly (literally) double bogey for Uihlein on nine drops to three-under.
6.15pm
So after a quick run around the course, we will get back up to speed as Schwartzel's  lead is down to two on eight-under from Hennie with three to go. Our slight delay was due to the fact that Patrick Reed and Pat Perez have confirmed they are joining LIV — folllowing Byrson DeChambeau's confirmation yesterday. The snowball is rolling now.
6.25pm
You can catch up on the Pat and Pat news here.
6.45pm

As it stands
6.48pm
As far as the team event goes, that looks in the bag as Stinger team occupy the top three spots. Solid from South Africans all week.
6.50pm
Clutch putt and up and down from Schwartzel allows him to keep his lead at two with two to go.
7.01pm
Pars all round and Charl will go up the last with a two-shot lead. On a side note, Dubai's Adrian Oategui has just moved up to T6 on two-under.
7.04pm
Most of the players have finished their rounds now, but Hennie and Charl are setting off down the 18th. Your winner will come from these two, with Schwartzel in the driver's seat, two strokes up.
7.25pm
And SCHWARTZEL wins! Just! He gave himself enough of a margin for error and closes with bogey to Du Plessis'  par means he takes his first title since 2016 by one. And a cheque for $4.75 million (the Stinger team took the team title by a country mile).
7.31pm
So not only does Schwartzel get the individual cheque for winning outright, he gets another $750,000 as his Stinger team won the team title.
7.54pm
Phew, so we will leave the live coverage there on a famous weekend as the trophies are presented, and look forward to the next event in Portland!
You might also like:
Highlights from Day 2
Final round pairings
All you need to know for the inaugural LIV Golf Invitational event at Centurion Club in England
The LIV Golf teams are announced
Big Phil confirms LIV Golf participation
Analyzing the 42 players who have signed up for LIV Golf
Your top players to watch at LIV Golf Invitational
DJ to headline LIV Golf Invitational