By Matt Smith
When Matt Fitzpatrick eventually retires and looks back on his career, is 2022 US Open triumph will obviously be near the top of his fondest memories. However, his time in the UAE should not be too far behind, given he has twice won the season-ending DP World Tour Championship.
This week he will be looking to push that competition further up the list of his favourites as he goes for the hat-trick at Jumeirah Golf Estates, having finished just behind Collin Morikawa here last year.
"I absolutely love this place. It's the best golf course that I play all year from a performance point of view against every other golf course I've ever played on tour," the Englishman said on Tuesday. "I love being back here. I have so many positive memories, and just having the confidence, knowing that the shots that I've hit here, and obviously won twice as well, so this is a place I love to come.
"I remember when I first came here in 2015, everyone said they didn't think that it would necessarily suit me because it is a big golf course. But there are things that you have to do well here. Putting is No. 1. That's the biggest influencer of playing well here, and driving is No. 2, and they are both my strengths.
"So over the years, obviously particularly as I've got longer as well now, that's obviously been a big bonus and greens are just so pure here as well. They are the same every year. They are like glass, and I putt well. So it's just being comfortable out here and I think having those two strengths of my game, also being what it takes to do well around here is a big help."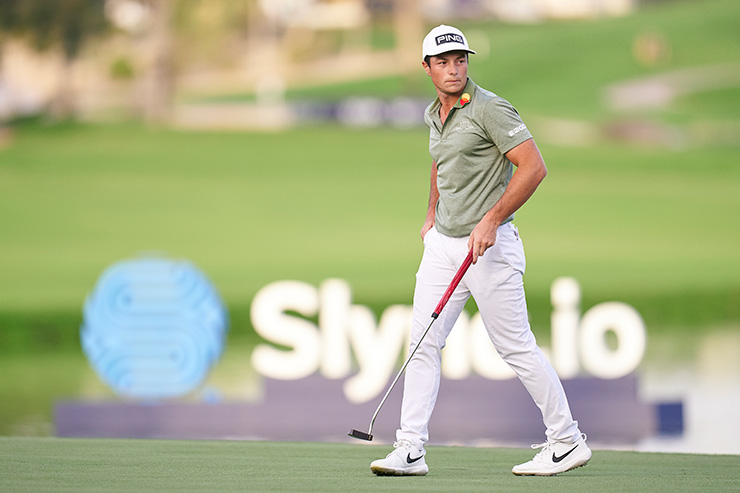 Dubai is also somewhere Viktor Hovland holds close to his heart these days, having won the Dubai Desert Classic in January and finishing T3 when Fitzpatrick won in 2020. Like Fitzpatrick, victory here could give him the chance to overhaul Rory McIlroy at the top of the season-long DP World Tour Rankings race standings.
"It's good to be back here," the Norwegian said. "Last time I was here was COVID year, so not a lot of grandstands. So it's cool to come back and see the place a little bit differently. I think the course is in great shape."
Another objective for Hovland is making Luke Donald's Ryder Cup team in Rome come September. "That is obviously a big goal of mine and you want to make the team every time," he said. "It's not something that I think too much about each week as it's a year from now.
One less thing to worry Hovland this week is that his missing clubs finally appeared at JGE, as they did not come off the plane with him as expected on arrival. "I got them last night," he said. "It was nice to play with them in the Pro-Am. Yeah, it's a little bit annoying. If the clubs don't show up it can feel like showing up for an exam you haven't studied for."
You may also like:
Get your FREE November issue of Golf Digest Middle East here
Rory says Greg has to go
Fleetwood flies into Dubai on a high
College golfers can now get PGA Tour cards before turning pro
Morikawa withdraws from DP World Tour Championship
Cam Smith makes a major call on LIV Golfers
LOOK: The final line-up for the DP World Tour Championship
Nelly caps taxing LPGA season in style
Tony Finau flips the script
LIV Golf confirms 2023 date in Australia
Fleetwood goes back-to-back in Sun City
Ogletree wins from Bernd in Egypt
Chiara Noja stages sensational victory at Aramco Team Series in Jeddah
Aramco's pursuit of happiness and equality for women's golf
PGA Tour player DQd for using 15th club
Fox and Donald fighting it out at Nedbank Challenge
Charley Hull fighting fit in Jeddah
Chiara Noja stays in contention at ATS Jeddah
PGA Tour takeaways from Houston
Fox makes perfect start at Sun City
Dubai's Chiara off to a flier in Jeddah
It's what we deserve, says Hall of Saudi Ladies International prize hike
Future stars set for the Junior Dubai Desert Classic