Photos: Paul Lakatos/Asian Tour
Suttijet Kooratanapisan, Wade Ormsby and Ratchanon Chantananuwat ahead of the $1 million Laguna Phuket Championship.
By Kent Gray
Like most everyone else, at Golf Digest Middle East we're genuinely excited to see Tiger Woods back on his feet, lighting up social media again – all it took was one swing – and even planting the seeds of a top-level comeback.
About the only thing that would make his annual Hero World Challenge in the Bahamas better would be if the Big Cat was playing himself this week. With that said, the revelations about the seriousness of his Feb. 23 car accident — "I'm lucky to be alive" and "Yeah, it [amputation of his injured leg] was on the table." — means no one is getting ahead of themselves.
There are still a plethora of PGA Tour superstars teeing it up in New Providence – McIlroy, Koepka, Thomas, Morikawa, DeChambeau etc. etc. – so by all means, enjoy the limited field show and repeated sightings of Tiger.
But if you're not quite ready for the start of golf's made-for-TV silly season, there's a strong argument – and Middle East motives – to switch attention 14,000-odd km away to the $1 million Laguna Phuket Championship.
With the worrying Omicron-enforced demise of the DP World Tour's South African swing, the second leg of the Asian Tour Phuket Series is the only main tour in full-field action this week.
After its own pandemic enforced shutdown – 20 long and frustrating months – the Asian Tour returned to action with Chan Shih-chang's victory at the Blue Canyon Phuket Championship last week. But it's what happened on Monday, namely the release of the 25-star players headed to February's Saudi International – Johnson, DeChambeau, Schauffele, Mickelson, Watson etc. etc. – that has really upped the ante.
To catch you up, the Saudi International has become the Asian Tour's $5 million, "flagship" season-opener and the 144-players in Phuket this week are all striving to make it to Royal Greens Golf & Country Club in Feb. To achieve that a top-30 finish in the final Asian Tour Order of Merit is required so with just three events of this severely disrupted season to play – at Laguna Golf Phuket from tomorrow and a Singapore double-header next month– there's a lot on the line.
There's also the prospect of a 2022 schedule not only bolstered by the Saudi International but also 10-new premier events made possible by a $200 million investment by the Saudi-funded LIV Golf Investments.
But that is for next season. Right now, the inaugural Laguna Phuket Championship has plenty of storylines to draw your attention. Here's eight, with the prospect of more to emerge as the Middle East discovers more about the emboldened circuit on its geographical back doorstep:
The Asian Tour's original Mr. 59 returns
Suttijet Kooratanapisan is one of 58 Thais in the field but the only one who can claim to be the first Asian Tour player to shoot golf's mythical number – 59 . The now 34-year-old achieved the feat on the Asian Development Tour (ADT) at the 2017 Singha Phuket Open, notably on the same layout to be used this week, Laguna Golf Phuket. Another Thai, Naras Luangphetcharaporn, is the only other player to shoot 59 in official Asian Tour competition ‒ at the circuit's 2019 Q-School. There was also lift, clean and place rules in play then but hey, 59 is 59 no matter how you slice and dice it.
"I remember hole No. 7 was a par-5 last time, now it's a par-4. I loved that because when I shot 59, I made eagle there," said Kooratanapisan who has one ADT title to his name but is still searching for main tour breakthrough. "This week is a lot harder though as the rough is very long and the fairways are very narrow. It's not the same as last time. My goal this week is just to play under par every day. Right now my putting is so good."
Have we mentioned the precociously talented Thai teen Ratchanon Chantananuwat?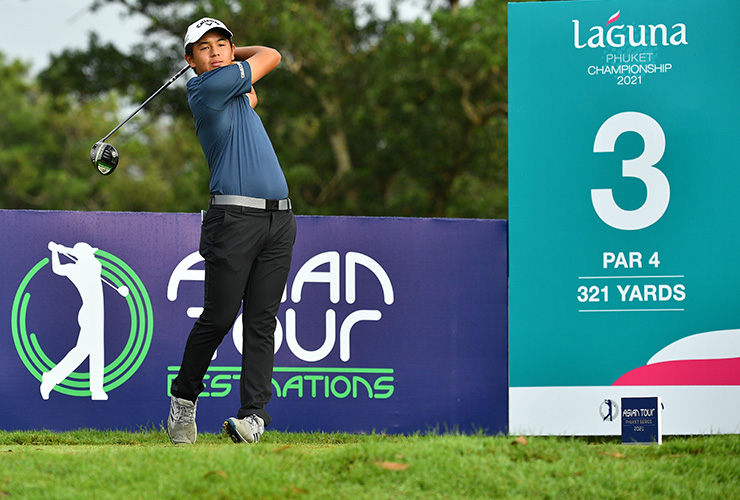 Why yes, yes we have – here and here in the past week – and right here again. So what's all the fuss about? For starters, the Bangkok schoolboy became the third-youngest player in Asian Tour history to make the cut at last week's Blue Canyon Phuket Championship. Then he stormed home with a Sunday 65 to finish his Asian Tour debut T-15. Not bad for a 14-year-old. It would be something else if he can make it back-to-back cuts but perhaps no surprise either given he finished second in the Singha Laguna Phuket Open – an All Thailand Golf Tour event – at Laguna Golf Phuket recently. Whatever happens, Chantananuwa looks set to play a big part in the Asian Tour's suddenly bright future.
Jordanian trailblazer Shergo Al Kurdi

Followers of MENA Tour will know how critical the regional development circuit has been in the rise and rise of Jordanian teen Shergo Al Kurdi, including an OWGR feat for Middle East and GCC golfers at the opening event of the 2020 MENA Tour season. What Middle East fans may not know is that Al Kurdi turned professional at last week's Blue Canyon Phuket Championship. Things didn't quite go as planned, rounds of 76-74 seeing the 18-year-old miss the cut by seven strokes. But with his pro debut out of the way there will be added resolve this week. The three other MENA Tour regulars in the field be looking for better weeks as well; at +2, Englishman David Langley (76-70) was the best performed at Blue Canyon but still three strokes shy of making the weekend. Compatriot Curtis Knipes (75-73) finished +4, a shot worse than Scot Ryan Lumsden (70-77).
Teenager @SHERGOKURDI shares his thoughts ahead of the Laguna Phuket Championship and talks about his hopes to inspire others 🙌⛳

The 18-year-old 🇯🇴 became the first Jordanian to tee up on the Asian Tour last week.🏌️@LagunaGolfHKT #LPC2021 #whereitsAT pic.twitter.com/jKdJFlAi68

— Asian Tour (@asiantourgolf) December 1, 2021
Saudi stepping-stones
Saudi Arabia's investment in the Asian Tour – separate deals incorporating the Saudi International and the 10 new premier events starting 2022 – will help fast-track the development of the Kingdom's leading players. It won't be smooth sailing as the Blue Canyon Phuket Championship highlighted with pro Othman Almulla (+4) the best performer. But the only way to learn how to cope at the highest level is to experience the highest level and amateurs Faisal Al Salhab (81-72), Saud Al Sharif  (78-85) and Abdulraham Al Mansour (81-85) will measure improvement by trying to improve on their respective +9, +19 and +22 aggregates. The Saudi trio join Ratchanon Chantananuwat among six amateurs in this week's field.
 Tight at the Top
Wade Ormsby won the season-opening Hong Kong Open (way back in Jan. 2020) and led the Order of Merit when the Asian Tour shut-down after the Malaysian Open in March 2020. The Aussie still leads the moneylist (US$237,003 ) after a decent T-23 finish at Blue Canyon but it's getting tight at the top. Blue Canyon champion Chan Shih-chang ($211,775) is up to second while the monster birdie putt Joohyung Kim binned on the 72nd hole Sunday earned the 19-year-old Korean a share of second place and bumped him up to third overall ($194,628).  Who will lead going into the Christmas break and January's Singapore double-header? Don't be surprised if it is Kim who won has kicked on from his Asian Tour breakthrough at the 2019 Panasonic Open in India to become the highest-ranked player this week at No. 130 in the OWGR.
A little more Jazz
 If there was a genuine shock at last week's season resumption it was that Jazz Janewattananond, a former MENA Tour winner and the reigning Asian Tour No.1,  missed the cut by four strokes. Count on the Thai getting his bid to become the first back-to-back OOM winner firmly back on track at Laguna. He enters the week in 7th on the moneylist with $113,000.
Are you not entertained?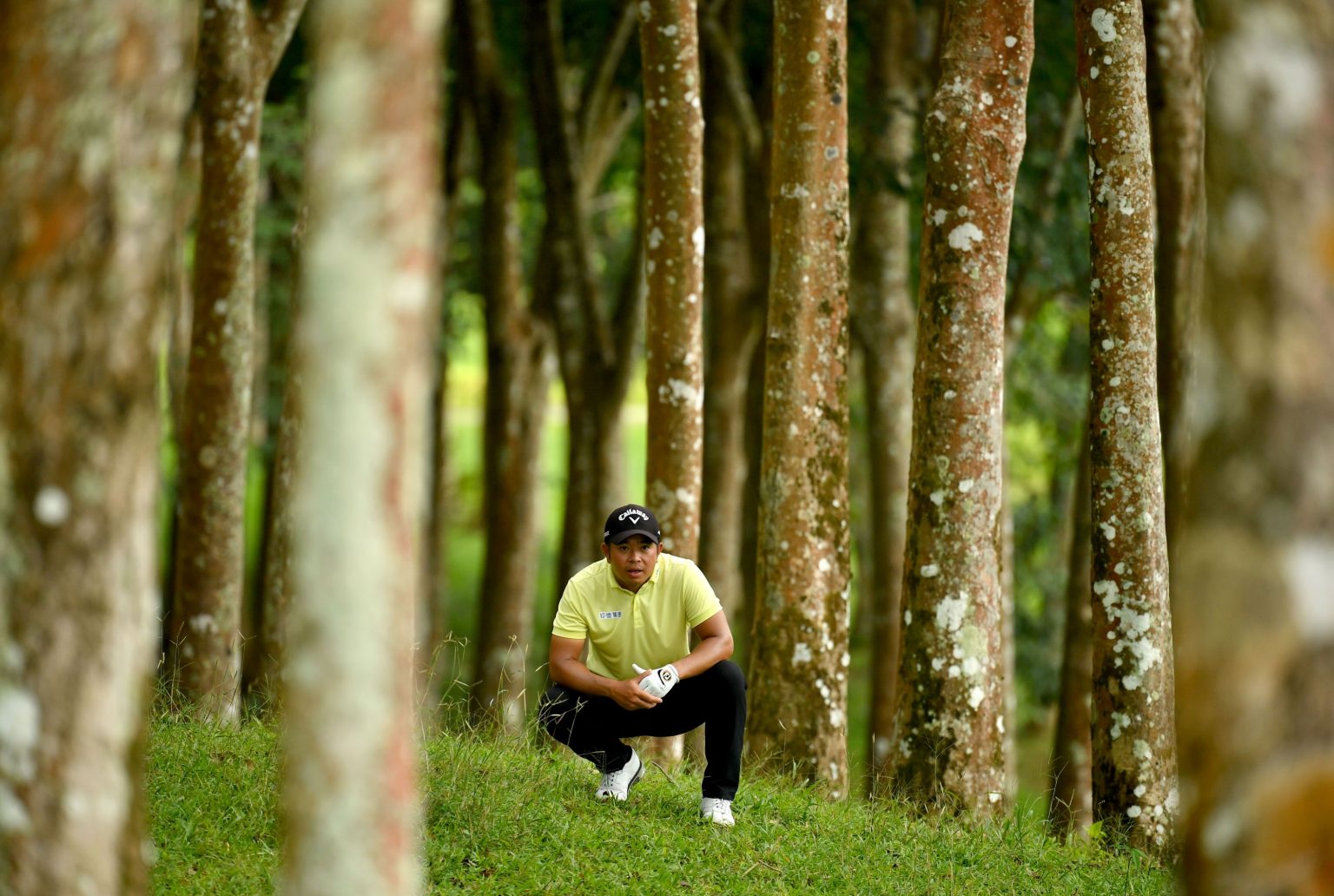 So you haven't paid much attention to the Asian Tour until now and wonder what's the standard like? Allow us to present Chan Shih-chang's tee shot on the tricky par-3 14th at Blue Canyon during last Sunday's final round as an example of the quality shot-making that marked the week.
Accuracy off the tee 👌#BCPC2021 #whereitsAT pic.twitter.com/DGtgD3aK2F

— Asian Tour (@asiantourgolf) November 28, 2021
It was a pivotal laser beam, setting up the Chinese-Taipei 35-year-old for his third Asian Tour title after a five-year title drought on the circuit. So yes, the quality is world-class. Tune in any way you can. You might just be surprised.
Speedy Sadom Kaewkanjana
It seems everything Sadom Kaewkanjana does he does so quickly. Like securing his Tour card at his first attempt via Q-school before becoming the fastest graduate to win on the Asian Tour (at the 2019 Bangabandhu Cup Golf Open)… in his very first Asian Tour start. A 72nd hole bogey scuppered his chances of a second title last week but the eventually second-placed Thai is in sublime form; he's returned sub-par scores in his last 20 competitive rounds. And he does it all at an impressively giddy pace, as in one of the fastest pro golfers we've witnessed on any tour type-cadence. Pull a club, pick a target and pull the trigger. We love it. And Kaewkanjana's chances this week.