Photos by Paul Lakatos/Asian Tour.
By Kent Gray
While the PGA Tour paused for a Thanksgiving exhibition match that failed to live up to the made-for-TV hype and the new DP World Tour season worryingly hit the COVID-19 pause button almost before it had begun, a truly uplifting counter-narrative was playing out on the Asian Tour.
As special as Chan Shih-chang's first win in five years was at the $1 million Blue Canyon Phuket Championship, arguably the more seismic performance was that of 14-year-old Thai Ratchanon Chantananuwat. In his Asian Tour debut and just two days after becoming the third-youngest player in the circuit's 27-year-history to make the cut, Chantananuwat stormed home with a Sunday 65 to earn a share of 15th place at the circuit's first event in 20 months.
The thoroughly impressive eight birdie-one bogey 65 – bettered only by Korean Bio Kim's Sunday best 64 – included just one missed fairway, two missed greens and a mere 28 swipes of Chantananuwat's trusty mini-mallet putter. It was also nothing more than the teen had hinted at all week in a performance belying his tender years and relative inexperience, notwithstanding his impressive lead-up form on the All Thailand Golf Tour (ATGT).
Chantananuwat signed for rounds of 71-72-68-65 and a -12 total – just six strokes adrift of now three-time Asian Tour winner Chan who is 21 years his senior. It was an eye-catching performance that would have earned a $12,950 payday were he not an amateur still mixing golf with his schooling at Shrewsbury International School in Bangkok.
TK, as Chantananuwat is nicknamed, got his Sunday off to a self-described fluky start with matching 30-foot putts for par and birdie on the 1st and 2nd. Then again, he left quite a few putts out there as well.
"I am going to be completely honest, if that didn't happen on one and two, I probably would have finished two over. Those putts turned my day around. I made all the birdie putts when I had to, but I did still miss quite a lot. I am really happy to win best amateur in my first Asian Tour event."
Chantananuwat now heads 19km down the road to Laguna Phuket Golf for the second leg of the Asian Tour Phuket Series starting on Thursday. After playing his first weekend on the Asian Tour in 11-under par, it's a fair bet he'll take a healthy dollop of confidence into the $1 million Laguna Phuket Championship, along with his father Tara who will again presumably be on his son's bag. And why not. In addition to finishing top amateur in six successive ATGT events prior to last week, Chantananuwat starred on the two courses that make up the Asian Tour Phuket Series; he was joint fifth in the Singha All Thailand Championship on the Canyon Course at Blue Canyon and second in the Singha Laguna Phuket Open at Laguna Golf Phuket.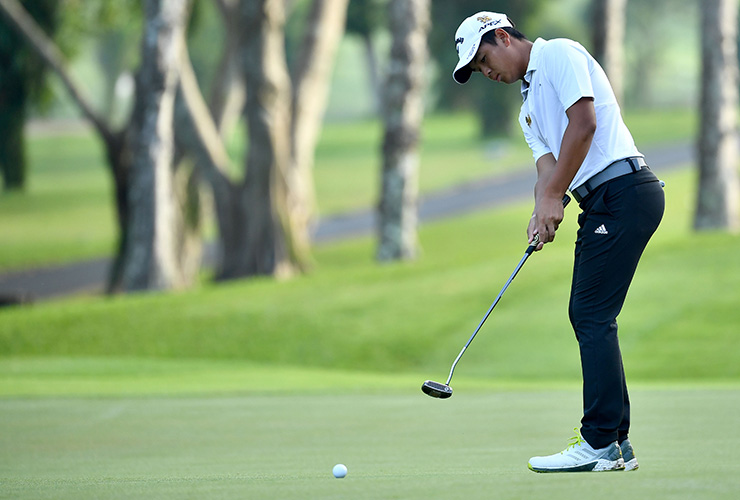 For the record, Jazz Janewattananond holds the record as the youngest player to make an Asian Tour cut, a feat he achieved at age 14 years, 71 days at the Asian Tour International in Bangkok in 2010.  He was an amateur at the time and has since gone on to win the 2019 Asian Tour Order of Merit, although missed the cut last week by four strokes.
Chantananuwat was 14-years, 268 days old when he made the cut on Friday. China's Kuang Yang holds second place – at 14 years, six months 12 days  – after making the weekend at the 2019 China Open at Genzon Golf Club in Shenzhen.
Achieved at a young age of 14 years and 268 days old, behind record-holder @jazzjanegolf and Kuang Yang.

Well done, kid! 👍👍👍#BCPC2021 #whereitsAT pic.twitter.com/nHnfTz96ya

— Asian Tour (@asiantourgolf) November 26, 2021