By Matthew Rudy
Tiger Woods' swing has always been distinctive. And, after showing off his first full pass since before back surgery in January and a devastating car crash in February, that's still very true. The careful short iron at the Medalist Golf Club range lit golf social media on fire, fueling speculation (and wagering) about the potential for Tiger to be playing competitively again by the Masters.
Making progress pic.twitter.com/sVQkxEHJmq

— Tiger Woods (@TigerWoods) November 21, 2021
Prognosticating can be fun, but perspective is important, too. Golf Digest 50 Best Teacher Mark Blackburn has helped several tour clients come back from serious injuries, and says that there are two important elements to what we see next—the mechanics of Tiger's swing, and the physical and psychological scaffolding that is required for a comeback to top-level play.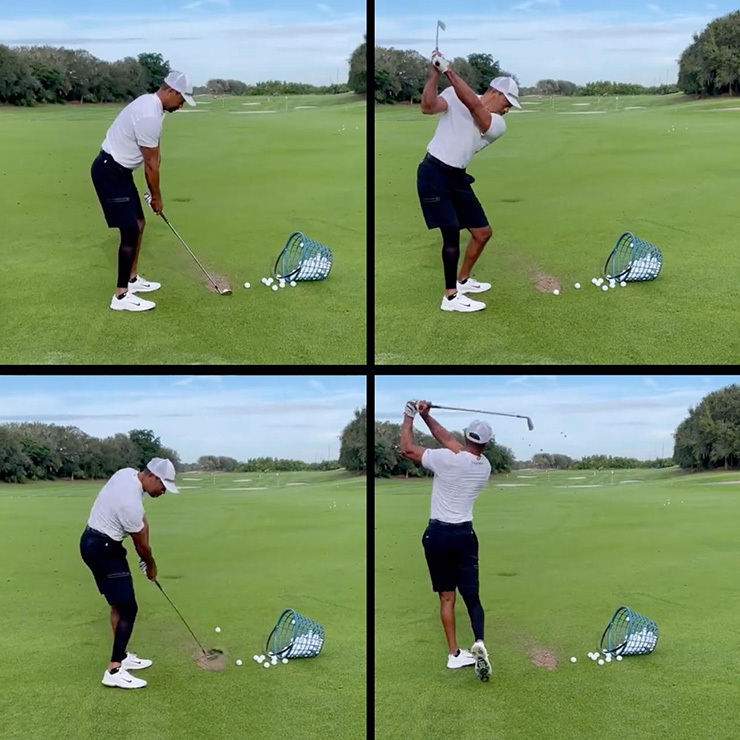 "From a purely Xs and Os standpoint, it's so exciting to see him swinging the club again, and for him to be doing it in a way that resembles what he used to do," says Blackburn, who works with Max Homa, Charley Hoffman, Chez Reavie and Adam Hadwin, among other players. "His right leg was clearly severely damaged and is in a sleeve, but he's able to load into his right side. The injury isn't stopping him from making an iron swing we all recognize. His backswing looks great. He's getting back and off his trailside. I think it's safe to say Tiger can hit irons—and he's the best iron player in the history of the tour."
The reality that many players confront—including Tiger after his back surgeries—is that a comeback has to happen within the confines of what the body allows the player to do going forward, which may or not be the same functionally as before. "The first hurdle is figuring out if you're able to deliver the club the way you used to," says Blackburn. "Your whole nervous system is geared to that delivery, and changing it is obviously a project."
Even if you can pass that test with an iron, as Tiger seemingly has here, there's still lots of construction work to do. "Hitting an iron shot on a range is one step," says Blackburn. "To play in an event? You have to walk. A lot. And walking is hard. Beyond the walking, you have to be able to hit enough practice shots to be able to prep and play at the highest level. Tiger wants to win, and I don't think he would want to go out there and play just to play. So there's a lot of work ahead, I think. But work is something Tiger has never been afraid to put in."
Added 50 Best Teacher Dana Dahlquist: "What really stands out is that his rhythm looks the same as it was when he was 15—and his dynamics have sustained themselves post-injury. It's pretty obvious we're dealing with a very elite athlete. The rhythm and sequence is what it has always been for him—nothing looks hurried or forced."