Toby Bishop in action at the Dubai Golf Trophy. Matt Smith
By Matt Smith
Toby Bishop is taking a break from golf — but only until his final-year exams are out of the way, as bigger things beckon in the United States. Dubai-bred Welshman Bishop, 18, is studying hard as the dreaded exams loom, but it will be worth the grind as a golf scholarship at the university of Florida awaits after the summer.
"The clubs will be put away for a while now and it is time to hit the books," Bishop told Golf Digest Middle East on the sidelines of the recent Dubai Golf Trophy at Emirates Golf Club.
"There will probably be more stress than when playing golf actually with all my exams, but once they are done it will be worth it as there are some exciting times ahead."
Bishop has already been out on a trip to the US to see the set-up at the university he will call home for the next four years.
"I am really excited at the opportunities they have there in Florida," he said. "They give you every opportunity to make it as a pro on the PGA tour. I went out there on my visit and had a week to see the place and meet the guys. It will be bit difficult to visualise properly until I get there but they are all really good guys to learn from and I need to make the most of the chances I have been offered."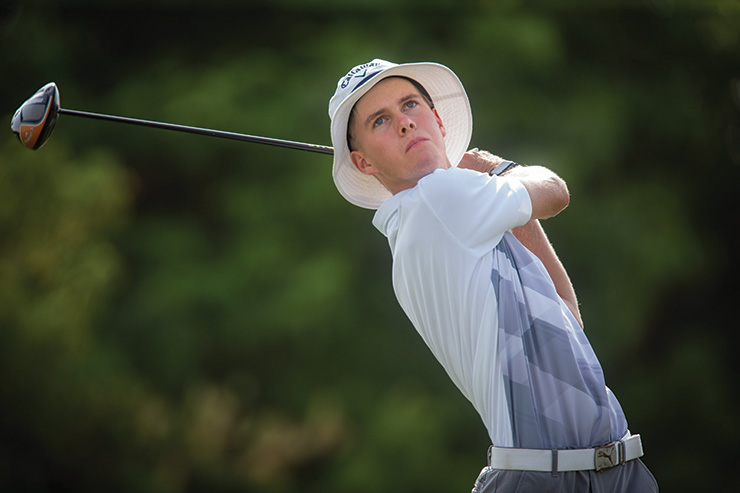 Fellow Dubai amateur Josh Hill is also heading to the States this summer, and Toby is sure they will stay in touch.
"For sure. We are in the same comp zone so I am sure we will play in a few comps together and compare notes," he joked.
Bishop also reflected on the landmark moment as two of Dubai's own step out on the next part of their journey in golf.
"It really highlights the facilities and chances we have here in Dubai," he said. "I always reflect on how small this country is and to see so many players coming through, firstly with Khalid Yousuf and Ahmad Skaik, and now me and Josh. Hopefully it brings more attention and development to the region and obviously we are proud of what we have done and proud to represent, having grown up here, and fly the UAE flag.
"Hopefully in a couple of years I could get an invite to play in one of the big DP World Tour events and come back here to contend if I play well.
"My parents always joke that I am their mortgage so it will be good to come back and pay them back. But they always support me and I am pretty grateful to have that support as it means I know I have their full backing."
You might also like:
Stellar field for landmark Asian Tour event in England
Dubai Creek wins at BTME Awards
Team Hilier triumph at Aramco Team Series — Bangkok
Rookie Onishi moves to front at Asian Pacific
Dubai golfer Amelia McKee going pro
eGolf changing the game in the UAE
New twist in LIV Golf tale
Sensational finish at Dubai Golf Trophy
Sergio Garcia 'can't wait to quit PGA Tour'
Westwood and 'many more' request release to play LIV Golf Invitational Series
LIV Golf Invitational Series continues to take shape
Trump to host LIV finale