Quality in Quantity
A shock at the top, a newbie at the bottom and plenty of snakes and ladders action in between  highlight our 5th biennial ranking
By Kent Gray
"The next edition of our top 10 rankings in two years time promises to be an even harder club to get into." The closing summation from our 2016 ranking didn't do the difficultly of the impending initiation process justice. It clearly wasn't impossible to break the monopoly as the new entry at No.10 in this year's list illustrates.
But that the newbie ousted a proven European Tour venue in Doha Golf Club speaks to the truly world class concentration of courses in the region and the demanding task of trying to rank said quantity of quality. Indeed, less than a point separated the new 10 from the Qatar Masters venue and arguably the unluckiest club to miss out, Greg Norman's brilliant new Ayla G.C. design in Aqaba, Jordan.
As noted in 2016, the Middle East is home to some of the finest golf on the planet, the spinoff of a region where visionary leaders embolden leisure investors who in turn entrust the world's leading course architects not to mess up the blank desert canvases they are gifted. Few projects have disappointed, making the job of our expert panel of 23  (explained in detail on the next page and significantly boasting a female presence this time) as difficult as ever.
Awarded a mark out of 80 across seven scoring categories by each panelist, our top ranked course scored an average of 65.32, while No.10 came in at 59.88. Little more than three points separate the entire top five. In short, the Middle East's best courses were extremely difficult to separate and just as tough to compare.
How do you measure a manicured hybrid of parkland and desert against a modern-day seaside links, or an inland links wannabe for that matter?
The best way is with Golf Digest's impartial and internationally trusted formula.
It's certainly comforting that the top-10 selected by our panel closely mirrors the elite 10 selected by you, our loyal readers, proving we can't have gone too far wrong.
In addition to the regular Readers' Choice list we've also continued our 'Best' section (see p80) with your scores tallied alongside the thoughts of the panel to find the best 'Nine-holer', 'Clubhouse', 'Food and Beverage/Service' and 'Best value' course.
Ultimately, we suspect few of the courses on the following pages will come as a surprise although their place in the new pecking order might. That's okay – there is nothing more subjective in golf that the apples versus pears ranking of golf courses after all. You don't have to agree with us. In fact, we actively ecourage your thoughts on our social media channels either way.
What we are unequivocal about is our summary of the 2018 list. With new Tiger Woods and Dubai Hills courses soon to come on line and others in the pipeline, the 6th edition of our top 10 rankings in 2020 promises to be even tougher to judge, making it an even more coveted club of which to belong.
How lucky we are to golf in the desert.
Meet the panel and how they ranked the courses
Check out the best in the Middle East
Readers' Choice: Your favourites revealed
Top 10 Golf Courses in the Middle East 2016
1) The Majlis, Emirates Golf Club  (click to go to the club website)
2016 Ranking: 3 • Design: Karl Litten (1988)
Dubai, UAE • Par 72 • Yards 7,301 • Total Score 65.32
By Luke Joy (Tour Professional)
The venerable Majlis, the inaugural Middle East Top 10 winner in 2009, will always have a special place in my heart as it was the location of my first start in a European Tour event. The course looks awesome off the tee and well placed bunkers and run-offs around the greens make it a real treat to play and a challenge for golfers of all levels. The course peaks around December/January when the European Tour swings into town (an annual marvel by agronomy chief Craig Haldane and his team) and when the grandstands are up, it's a cracking walk up the 18th.
Karl Litten's design provides great excitement, especially on the back nine where birdie opportunities abound if you are playing well. Conversely, you'll be punished for a poor, misplaced shot, as it should be. A much warranted return to No.1 for the spiritual home of Middle East golf.
Luke Joy will tee it up in the 29th Omega Dubai Desert Classic from Jan. 25-28
2) Yas Links Golf Club
2016 Ranking: 1 • Design: Kyle Phillips (2010)
Abu Dhabi, UAE • Par 72 • Yards 7,414 • Total Score 64.75
By Kent Gray (Editor, Golf Digest Middle East)
From the moment you are greeted by Old Tom Morris at the gate, right up until one of the friendly bag drop attendants in their Tam o' Shanters helps you pack the sticks back in the car, Yas Links is a magical experience. The Andalusian style clubhouse is the first give away, oozing understated elegance and offering a window to the sea/mangrove views which serve as a stunning accomplice to Kyle Phillips' truly world class golf architecture.  Yas may only be seven years young but the rumpled fairways, undulating greens and ball swallowing rough combine to remind of ancient British and Irish links, minus the lousy weather.
All aspects of your game are tested, especially if the breeze fills in on the layout's particularly invigorating, homeward stretch where pars on any of the 16th, 17th and 18th (or a combination thereof) ensures your post round sun downer will be even sweeter.
There will be genuine dismay among Yas Links' most loyal devotees that it has been dethroned as the Middle East's No.1 for the first time in its history. It should be noted its score this year is virtually identical to its winning number from 2016 and sometimes you simply have to doff your Tam o'Shanter to a rival at the top of its game. Still, we suspect this is a match play set-back Yas simply won't settle for so watch this space in 2020.  Better still, get yourself to Yas Island for an unforgettable golf  experience.
Kent Gray began covering golf in the Middle East since 2013 and has reported on the game globally since 1989
3) Almouj Golf
2016 Ranking: 2 • Design: Greg Norman (2012)
Muscat, Oman • Par 72 • Yards 7,300 • Total Score 63.62
By Robbie Greenfield (Sports Radio Co-host)
Almouj Golf may not be quite as well-known as some of the other high-flying courses in this ranking, but that will soon change with its new status as a European Tour venue. Previously established as the grand finale to the Challenge Tour's Road to Oman, Greg Norman's layout has had a deserved promotion to the main tour and you can expect plenty of high praise from Europe's best players when they arrive for the NBO Oman Golf Classic in mid-February.
This is a rugged, windswept brute of a layout, as challenging as it is beautiful. The opening hole features a green hidden among some typically impressive sand dunes but you don't have to wait long for the first 'wow' moment, as the par 3 2nd provides sweeping views out across the Sea of Oman. The presence of the sea enhances this modern-day links, but it's not the defining feature. Norman has crafted some enormous dunes and the last few years have added a rustic maturity to the native areas.
When the wind is up, which is most of the time, the par 3 14th has to rank among the most terrifying one-shotters in the region but it's by no means the only do-or-die shot you'll face here. We're used to seeing the best players on the European Tour shoot the lights out, but don't expect any record low scores when Almouj Golf bears its teeth.
Robbie Greenfield played as a marker for Darren Clarke during Jordan's MENA Tour debut last year
4) Dubai Creek Golf & Yacht Club
2016 Ranking: 5 • Design: Thomas Bjørn Redesign (1993)
Dubai, UAE • Par 71 • Yards 6,967 • Total Score 63.44
By Luke Plumb (PGA Professional)
Dubai Creek Golf & Yacht Club is one of my favorite courses in the UAE. The course is laid out fantastically from start to finish with a great mixture of holes which put an emphasis on straight driving and accurate iron shots. The greens are always in stunning condition, running true and fast, which makes putting at the "Creek" testing but enjoyable. One of my favorite holes is the 6th with the Island tee box where you tee off from the middle of Dubai Creek.
You can't talk about Dubai Creek without mentioning the finishing stretch. The 16th, a tough par 3, is certainly one you are happy to walk off with a par, followed by the amazing 17th and 18th holes. The 17th is relatively short but the tee shot is extremely tight with water up the left and bunkers waiting to swallow your ball on the right. You need to hit two accurate and solid shots to set up a birdie opportunity. The 18th is, quite simply, a fantastic hole and one of the best finishes in golf. You have a great view of Dubai Creek on your left however there is disaster awaiting at every corner. Similar to the 17th you need to hit two great shots to make the green in regulation. Any miss hit is likely to result in a double bogey. Playing back towards the iconic clubhouse gives the fantastic finishing holes a perfect back drop.
Luke Plumb is the new CEO of the UAE PGA
5) Saadiyat Beach Golf Club
2016 Ranking: 8 • Design: Gary Player (2010)
Abu Dhabi, UAE • Par 72 • Yards 7,806 • Total Score 62.73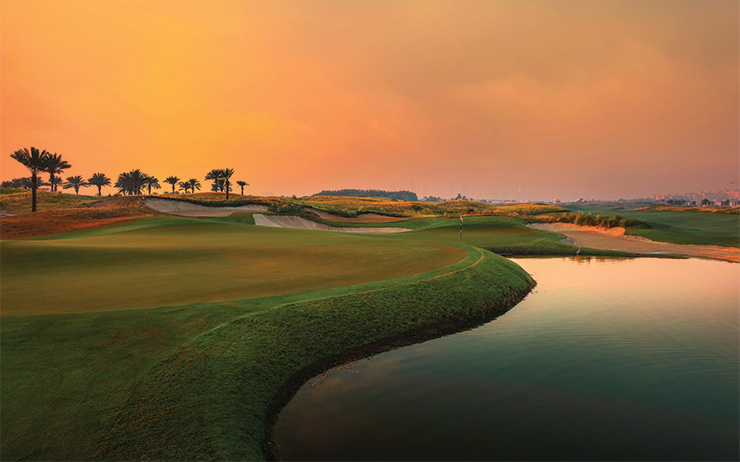 By Malcolm Young (PGA Professional)
Saadiyat Beach is always a pleasure to play, offering a memorable experience and challenge to golfers of every skill level. The design makes good use of its location, the gulf coastline coming into play on several par 3s and par 4s on both nines and giving the layout its  seaside character and links feel.
The mix of holes demand some well-placed tee shots, accurate irons and pin point wedges to score well whilst never feeling too demanding. Taking a lead from some classic designs, Gary Player entices you to be creative particularly around the greens which allow a variety of shots to be played.
The course has a very natural feel with the obvious standout holes being the combination of 16 and 17. The elevated position of the 16th tee lays out the demands ahead where only a well struck tee shot and accurate second will be worthy of a par. The tricky 17th is a true gem with a small target making it a perfect short par 3. Another great example of the design is the 10th where the short par 4 offers many options off the tee with a well-guarded green making it a perfect risk and reward hole.
From tee to green, Saadiyat Beach requires every club in the bag to score well. It's always a pleasure to play with the natural terrain and roaming wildlife leaving a lasting impression.
Malcolm Young is a former UAE PGA Championship winner
6) Earth, Jumeirah Golf Estates
2016 Ranking: 4 • Design: Greg Norman (2009)
Dubai, UAE • Par 72 • Yards 7,675 • Total Score 62.71
By Callum Nicoll (PGA Professional)
It's always special to play a course where we watch the best players in the world do battle each year. What makes the Earth Course so enjoyable on a day-to-day basis for me is the fact that it's so aesthetically pleasing and always kept to a high standard. The definition of the fairways to the woodchip and the trees frame every hole, making each feel individual. While the fairways could be deemed generous, tee shots still have to be strategically placed to afford the best route into most pins and even though Earth hosts large greens, Greg Norman's design really makes you think when hitting approach shots. Pins can easily be tucked away in difficult positions on the already tricky and undulating putting surfaces. There is an excellent variety of holes and this is most evident on what I regard as a particularly strong finishing stretch. Within the last five holes you have two different length par 4s, a par 3 surrounded by water and two par 5s including the last which can produce an eagle chance if brave enough, aka Henrik Stenson's memorable three wood to the 72nd hole of the 2013 DP World Tour Championship.
Callum Nicoll is a multiple UAE PGA Order of Merit champion
7) The Els Club
2016 Ranking: 7 • Design: Ernie Els (2008)
Dubai, UAE • Par 72 • Yards 7,538 • Total Score 61.14
By Danny Jakubowski (PGA Professional)
You know you are in for a special day at The Els Club. What impresses me the most about the golf course are the nuances that may take a round or two to notice. Course designer Ernie Els has done an amazing job of bunker routing, creating risk-reward tee shots and approaches. As with many of his designs, Els has utilised clever undulations and elevations to protect par. The greens are always in perfect condition, tricky but fair, and a well struck and on line putt never deviates from its line. The great conditions are one thing, but having that beautiful clubhouse in view on holes 9 and 18 makes for a great setting to finish the round and enjoy a well earned drink after.
Danny Jakubowski is Group Director of Instruction at Abu Dhabi and Saadiyat Beach
8) The National, Abu Dhabi Golf Club
2016 Ranking: 6 • Design: Peter Harradine (2000)
Abu Dhabi, UAE • Par 72 • Yards 7,334 • Total Score 60.36
By Karl Whitehead (PGA Professional)
What a venue Abu Dhabi GC is. Known the world over for it's iconic clubhouse and as the proud host of one of the European Tour's biggest events each year, it's a real jewel in the crown for the UAE golf scene.
The National course is truly world class,  a reminder of which we get every January with the great feedback it receives from the world's leading tour professionals.
On the eye it's a stunning looking layout: beautiful landscape surrounds each hole and when overseeded in the cooler season, there is a striking contrast between fairway and rough. Add to this the nice variety of water features and some very strategically placed bunkers and the result is an outstanding golf experience.
What always stands out to me is the premium, and in turn reward, placed on driving the ball well.  Pretty much all the landing areas are at an angle and it therefore challenges both the eye and your shot shaping ability. If driving well, it can certainly become scoreable as the greens and run-offs are not overly demanding.
Delving into specific holes, the 9th and 18th always stand out and are topped off with the unique experience of playing towards the Falcon clubhouse. The par 3's each have character and are great fun to play also. Mix in a world-class team and with the expertise of Troon and the overall club experience from start to finish is consistency top class.
Karl Whitehead is General Manager at The Els Club, Dubai
9) Al Zorah Golf Club
2016 Ranking: 10 • Design: Nicklaus Design (2015)
Ajman, UAE • Par 72 • Yards 7,169 • Total Score 60.05
By Claudine Foong-Riggs (Golf Wellness and Performance Coach)
When I tee it up at any golf course, the aesthetics and energy of the course significantly influences how much I enjoy my round of golf. Al Zorah Golf Club, located in Ajman, and only a 30 minute drive from downtown Dubai, does not disappoint.
The Nicklaus designed golf course, is a peaceful and tranquil haven if you're looking to escape the hustle and bustle of the city. You can spend a few hours amongst the acres of naturally protected mangroves that feature an abundance of wildlife, which is unique to other courses in the UAE.
For the most part, the course exudes a sense of confidence off the tee, with generous fairways allowing you to hit driver at will. Nicklaus designed many of the tee boxes as islands set amongst the mangroves adding to the beauty of the design. Water comes into play on several holes and even more so when the tide is in. When the tide is out, some of those hazard areas become sandy waste land, providing you with a glimmer of hope. The fairways run firm but you can still take a clean divot on an iron strike. The greens are guarded by deep traps and have plenty of undulation, making judging your line a tricky test.
Overall, the course has a great balance of challenge and opportunity. Al Zorah is a course where unless you hit it into the water, you should always be able to find your ball. When the wind picks up, which it often does, you better know how to control your trajectory. However, regardless of your playing ability, the course features several tee boxes to provide the right level of difficulty.
Every time I've left Al Zorah, I've felt like I just had a mini holiday. The combination of nature, excellent design and first class service makes Al Zorah a course you will always love coming back to.
Claudine Foong-Riggs is a former Symetra Tour pro and regular golf fitness contributor to Golf Digest Middle East
10) Trump International Golf Club, Dubai
2016 Ranking: New Entry • Design: Gil Hanse (2016)
Dubai, UAE • Par 71 • Yards 7,300 • Total Score 59.88
By Robbie Greenfield (Sports Radio Co-host)
It may not be on the coast, but the Trump International Golf Club Dubai is actually the closest thing you'll find to a traditional links course in the Middle East. It's one of the few courses in this region that allows you to take the terrestrial route, and the undulating terrain shaped by Gil Hanse adds an entirely new dimension to the playing experience. If, like me, you reach for your putter at the first conceivable opportunity, you will enjoy this golf course.
The UAE's newest 18-hole course has other hallmarks of a classic links design. Holes one and nine are bisected by a snaking wadi, but the opening tee shot is nonetheless among the most inviting of any course that features on this list. The giant green complex on the 1st, which flows seamlessly into the adjacent eighth green, encapsulates this Hanse design. Your targets may be generous on the Trump course, but woe betide you if you wind up in the wrong spot. The closely cropped tight lies demand a high degree of skill with a wedge and this course plays firm and fast, which is what this game should be all about.
The best stretch of holes lie on the front nine, from the par 3 5th to the short uphill par 4 8th that plays back towards the imposing clubhouse. Hanse wanted this to be a fun experience, and in allowing golfers to get the ball in play off the tee before challenging them with a varied array of different approach shots, he has done just that. And for a layout that's barely one year old, we can expect plenty of improvement as both the course and its surrounding development continues to mature.
Robbie Greenfield has been covering golf in the Middle East since 2005
•  MEET THE 2018 PANEL
•  READERS' CHOICE 2018
•  THE BEST IN THE MIDDLE EAST 2018
•  TOP 10 GOLF COURSES IN THE MIDDLE EAST 2016
•  TOP 10 GOLF COURSES IN THE MIDDLE EAST 2020