No Weak Links
A new entry and a new no.2 are the big stories in our fourth biennial ranking of the best courses in the Middle East on a list of the highest quality
By Robbie Greenfield

he Middle East has always been a golf destination that punches well above its weight. When top European Tour players speak in glowing terms about the courses and the facilities here, they're not just trotting out some well-worn line. They really, really mean it, and our exclusive images for this new Top 10 ranking will illustrate precisely why.
Using the tried and trusted Golf Digest methodology, we have ranked the best courses here with the combined insight of 28 expert panelists, but that doesn't mean you're supposed to agree with us. This is a celebration of golf courses that as a collective whole must undoubtedly rank among the finest concentrations in the world.
Below you will find the new top 10 list, along with a personal take on each course from a different member of our expert panel.
Related: Top 10 Golf Courses in the Middle East 2018
Meet the panel and how they ranked the courses
Check out the best in the Middle East
Readers' Choice: Your favourites revealed
The UAE's hardest golf holes
1) Yas Links Golf Club
2013 Ranking: 1  •  Design: Kyle Phillips (2010)
Abu Dhabi, UAE  •  Par 72  •  Yards 7,414  •  Total Score 64.80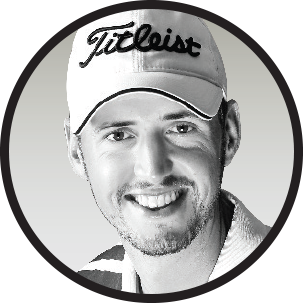 By Jake Shepherd (Tour Professional)
The main attraction of Yas Links is how naturally beautiful it looks. I know they moved a lot of earth in construction, but Yas looks likes a piece of land that could have been there for hundreds of years. It has got an authenticity to it that hits you from the moment you drive through the gates, and it has maintained that almost quaint feel that you find with some of the classic British and Irish links courses. For individual shot value, it just has so many memorable shots. The par 3 17th is hands down my favourite hole in the UAE, closely followed by 16. Yas is a bucket list course, probably the only one in the UAE that could be considered a true trophy course. It reminds me of Whistling Straits, and for me, is every bit as good.
Jake Shepherd won the inaugural MENA Golf Tour Order of Merit in 2011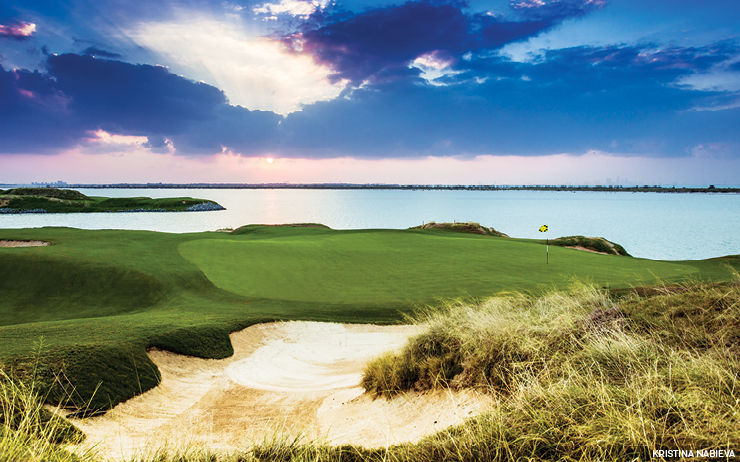 2) Almouj Golf
2013 Ranking: 4  •  Design: Greg Norman (2012)
Muscat, Oman  •  Par 72  •  Yards 7,300  •  Total Score 64.27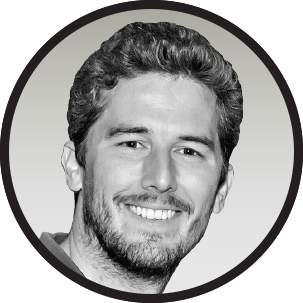 By Robbie Greenfield (Editor, Golf Digest Middle East)
Almouj Golf was a new entry at No.4 in our 2013 ranking and this time around it ascends two places, only narrowly missing out on the top spot. Those who haven't played it could be forgiven for being sceptical, while those who have are in almost unanimous agreement: this is an absolute belter of a golf course. There are no gentle crescendos on this Greg Norman design. The location is spectacular, but the great thing about Almouj Golf is it would be fantastic even without the coastal setting, too. The sea enhances this rugged modern links, but it's not its defining feature.
Robbie Greenfield has been covering golf in the Middle East since 2005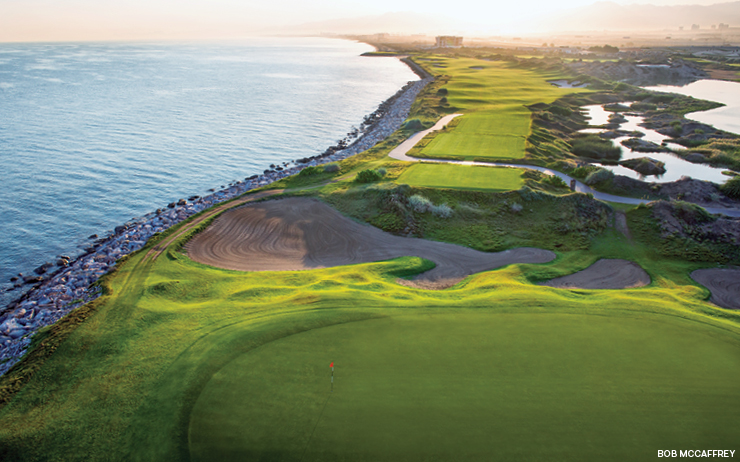 3) The Majlis, Emirates Golf Club
2013 Ranking: 2  •  Design: Karl Litten (1988)
Dubai, UAE  •  Par 72  •  Yards 7,301  •  Total Score 64.03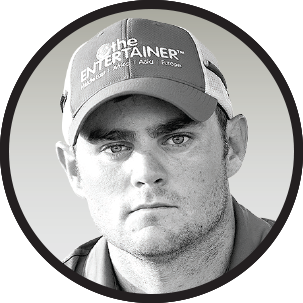 By Matt Turner (Tour Professional)
I was a junior member at Emirates Golf Club growing up, and when I look back now I realise how spoilt I was to call the Majlis my home course. Layout-wise, it's got to be the best in the region for me. Even if you play the course once or twice, you don't really forget any of the holes. Nothing is the same, visually, all the par 3s are outstanding. The par 4 eighth hole for me (pictured) is one of those iconic landmarks in global golf. As far as golf courses in the UAE goes, it's the only one that holds that kind of truly iconic appeal for me.
Matt Turner is the first (and to date, only) locally-based amateur to make the cut in the Omega Dubai Desert Classic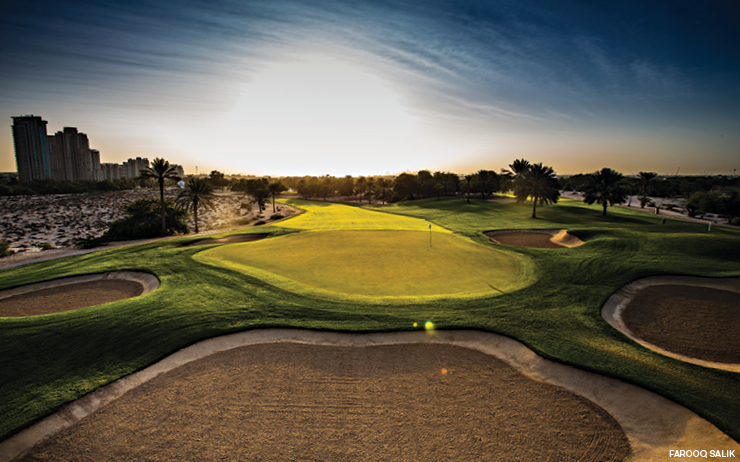 4) Earth, Jumeirah Golf Estates
2013 Ranking: 3  •  Design: Greg Norman (2009)
Dubai, UAE  •  Par 72  •  Yards 7,675  •  Total Score 62.81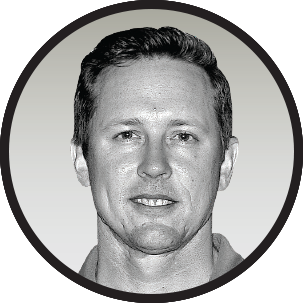 By Scott Sullivan (General Manager, ProGolf International)
Personally, I think Earth is the best manicured course in the Middle East, certainly all-year round and the week of the DP World Tour Championship it's just perfect, which is a huge plus for me. What I like about the layout is there's a lot of vegetation – it feels like a mature golf course. It's totally different to anything else in the Middle East. Visually, Earth is stunning, and a little intimidating in places as well. Although the central fairway bunkers look imposing, a lot of them aren't really in play. I like that because it makes you think twice, you're not just standing up and trying to bomb it down an open fairway.
Scott Sullivan is the current Arabian Ranches club champion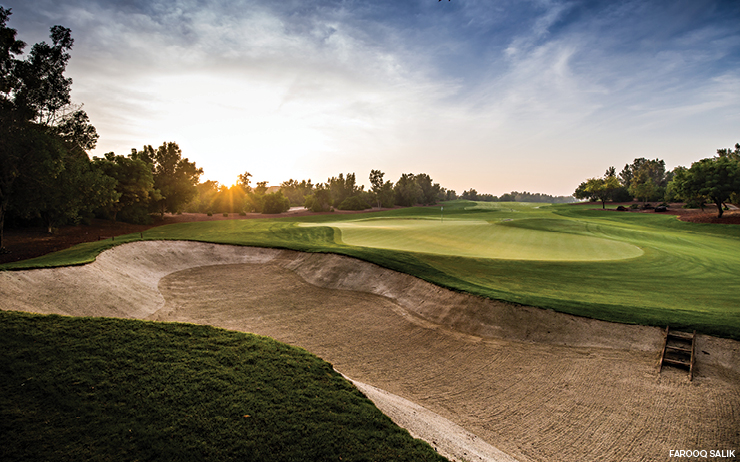 5) Dubai Creek Golf & Yacht Club
2013 Ranking: 7  •  Design: Thomas Bjørn Redesign (1993)
Dubai, UAE  •  Par 71  •  Yards 6,967  •  Total Score 62.31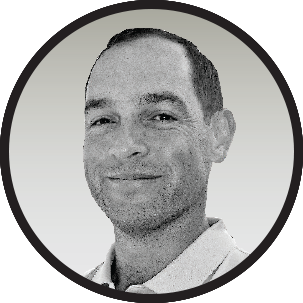 By Trevor Marshall (Tour Professional)
What I love about The Creek is the fact it's a bit more of an old-style golf course, it's not a 'bash driver' type of golf course. You've got to use anything from a rescue to a driver off the tee, but that being said there is a lot of risk and reward out there if you are willing to challenge it. Obviously, the Creek's finish gets talked about a lot, it's both spectacular and demanding. In tournaments you're invariably playing it into the wind and on 18 in particular, there's just no margin for error. On most holes you can get away with one poor shot. You can't afford to hit one here.
Trevor Marshall is a three-time runner-up on the MENA Golf Tour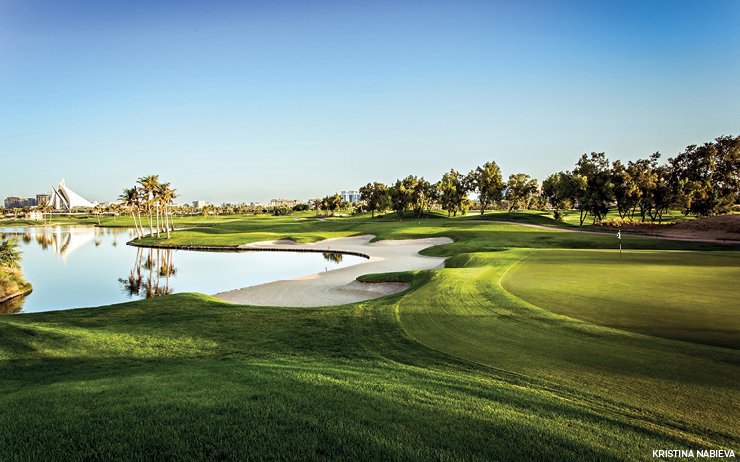 6) The National, Abu Dhabi Golf Club
2013 Ranking: 5  •  Design: Peter Harradine (2000)
Abu Dhabi, UAE  •  Par 72  •  Yards 7,334  •  Total Score 62.15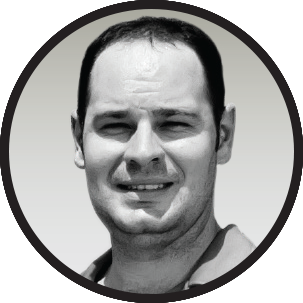 By Steven Munro (PGA Professional)
For me, the National is probably now the best-conditioned course in the UAE. Having caddied at the Abu Dhabi HSBC Golf Championship last year for Tianlang Guan, it goes without saying that during that week the course is impeccable, but what impresses me is the quality of its conditioning all year round. The agronomy team have a little-and-often approach to course maintenance, which I think is proven to work very well. In terms of the course, I think it's a fantastic layout and there are some very challenging stretches. But in general play, the National isn't overly penal for amateurs. There are no surprises out there, you see everything in front of you on the golf course – I think that's a big reason why the tour players love it.
Steven Munro captained the professional team in the 2014 Dubai Golf Trophy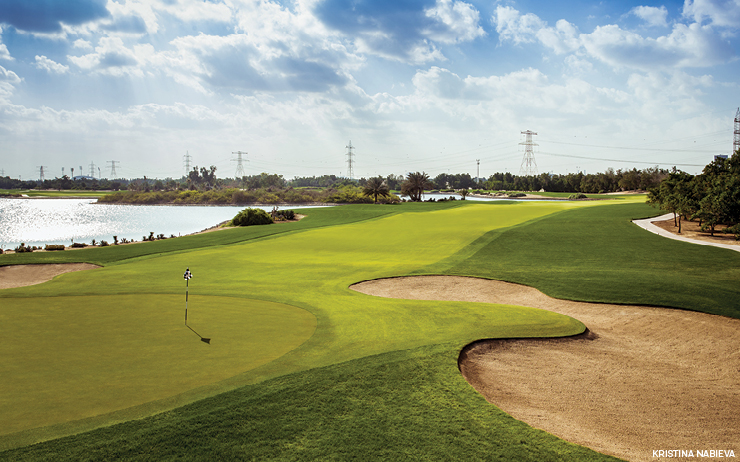 7) The Els Club
2013 Ranking: 9  •  Design: Ernie Els (2008)
Dubai, UAE  •  Par 72  •  Yards 7,538  •  Total Score 61.79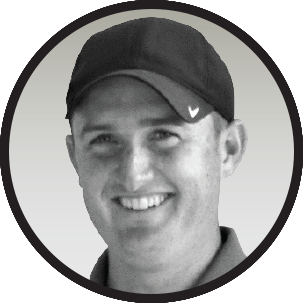 By Clarke Lutton (Tour Professional)
The Els Club is appealing to a wide range of players because it's got a lot of variety. Its condition is always fantastic, truly incredible. You've got to hit good shots, especially on the greens, because if you don't putt well you're going to struggle a lot of the time. It's very much a second shot golf course for the pros. It's very generous off the tee, but if you don't hit the right approach shots into the greens you can find yourself in a lot of trouble. You can short-side yourself so easily around this course. The configuration of the swales and basins makes chipping tricky because every green is raised.
Clarke Lutton won the 2015 MENA Golf Tour's Citizen Classic at The Els Club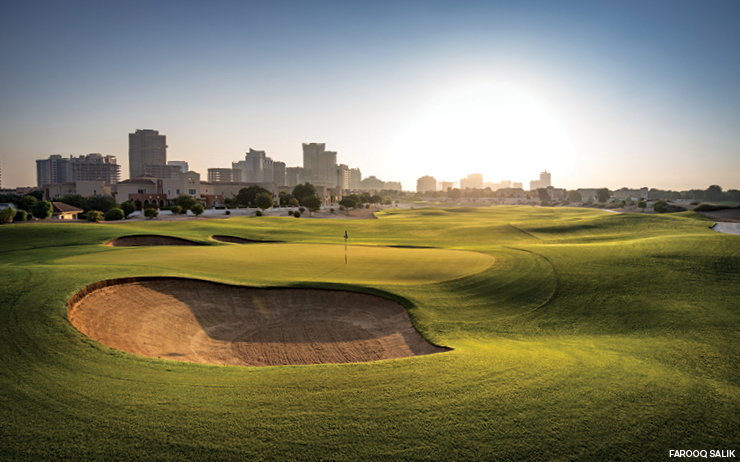 8) Saadiyat Beach Golf Club
2013 Ranking: 8  •  Design: Gary Player (2010)
Abu Dhabi, UAE  •  Par 72  •  Yards 7,806  •  Total Score 60.48
By Callum Nicoll (PGA Professional)
Saadiyat Beach Golf Club is visually very beautiful. Everything is right in front of you. You can see all your landing areas from the tees and the fairways. The shaping at Saadiyat is what makes it eye-catching and the wispy grass in the native areas has really matured over the last few years. From the tee, everything comes towards you, with all the hazards and features accentuated. This makes Saadiyat a very straightforward golf course. It also unquestionably has some of the best looking holes in the Middle East. The two par 4s that play towards the sea, five and 16, are hard to beat in terms of panoramas, while the two par 3s on the beach, six and 17, are really pretty as well.
Callum Nicoll is a multiple UAE PGA Order of Merit champion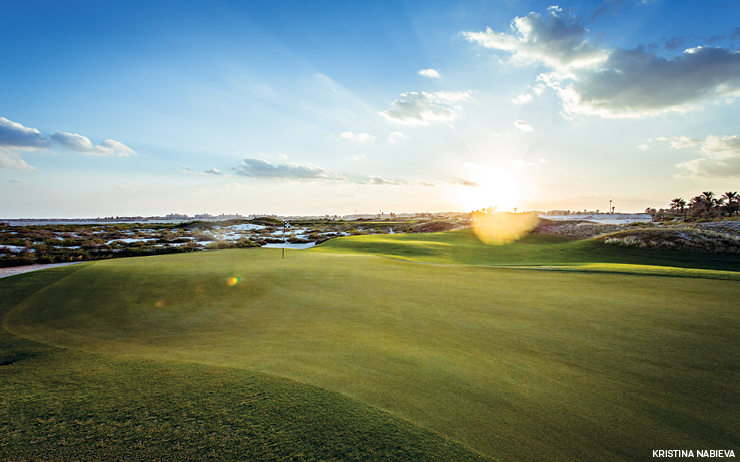 9) Doha Golf Club
2013 Ranking: 6  •  Design: Peter Harradine (1998)
Doha, Qatar •  Par 72  •  Yards 7,374  •  Total Score 60.40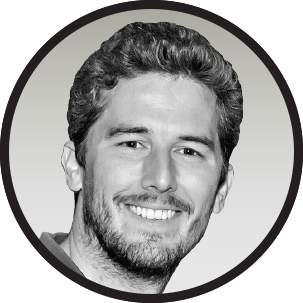 By Robbie Greenfield (Editor, Golf Digest Middle East)
One of the first rounds of golf I ever played in the Middle East was on the championship course at Doha Golf Club. Coming from southeast England, the land of short, tree-lined Harry Colt layouts, I found the test on this host venue for the Qatar Masters to be somewhat challenging, to say the least. For a start, this is a long, long golf course. It's the kind where you reach what you think is your best drive of the day and then find yourself squinting into the distance in an effort to make out the flagstick. It's also exposed, and windy. If you don't have your pro ball flight dialled in (I didn't) then you're liable to visit many interesting spots. The designer, Peter Harradine, cites Doha as the best site he's ever had to work on in the Middle East. That's due to natural rock formations that Harradine fought to keep as an integral feature of the course. Needless to say, he was right.
Robbie Greenfield has been covering golf in the Middle East since 2005
10) Al Zorah Golf Club
2013 Ranking: New Entry  •  Design: Jack Nicklaus (2015)
Ajman, UAE  •  Par 72  •  Yards 7,169  •  Total Score 58.44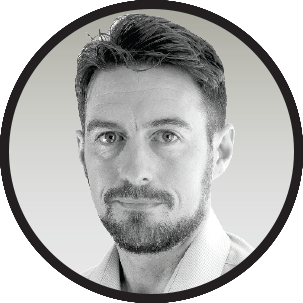 By Shaun McGuckian (Golf Writer & Editor)
The childlike sensory overload that comes with new 'toys' hits you as soon as you roll out across the wooden gangway to Ajman's newly-opened Al Zorah Golf Club. Its mangrove and tidal setting immediately feels exotic and different to other courses in the UAE and, despite its infancy, it already plays like some of the finer parts of Yas Links and The Els Club. The par threes are superb. Real thinkers. If you can get through those with minimal damage done, then there are plenty of birdie chances to be had, but you have to earn them as this course can quickly punish casual shots. Normally, we only play with shiny, new things until something else catches our attention. I don't think that's going to be the case with Al Zorah.
Shaun McGuckian is a former Editor of GolfPunk magazine
MEET THE PANEL  •  READERS' CHOICE  •  THE BEST IN THE MIDDLE EAST
•  THE UAE'S HARDEST GOLF HOLES
---