Meet the Panel
Golf writers, accomplished amateurs, seasoned UAE PGA Professionals and MENA Golf Tour players comprise our 28-man panel
*N.B. Panelists attached or affiliated to a certain club did not submit a rating for it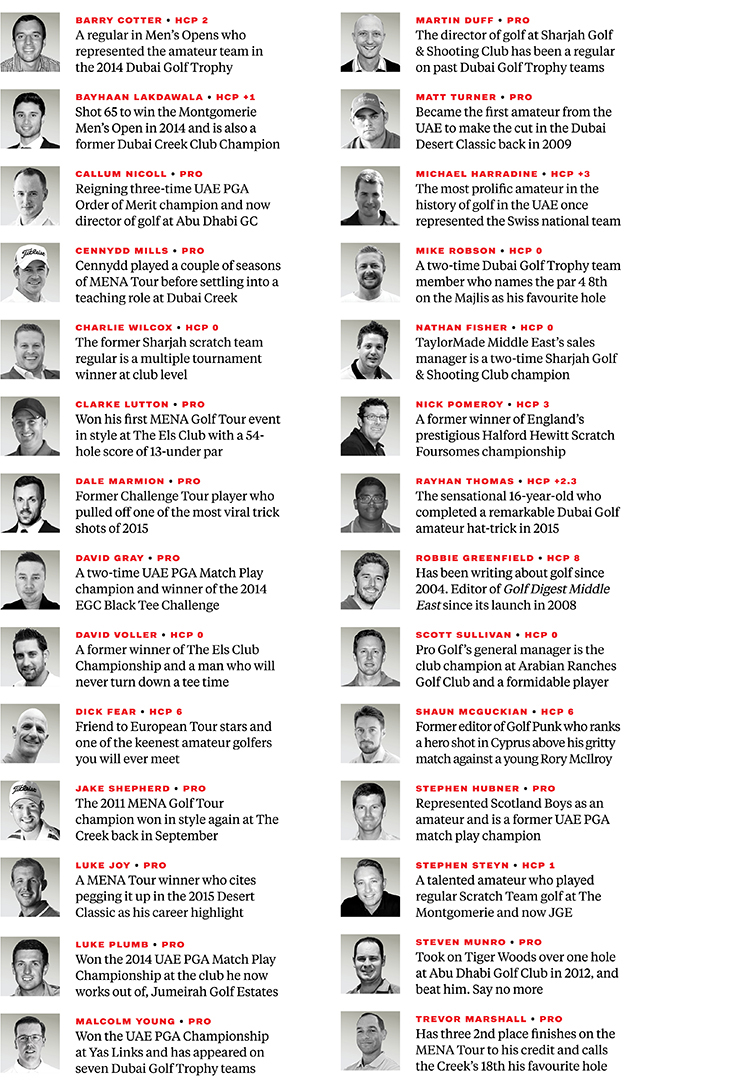 ---
How Our Panel Ranks The Courses
The Golf Digest Middle East ranking panel of 28 experts judged the courses on seven criteria, each on a scale of 1 (unacceptable) to 10 (absolute perfection). The categories, which we have adopted from the U.S. edition's tried and tested methods and modified to fit the specific conditions in our region, are as follows:
1  Shot Values
How well does the course pose risks and rewards and equally test length, accuracy and finesse?
2  Design Variety
How varied are the golf course's holes in differing lengths, configurations, hazard placements, green shapes and green contours?
3  Resistance to Scoring
How difficult, while still being fair, is the course for a scratch player from the back tees?
4  Memorability
How well do the design features (tees, fairways, greens, hazards, vegetation and terrain) provide individuality to each hole, yet a collective continuity to the entire 18?
5  Aesthetics
How well do the scenic values of the course (including landscaping, vegetation, water features  and backdrops) add to the pleasure of a round? Is peripheral construction an eye-sore?
6  Conditioning
How firm, fast and rolling are the fairways, and how firm yet receptive are the greens?
7  Ambience
How well does the overall feel and atmosphere of the course reflect or uphold the traditional values of the game?
ARRIVING AT THE FINAL SCORE
For each course, we total the average scores in each category, double-weighting the Shot Values category, to arrive at a final average score out of 80. As a reference point, Augusta National was 2015's top ranked course in the U.S, averaging 72.15. Our top course scored 64.80.
---
BACK TO TOP 10 LIST  •  READERS' CHOICE  •  THE BEST IN THE MIDDLE EAST
•  THE UAE'S HARDEST GOLF HOLES
---