By Mike McAllister, Contributing Writer
It's a daunting task, having to face Cameron Smith in a singles match. None of the other captains playing in Friday's quarter-finals of the LIV Golf Team Championship wanted a part of the reigning Open Champion and winner of last month's LIV Golf Invitational Chicago. But somebody had to do it.
Phil Mickelson drew the short straw.
"This sucks, right?" the six-time major winner said, rubbing his forehead in a mock show of misery.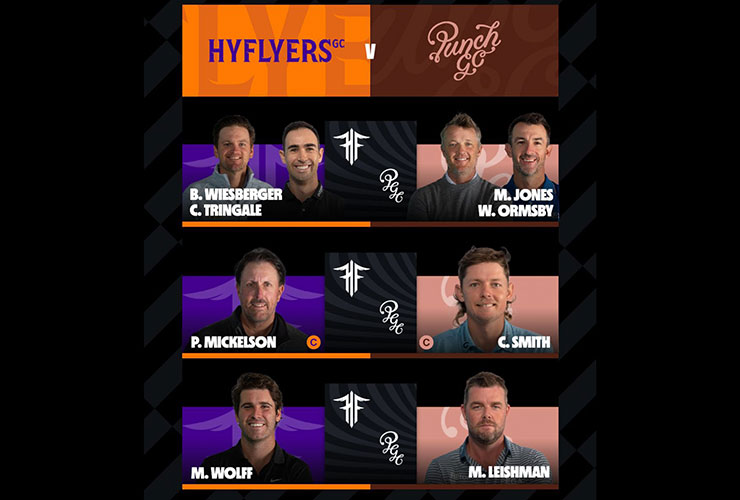 In the unique format for LIV Golf's season finale at Trump National Doral, captains must face each other in singles during the first two days of competition. On Wednesday, the team selections were announced for the quarter-finals, with the higher seeds getting to choose their opponents.
With the top four seeds getting a bye, that gave Brooks Koepka of No. 5 seed Smash the first pick. He selected No. 12 seed Niblicks, which means he'll face Harold Varner III, designated by non-playing captain Bubba Watson for the team's top spot.
"He's been calling me the wrong name all year, Bruce" Koepka said of Watson, an on-course commentator during LIV events this season while he rehabs from knee surgery. "I felt like it was a good opportunity to get back at him."
Koepka beat Varner 2&1 earlier this year in a matchplay tournament in Austin, Texas. "This is a new day," Varner said. "It's a different tour." Added Watson: "Harold told me he's definitely getting a point against Bruce."
Next came sixth-seeded Majesticks, with captain Ian Poulter selecting Iron Heads to set up a match against Kevin Na. "I figured Kevin and I hit it really short, and we could just hold hands down every fairway," Poulter said with a smile.
Then came seventh-seeded Torque. Captain Joaquin Niemann opted to face Cleeks and a match against Martin Kaymer. Asked why he picked Cleeks, Niemann replied: "Because I didn't want to pick Punch." In other words, he didn't want any part of Smith.
That left the last two remaining teams — Mickelson's Hy Flyers and Smith's Punch — setting up a nice little exchange between the two.
"Look at Cam smile," Mickelson said, nodding at Smith sitting a few seats away on the dais. "Look how happy he is. This didn't really work out the way we had planned at all."
Smith played along. "Yeah, I feel good," he said. "The way Phil hits his driver around here, I think he'll be dropping a few balls out there."
Mickelson just shrugged. "I mean, the guy is the Champion Golfer of the Year. There's not much I can say. But I have won here. Just sayin'. Have you even played here at Doral? I've won here at Doral."
Replied Smith: "Twenty years ago. I was two when Phil won around here."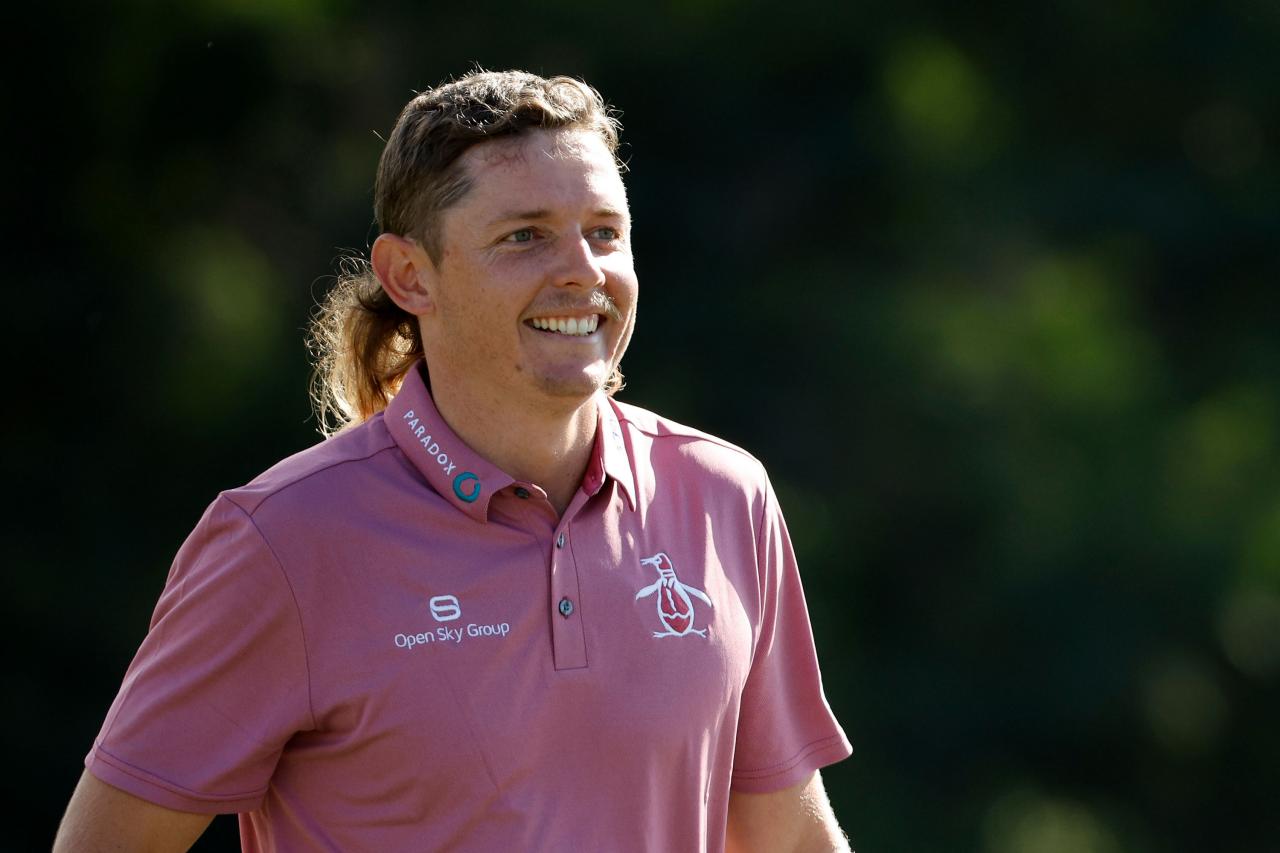 OK, bit of an exaggeration there. Mickelson's win at Doral came in 2009. Smith was 15 years old. But you get the drift.
"I think you were at that clinic that I gave," Mickelson fired back at Smith. "It's nice to see you were paying attention."
OK, it's doubtful the 52-year-old Mickelson, with 57 career wins, is actually fretting about his match with Smith. But if he does need something positive to lean on, how about this: He's 4-2-0 in singles competition against Australians. In fact, the last time Mickelson played a singles match, he beat Jason Day in 2019.
On Wednesday, though, he attempted all measures to avoid Smith. Mickelson even tried to coerce Koepka into choosing Hy Flyers as the opponent for Smash, which would've meant a Mickelson v Koepka match. As Mickelson pointed out, that would've given Koepka a chance to avenge the 2021 PGA Championship — which Mickelson won by two strokes over Koepka and Stinger GC captain Louis Oosthuizen.
"You could pick our team and we could play each other," Mickelson told Koepka. "I'm just clarifying the rules because I don't know if everybody understands."
Mickelson is the only LIV Golf member with more major wins that Koepka's four. But Koepka has achieved something Mickelson never did — and now saw an opening to mention it.
"You probably don't know this because you've never been No. 1 in the world … when you finish at the end of the year, they give you a little trophy," Koepka said. "I've got two of those, so I could bring one of them to show you."
Replied Mickelson: "That's a beautiful green shirt. Do you have a green jacket?"
"I do not," Koepka said. "But I will, though. Don't worry, I will."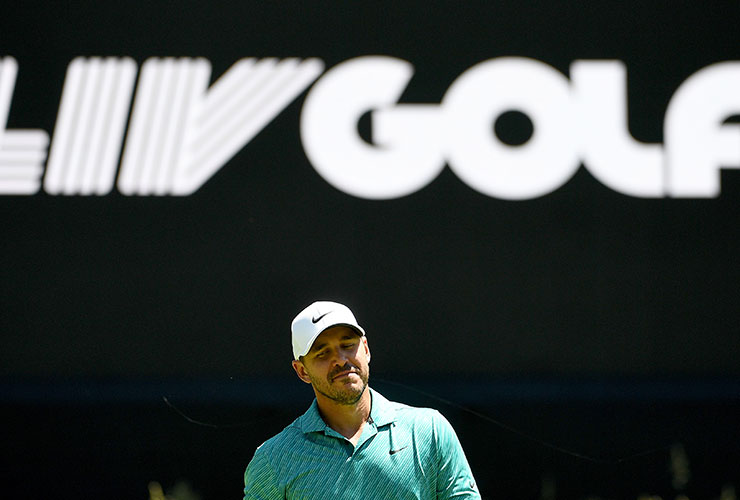 While the Mickelson v Smith match will generate plenty of hype going into Friday's quarter-finals, it will be just one of three matches played between Hy Flyers and Punch. Like all the team v team matches in the first two rounds, whichever team wins two matches will advance to Saturday's semi-finals, most likely against one of the top four seeded teams.
Mickelson then offered his true master plan. He hopes Matthew Wolff will beat Smith's buddy Marc Leishman in the other singles match, and the duo of Bernd Wiesberger-Cameron Tringale can defeat Punch's Matt Jones and Wade Ormsby in foursomes.
Said Mickelson of Wolff: "His length allows him to see this golf course totally different, in a much more aggressive frame of mind. … I really like him in singles, and I really like Bernd and Cameron together and the cohesiveness that they provide.
"Then Cameron Smith and I will naturally be irrelevant is the game plan."
It's doubtful that anything those two golfers — one already in the World Golf Hall of Fame, the other already have met the criteria for consideration — ever do inside the ropes will be irrelevant. But if it means his Hy Flyers stay alive, Mickelson will try any and all tactics. No telling what else he has in store the next two days.
You may also like:
The Gulf Club: The latest news from the UAE and beyond for October
Augusta, USGA, PGA of America added to DOJ investigation
After 27 years in prison, wrongfully convicted Valentino Dixon realises dream in Dubai
15-year-old TK, a LIV Golfer, is going for AAC glory
Cam v Phil as LIV Team Championship quarters are set
Team-by-team breakdown ahead of LIV Golf Miami
WATCH: Golf pro drops glass trophy
Brooks: Team element of LIV Golf revived my game
LIV Golf 2022 season by the numbers
Otaegui set for LIV Golf return after DP World Tour win
LIV Golf announces team line-up for Miami
Number-crunch – all the stats following LIV Golf Jeddah
Big prizes on offer at Asia-Pacific Amateur Championship
How Anthony Kim is being dragged into LIV-PGA fight
Rory McIlroy's remarkable consistency
Ananad wins 24th Dubai Duty Free Seniors Cup
Chacarra hunts more success on Asian Tour International Series in Egypt