By Robbie Greenfield
Deep in the heart of one of the most hostile places on the planet, Kabul Golf Club is fighting oppression and catering to thrill-seeking tourists who like their golfing adventure served rare

 erious golfers are known to approach their beloved game with a zeal that often supersedes other passions in life (like spouses and children, for example). And with this unwavering devotion comes an irresistible urge to play as many of the world's most exclusive and prestigious golf courses as possible.
For a golfer, playing the Old Course at St Andrews is not just about the obligatory photo on the Swilken Bridge, waving to an imaginary gallery before fishing their ball out of the stream below. It's about being able to watch as Rory McIlroy lines up a putt to win The Open and casually say to your friends: "This is just like the one I made for birdie."
You will not meet a keen golfer who doesn't own a bucket list of these so-called 'trophy' courses, and with that in mind, the subject of this article might raise a few eyebrows. In terms of places to play before you die, never has a golf course offered to place those two events in quite such disconcerting proximity.
Welcome to Kabul Golf Club, variously known as the world's 'most dangerous' and 'least played' course. A dusty, arid monument to The Great Game unlike any other golf course on the planet, it's a beacon of freedom in a war-torn country, a symbol of defiance against the oppressive regime of the Taliban, and now, an unlikely playground for thrill-seeking golfers who are rich enough to bring their own chopper and military escort to the first tee with them.
In terms of places to play before you die, never has a golf course offered to place those two events in quite such disconcerting proximity.
The manicured lawns of Augusta National and Pebble Beach are all well and good, but if you really want a golfing tale that will captivate audiences in clubhouse bars the world over, a round in the rugged heartland of Afghanistan should do the trick. But while you're there, just be sure to keep an eye out for the 'guy with the rocket launcher'.
RELATED: 2020 Top 10 Golf Courses in the Middle East
What it lacks in looks, the Kabul Golf Club more than makes up for in personality. A quick Google image search offers a picture of a man in full camo gear, wielding a sniper rifle like a 5-iron and standing next to a large sign cheerfully inviting people to 'visit our website: kabulgolfclub.com'.
In another snap, a local man plays a pitch shot in front of a row of abandoned tanks while his caddie leans casually on an AK-47 in the background. Shooting a score carries a whole new meaning at this place.
Situated in the barren mountains near Lake Qargha to the southwest of the Afghan capital, the grass is scorched and patchy on this nine-hole layout, with the flags cut on 'browns' (a compact mixture of oil and sand) rather than the traditional greens. As preposterous as the idea of playing golf here seems (let alone paying thousands of dollars for the privilege), the club has shown tremendous resilience just to remain in existence.
What it lacks in looks, Kabul GC more than makes up for in personality.
First established in 1967, it has survived more than a few obstacles to the monthly medal, including a presidential assassination during the Saur Revolution of 1978, the Soviet invasion of '79, closure by the Taliban in the mid-90s and latterly, the gruelling war that has raged since 2001 following the September 11 Attacks on New York.
All things considered, it would appear the opportunities for golf tourism in a country that takes such a dim view of such leisure activities would be remote, but to reiterate the point at the top of this piece, it takes more than the threat of land mines and armed locals to dissuade golfers of a certain disposition (and disposable income).
This is where luxury operator Cavalry and Company comes in. Founded by the unlikely alliance between a group of Special Forces veterans and hospitality experts, the company specialises in personalised golf tours to the Middle East, featuring five star luxury and various other adrenaline junkie pursuits in the UAE, followed by a day trip via private jet and helicopter to Kabul Golf Club, a destination they describe as the 'Mount Everest of golf'. It's meant as a nod to the comparative inaccessibility of these twin summits, but then anyone who has seen the film Everest may instead interpret it as your relative chances of returning in one piece.
The club seem proud of their undisputed status as the world's most dangerous tee time, but the sense of menace is completely at odds with an otherwise friendly and welcoming outlook. In other words, yes, they may be armed to the teeth, but these guys just want to have a hit and a laugh like anyone else.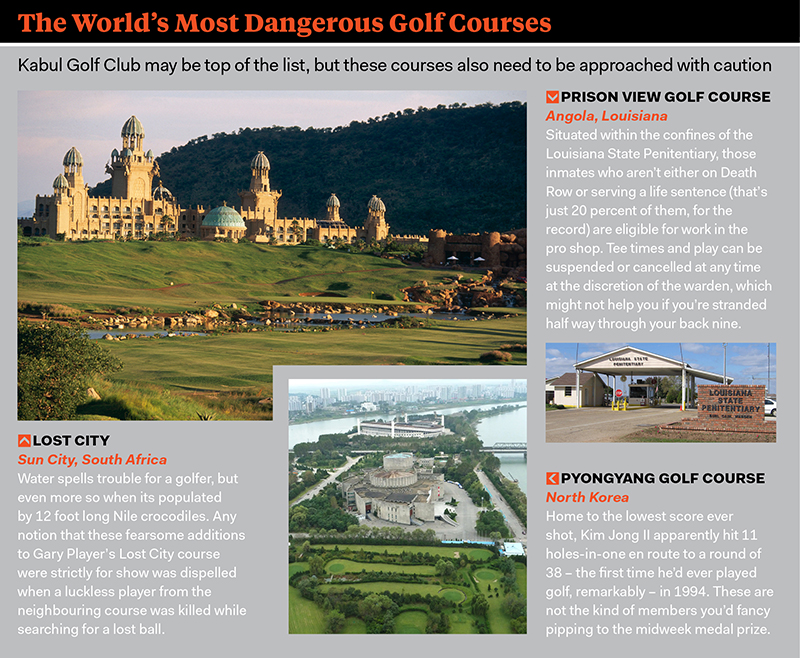 There is a longing for peace and normality that adds poignancy to the narrative. The men who run and sustain the course insist that this is more than 'that curious tale or ironic footnote to another war story'. Notes a recent update on the website, 'eventually the fighting will stop, and the latest set of guns will rust. When that happens, the club must be healthy and prepared to greet the new realities'.
Kabul Golf Club has gone from battlefield, to minefield, to playing field. And through the determination of a community of fearless and passionate local golfers, it represents hope for a brighter future in a country that has been devastated by conflict. And if you don't have the cash to fund a private military escort, the club will be happy to accommodate you. 'No need to make a tee-time', they promise. 'If you can make the trip down the Qargha road, we'll get you on'. Good luck.
Photos by Getty Images
YOU MIGHT ALSO LIKE:
Middle East' Stroke Index 1 Series
The Middle East's 18 favourite holes
The Middle East's best par 3s
Top 10 Golf Courses in the Middle East: The Class of 2020