By Matt Smith
Ever since Emirates Golf Club opened its doors in 1988, the UAE began evolving into a world-leading golf destination, with every year somehow improving on the standards of the last.
In late 2021, Yas Acres Golf & Country Club became the latest addition to that ever-expanding portfolio of courses, once again affirming the country's place at the pinnacle of the sport.
Now — once again — that drive, vision and passion for perfection has led to the latest development in the UAE's golfing landscape, but this time it is a little more behind the scenes.
In late August, Viya Golf, part of Wasl Hospitality & Leisure, entered into a management deal with Abu Dhabi's Aldar Properties to manage its golf courses and clubhouses, leisure facilities, and all dining outlets at Yas Links Abu Dhabi, Saadiyat Beach Golf Club and Yas Acres Golf & Country Club.
The agreement will see Viya Golf look after all aspects of the golf operations; maintaining areas of existing excellence and delivering operational improvements to enhance all golf, leisure and dining experiences for members and visitors. This includes adding Aldar's clubs to the Viya app, giving its members rewards and access to golf, leisure and dining experiences.
Golf Digest Middle East spoke with Viya Golf Chief Executive Officer, Christopher May, about these recent developments and the vision for the future. "We are very excited to have the opportunity to be involved with Abu Dhabi and these three fantastic venues," he said. "Yas Links is so special in the region and has to be on every golfer's bucket list. Saadiyat is not far behind, and it has such unique features with its wildlife and sustainability. These are two special courses that bring people from all over the region and beyond to Abu Dhabi to play.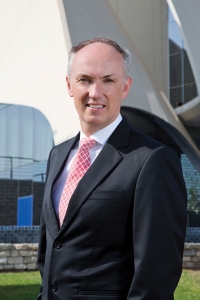 "And now there is the new addition. Yas Acres is a fantastic nine-hole course, a real jewel and I would recommend it to anyone. Where else can you get 27 holes in a brilliant setting like that in one day, thanks to the floodlights?  
"So, already we have three fantastic additions to our portfolio and we thank Aldaar for this opportunity. We have been in discussions for a number of years and finally we reached a deal. 
"The operations teams are already doing a fantastic job at each of the three venues and, as we come in, initially we will look to upgrade some club facilities — similar to what we did when we took over Jumeirah Golf Estates — and these improvements usually take about six months to implement. 
"We will review the current operations and bring in whatever improvements we feel are needed, be it in F&B … whatever we can offer to improve the overall experience of golfers and non-golfers alike. 
"The operations are the real superstars here and we want to get more people seeing what they can experience. While golf plays a massive part, there is so much more to help drive tourism in Abu Dhabi.
"It is an exciting time for the UAE capital and Yas Island — we have UFC, NBA, F1 all coming up ahead of the Abu Dhabi HSBC Championship at Yas Links in January. Then there is the World Cup in the region. These events all show how big sport is in the region, and the UAE in particular, and with tourism now getting back to normal, these events can show the world what we have to offer — and maybe get some racing or football fans to find some time for a round of golf, too.
"We get 25,000 golfers coming through Dubai too, so possibly now, through Viya we can get them and others to extend their stay and make it a two-city vacation." 
Viya is the region's fastest-growing golf business, transforming and modernising the game across the Middle East through technology-led innovation. Alongside its sister business, Dubai Golf, Viya forms part of Wasl Hospitality & Leisure's diverse, fast-growing golf and leisure portfolio. In addition to developing and operating its successful golf booking, lifestyle and membership app. 
"Since we launched Viya two years ago as a member booking app, "May explained, "you could say it has evolved into something of a bigger entity with 80,000 active users, who use it for such things in Dubai as golf tee times, lessons, facilities such as the gym or spa, dining and salons across a wide network of golf clubs and Wasl properties.
"Now we can incorporate our Abu Dhabi portfolio to offer our users even more opportunities as we continue to grow."
Viya also recently launched the new golf holidays booking website, Viya Holidays, to help grow inbound tourism to the UAE.
"We are looking to expand across the region to open up more opportunities and experiences and with the website now up and running it will help us with flights, bookings and growth throughout the region," May said.
"While Viya is still in its infancy, we already have 80,000 active users, like I said, and that number is growing all the time.
"Interestingly, the vast majority of those users are non-golf club members, showing the potential to bring in more people to enjoy what our facilities have to offer, and that will only grow with the addition of Abu Dhabi and the growing number of international travellers coming to the UAE, seeing Viya and downloading the app."
Ever-improving…
We can only imagine what 2023 will bring.
You may also like:
Golf Digest Middle East presents Oktoberfest 2020
UAE golfer heads to the Masters
Chiara Noja secures LET card for 2023
Laklalech becomes first Arab to win on LET
Rory open to LIV Golf ranking points — if they meet criteria
Henderson and Maguire sign up for Aramco Team Series in New York
Newton to play Dunhill pro-am
Reed withdraws from Dunhill links — thanks to dodgy bed
LIV Golf Bangkok field revealed
Poulter rages at dumping of Stenson
True or False: Presidents Cup takeaways
Charlie Woods shoots career low with dad Tiger on the bag