For most of us, 2021 couldn't come fast enough. Lee Westwood was a rare exception to that rule after a thoroughly memorable 2020, kick-started by his historic victory at the Abu Dhabi HSBC Championship and eventual crowning as Race to Dubai champion and European Tour Golfer of the Year. 
We sat down with the 47-year-old Englishman on the eve of his Falcon trophy defence to discuss the early high, Covid-fuelled frustrations and brilliant end to last season and how he intends on kicking on when the $8 million Rolex Series event begins at Abu Dhabi Golf Club next Thursday.
RELATED: Rory McIlroy, Justin Thomas to headline 2021 Abu Dhabi HSBC Championship
What emotions were you going through at the start of 2020 when you won in Abu Dhabi?
I hadn't played much golf coming into the event, so I didn't really know what to expect. I'd been out to Dubai for a weekend to practice, and that's the only golf I played since the end of the season, the year before. So basically about five or six weeks without hitting the ball, so I came out here and started hitting a few balls. I was hitting them alright. Had a couple of days with Robert Rock and got a good few swing thoughts. And then just went up to Dubai and just started working on it, that I've always liked that golf course, I play pretty well around it. I've had some good rounds around there, you know, kind of suits me. I just got off to a steady start and then got in a decent position after two rounds and then shot 65 in the third round to take the lead and then played a solid last round, shot 67, kind of controlled the tournament from the front, got in front early and whenever anybody made a birdie and came out, you know, there those people like Tommy Fleetwood and Victor Perez making birdies whenever anybody made a birdie then I just did enough to stay in front and move away and stay in like a comfort zone, really.
What does it mean to you to come back to Abu Dhabi as a defending champion? What have you been looking forward to in your preparations ahead of the tournament now?
It's great way to start the year, it's a great tournament to start the year on. I think everybody likes coming out to Dubai and Abu Dhabi, the Middle East, playing golf, you know, such good conditions and such a great place to do some good work and start the year off positively. It's a big tournament. It's a Rolex event. And, you know, it's a prestigious title to win. So, everybody wants to get off to a fast start and it's a great tournament to do that. You know, they're good sponsors HSBC, I've played in many HSBC tournaments throughout the years and it's a great golf course to start on as well. You know, not to say it doesn't beat you up too much, but it's just tough enough to give you some challenges and you have to get some good shots. There's a few tricky drives out there and, you know, it keeps you on your toes. But at the same time you can make a few birdies and the greens are always pure and you can roll a few putts in. And it's a great way to kick off your year.
Did you see that victory as the catalyst for your successful year in 2020?
I mean, the year was strange and, you know, it was stop, start, stop, start, really. But I played well the following few weeks after Abu Dhabi, I had a good finish in the States, finished fourth and was really hitting the ball and playing well. And unfortunately, Covid came along and the pandemic shut down our sport and everything else in the world. So I picked up pretty well after that and obviously finished up the year really well with the second-place finish in Dubai. You know, if you look at the results, I've always played pretty well in the in this part of the world and my two best results for the last year were Abu Dhabi and Dubai, the very beginning to the very end of the year. So I'll be hoping for that again this year. You know, start off fast here in these first three tournaments and then see where I was at the end of the year again when we get back in.
What do you put that success down to of being in the UAE and in the Middle East and playing golf courses there? What do you think that that appeals to your game the most?
I think probably the speed of the greens. The greens go pretty quick out there and they're always a good surface to get good points to go in. The golf courses require straight driving as well. I'm a good driver of the golf ball. So those two things really kind of suit the way I play golf.
How do you compare the Abu Dhabi Golf Club to other golf courses around the world? Where do you rate it and how do you see it as a golf course?
It's right up there. I think in this area, if you sort of take in Abu Dhabi and Dubai together, it's in the top three. It's one of my favourites to play and it's a good challenge. It's one of the more established ones as well.  It feels like you're not playing a new golf course. You know, you're playing a bit more of a mature golf course. It's had time to settle down. And like I said earlier, I know as it's different challenges, you know, it gives you chances to make a birdie. But if you start hitting it off-line the trouble creeps in. Also, you can get a bit of a breeze blowing, you don't get too many calm days. It's not kind of strange to get a 15, 20 mile an hour wind blowing and a bit of a sandstorm coming through and it tests your ball striking. That's kind of a nice thing about playing. You know, you get different conditions.
Do you ever go to watch other sporting events when you are in Abu Dhabi? Has your overall experience in UAE improved?
Yeah, years ago I went to watch the tennis when it was here, but more recently I've been to the Abu Dhabi Grand Prix, you know, obviously being sponsored by UPS, they sponsor Ferrari as well. Incredible spectacle. You know, there's so many things going on, I have a lot of friends that are cricketers and they come over and play cricket. A lot of teams use Abu Dhabi for pre-season training or midseason training, which comes now for the European teams. And, I think the weather has a lot to do with it, the weather is perfect. Very predictable. So, different teams and sports take advantage of that.
You once famously said, beware the injured golfer. How does it feel to show that you had the mental determination to then still follow through with the plan after your injury setback?I think for any sportsman when they've got an injury and no expectation going into a week, I think it said there's no expectation part of it. You know, you just go out and play. You're not trying to win the golf tournament or anything like that because obviously you're injured and you don't know how long you will be able to play for, you know, what standard you're going to play up to. It's a psychological thing, really, you just tee it up and make that first swing. If the physios have done their work and the painkillers have gotten you through, you can do your job and you play a few holes and if then get through nine and then get through 18, you don't really know whether you're going to finish the week or not. So you don't have any expectations on a result or anything like that. So you very much stay kind of in the moment, and going into the DP World Tour Championship at the end of last year in Dubai, I only played nine holes on the Wednesday and the longest that I hit balls for was half an hour. I was fresh if nothing else, you know, I spent more time on the treatment table than out on the driving range.  Obviously the two physios had done a great job and got my flexibility back and maybe even better than where it was before. So, yeah, it's a mental thing, I think, a psychological thing. It's just going out there and hitting one shot at a time, that happens when you are injured. Your focus has taken away from the result in the outcome and is more on, you know, how you're feeling.
As one of the more senior members of the tour, do you see yourself taking few fewer tournaments this season, or do you think you just keep going with the same sort of plan as you have previously?
I don't know how many times I played last year. It was about 19 I think, maybe 20. So I think I will play somewhere around 23 or 24, certainly no more than 24. It could go down as low as 20, depending on, what the situation is with Covid and things like that and whether tournaments get cancelled at this time, you just can't really make a prediction. But I think as you get older, you try and save yourself a little bit. You know, play a little bit and focus more on the recovery weeks compared to when I first came out and played 35 to 40 tournaments a year. When you're 47 you just can't, your body won't let you do that. I've found that over the years I felt more comfortable going into tournaments, having had a big break and then being able to perform well from some time off. I don't have the fear factor of taking sort of three or four weeks off and thinking, is it still going to be there when I get back on the golf course?
You know, I tend to structure my years a lot better now and, I'll factor in two or three weeks off, kind of at certain points to say like mid-April to the beginning of May, I'll have a four-week break and then August time I'll probably have a two or three-week break this year, you know, just to kind of recharge the batteries and let my body settle down and do stuff in the gym to get it back into a strong position because it's tough to work out and get your body in the place you want it to be while you're playing golf.
There's just not enough hours in the day. So, as you get older, your body just needs that little rest and the natural break. So you just look for those in the calendar, obviously, when you schedule and you put the Major championships in and World Golf Championships, Rolex Series events, tournament venues you like to go to and then family commitments come into it and holidays and obviously work out and recovery week. So, you know, there's a lot of different things to factor into a schedule. It's not just kind of writing down tournaments on a piece of paper, there's a lot of considerations to make.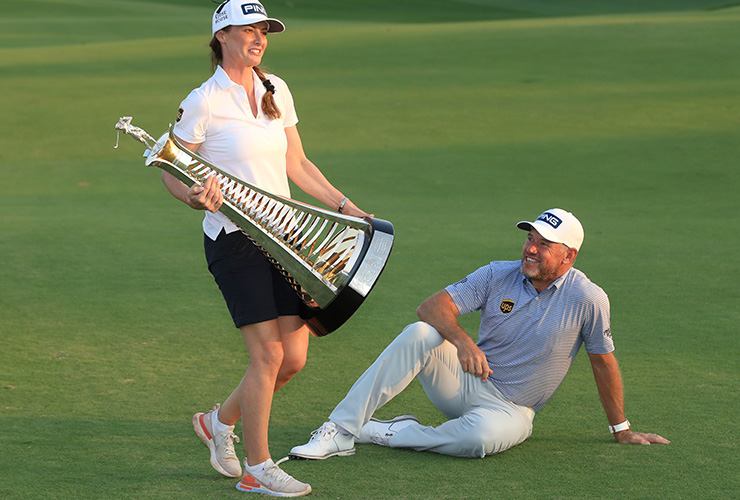 Finally, how did it feel to win the Harry Vardon Trophy again after 21 years?
Yeah, it was great. Obviously, I'd been in this position before, you know, in 2009 I needed a first or second-place finish to win the Race to Dubai and I managed to win the tournament this time around. In 2020, there were a few other things to factor in there because obviously, Patrick Reed had it in his hands. That and Matt Fitzpatrick obviously had a chance as well. So there were a lot of variables coming down to it in those last few holes. So it was, for me, just a case of just focusing on those last holes when I missed the birdie putt on 15 and I had already bogeyed 14, the par-5. I knew I needed a strong finish, but I also knew that, it's a tough finish. You know, there's a lot of trouble on 16 and 17 and 18, it is no pushover. So, I figured I needed to birdie two of the last three to have any kind of a chance and managed to birdie 16 and 18 and made a good par on 17. It was a strong finish. I gave myself the chance by finishing strong. And that is all you can really do. You can't control what they're allowed to do and you can just only control what you're doing and try and put pressure on them with your play. And that's what I managed to do.