Pros get their revenge on the amateurs at Dubai Creek and EGC as Dubai Golf Trophy delivers two days of drama
By Matt Smith
Every year, just as the heat rises to remind us all that another summer of sweat is on the way, the finest golfers in the UAE gather for one of the most popular events on the calendar — the Dubai Golf Trophy.
Now in its 23rd year, the event sees the top 16 amateurs in the UAE and the finest professionals battle it out for the bragging rights in this Ryder Cup-style event. And 2022 carried more weight than usual as the 'Ams' were going for an unprecedented seventh consecutive triumph over the 'Pros'.
Fans hoping for another gripping encounter — this tournament has served up many classic clashes over the years — were not disappointed as Mike Major's Pros finally stopped the rot to reclaim the coveted prize from their rivals after six long years. 
Played over two days at Dubai Creek Golf & Yacht Club (Sunday) and Emirates Golf Club (Monday) in Dubai, the competition closely follows the format of the Ryder Cup, with Day 1 seeing eight foursomes and eight fourballs matches, before 16 individual clashes on Day 2.
Chris May, CEO of organisers Dubai Golf, was on hand to watch the spectacle unfold. "It is such a privilege to host this great event that is steeped in UAE golf history," he told Golf Digest Middle East. "It raises the game and the standards of golf for the UAE. We are delighted to be involved in such an occasion.
"There used to be such a gap between the pros and the amateurs, but we have really seen that gap close up due to the competition and the quality of facilities and academies on offer in the UAE. In recent years we have seen a few kids come through like Josh Hill, Toby Bishop, Ahmad Skaik and Khalid Yousuf. You see this flurry of quality come through as they push each other. But they seem to be coming along more frequently after the likes of Rayhan Thomas, who has done very well and is now in the States. The others take inspiration from that, saying: 'If he can do it, or she can do it, I can do it to.'
"The Dubai Golf Trophy really plays a key role in this as we get everyone together and they can really see how they compare, regardless of upbringing, race or even club. It is a really meaningful team format, and reflects how far the amateur game has come."
While the pros held the advantage after the action at Dubai Creek — with the most slender of leads at 8.5-7.5 — they held their nerve when it looked like they might throw it all away.
Khalid Yousuf's amateur team were so quick out of the blocks on Day 2 at EGC and had their noses in front when Yash Majmudar and Hugo Garcia thumped Michael Bolt and Steven Munro 6&4 and 4&3 respectively.
The other two early matches between Sujjan Singh and Max Burrow, and Jackson Bell and Craig Vance were halved, and the amateurs were scenting another victory.
But then came the blue wave of Pro scores as Graham Forbes thrashed Jay Mullane 4&2, Tom Buchanan denied Yousuf 2&1 and Thomas Ogilvie chalked up a 3&1 win over Ali Parlane.
History-making Olivia Jackson showed her mettle as the first ever female to play in the event as she saw out a see-saw battle against Sam Mullane to snatch a vital half-point.
"To see Olivia come through to become the first female to compete at this tournament is wonderful," added May. "It is great for us all as she is our pro here at EGC, but she is such a great role model and inspiration for the next generation of boys and girls.
"She can definitely hold her own against the boys and I think she is going to play more competitively this summer in tournaments back in England, so she is only going to get better."
Back out on the course, just when it was looking all rosy on the blue side for the Pros, the red army charged back as amateurs Toby Bishop (3&2) and David Guinee (2up) saw off Nathan Kernaghan and Jack Woods respectively.
Loius Gaughan (4&2 v Raghav Gulati) got the pros back on track, but wins for Tom Nesbitt (4&2 v Sam McLaren), and Jonathan Selvaraj (4&3 v Luke Plumb) meant that the two-day epic came down to the last game and the last green.
Barry Pavic held a one-hole advantage with three to play, which would have meant a 16-16 tie and the amateurs retaining the trophy as defending champions. But up stepped Purna Sharma for the professionals, winning on 16 before halving the last.
That triggered a wave of celebrations from the Pros, and the Ams graciously accepted defeat 16.5-15.5 in one of the closest ever Dubai Golf Trophy clashes. Amid a sea of buggies, Sharma was embraced by his teammates before going on to lift the trophy.
"That was the hardest two-putt in my life," Sharma told Golf Digest Middle East just after coming off the final green. "I can't believe I held my nerve there."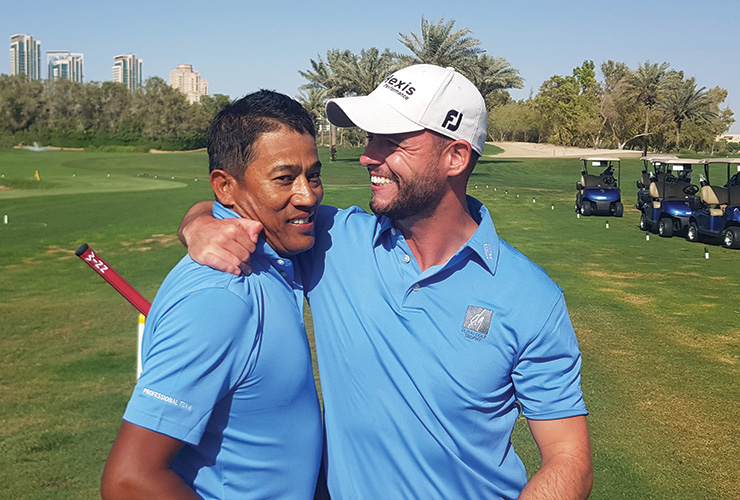 It was quite the celebration to end a dramatic day. Major, the non-playing Pro captain reflected on a tumultuous weekend, having been on the receiving end for the past six years as a player.
"I guess we can take a hint. I don't play and we finally win," he joked, an ACL operation taking him out of this year's playing capabilities. "But every player was tremendous today and every single one of them contributed points over the two days. For it to be so close shows you the quality on both sides of the 'divide'. The Ams were brilliant but we managed to find that little bit more when needed … at long last. I must thank Dubai Golf for putting on such a great event, with both the Creek and the Majlis in impeccable conditions. It has been a long, long journey to get here this weekend and we are so glad to win."
Losing captain Yousuf was gracious in defeat. "They were tremendous," he said. "We thought we had a chance there at the end but they held on. It was a great two days but sadly we have to give up the trophy after six great years. We will regroup. There is a whole new batch of youngsters coming through and we will see who will make the grade. We are losing a few guys like Josh Hill, Toby Bishop, Yash and (non-playing UAE No.1 amateur) Ahmad Skaik. But as we have proved time and again, there are always more and more players coming through and, each year, the quality gets better and better. Congrats to the Pros, it has been a long time for them."
So now, the rebuilding process starts all over again, with new faces emerging and older ones bidding farewell ahead of 2023. Will the Pros or the Ams prevail? The Pros' Buchanan perhaps explains it best. "It has been a long time coming," he said. "It is always nice to play here and it was great to put on quite a show. Who knows who will win next time around, but this is the best weekend in UAE golf, bar none."
What they said
Olivia Jackson, Pros
"They will be hurting having lost. Last year I was around the team even though I was not playing. We did not want to go out after the defeat. We just wanted to go home and I think they will be feeling the same. But we will all be friends again tomorrow and they will regroup as it was such a close thing."
Toby Bishop, Ams
"It was unfortunate to get the loss, but everyone tried their best. Obviously the pros got the win but it was a fun weekend and that was the main part."
Tom Buchanan, Pros
"The team spirit was fantastic out there and every player contributed to our points, showing how we were pulling for each other. The crowd at the last and the buggies everywhere shows you just what this means. A fantastic day once again."
Khalid Yousuf, Ams captain
"I have been part of this event for so long. It was nice to finally captain the team. We tried our best. We came up slightly short but it was nice that it came right down to the last match and the last shot. Shows you what it meant to everyone involved."
Mike Major, Pros non-playing captain
"It was great until the final hour. That was a horrible time as I was not playing so I couldn't do anything about what was going on. It has been six years to get here and it is much down to the guys who didn't play today, pushing up the standards, that has helped us finally win." 
Yash Majmudar, Ams
"It was a great event, we were behind from the get-go yesterday, but each session was so close and a few things didn't go our way — a few putts here and there. But I am really proud of how we performed."
More
Sensational finish at Dubai Golf Trophy
The best weekend in UAE Golf
Olivia Jackson makes a little bit of history
Your players to watch at the LIV Golf opener in London
All you need to know for the LIV Golf Invitational Series opener
Dustin Johnson to headline LIV Golf field in London
Stellar line-up set for Newcastle
The Gulf Club: The latest golf news from around the UAE