Photos by Masam Ali/Motivate
By Kent Gray
Steven Kelbrick is living proof that life begins at 50 and has a golf magazine article to prove it.  Now he also subscribes to the fabled adage that warns: "Beware the injured/sick golfer".
Related: Meet the Dubai amateur chasing a St. Andrews play date with Tom Watson
Full of the dreaded man flu, the 50-year-old Dubai amateur finally, somehow, landed a long overdue Emirates Golf Federation (EGF) order of merit title after signing for rounds of 72-71 to clinch the Tower Links Men's Open on Saturday.  Kelbrick's 143 aggregate edged Arjun Gupta (Jumeirah Golf Estates) by two strokes with Scotsman Robert Glenesk third a further shot back.
The Brit flew out to the UK on business after contesting the Staysure Tour's (formerly European Senior Tour's) Sharjah Senior Golf Masters earlier this month and has struggled with a head cold ever since.
"It's funny, you're not thinking about anything other than feeling awful and then you write down a number and all of the sudden it's 'oh s…' that's not bad," he said.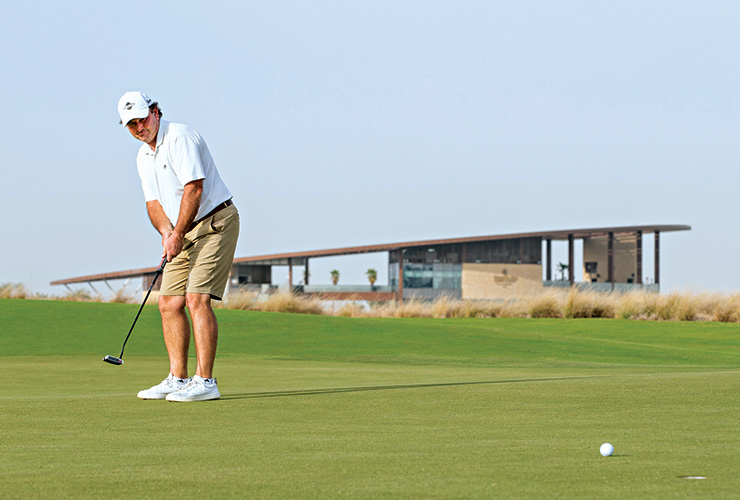 Kelbrick is the defending EGF OOM champion after rattling off eight top five finishes and two-second place finishes in 2016-17. He's finished no worse than fifth in all five starts this season including a third runner-up finish to teen Josh Hill at the Abu Dhabi Men's Open in February.
Related: Josh Hill, just 13, fires Trump course record en-route to third successive EGF title
You'd think the near misses would be frustrating, but not for Kelbrick.
"It really is nice to win one and it probably should have mattered more in the past but I was really only focused on winning the order of merit last season. This year I really wanted to qualify for the Dubai Trophy [May 12-13 matches pitting the EGF's best against UAE PGA teaching professionals]. I really enjoyed that last year and I should have secured it now, it should be a done deal."
Kelbrick still has to play at least one more OOM event to qualify (amateurs need a minimum six starts to be eligible] so has this weekend's Al Ain Men's Open in his crosshairs. He's already organised a practice round with local hero Tom Buchanan whom he'll likely meet again at the Dubai Trophy.
Related: Buchanan returns to scene of dream European Tour debut, wins third UAE PGA title on the trot
Kelbrick, unsurprising given how lousy he felt, wasn't striking it great at Tower Links and found himself two behind with five to play in the final round. But a 118-yard wedge shot flushed to three feet on the 14th sparked a run of three birdies in the final five holes, capped by a driver-seven iron-sand save birdie on the par-5 18th.
"I had a real dodgy patch in the middle of the round but you know how golf goes, you stripe one and it all comes back," he said.
Kelbrick's putting is also coming back thanks to some concentrated instruction from Arabian Ranches putting specialist and Aim Point Express qualified pro Malcolm Young.
"At Sharjah, I just couldn't get the ball in the hole but struck it well and received a number of compliments," said the duel Trump Dubai-Royal Liverpool member who carded rounds of 75-76-74 to finish T-42 at Sharjah Golf & Shooting Club.
"With hard work and excellent dialogue, Malcolm has got me to a position where instead of being a complete weakness, my putting is at the point of becoming a strength. We are still building confidence.
"The swing feels good and whilst we are not quite there yet, [new Yas Links Director of Instruction] Mathew [Parker] and I are feeling good going into the events in summer time."
Related: Parker happy to be back as DOI at Yas Links