By Kent Gray
After 6½ years teaching in Dubai, Mathew Parker hankered for home. He may have been gone for two years but his coaching prowess clearly wasn't forgotten in the Middle East.
So much so, the 31-year-old Englishman has been lured back to the desert by a newly created and high-profile role at Yas Links. He's the first ever Director of Instruction at the acclaimed Abu Dhabi club and loving it, perhaps keeping in theme with his February 14 – Valentine's Day – start date.
"I am extremely excited to be back to the UAE," said Parker who quickly climbed the ranks to head professional during four years at Al Badia Golf Club before being headhunted to help set up and run the European Tour Performance Institute at Jumeirah Golf Estates as Senior Teaching Professional.
"I've been back and forth a lot in the past two years for coaching trips and vacations and I'm really fortunate to be joining a club that has so much ambition and drive to want to be the best. The academy at Yas Links has huge potential which I hope to tap into to bring the best service standards, improvement and enjoyment to our students.
"I aim to bring my experiences from my past roles and my recent adventures [at Prevail Golf in the U.K.] to offer what I believe will place the academy as a leader in the country."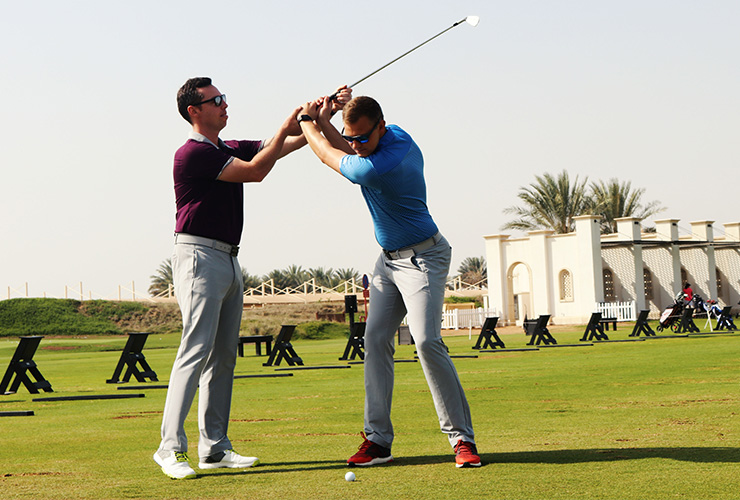 Parker comes from good golfing stock. The family has produced six professionals, three-time Ladies European Tour winner and Solheim Cup representative Florentyna Parker the most high profile among them.
Mathew has overseen the revival of another cousins game in the past year, a couple of satellite tour wins earning Ben Parker promotion the European Challenge Tour and climb inside the top 500 in the OWGR. He's previously coached Ross McGowan to MENA and Sunshine Tour wins and more recently guided Steve Kelbrick from a two handicap to a +2 handicap and the 2016-17 Emirates Golf Federation Order of Merit (OOM) title.
Related: Kelbrick qualifies for the Sharjah Senior Masters
Perhaps Parker's best-known client in the past two years is Yas Links-attached Englishman Luke Joy who has rattled off six second place finishes on the MENA Tour and second and third placings on the developmental circuit's OOM before his breakthrough win at the King Hamad Trophy at the Royal Club in Bahrain in November.
Related: Finally some Joy as Luke wins in Bahrain
As well as continuing with some of the region's top players, Parker cannot wait to get to work with aspiring amateurs and promises plenty of banter along the way.
"Grass roots golf, both at youth and adult levels, will be a target as we become the place to perform at the highest level possible. Goals will be reached, fun will be had and there'll be lots of smiles along the way," said Parker.   
For lessons, email [email protected]