Kyodo News
By Matthew Rudy
If you saw new Masters champion Hideki Matsuyama on Augusta National's practice green on Sunday practising his putting by hitting his putter into two tees, you might have been wondering what that was all about. Golf Digest 50 Best Teacher Stan Utley doesn't work with Matsuyama, but he has an idea of what that drill might be grooving.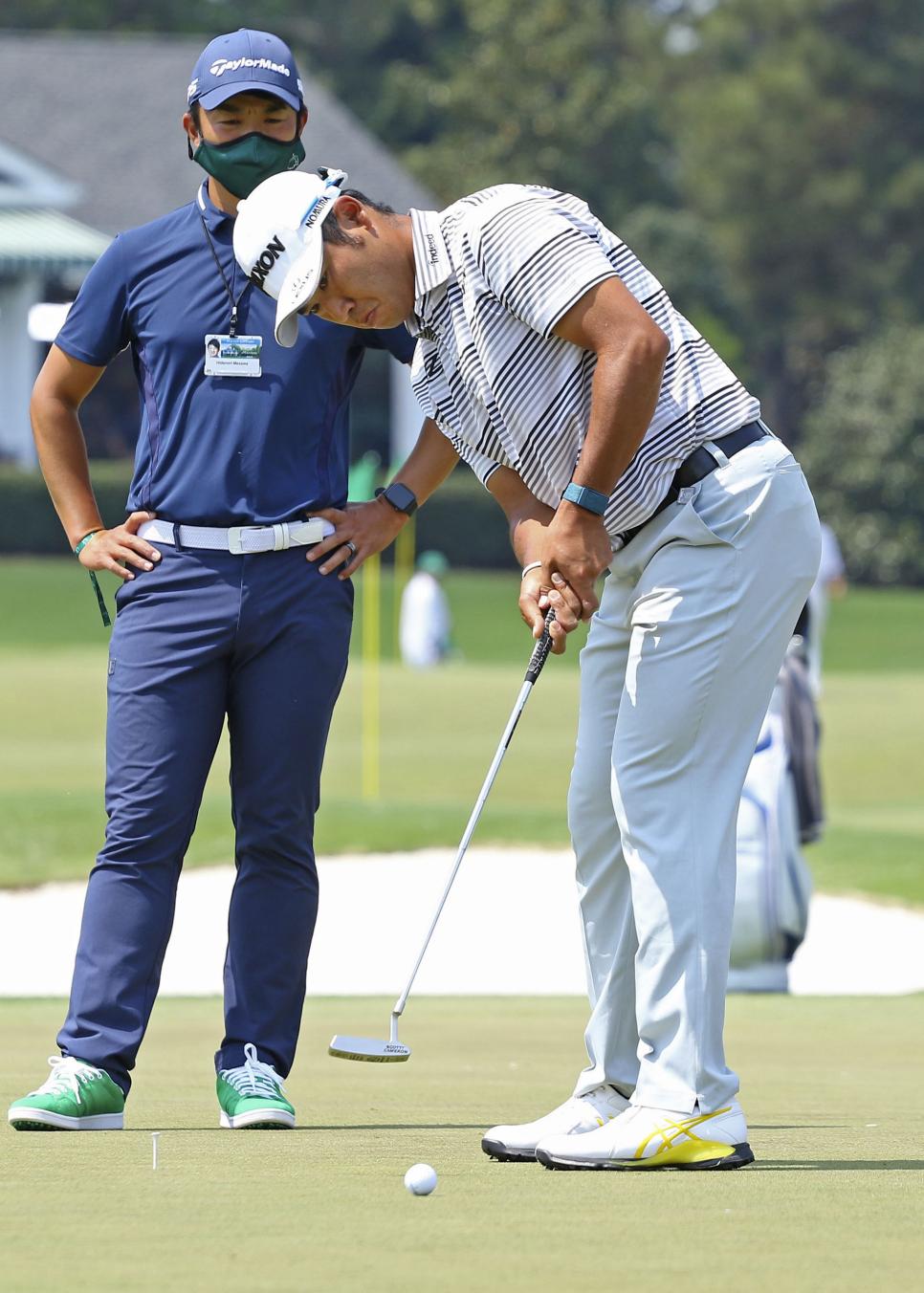 "A player letting the putter into tees just after impact is probably working on contacting the ball at the proper speed with zero acceleration on the putter head at impact," says Utley. "I had my son's college engineering professor explain the physics of a pendulum to me, and it turns out that many of the best-putting strokes have the same characteristics. When a pendulum swings, it has maximum acceleration at the drop and zero acceleration at the bottom."
Using gravity by letting the clubhead fall as a pendulum is the most predictable and repeatable way to roll the ball, Utley says—and part of why the USGA has banned strokes anchored to a centre point—because anchoring makes the pendulum easier to achieve. By practising with two tees or a Flight Deck-style training aid, you can not only work on this "dead fall" drop in the putting stroke, but also see the putter face hitting square on both tees at the same time, ensuring you're sending the ball where you intend it to go.
Matsuyama's goal? It's probably to take out any active pushing or swinging in his putting stroke so he can let Sir Isaac Newton shoulder some of the load. Through 54 holes, Matsuyama has three-putts and is 13th in putts per greens in regulation for players who made the cut, which isn't otherworldly—but substantially better than he was coming in. He's 61st in that same putting/GIR stat for the PGA Tour season, and 170th in strokes gained/putting.
"Once you can let the putterhead fall, then it's just a matter of increasing the size of your backswing to make the ball roll farther," says Utley. "In my opinion, the best putters have early putterhead acceleration and declining acceleration—not deceleration—through the ball. That's also why most great putter follow-throughs are shorter than backswing length. The player isn't working on accelerating through impact."
MORE MASTERS 2021 STORIES FROM GOLF DIGEST:
The clubs Hideki Matsuyama used to win at Augusta National
Hideki Matsuyama's caddie found a touching way to celebrate their win on the 18th green
You just won the Masters. Here's what happens next
A comprehensive history of every change made to Augusta National Golf Club
Green jacket and gold medal? Why Hideki Matsuyama should be the Tokyo Olympics favourite
Hideki Matsuyama's pause might be pretty, but here's why it might not be for you