Dubai's long wait for a new golf course is nearly over, and this spectacular Gil Hanse design more than lives up to its billing
Story by Robbie Greenfield
[divider] [/divider]


even long years have passed since an 18-hole golf course opened in Dubai, but its newest addition will turn the clock back much farther than that when it opens for play in just a few months time. With its crumpled fairways, swathes of native grasses, generous open spaces and flowing teeing grounds, the Trump International Golf Club Dubai exhibits many of the same characteristics as an ancient Scottish links.
It also has plenty in common with another recent Gil Hanse creation that made full use of undulating ground and was met with rave reviews – the Rio Olympic Golf Course. It's a style that can best be described as modern-classic, and refreshingly, the club have not rushed their opening date. These exclusive pictures show a course that not only has the style of a classic, but the appearance too.
HOLE 17 | PAR 3 | 156 YARDS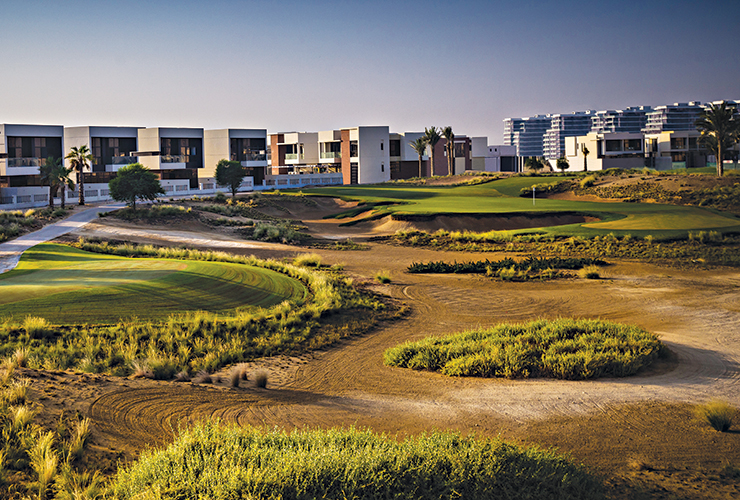 The short par 3 17th hole will be one of the highlights of a round at the Trump International Golf Club Dubai. Says director of golf operations, Craig Waddell: "Holes like Troon's Postage Stamp and the 12th at Augusta National prove you don't need excessive length to make a challenging par 3, and this golfing truth is evident on the 17th here. This short hole will place a premium on your accuracy with a mid-to-short iron. From an elevated tee, a large expanse of native ground contrasts beautifully with the well-protected green, offering an enticing but nonetheless intimidating target.
SEE ALSO:
Top 10 Golf Courses in the Middle East
Dangerous Driving: Welcome to Kabul Golf Club
HOLE 5 | PAR 3 | 224 YARDS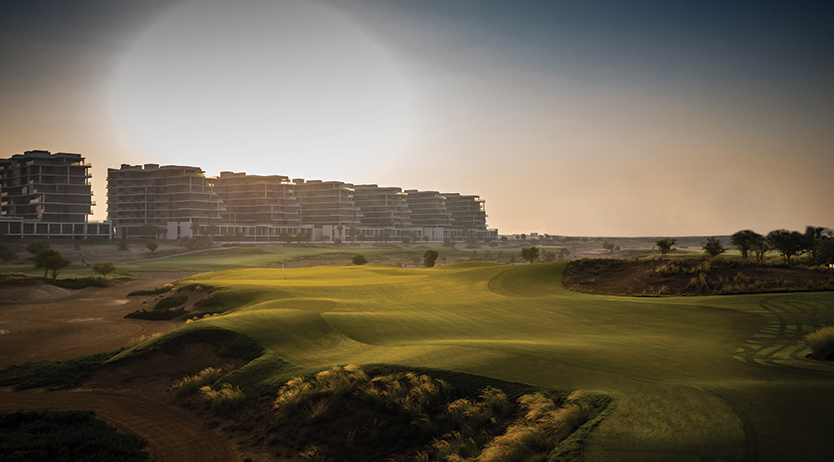 The linksy terrain of the Trump International Golf Club Dubai is evident once more on the par 3 fifth hole, which offers players plenty of room to bail out to the right, but a stiff penalty for those who attack the flag and overdo it. "The fifth is a fantastically challenging par 3 and with the residential development as a backdrop it gives the sense of a stadium feeling to this part of the course," says Waddell. "The tournament pin position will definitely be tight left, with any player short-siding themselves faced with a very difficult up-and-down."
HOLE 1 | PAR 4 | 439 YARDS (left) – HOLE 8 | PAR 4 | 343 YARDS (right)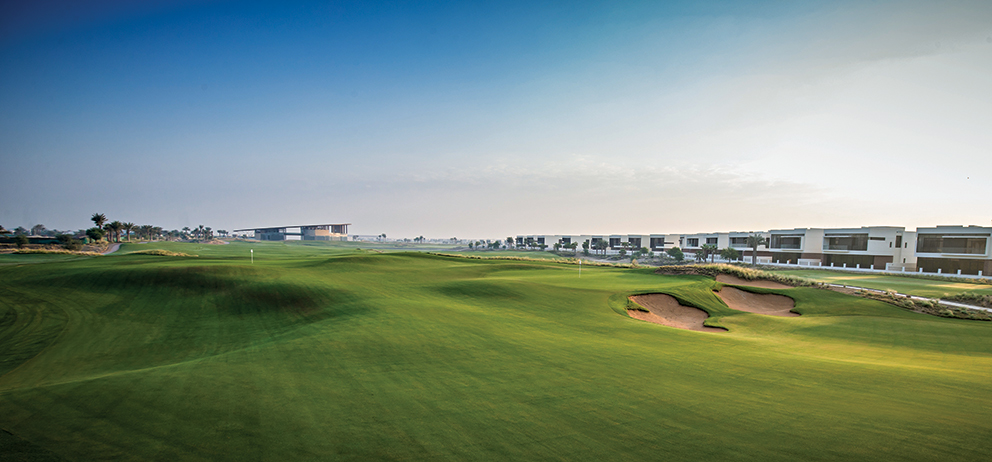 A view looking back down the first hole (left) to the clubhouse, with the green complex on the eighth hole pictured right. Gil Hanse has designed a course with generous, open playing areas, but the undulating ground will provide a links-like challenge. Hanse says of the opening hole: "An ample fairway, flanked by beautiful palms, narrows toward the green into a tightly mowed approach. The shorter tif-grand bermuda grass approaches found property-wide promote ground-game play and provide an added level of shot creativity."
The par 4 eighth hole is a short hole but one that can easily catch you out. "This par 4 has the most distinct elevation change on the property and players need to navigate an impressive bunker on the left and a potential blind second shot into a well guarded green," says Hanse.
HOLE 9 | PAR 5 | 561 YARDS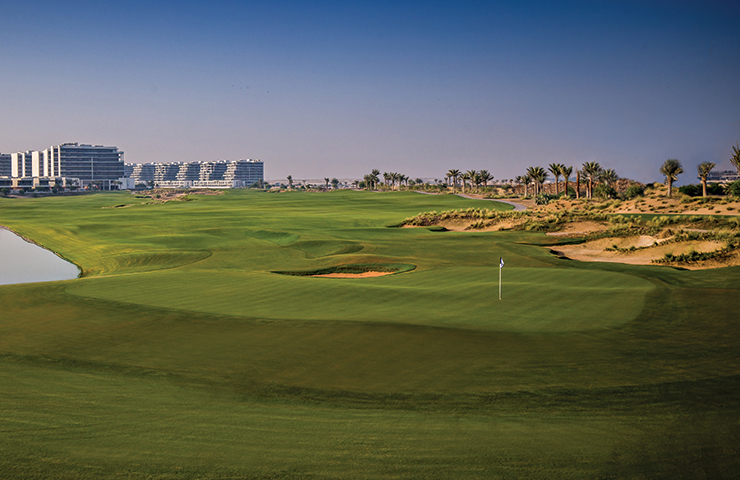 "The ninth offers a huge wide fairway shared with the first that is reminiscent of the opening drive at the Old Course at St Andrews, but any false sense of security can quickly evaporate," says Waddell. "Water hugs the right side and a large sand barranca stretches all the way along the left. Birdies are definitely there to be had, but no golfer, no matter how skilled, will complain with a par."
Golf Digest Middle East: FIRST TAKE


nderstatement is perhaps not what you would expect to see in a golfing creation borne from the fusion of brand Dubai with Donald Trump. But whatever your opinion of Trump as a celebrity, businessman and presidential candidate, the tycoon-turned-politician's growing international golfing empire is inarguably impressive.
The Trump International Golf Links in Aberdeen is generally regarded as one of the best links courses in Scotland, and his company's reworking of Turnberry's classic Ailsa course has been hailed as a brilliant upgrade. In the soft-spoken architect Gil Hanse, Trump has the perfect foil, a man at the very top of his profession who is happy to let the quality of his courses speak for themselves.
Any judgments on a course that is yet to open must be made with plenty of scope for future improvement in mind, but what is eye-catching about the Trump International Golf Club Dubai (located within the AKOYA by DAMAC development) is just how ready it is. The course has actually been playable for the best part of a year, and as it prepares to make its bow in the golf market, this maturity is certain to pay off. After waiting seven years for a new course to open in Dubai, golfers will have a finished product to look forward to.
Stylistically, the layout has many links-like characteristics without of course being a genuine links. It's a progressive design, too. Hanse is clearly mindful of the fact that for a recent period of golf course development, designers obsessed over difficulty while forgetting what features make the game fun to play. The Trump International Golf Club Dubai has generous open spaces, but plenty of nuances too. It's a modern course with a traditional feel. In the golfing ballot box, this one gets our vote.
For more information, visit trumpgolfdubai.com