By GolfDigestME.com
This year's DP World Tour Championship, to be held at Jumeirah Golf Estates from November 17-20, promises to be one of the greenest golfing events yet, with sustainability a key focus of this year's final Rolex Series tournament of the year.
The DP World Tour is looking for members of the public to become 'green' volunteers to help promote the sustainability efforts at the final event of the 2022 season.
The volunteers will encourage fans to use the on-site recycling points and help direct spectators to free water stations installed throughout the venue.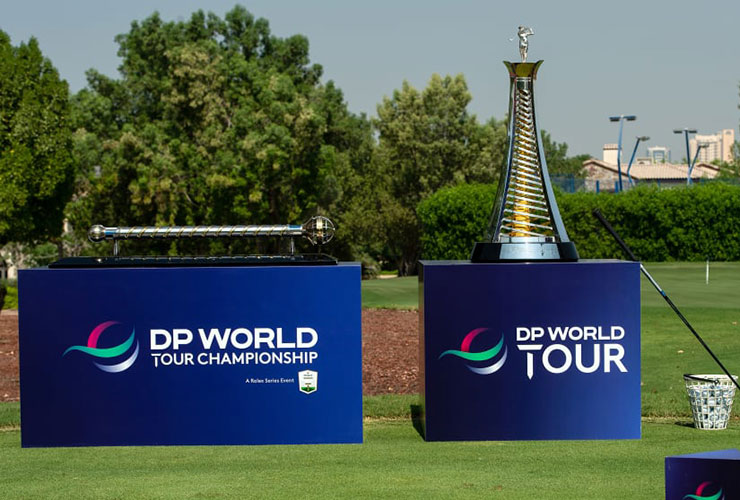 As part of DP World Tour Championship's alliance with the Dubai Can initiative, which aims to reduce single use plastic water bottle waste in the emirate by encouraging people to use refillable water bottles and have access to free and safe drinking water, they have installed water stations around the tournament grounds so fans can hydrate and refill their reusable water bottles when needed.
The stations have been set up as part of DP World Tour's partnership with Oceantee and No More Bottles to provide alternatives to single use plastic water bottles at the DP World Tour Championship, as part of their mission to reduce the amount of plastic in our oceans.
Oceantee's stainless steel Oceanic drinks bottles will be sold onsite with all proceeds going towards providing free, fresh drinking water for fans to fill up with, courtesy of No More Bottles.
Implementing sustainable practices is part of the European Tour group's commitment to Driving Golf Further in an environmentally and socially sustainable way, ensuring the DP World Tour has a positive long-term impact on the courses, countries and the communities it visits.
The European Tour group became the first professional golf Tour to pledge towards net-zero carbon emissions when they signed the United Nations Sports for Climate Action Framework, and the Framework's Race to Zero pledge — requiring all signatories to commit to reducing direct emissions by 50 per cent by 2030 and achieving net zero by 2040.
This move followed on from last year's efforts, which saw an increased focus on sustainability initiatives at DP World Tour events across the UAE and around the globe. Both the 2021 DP World Tour Championship and the 2022 Abu Dhabi HSBC Championship were paperless events with single use plastic bottles removed from the venues.
In line with the UAE government's mission to divert 75 per cent of waste from landfills and Abu Dhabi's plan to stop sending waste to landfills by 2071, DP World Tour has teamed up with Averda, a sustainable waste management company in a bid to eliminate nearly all of the landfill waste from the tournament – 70 per cent of the waste is expected to be recycled.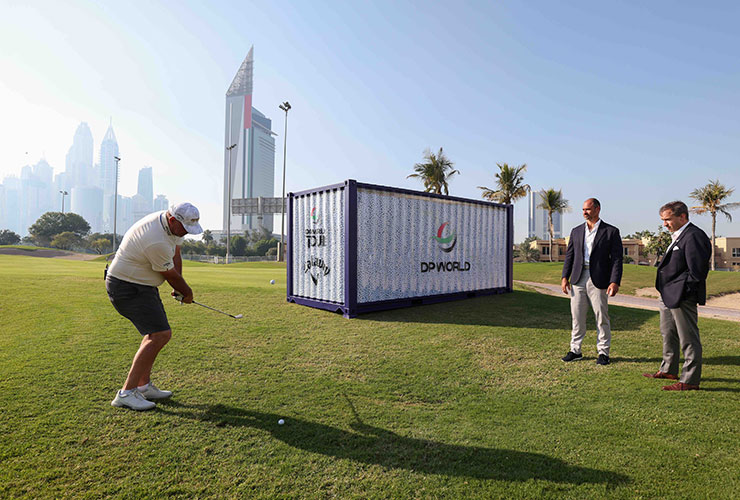 Since most waste is generated from food waste, there will be an on-site composting machine, as well as a food waste digester placed around the kitchen areas to safely compost all of the kitchen food waste.
Averda has a number of waste preventing operations in place during the entire week of the DP World Tour Championship, including collecting used cooking oils, which will be turned into European grade biofuel to be sold for road use across the region.
On the course itself, hydrogen generators have been installed which have zero carbon emissions unlike their diesel counterparts, while additives will be added to any fuel consumed, turning it into a renewable substitute biofuel.
The DP World Tour Championship village and all of the spectator venues will be built by Dubai based temporary infrastructure company Wicked, who advocate sustainable building practices. All of their equipment is rented, and structures will be reused multiple times over in the future and are fully insulated to reduce the amount of energy used for AC cooling. Wicked have also banned all single-use plastics from its work sites.
As part of the DP World Tour's commitment to saving water, this year the golf course will not be overseeded as part of the usual tournament preparations, achieving an estimated 20 million litres in water savings.
For fans who really want to get in on the action, they can help to collect stray golf balls during breaks in play. These golf balls will be stored in the large DP World on-site container and will be given a second lease of life when they are redistributed to grassroots organisations that champion the game of golf – in a bid to make golf accessible to all.
You may also like:
Get your FREE November issue of Golf Digest Middle East here
Rory shows of funny side and impressive trophy room
Famous Tiger Woods golf ball up for auction
Lydia Ko having 'best season of her life'
Scheffler can steal back No. 1 from Rory
Nelly and Lexi in for QBE Shootout
Dubai's Chiara Noja on a stellar 12 months as a pro
Tiger and Rory to play in 'The Match'
Bubba says he was paid guaranteed money from PGA Tour to appear in events 
DP World Tour announces guaranteed pay for players and launches 2023 calendar
Koepka leads LIV fleet at International Series Morocco
Top tips from Butch Harmon
Crunch time on the LPGA Tour season
Morikawa on his struggles during 2022
Claude Harmon III on life inside the LIV Golf 'family'
Rahm and Fox set to join Rory at DP World Tour Championship
Shergo Al Kurdi on life as a LIV Golf alternate