By Kent Gray
Asian Tour CEO Cho Minn Thant has described Rory McIlroy's thinly-veiled character assassination of Greg Norman as "strange" and is likewise perplexed by the European Tour's decision to sever all ties with his suddenly financially flush circuit.
In an exclusive interview with Golf Digest Middle East, the Singapore-based Australian insisted the Asian Tour remains open to collaborating with the PGA-European Tour alliance but was no longer encumbered by a self-described "younger brother" inferiority complex.
Out of action since early March 2020 due to the COVID-19 pandemic, the Asian Tour resumes play in Phuket next week with the first of four tournaments that will complete its 2020-21 season, paradoxically by mid-January 2022. But it is a $200 million, 10-year investment from the Norman-fronted LIV Golf Investments that kicks in early next year that has emboldened the Asian Tour and prompted the European Tour to publically proclaim the long-time strategic partners as now "fierce competitors".
In addition to the once European Tour-sanctioned Saudi International becoming the Asian Tour's season-opening, $5 million flagship event (from Feb.) in another landmark 10-year-deal, the investment from LIV Golf will enable the Asian Tour to bolt 10 elite, $1 million-plus prize purse tournaments onto its schedule from 2022. While not confirmed, those 10 new events have been loosely connected to the start-up league Norman is working on as the CEO of Liv Golf which is bankrolled by Saudi Arabia's Public Investment Fund (PIF).
The European Tour has retorted by saying its strategic alliance with the Asian Tour, dating back to 2016, will not be renewed when the contract expires at the end of this year and that it would no longer consider any co-sanctioned events. It has also essentially slammed the door on Asian Tour players competing in its events by revoking European Tour cards and Q-School exemptions for the Asian Tour's top Order-of-Merit performers. It will also require any European Tour player wishing to play in an Asian Tour event to apply for a release in writing, requests it would then "review" on a case-by-case basis.
Speaking on the eve of this week's European Tour season-decider in Dubai, McIlroy said Norman's involvement with LIV Golf had reinforced his repeated rebuffs of Saudi-backed breakaway league overtures.
"There's been a select few individuals who have come on board with the other people and that also hardened my view even more," McIlroy said at the DP World Tour Championship.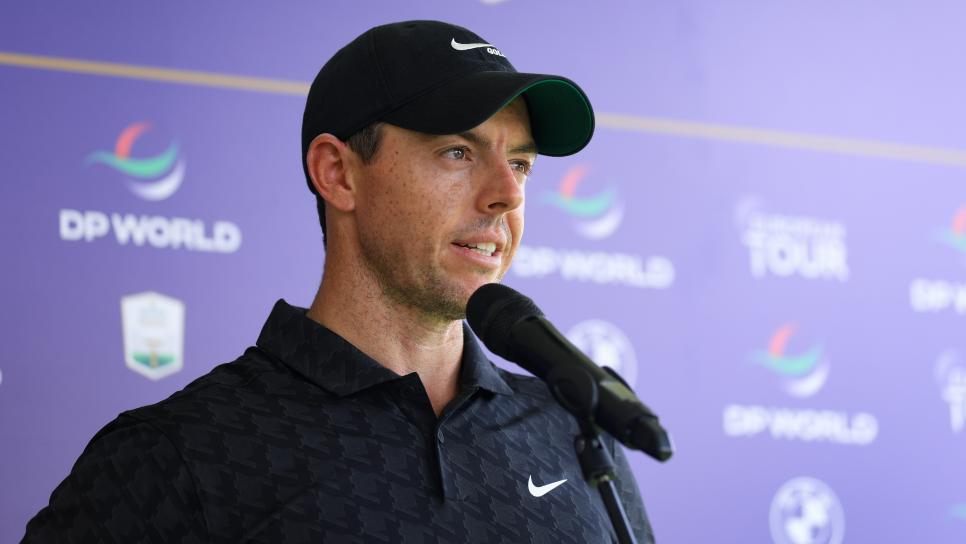 Cho was surprised by McIlroy's stance, describing Norman as "super supportive" of him personally and more pertinently Asian golf over the best part of four decades, first as a player and more recently as a successful course designer. It is a relationship Cho can only see growing.
"It's strange that Rory would come out with this type of comment but again, Greg is a go-getter, he's 66-years old and as motivated as ever," said Cho. "Greg's been a huge supporter of the Asian Tour, even before this investment. That's the type of people the Asian Tour should want to deal with and that's what we need right now to get us to the next level. Otherwise, we will just be stagnant."
The ability to radically reinvent the Asian Tour, particularly coming out of the pandemic which had drained the circuit's financial reserves to worrying levels, was a no-brainer, Cho said. By association, he's comfortable to hitch the Asian Tour wagon to any LIV Golf off-shoot.
"If the [mooted start-up] league is accepted by the market, the Asian Tour wants to be one of the first movers to be involved with it rather than reactionary," he said.
Cho said the Asian Tour was also comfortable with the Golf Saudi-PIF association. He understands there will be criticism of the deal given the Saudi funding but believes the concerns are short-sighted and misguided, suggesting it was similar to the "discussion that we [the world of golf] had on China probably 10 years ago."
"Funnily enough, the anti-Saudi [sentiment] or the concerns with the PIF haven't been raised as much as you would have thought. I think most of the markets in Asia have their own concerns about other countries in Asia or their own countries.  The PIF Investment or the Saudi investment has not really been questioned in Asia.
"I think the sceptical ones out there are kind of saying it's a big investment, its 10 events over $1 million for 10 years, is it really going to happen? I think that the other tours like the European Tour and the PGA Tour, their reaction is based on us suddenly becoming a strong tour overnight.
"So I think that's more of a concern rather than where the money is coming from… it's the magnitude of the sponsorship and speed in which we're potentially going to grow."
Cho said the European Tour (ET) had not officially notified the Asian Tour of its decision to cut ties but the email confirming as much from ET chief executive Keith Pelley had been circulated to Asian Tour players with duel European Tour membership.
European Tour chairman David Williams publicly doubled down in an interview with The Scotsman newspaper over the weekend, saying he had "little to say on that" when asked to comment on the LIV Golf Investments-Golf Saudi-Asian Tour relationship.
"But what I will say is that the Asian Tour has gone from being partners to being competitors. And we are fierce competitors," Williams said.
Cho is disappointed by the very public divorce proceedings. He says the Asian Tour remains open to working with the European Tour – which is to be rebadged as the DP World Tour after this week's event at Jumeirah Golf Estates – and in the very least believes all the major tours can happily co-exist.
"We're very open, we'd love to keep co-sanctioning the Hong Kong Open, we'd love to keep co-sanctioning the Maybank [Malaysia] Championship and the Hero Indian Open," Cho said. "I don't think it's healthy for anyone to be combative in this space and I know they've announced the Hero Indian Open and the new Japan event that is going to happen on the European Tour without us. I guess we're not happy about it but we accept that it's business."
Cho said the Asian Tour would not block its players from competing on other tours, nor were the 10 new events going to rely on exorbitant appearance fees to attract big-name players.
"It's not us trying to grab players from other Tours through appearance fees. We're trying to build a region and professional golf in the region, not necessarily make them exhibition events.
"From the PGA Tour perspective, we still have an arrangement with the CJ Cup when it comes back to Korea, we've still got arrangements at WGC level to be part of the world golf championships. I guess outside of the European – Asian Tour relationship, Greg Norman still runs his QBE Shark Shootout on the PGA Tour so I don't know how that's all going to pan out.
"We're constantly still doing business with the PGA Tour and the European Tour whether they like it or not. There's no reason to adopt those tactics in my opinion."