Escape (Monday with) the Sand Trap, your guide to the best golf, on and off the course, in the Middle East. 
By Kent Gray
Welcome to the first edition of The Sand Trap, where we scour the worldwide inter-web for the Middle East's best golf news before expertly splashing it out with absolutely no (okay, sometimes a little) spin. Call it old school polishing (reporting) of today's social media overload, a light-hearted take on everything that is great about golf in the game's hottest destination.
We're unapologetically Middle East centric – our colleagues at Golf Digest H.Q. in New York will continue to update you on the best global goings on via 'The Grind' and the 'Dew Sweeper' – so if it has even a tenuous link to the game here, we'll be all over it.
If you win a title and your club does the needful online, check in here – you might just feature (remember to smile and share!) alongside the region's more high profile players. Don't be shy to share that viral worthy post either. A trick shot or a laughter educing whiff from one of your golfing pals perhaps? Simply tag us @GolfDigestME and we'll do the rest. Who knows, you really could go global with the assistance of Golf Digest.
With that, enjoy this, your first escape from with the Sand Trap, which we coincidently launch just as the year's final major is about to take the starter's orders in St. Louis. Enjoy.
THIS WEEK IN THE INCREDIBLE RISE AND RISE OF JUNIOR PHENOM JOSH HILL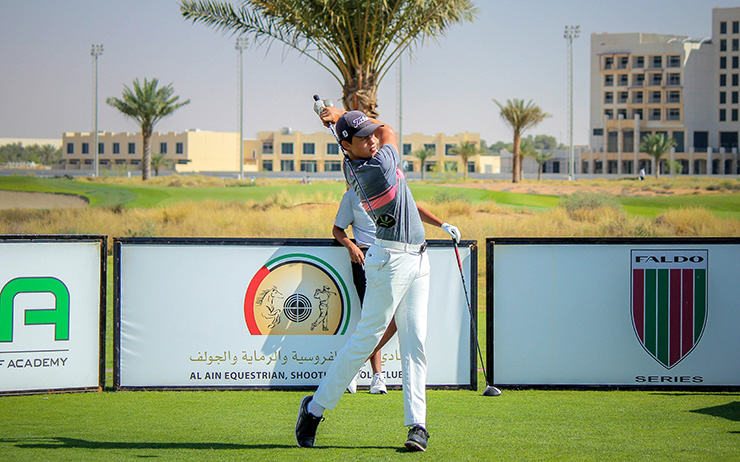 Before we head to Bellerive Country Club for the 100th staging of the U.S. PGA Championship, divert your attention, Dear Sand Trappers, to Royal Dornoch where they've apparently been golfing since 1616. That's 402 years ago according the abacus at Media One Towers, or 388 years since Josh Hill was born right here in Dubai. The drawn out connection here is that Hill is set to tee it up at Dornoch on Tuesday as England opens the defence of its Boys Home Internationals title. And that's as stunning as the fabled Scottish highlands links land hosting the matchplay event where each team faces the other over three days in five morning foursomes and 10 afternoon singles matches each day.
Hill's selection to the U-18 England team – remember he's 14! – continues a meteoric rise. It wasn't that long ago he was posing with Ryder Cuppers Andy Sullivan and Rory McIlroy as a wide-eyed 12-year-old having just played the DP World Tour Championship Pro-Am at JGE, coinsidently where he trains.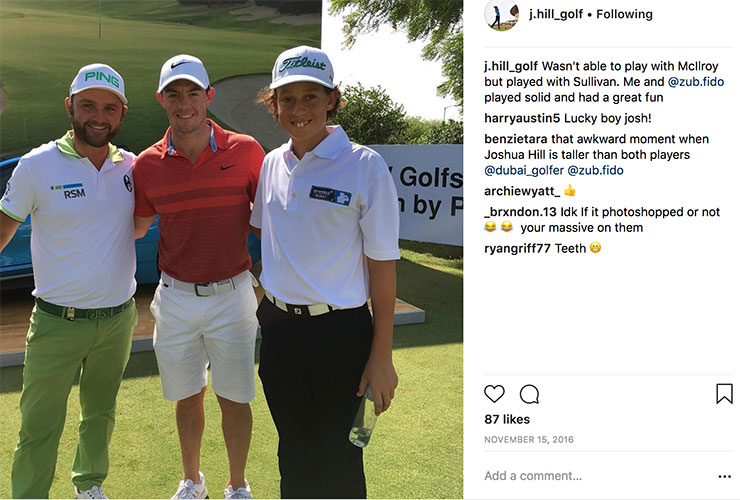 That was late 2016. Fast-forward to early 2018 and Hill marked himself as the hottest prospect in UAE golf since the emergence of Rayhan Thomas, courtesy of eight wins in a magical three month stretch to April. It will be fascinating to see how Hill fares in the pressure-filled matches against Scotland, Wales and Ireland as England aim for a title three-peat. Whatever happens at Dornach, Dubai looks to have unearthed a genuine gem. Best wishes to Josh and kudos to his supportive parents Russell and Jo and Butch Harmon School of Golf Dubai instructor Joe Marshall. All can be justifiably proud of the unexpected international call-up.
JP ON THE ROAD (AGAIN) TO THE 100th PGA CHAMPIONSHIP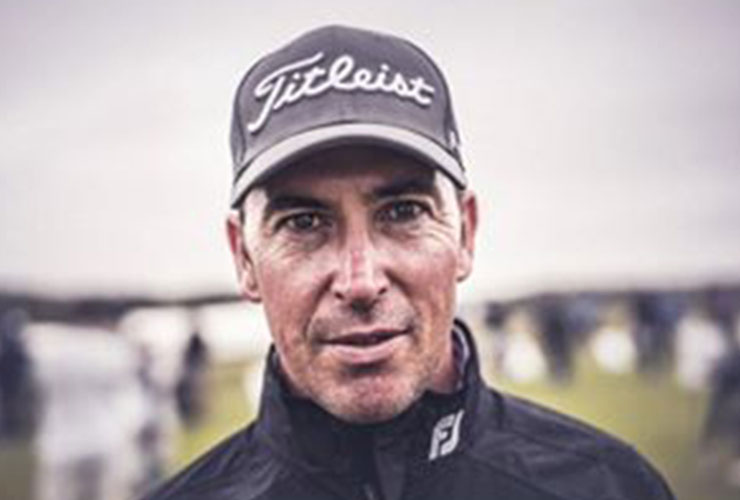 Talking of the BHSG Dubai, the stock of the Els Club Dubai-based academy's Director of Instruction, Justin Parsons, continues to rise. 'JP' has been criss-crossing the globe recently working with former major champions Charl Schwartzel and Louis Oosthuizen who are now firmly ensconced in a stable that also includes Peter Uihlein, Frenchman Mike Lorenzo-Vera and the aforementioned Rayhan Thomas. The Northern Irishman was in Akron last week and departed for the PGA Championship thoroughly encouraged by Schwartzel's storming finish to the WGC-Bridgestone Invitational, a 63 at Firestone Country Club propelling the former Masters champion up to a share of 31st with, among others, Tiger Woods.
Here's more of JP's recent handiwork (scroll through the Insta post to see Oosty and Schwartzel in practice at Firestone).
Parsons was headed to Bellerive (Schwartzel, Oosthuizen, Uihlein and Lorenzo-Vera are all in the field) overnight via a road trip with International Sport Management (think Chubby Chandler's company) player manager Louis Martin in an RV.  (FYI, Oosthuizen and Uihlein are ISM clients).
So the NFL Hall of Fame is here, flights are full. This legend and I are taking a road trip from Akron-St Louis in an RV. Story to follow- seems like a good idea ????? @ Firestone Country… https://t.co/PtJyDK0xQT

— Justin Parsons (@JParsonsGolf) August 5, 2018
It's a pretty epic sounding trip – all 900km of it – and we do hope JP shares some footage as promised. What we can guarantee, cough, cough, splutter, splutter, is that it's not the final destination for the UAE's best known coach. Again, watch this space.
Related: Woods, Rory and WGC-Bridgestone champion Thomas paired for PGA
TALKING OF GLOBE-TROTTING UAE PROS
With the mercury at sizzling point and the UAE's driving ranges relatively empty as a result, it's an ideal time for the UAE's hard working PGA teaching professionals to grab some well-deserved R&R. And some, like Trump International Dubai head pro Sven Nielsen, are doing it better than most as these epic pictures from Scotland highlands illustrate.
The Carnegie Club at Skibo Castle is a private club "offering limited tee times to non-residents". As a former pro at Trump Turnberry, we're guessing Nielsen didn't have too much trouble getting on. He certainly had little trouble playing his Tiger-esque stinger:
Nice shot, Sven. But perhaps not quite as flush as your recent ace at Trump.
We're genuinely happy for the hard-working South African but won't be so generous if the Springboks show as much class in the upcoming Rugby Championship. Did we mention the team behind the Sand Trap are ardent supporters of the All Blacks?
LUKE'S PRO V1 JOY
Just like the mighty All Blacks, we love golf swag at the Sand Trap, especially swag of the, well, you know, free kind. Check out the booty MENA Tour player Luke Joy has just recieved from a couple of well-known sponsors.
Huge thanks to @GOLFPRINCIPLES @callawaygolf @Callaway_Mat for all the help with getting the new X- Forged irons set up ?Awesome service and superb product come as standard! Many thanks guys?#golfprinciples #lukejoygolf #callaway #rogue #trackman pic.twitter.com/erN0cnP3Nj

— Luke Joy (@JoyBoy59) July 28, 2018
Nice. We're guessing these shiny new spheres will travel a little further than the tee shot of Joy's brother Ollie during a recent social round.
Rules are rules but enough of those shenanigans. The Yas Links-attached Englishman is just back from a steady 12th place finish in last week's Sunshine Tour stop in Kenya, an encouraging bounce-back after playing like a complete plonker – his words, not ours – in Open Championship qualifying. 
Joy still has designs on a European Tour card via Q-School ahead of a series of starts on the Sunshine and Asian Tours towards the end of 2018 "with the end goal of punching a ticket to secure European Tour status or at least have some events with a full playing category on the Challenge Tour".
"I'm working hard with Matt Parker down at Yas so all seems to be working towards the ET for the coming years."
Here's hoping, although don't be surprised if you see more off the course action on JoyBoy59's twitter feed in the coming weeks; the 30-year-old Dorset pro is getting married at the end of the month. We're sure fiancée Lauren-Leanne Bellows wouldn't mind a prolonged honeymoon following hubby to some of the European Tour's more exotic locales.
To be fair, Joy will need to keep winning to continue to afford experiences like this watching his beloved England in the World Cup.
Thanks for an amazing few weeks @England … You got a whole nation believing, dreaming and singing! Gutted yes, but the future looks very promising for this young side ???????#threeloins pic.twitter.com/BarrHQw8br

— Luke Joy (@JoyBoy59) July 11, 2018
JoyBoy indeed!
FRIENDLY REMINDER #1

It's not long now until the climax of the European Tour season at JGE. In fact, it's 99-days until the DP World Tour Championship. Follow the prompt for free tickets, Sand Trappers.
Only #100daystogo until the #greatestplayersonearth return to @JumeirahGolfEst for the #dpwtc. Register for free general admission now #racetodubai pic.twitter.com/MOX8le3aOw

— DP World Tour Championship (@DPWTC) August 5, 2018

DUBAI TROPHY BLAST FROM THE PAST
Former head pro Malcolm Young is clearly in a nostalgic space as he packs up after 10½ years at Arabian Ranches to take up a new posting in Hong Kong. Or perhaps he just found this picture as he was clearing out some clutter.
Either way, it's a cool rewind to the 2010 Dubai Golf Trophy which the professionals snuck by a solitary point. The Pros will miss Young's talents next winter as they try to avert a fourth straight loss to the EGF's best amateurs, but not half as much as the quietly spoken Scot's old clientele at Ranches. Dubai's loss is the Jack Nicklaus Academy of Golf's gain. Yup, that's how highly rated Young is.
ANOTHER SAD FOND FAREWELL
There are leaving dos and then there's the way Sharjah Golf and Shooting Club do the leaving do. Stick with us here.
How about honouring New Zealand-bound course superintendent Marty Brown with his own golf tournament.
Marty Brown, our Golf Course superintendent is leaving (after 12 years service). Come down and join us on his farewell golf day on 10 August.#golf #sharjah #sharjahgolf #golfindubai #farewellgolf pic.twitter.com/KpYl2d4qRF

— Sharjah Golf & SClub (@SharjahGolf) August 2, 2018
A classy move from a club that is making a habit of doing classy things and best of all, there's still time to farewell Brown by entering the event.  The Kiwi leaves huge steel-capped boots to fill after presenting SGSC in pristine condition for the last two Staysure Tour (formerly European Senior Tour) Sharjah Senior Golf Masters events. Go well Marty. Oh, and I'm sure you'll join us in wishing the Mighty All Blacks all the best as well. We did warn you!
TODAY'S TEAR-JERKER
Okay, here's the Sand Trap's first tenuous Middle East link. Sure Justin Thomas hasn't played in the Desert Swing yet – perhaps the American will be the star draw at January's Abu Dhabi HSBC Championship or even the OMEGA Dubai Desert Classic? – but we just couldn't ignore his win in the WGC-Bridgestone Invitational overnight. More to the point, we loved that JT's grandparents were on hand to see his third win of the season at Firestone.
What a keepsake that pic will be. And now on to Bellerive with Dustin Johnson and Rory McIlroy set to push Thomas all the way in his defence of the Wanamaker Trophy. Golf is deep. Really, really deep as this 72nd hole drive from JT shows. And to think McIlroy hit a 400+ yarder in the final round at Firestone.
GEORGIA ON OUR MINDS
The newly-minted Ricoh Women's British Open champion has been a perennial contender at the OMEGA Dubai Ladies Classic is recent years so there's a genuine Middle East link to this snippet.
Stunning moment @RICOHWomensBrit #champion @georgiahall96 and a crowd of very #excited youngsters just shows what a young #homegrown #talent can do for #golf #congratulations #georgiahall @ricoheurope @CallawayGolfEU @goodwood_golf #berenberg @RandA @GettySport pic.twitter.com/gw0NORULmW

— David Cannon (@Cannonball63) August 5, 2018
And these stunning pictures are from our favourite golf photographer too, UAE regular David Cannon. Enjoy.
THE GULF CLUB
How about the play of David Baldwin and Leighton Johnson in capturing the EGF's Summer Pairs Open sponsored by Golf Superstore. Check out all the action in his post from Al Ain Equestrian Shooting and Golf Club:
Looks like they were having fun in the sun (okay, blistering heat) at Abu Dhabi and Saadiyat Beach Golf Club too in annual Troon Executive Card Summer Series.
The winners were grinners in the fourth round of the Summer BMW X5 Series Open Social at Sharjah Golf & Shooting Club too.
WE. CAN'T. STOP. WATCHING.
Finally, if you're not already following us on Instagram, here's a couple of recent posts that should entice you to sign-up at golfdigestme:
Talk about father-son goals.
And then there is this in the latest installment of Phil Being Phil, just in case you missed it (quite how that is possible is beyond us).
We don't know what Lefty's Dad dance is so weirdly alluring. But… We. Can't. Stop. Watching. At least it was better than his running putt in the U.S. Open. But lets move on, maybe by watching again. Until next time…Wow Phil. Just wow.