Josh Hill made no race of this season's EGF Order of Merit series. So what's next for the Dubai-born teen phenom?
By Kent Gray
It's a stat any touring professional would be proud to own – 54 under par in a scarcely believable 11 tournament run since February. Yet the record doesn't belong to a busy European or PGA Tour star, rather a kid barely 14-years-old.
Josh Hill hasn't so much crept up as the hottest amateur prospect in Middle East golf since Rayhan Thomas as he's scorched a hole through that once distant glass ceiling.
The Jumeirah Golf Estates member has made winning such a habit recently it's hard to keep up. Just know that he'd rattled off eight wins in the three months to late April. Six of those came in Open Men's events as he ran away with the Emirates Golf Federation Order of Merit title while creating course records of 65 and 68 at Trump Dubai and the Track respectively.  The two other wins? Repeat U-16 and overall titles at the Faldo Series Middle East Championship at Al Ain, an event open to golfers up to the age of 21.
Related: Hill goes unbeaten as EGF amateurs seal historic Dubai Trophy treble
Winning with such on-going regularity is unrealistic but those in the know agree Hill is the real deal, albeit with an PG14 rating/caveat; not all teen phenoms go on to be
tour stars. The giddy ride thus far is still a hugely encouraging pointer to the future but before we get there it's fun to push rewind and discover his equally impressive start in the game.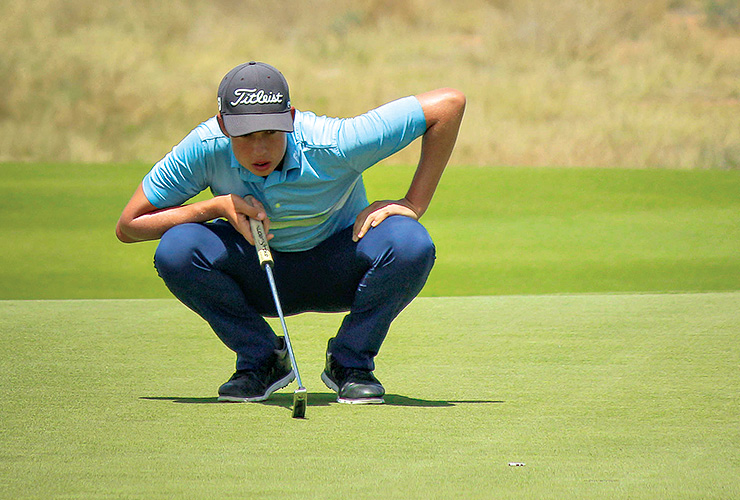 Hill's father Russell, who played squash to an elite level back in England, hadn't considered playing golf himself until his son started to show promise after progressing through the UAE's traditional development programmes and Par 3 events.
"I remember a friend going out and playing a round with him when I think Josh was eight. He shot a 99 and I thought, geez, he could be good," Russell recalls of his Dubai-born and raised son.
"I'm not sure he ever shot over a hundred to be honest and it was just evident he was going to good so I joined the Creek and started playing myself because it's all buggy based and I didn't want to stick him with men on their day off, getting stuck with a seven or eight year old.
"I've recently given up because he doesn't really need me driving buggies any more [laughs]."
By the age of 10, Russell was curious as to how good Josh really was so entered him in the U.S. Kids European Championship at Craigielaw in Scotland.
"That was a funny experience because he'd never played in anything other than shorts and T-shirt and suddenly he was in rain gear and Under Armour [thermals]. We set the challenge of top 50 percent of the field and I remember him first day, it was a cold, windy links course and I think he was in eighth place and I though geez, okay. Over the next few days he rose up to fifth and I though he's never played in these conditions and he can deal with some of the best in Europe in his age group."
Later in 2014, Hill won the Wee Wonders British Grand Final (U10) and a year after that the U.S. Kids World Championships in Malaysia as well as medalling in the next two European Championships. When he dipped under par on an 18-holer for the first time a week before his 10th birthday, Russell and wife Jo needed convincing no more – Josh really was the business.
He got down to scratch just before his 13th birthday last year and is now off a +5.1 handicap. Having ticked off his goals of winning the EGF junior and senior men's OOM titles in successive years, he's now looking to the next level. In fact, he'll step up two age-groups to contest the English U-18 Carris Trophy (Fulford G.C.) and English Amateur Championship (Sherwood Forest & Coxmoor) this summer before returning to the UAE to put himself under the microscope of MENA Tour competition. It's a similar trail to that blazed by Thomas and a chance to amass the World Amateur Golf Ranking points that have helped the Indian world amateur No. 13 earn invites to the biggest junior events around the globe.
Hill's coach Joe Marshall certainly believes his young charge, already 6ft 1in and looking down on his father, has the goods to compete at the loftiest age-group events. A growth spurt, coupled with input from Marshall's fitness colleague Allister Parlane, has seen Hill's club-head increase from 103mph to 112mph since they began working last September.
"He's always had a good short game, he's fantastic with a wedge, so the main goal was to tie up his long game" said Marshall. "But to be honest, if I look back on what we did, we just set goals, whether they be technical, physical or skill based. Josh likes outcome goals, he wasn't afraid to say he wanted to win this and win that whereas a lot of players don't like to disclose that. He's pretty much hit every goal and it's just snowballed from there.
"Josh is very receptive to information, he's a young chap who is not afraid of information. He's a joy to deal with."
If Russell Hill is impressed with one aspect of his son's game, outside of that scary good short game, it's his level-headedness under the blowtorch, not something many youngsters learn so early, if ever. "He's very calm, almost too calm, " Russell says. "He's a bit scary how calm he can be."
Justin Parsons, Marshall's boss at the Butch Harmon School of Golf at The Els Club in Dubai, sees it too.
"He is a keen strategist despite his tender years and is also very competitive," Parsons wrote after Hill Jnr led a JGE 1-2-3 at the Faldo Middle East Championship in March, winning by six shots from pals Arjun Gupta and Toby Bishop. "Joe has done a great job simplifying his swing which already allows him a consistent, straight ball flight and Josh works diligently and rounds his skills with a good balance of short game and play.  The dominant player in the set, his scores at The Faldo Series [69-65-62 to finish -14] underline his serious potential."
Marshall looks forward to seeing how Hill Jnr performs in the UK now his success in the UAE has raised flags offshore. While he obviously wishes no ill luck on the youngster, he knows dips in form are inevitable – this is golf after all – and reckons the odd failure will only make him hungrier.
Closer to home, the friendly rivalry with Gupta and Bishop has been pivotal too.
"Josh is very lucky to have Arjun [Gupta] and Toby Bishop pushing him," said Hill Snr. "Unlike Ray [Thomas], there was a bit of a void, he did and is doing amazingly well [considering the relative lack of local competition during his early teens]. But this group with Max Cashmore, Arjun, Toby – they'd all do really well in Europe you know. So when you've got not just the Men's Opens but the age group pushing you as well, it really helps. They're decent players and decent kids as well. It's a very healthy situation. We're very grateful for that."
So too is Hill Snr thankful for the often unrated junior pathways available in the UAE. The amazing journey continues.
"There's always points for improvement, you just hope they keep on going."
Dad's not the only one.