Omega brand ambassador Shanshan Feng has timed her return to form perfectly for a shot at a fourth title at the Omega Dubai Ladies Masters this week.
The world No.4 and three-time defending champion sat down with Golf Digest Middle East to discuss her Rio "Rose Gold" medal, the increasing influence of social media on the women's game, Dubai's glam shopping and about feeling old at just 27.
You started 2016 slowly but have roared back into form on the back of your Rio Olympic Games bronze medal with back-to-back wins in Malaysia and Japan. How do you sum up the year?
"Before the Olympics my best finish on the LGPA was only fifth so going to the Olympics I didn't set any goals. I told myself I have to smile, it doesn't matter if I play well or not, I would just smile. And because of that I was more patient and actually learned how to be Shanshan again, to bring back my consistent ball striking and I got my bronze medal and after that I picked up my confidence again. After the Olympics I finished fourth at the Evian [major championship], fourth in China, second in Taiwan and third in Korea and then I won back to back in Malaysia and Japan. My world ranking has gone from 14th to No.4 again and I finished top 5 on the LPGA money list so it's been a good year."
What do you put the slow start down to?
"I would say the first reason is this is the Olympic year so maybe it was a more stressful year. I'm going for the next Games in Tokyo but nobody knows, [Rio] might have been my last one so I really wanted to play well there. I think I was giving myself too much pressure."
You've also eluded to all these big hitting teens and your efforts to keep up with them?
"Maybe [world No.1] Lydia Ko is not so long, but the others hit it really long, like 20 or 30 yards longer than me. I'm always the first one to hit, you know, like every hole and it just makes me feel old. So even though I'm more experienced, it's kind of hard to keep up with them. So I actually lost my own game, forgot how to be Shanshan, I was trying to compare with them, belt the balls hard, so I actually started to play not very well."
You've carried your Rio bronze medal to Dubai. You must be very proud of that?
"I told people, this is not a bronze medal. This is a rose gold Medal! I think all three of us, we all captured gold medals. I got the rose gold medal, Lydia got the white gold medal and Inbee [Park] got the real gold medal. I think all three of us, we were winners because it was the first time golf was back in the Olympics after over 100 years, and we were really proud that we were born in the right time and that we could represent our country and compete in the first Olympics after that long time."
Would you rather win another major to go with your 2012 LPGA Championship or the Olympic gold at Tokyo 2020?
"We have 20 chances in four years to win a major but only one chance every four years to win a gold medal. So if I have to choose, of course I will go for the gold medal."
"I do have my own character. I'm actually more like a silly, silly, funny girl, I do describe myself like that. It's good to let people know that we're not only stars on the television, but we are also real person and we're actually very fun…" – Shanshan Feng
We hear you love Dubai and particularly it's shopping?
"We are staying at the Jebel Ali resort which is really, really nice. In our rooms we can see the ocean, the beach and we actually have Peacocks walking just outside our doors, so that's really neat, unique. Also I go to the shopping mall…I mean Dubai is a great place for shopping because they have all different brands from all over the world and all the latest editions. This is just a place to make people feel more laid back, relaxed. Every time I'm here, I feel like I'm on holidays but also making money for the holiday."
It must be amazing to have a brand like Omega behind you?
"I was very surprised when Omega came to me in 2012 which was before I won the major. Of course, I was really honoured to sign the contract with Omega and straight after that I won my first major so I would say Omega really gave me good luck. After that I won four times more worldwide. Omega is one of the top brands in the world for watches but Omega always want to be better so that pushes me to try to be better also."
The organisers of the Omega Dubai Ladies Masters have been open about the fact they have offered sponsor's invites to players whose influence on social media is as strong, if not stronger, than their golf. As a three-time champion, are you comfortable with that?
"Of course. That is going to bring more attention into the tournament so I mean that must be a good thing. People have followers and are famous for a reason so I believe that they are famous because they have something. It might be a good chance that we can bring everything together at a tournament to let maybe her fans, those power bloggers, to bring those fans to watch a golf tournament and to bring golf fans to watch them, so I think it's a great thing."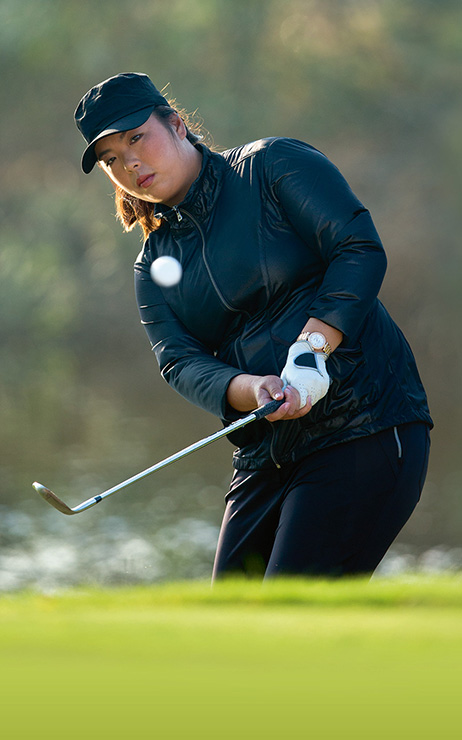 How important is social media as the women's game strives to build its audience globally?
"I know that on the social media part, I think the LPGA's increase is like over 100 percent every year. It's improving much faster, even compared to the [US men's] PGA Tour, we're actually doing a lot better. I think that's because girls are actually more willing to reach the fans. And actually, a lot of people actually think girls are more friendly, like less distance between us and the fans. I think that's going to bring us a lot more fans. I think it's also a good chance to show off our personality off the course, because on the course, even me, you look at me on the course, I have a poker face.
You talk about playing with a "poker face" but you're not afraid to let down your guard for the fans are you?
"Off the course, every player has [their] own personality, and I would say that I do have my own character. I'm actually more like a silly, silly funny girl, I do describe myself like that. It's good to let people know that we're not only stars on the television, but we are also real person and we're actually very fun. We have,to let them to know a lot more about us, I think is great."
And your own efforts to promote the game in China wouldn't be half as successful without the online influence would they?
"I only play two to three times a year in China so most of the times when I'm overseas, how can my fans see me? They can watch me on TV playing but they can only get to know me through my social media accounts. I think it's good I can let my fans know what I'm doing on the course and off the course so they don't have to worry about me [laughs] and also get to know more about me It's very important I think."
How does the Omega Dubal Ladies Masters rate globally?
"Well, I've played all kinds of tournaments in my career and I think this event is one of the best in my life. Not only because I have a good record here, but because how the tournament is set up, like everything in Dubai it's just been great. I would say this is the major of the Ladies European Tour…this is the tournament the girls that maybe don't play on the LET regularly want to come to. That's why I brought a Chinese amateur this time [16-year-old Muni He] because I wanted her to experience it."
What's your favourite Omega timepiece?
"If you were with me when I was at the Omega shops – I can actually go to the stores and pick the watches I like – and every time I'm there it is so stressful, I'm like 'I like this one, I like that one' but I can't take everything' [laughs]. So it's always about making hard choices. Omega has watches to go with everything: some are more sporty like the one I'm wearing now with the leather strap and also they have ones with metal straps but more sparkling , more bling, bling which go well with dresses. I mean they are just so good."