Getty Images
The University of Wollongong in Dubai offers high calibre undergraduate and postgraduate business degrees to prepare future leaders for positive contributions to their chosen profession, community and society.
IN PARTNERSHIP: More than 90 percent of employers surveyed by the AMBA (Association of MBAs) in 2016 said they would need employees emboldened with big data skills in the ensuing three years, graduates energised by new technologies and savvy in the art of digital marketing. The survey also critically found 89 percent of employers highlighted new leaders able to effectively manage stress as highly attractive.
Fast-forward to the new normal slowly emerging from the on-going global COVID-19 pandemic and employability and enriched career progression is set to become even more closely linked to quality, internationally accredited and recognised university education.
Step forward the University of Wollongong in Dubai (UOWD). Immersed in the ethos of world-class academic excellence and professionalism, UOWD stands tall as one of the finest business schools in the UAE.
Established in 1993, Dubai's oldest private and most prestigious and accredited University offers 44 degrees across 10 industry sectors taught by a cohort of highly qualified academic staff, each holding PhD degrees and recognised as leaders in their fields of expertise. UOWD's faculty members are active researchers, involved in research activities across 100 different fields.
UOWD is a dynamic and diverse institution offering a broad spectrum of programs in Business, Engineering, Information Sciences as well as Humanities, Social Sciences and Health.
All of the programs are aligned with UAE priorities yet tailored to meet the demands and needs of the global employment market.
The strong global and industry ties established by the UOWD's faculty means access to industry experts, allowing the university to integrate real-world practices with theory, ensuring students are equipped to address complex business problems. Graduates have gone on to contribute to some of the world's most trusted brands including Microsoft, GE, IBM, Deloitte, FedEx, 3M, Adidas, Amazon, Emirates, Etisalat, ADCB and Pepsico.
WHY UOWD?
The University of Wollongong (UOW) is consistently ranked in the top one percent of universities in the world for the quality of graduates, a position it maintained in the 2020 QS Graduate Employability Rankings. That means UOWD graduates are highly sought-after candidates, a double whammy given all degrees are linked to industry demand and global workforce planning requirements.
The UOWD has strong job placement rates for undergraduate students (77 percent) and postgraduate students (85 percent) within six months of graduation
"Our programs in Business are designed to prepare you for global careers," said Professor Payyazhi Jayashree, Dean, Faculty of Business.
"From trading floors at the NY Stock Exchange to the start-up spaces in Silicon Valley, your business degree is a key to opening doors for myriad potential career paths such as Chief Financial Officer, CEO, HR Consultant, Recruitment Specialists, Investment Banker, Accountant, Public Relations Manager, Marketing Manager and many more."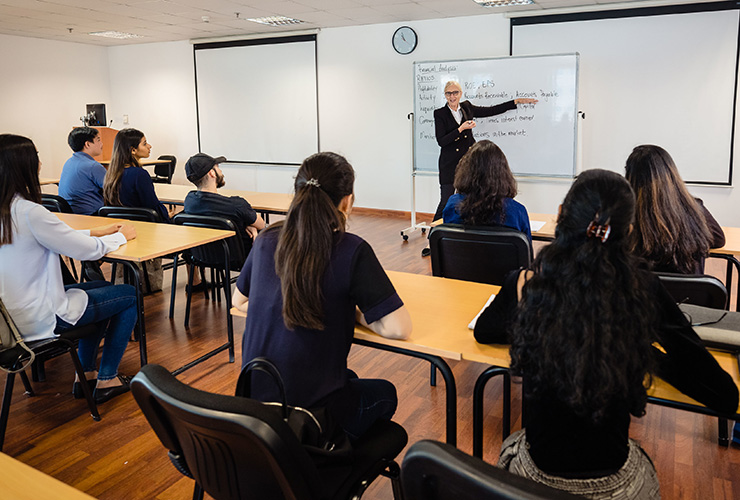 UOWD is continuously evolving, highlighted by recent collaborations with high-ranked global business schools to strengthen its global interconnectedness. UOWD is now aligned with the Munich Business Academy, with an objective for Master of Business (Innovation and Entrepreneurship) and Master of Business (International Business) students to participate in a boot-camp conducted by highly successful start-ups in Germany.
Indeed, all the subjects offered at the UOWD offer students the opportunity to engage in study trips abroad, real-time 'Masterclasses', and conference activities with senior executives and knowledge experts.
GLOBAL EXECUTIVE MASTER OF LUXURY MANAGEMENT
Launched recently in partnership with top Italian business school MIP Politecnico di Milano, the Global Executive Master of Luxury Management is one of the UOWD's flagship programs.
The dual degree, which incorporates international study tours to luxury shopping capitals Milan, Paris and Geneva, is designed to empower professionals to evolve as luxury brand managers, fashion retail buyers, branding and PR specialists, creative directors, brand ambassadors and visual merchandising executives.
Professor Mohammed Salem, President of UOWD, said: "As a centre of tourism and a major luxury shopping destination, Dubai is considered one of the major hubs for young working professionals seeking to enter the luxury brand management field. Furthermore, the GCC market for luxury products and experiences is growing exponentially with high spending per capita and an informed target market that has the purchasing power to afford luxury goods.
"UOWD's GEMLux program bridges the gap between luxury goods and business management. It is also a big draw for people who wish to deepen their knowledge of luxury management, and enhance their creative and managerial skills in the luxury goods and services sector."
The Master of Business Administration is the first program at UOWD that features blended learning methods. Delivered in a condensed mode, with subjects being delivered over three weekends each semester, the core subjects are designed to engage students with industry leaders and networking opportunities.
The UOWD also offers several other Business Programs including the Master of Business (with six specialisations), Master of Quality Management, Master of Science (Logistics) and Master of Applied Finance (with three specialisations).
On the undergraduate level, the university offers Bachelor of Business Administration and the BCom degree programs (with six specialisations).
With a 27-year track record, the UOWD offers internationally-recognised degrees that are accredited by the Tertiary Education Quality and Standards Agency (TEQSA), Australia's independent national quality assurance and regulatory agency for higher education, the Commission for Academic Accreditation (CAA) of the UAE Ministry of Education – Higher Education Affairs, and licensed by the Knowledge and Human Development Authority (KHDA). Several of the UOWD's degree courses are formally recognised by international professional organisations including AACSB, ACCA, CIMA, CPA Australia, EFQM, CILT, CIM, CIPD, CIPS and AHRI.
NEW CAMPUS
The University of Wollongong in Dubai currently shares a campus with several other universities and institutions but will soon move into a new, dedicated, 200,000 square foot campus building, also located in Dubai Knowledge Park.
The ultramodern facilities will enrich the UOWD's teaching approach with flexible, technology-driven curricula matching the skill needs of Dubai Expo 2020, rescheduled for 2021, and its legacy.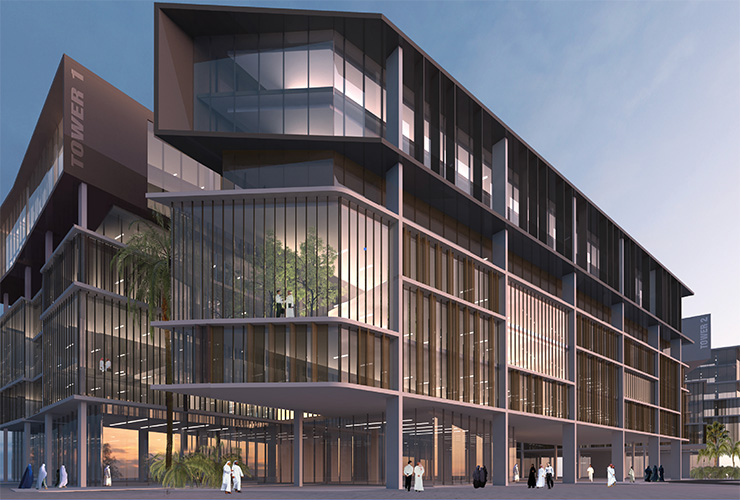 The premises house major laboratories dedicated to power and circuits systems, chemistry, thermodynamic, fluid and heat transfer, hydraulics, manufacturing, physics, robotics, geotechnics, concrete, media and communications, cybersecurity, networking and gaming.
The heart of the campus will belong to the UOWD library with collaborative learning spaces, traditional quiet reading and study zones, meeting rooms of varied sizes, as well as a student lounge designed as an informal learning space.
The campus will also include modern classrooms, an exhibition space, a recruitment lounge, a state-of-the-art auditorium and a café.
CHANGE YOUR LIFE TODAY
As the highest-ranked Australian university in the UAE, the UOWD currently boasts a roll of more than 3,500 students from 108 nationalities and a global community of 152,000 alumni. It is an ideal choice for overseas students looking for an internationally accredited degree close to home. UOWD also supports the visa process for non-resident students who wish to enrol in a full-time study program.
For more information on studying at UOWD and linking to this powerful network of global change-makers, visit: uowdubai.ac.ae