It would be fair to say Tommy Fleetwood is going through a period on the golf course you could describe as 'unusual'. 
However, the Englishman would be the first to concur that 'unusual' is no bad thing as his recent victory in the Nedbank Golf Challenge saw him finally get back in the winner's circle. 
Winning had become unusual. 
His most recent triumph before the November success in South Africa was in the same competition in Sun City way back in 2019. A slump in form then saw him slip from a high of No. 9 in the world to No. 50 by the time he missed the cut at the Honda Classic this February.
RELATED: Team Europe announces line-up for Hero Cup
Hooray for Moliwood as Tommy and Francesco named Hero Cup captains
Fast action Heroes set for Ryder-Cup-style competition in Abu Dhabi
The 31-year-old took time to reset earlier this year, and it has paid dividends, with a T10 at the RBC Heritage in April seemingly kick-starting a return to form. He turned in his best performance at the US PGA Championship with a T5 a few weeks later, and the consistency continued with T4s and both the Scottish Open and Open Championship over the summer. 
Still, that winning feeling had become 'unusual', and it was not until his trip to South Africa to defend his Nedbank title, following a two-year Covid hiatus, that he was able to end his trophy drought. 
"I think the overall feeling was how much I enjoyed being back in contention," he told Golf Digest Middle East about landing his ninth professional title and following it up with an impressive T5 at the season-ending DP World Tour Championship at Jumeirah Golf Estates at the end of November. "I feel like my game's been on the right track and I've been doing a lot of the right things. I've been driving it so much better."
Fleetwood was overcome with emotion on the 18th after his Nedbank triumph — understandable after such a long wait and to cement his name alongside some legends of the game in 'South Africa's Major'.
"Some of the greats of the game have held that trophy aloft, to be mentioned in the same breath as the likes of Seve [Ballesteros], Nick [Faldo] and Ernie [Els] makes me feel like all of the hard work I put in on a day-to-day basis makes it worth it," he added. 
Fleetwood's return to form could not have come at a better time as the famous UAE Swing approaches in the New Year — with the addition of the Hero Cup — in a Ryder Cup year. 
The Englishman is looking to play his way into Luke Donald's Team Europe plans for the showdown with the Americans at Marco Simone GC in Rome come September — starting in the UAE capital.
Ahead of the traditional Abu Dhabi HSBC Championship and Dubai Desert Classic, Fleetwood will have the honour of captaining Team GB & Ireland against Continental Europe in the matchplay Hero Cup at Abu Dhabi Golf Club, the event aimed at getting the European hopefuls up to speed ahead of the Ryder Cup, a competition that is a favourite of Fleetwood's. 
During the 2018 edition of the biennial tournament, Fleetwood and best buddy Francesco Molinari hit the headlines as duo won four points from four matches together to help down Team USA at Le National in Paris. The 'bromance' would become famously known as 'Moliwood'. 
However, with his Italian pal now on the other side of the fence as he will captain Team Europe against him and his nine teammates in Abu Dhabi, it all seems a little, well, unusual. 
"Fran [Molinari] and I obviously get on very well so I am sure it will feel a little strange at first being opposing captains," Fleetwood explained. "But I think the Hero Cup is a fantastic way for players to compete in team matchplay, which is something both of us have always relished. 
"Abu Dhabi has been pretty good to me over the years so hopefully that will continue in January and I look forward to working closely with Fran and Luke, as well as all the players."
Abu Dhabi certainly has been good to Fleetwood, with back-to-back victories in the HSBC Championship in 2017 and 2018 followed by a narrow miss for the hat-trick in 2020, on the very same National Course where he will lead Team GB&I in January.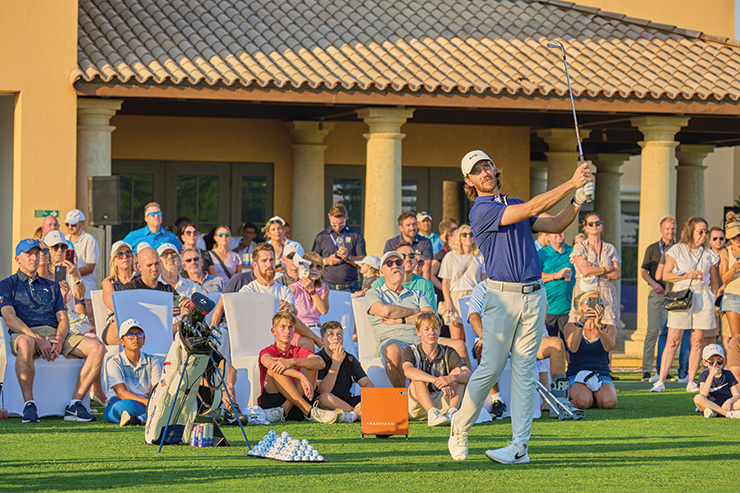 He will also have another edge this time around as he now calls the UAE his home, having moved to Dubai with his family earlier this year. He plans on using his 'home' comforts to his advantage come the UAE Swing. 
"They are essentially home tournaments for me, as I've been living in the UAE now," he said. "They [the HSBC Championship and Dubai Desert Classic] are two of the biggest tournaments of the year on the DP World Tour, with some of the best fields and two of the best courses in the region, so I'm very excited."
Despite having these upcoming events close to home, Fleetwood admits time on the road can be tough, as he balances life on the DP World Tour and PGA Tour, with tournaments taking him all over the world — he flew into Dubai for the DPWTC only hours after winning in South Africa, and is jetting off to the Bahamas for Tiger Woods' Hero World Challenge before a well-earned rest.
"It's been a hectic year with a lot of travel and tournaments, but I had an extended break in the summer," he explained. "I'm fortunate enough to have been invited to Tiger's event in December, but after that I'll relax over Christmas until the New Year."
Not that he will be piling on the pounds with turkey and stuffing. "I'll still be putting in the work though, trying to refine and improve my game ahead of the 2023 season," he added.
That relaxation is something Fleetwood takes seriously, and he is relishing a few weeks' rest and competition in his new home in the UAE. 
"I am a resident and my family lives here now. My kids are in school here too," he added. "So Dubai is where normal life is for us at this time. So that's been great, and we've settled in really well.
"We moved over around three months ago, it's been great for me, [wife] Clare and the boys. The boys are loving school here which is great, so we're feeling settled and loving life so far." 
Part of the reason Fleetwood had to rush home from South Africa was for the launch of his Tommy Fleetwood Academy at Jumeirah Golf Estates.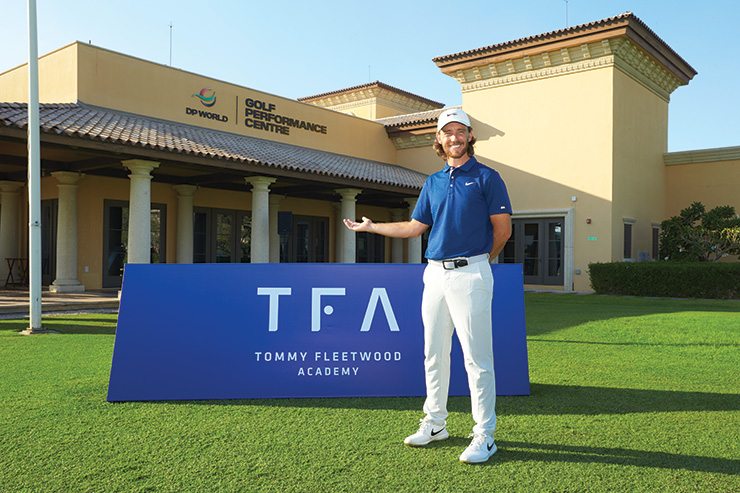 "A big factor in the move to the UAE was launching the Academy, which I'm really passionate about," he said. "Having the chance to help grow the game of golf in the region is an amazing feeling. The facility is superb, the DP World Golf Performance Centre is state of the art, with fantastic facilities and top-level coaches, so it is the perfect spot to launch the Academy." 
With all the travelling, it was jokingly suggested that Fleetwood spends more time with his caddie Ian Finnis than with his wife, Clare. But Fleetwood was happy set the record straight. 
"As golfers, we all absolutely love our jobs and are incredibly fortunate to be in the position we have, but the downside is spending a lot of time away from the family," he said. "Don't get me wrong, I absolutely love spending time with Fino and he's one of my best mates, but you do get homesick at points and miss the family when you're on the road for so long. Luckily, Clare is my manager, which means she comes to a lot of tournaments with me." 
With the winning drought over and the monkey off his back, Fleetwood is eagerly looking ahead to a successful 2023 — as that date in September looms.
"My main goal for 2023 is to make the team — playing in a Ryder Cup is unlike any tournament we have in the sport, it's totally unique, where some of the best bonds are formed and experiences are had," he said. "I've been lucky enough to play in the past two events, with mixed results, to play in Rome is the dream as it's the pinnacle of the sport.
"But I have to approach it like any other year. On a day-to-day basis, I'm going to keep working hard, trying to improve and that will give me the best chance of being successful. It's nice to be in a pretty good spot in the world rankings [he was back up to No. 23 following the DPWTC and second on the Team Europe points list]. I want to contend in some more tournaments over the next year as there is no better feeling than lifting a trophy after a tough 72 holes. I'd missed it over the past three years. If I perform like I know I can, it will hopefully be a good year." 
And can 2023 be the year Tommy also wins a major? "I hope so. I've been close, so one day the door will open if I keep knocking!"