By Stephen Hennessey
Tiger Woods teed off at 8 a.m. on Saturday to complete his second round at Bellerive Country Club. What a crazy day it triggered.
The 14-time major winner will have played 29 holes by day's end (barring any weather delays) in the humidity-filled St. Louis conditions. Tiger's wardrobe changes have remained an amusing storyline—Tiger has changed his shirt four times on Saturday. And it has worked thus far, as he has taken advantage of the soft conditions to vault into contention. Another stellar front nine, this time in his third round—the second straight round he has played the opening nine holes at Bellerive in 4-under—put Tiger within two of the lead at one point. Brooks Koepka now continues to increase his lead, but Tiger has remained firmly a part of the action.
Here's a quick look at Tiger's eventful Saturday at Bellerive:
First, this was the scene as Tiger, Justin Thomas and Rory McIlroy got back onto the course to finish their second round. Talk about chasing the dew.
Tiger started his round with a birdie at the par-5 eighth hole, making it four birdies in eight holes for the opening nine of his second round.
A birdie to start your Saturday morning.@TigerWoods gets to -4.#PGAChamp pic.twitter.com/2pnueLFWPv

— PGA TOUR (@PGATOUR) August 11, 2018
He parred the ninth to make the turn at 4-under. Then things got interesting.
A couple bogeys, mixed with birdies at the 11th and 17th holes, led to an even-par inward nine—leaving Tiger with an uneventful but steady finish to his second round.
A PERFECT wedge sets up @TigerWoods' 5th birdie of the day.#PGAChamp pic.twitter.com/F5u3fvbctT

— PGA TOUR (@PGATOUR) August 11, 2018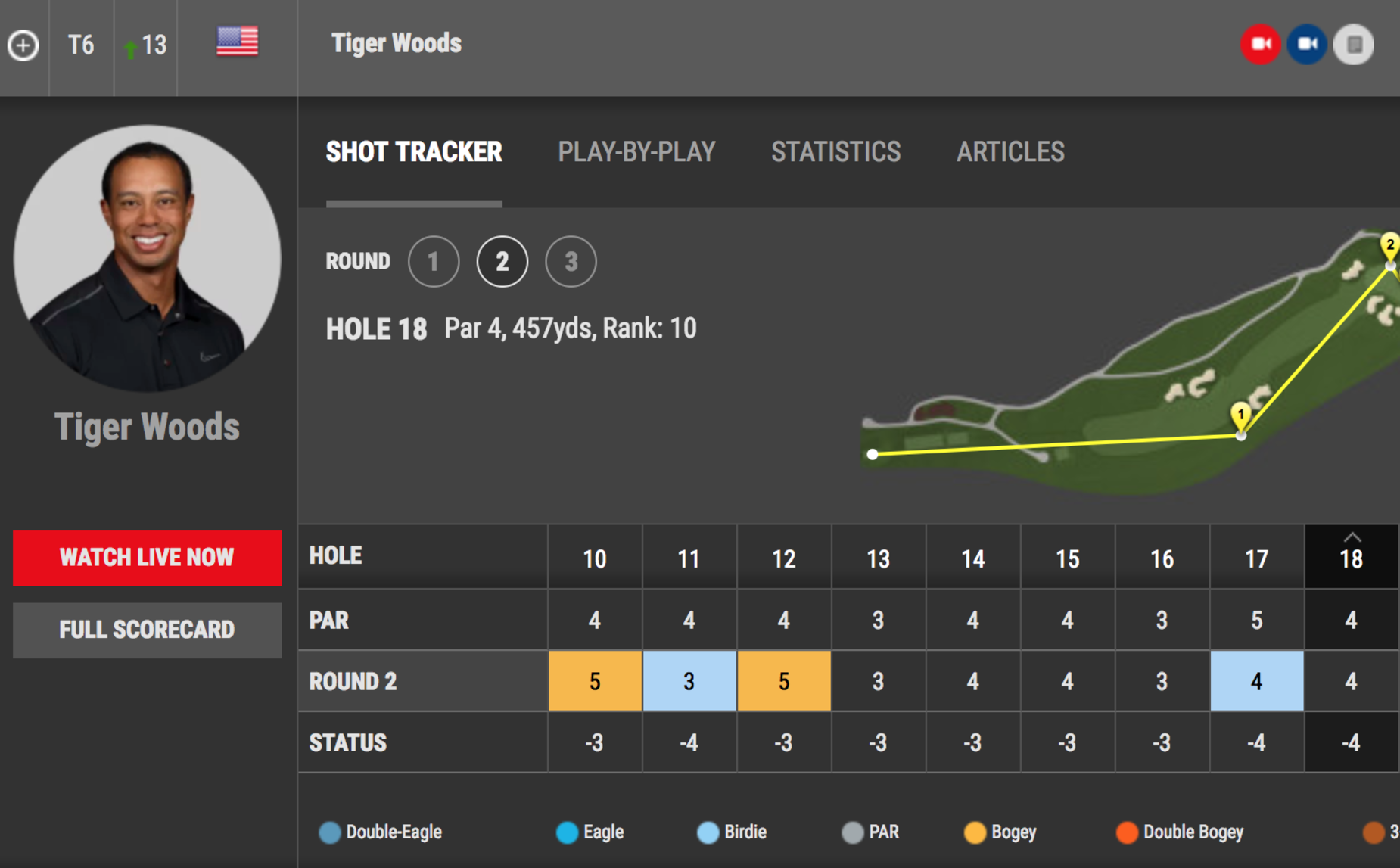 Then Tiger came back out in a big way.
Tiger dropped about a 15-footer on the first hole for his first birdie, and and he stuck it tight at the second:
Loud noises.@TigerWoods opens Round 3 with a birdie.#PGAChamp pic.twitter.com/ipydin3k5U

— PGA TOUR (@PGATOUR) August 11, 2018
Tiger's just rolling along … (that's 2 birdies in a row FYI)#PGAChamp pic.twitter.com/hjuEpUNzFh

— PGA Championship (@PGAChampionship) August 11, 2018
Tiger started the round in a grey shirt …
… then transitioned to a blue one after just a few holes.
He actually did the same thing on Thursday, which sparked the whole "shirt-tracking" storyline at the PGA Championship. And he had a black shirt on earlier in the day as he finished his second round.
Feels like Nike is missing out if they don't sell all these sweat-soaked "Tiger Woods game-worn shirts" for about a billion dollars apiece.

— Jason Sobel (@JasonSobelTAN) August 11, 2018
And Dottie Pepper says on the telecast that Tiger has dropped four pounds this week from sweating so much? If only the journalists on site ventured out onto the golf course a little more, maybe they'd shed some lbs. too!
After Tiger's first dropped shot of the round, at the par-4 fifth hole, Tiger got one back in improbable fashion:
Most difficult hole at Bellerive?

Not a problem for Tiger. ?? #PGAChamp pic.twitter.com/sIUb8Gzemv

— PGA Championship (@PGAChampionship) August 11, 2018
Tiger backed up that tough birdie on the sixth hole with one at the seventh:
This birdie moves Tiger to 7-under, T6. pic.twitter.com/LNzjqR5s7v

— PGA Championship (@PGAChampionship) August 11, 2018
This birdie at the eighth hole was Tiger's fifth of the opening nine, and put him T-3 and two back.
??T-3?? pic.twitter.com/avbb4KDo6Z

— PGA Championship (@PGAChampionship) August 11, 2018
Birdie.
Birdie.
Birdie.

Tiger Woods is two shots back. pic.twitter.com/uIhQHqGy3G

— GOLFonCBS (@GOLFonCBS) August 11, 2018
Tiger Woods is two strokes out of the lead in the third round of a major golf championship. … That's a sentence I didn't think I'd be writing a year ago.

— Dan Jenkins (@danjenkinsgd) August 11, 2018
Those five birdies were the most Tiger has made on a nine-hole stretch in a major since the final round of the 2011 Masters. So everyone got excited for good reason.
Also he made someone pass out?
A kid legit just passed out right before Tiger teed off on No. 12. The roar after Tiger hit the ball seemed to revive him and he looks fine now. Scary.

— Kyle Porter (@KylePorterCBS) August 11, 2018
Tiger's fist pump for his par save at 10 went in the air before the putt even dropped.
MASSIVE…and a fist pump.#PGAChamp pic.twitter.com/O41iHsUCNz

— PGA Championship (@PGAChampionship) August 11, 2018
We had a vintage club twirl on the 11th hole. This almost put an eye out.
Club twirl.#PGAChamp pic.twitter.com/IL6t6zVUe2

— PGA Championship (@PGAChampionship) August 11, 2018
And now Tiger has parred seven holes in a row through the 16th hole. As he heads to the par-5 17th looking for one more birdie, he's currently just one shot shy of T-2, but Brooks Koepka is now five shots clear of Tiger.
At the 17th, Tiger just smoked a 4-iron from 243 yards to 17 feet. He started walking IMMEDIATELY after he hit the shot—giving himself a chance for an eagle 3, which would get him to 10-under and a spot in solo second.
When you know, you know.#LiveUnderPar pic.twitter.com/1HtZT0weCI

— PGA TOUR (@PGATOUR) August 11, 2018
Eagle putt coming up at 17! He was walking after it the second he hit it. The second. he. hit it.

— Tiger Tracker (@GCTigerTracker) August 11, 2018
Tiger JUSTTTT missed the eagle putt on the right side, leaving himself with what looked like an easy birdie to move to 9-under, which would've been tied for second. His three-footer missed on the right side, and leaving him with a really disappointing par.
With Adam Scott dropping a shot with a short missed par putt at the 15th, Tiger found himself T-2 after all as he stepped up to the 18th tee. He smoked his tee shot—leaving him with a good look—just 127 yards for his approach on the 18th hole.
Following an approach to 15 feet, Tiger missed just slightly on the left side.
It'll be a disappointing finish, given Tiger had five birdies through eight holes—and he parred in the rest of the way.
This stat sums up his finishing stretch.
Tiger Woods finishes with his 2nd straight round of 4-under 66.

However, it could have been better. He went 0-7 on eagle/birdie putts inside of 20 feet on the back 9. pic.twitter.com/nehQmbPnBA

— ESPN Stats & Info (@ESPNStatsInfo) August 11, 2018
It's a second-straight round of 66 for Tiger, ensuring he'll be in one of the final pairings of the day on Sunday.