Dubai Golf chief executive Chris May is flanked by amateur captain Max Burrow (left) and UAE PGA captain Ryan Smith.
By Kent Gray
By being good at their day jobs, the UAE PGA's finest have inadvertently done themselves few favours as they look to avert a hat-trick of Dubai Trophy losses this weekend.
The pros will be confronted by one of the youngest, and certainly one of the most in-form, Emirates Golf Federation amateur teams in the 19-year history of the Ryder Cup-style matches. For context, know that EGF captain Max Burrow has the luxury of selecting world amateur No.17 Rayhan Thomas as one of his four picks – Bayhaan Lakdawala, Mike Mezei and Craig Vance are the others – for the showdown at Emirates G.C. and Dubai Creek Golf & Yacht Club.
But it's the boy wonders in Burrow's 16-man line-up – red-hot Josh Hill, Arjun Gupta, Toby Bishop and Bradley Mogire – that pose perhaps the biggest potential banana skins for captain Ryan Smith and his pros.
Related: Fisher chalks one up for the 'old guys' at EGF Championship
The talented teens are all products of the increasingly prolific junior development production lines at the various clubs the UAE PGA pros teach out of it. It's really a win-win scenario, unless of course you're been charged with beating the confident, treble-seeking whippersnappers, no cinch for teaching professionals who do far more coaching than playing, as Burrow acknowledged.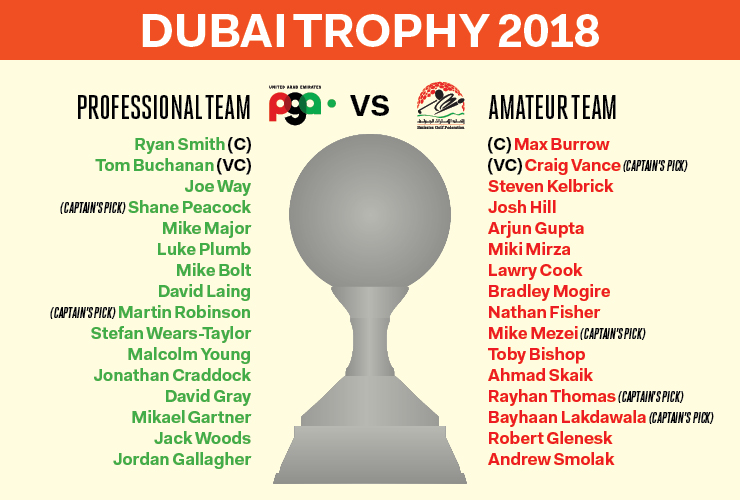 "We play in events across the region and you now have to score under-par, or significantly under-par to even have a chance of winning," said Burrow, pointing to the noticeable lift in intensity during amateur tournaments this season.
"This shows how much the amateur game in the region has developed in recent years and it has certainly been a contributing factor to our recent successes in the Dubai Golf Trophy. I am confident the amateur team can continue our vein of form in this competition due to the strength-in-depth…we have a youthful team on exceptional form…"
Related: Thomas thrilled by India call-up for 18th Asian Games
No kidding. In Hill and 51-year-old Steven Kelbrick, the amateurs have the past two EGF Order-of-Merit champions while the performance of Emirati national squad member Ahmad Skaik will also be watched closely.
While the amateur team is made up of the top-12 players in the 2017-18 EGF OOM plus four picks, the pro team features the top-14 players from the UAE PGA Tour plus two picks – Al Ain's Shane Peacock and The Monty's Martin Robinson.
Cen Mills is a noticeable absentee from the pro line-up, the former UAE PGA champion having left the Creek to return home to Wales. But Smith's team still oozes class, headed by 2017-18 OOM champion Stefan Wears-Taylor and Al Ain's Tom Buchanan who teed it up in the European Tour's Abu Dhabi HSBC Championship in January.
The Dubai Trophy will be Wears-Taylor's Middle East swan-song before he pursues a fulltime playing career back home in South Africa. The 21-year-old will partner Smith (Monty) in Saturday morning's opening foursomes (alternate shot) matches against Mogire and Lawry Cook. Jack Woods and Jordan Gallacher also face a tough opener against amateurs Thomas and Bayhaan Lakdawala but the standout clash pits UAE PGA chief executive Luke Plumb and his Trump Dubai colleague Mike Bolt against Hill and Gupta.
Related: Wears-Taylor sets sights on Sunshine Tour after defending UAE PGA's flagship title to seal regional OOM race
Emirates G.C. will also host a round of afternoon fourball matches on Saturday before the singles matches and prize-giving dinner at DCGYC on Sunday. The pros lead the overall series 14 wins to four but Smith knows his UAE PGA brethren are in for a tough weekend.
"This will be my 8th Dubai Golf Trophy and I feel honoured to be the captain of the professional team this year. Based on the previous two years we are definitely coming into the event as the underdogs, but are more determined than ever to regain the trophy this year."
It's not quite the Ryder Cup but it's as close as it gets in the UAE. And all the pressure is on the UAE PGA pros who won't want to turn up to work on Monday having to explain a third successive loss.