Icon Sportswire
By Joel Beall
Patrick Reed's behaviour has occasionally been cloaked in smoke. That behaviour appears to extend to the realm of social media.
Reed's official Twitter handle has long been noted for blocking media and golf fans from viewing Reed's accounts. In itself this is not newsworthy; plenty of athletes and personalities block users who criticize them, although the amount of people who assert Reed has muted them is prodigious. However, there are still Twitter users who are able to see Reed's Twitter activity, and one of Reed's tweets over the weekend was a curious replica of another Twitter account.
Following Reed's controversial drop during the third round of the Farmers Insurance Open, Reed's official Twitter account sent the following reply at 8:09 PM ET to a Twitter thread involving CBS Sports' Amanda Balionis: "RORY MCILROY @McIlroyRory DID THE SAME THING TODAY ON HOLE 18! AND DIDN'T EVEN CALL A RULES OFFICIAL OVER TO DEEM THE BALL EMBEDDED. END OF STORY." Twitter users quickly pointed out that the account handle "useGolfFACTS" had sent a very similar message (ultimately sent 16 times) to various Twitter accounts in defence of Reed. The "useGolfFACTS" account's first message about Reed/Rory was sent at 7:59 PM, the last at 8:44 PM.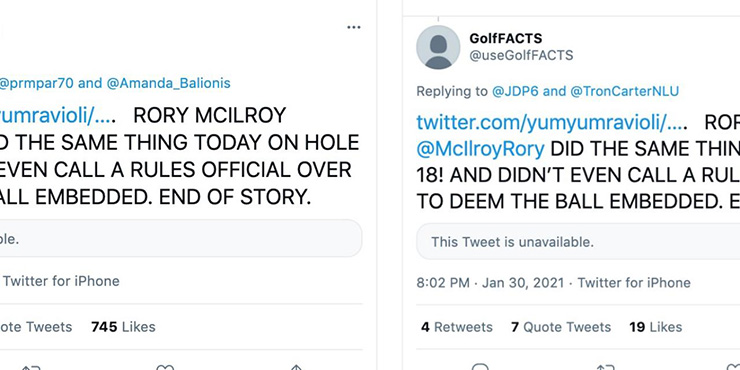 The parallels were noteworthy due to year-long speculation that the "useGolfFACTS" account is affiliated with Reed, his family or team. A look into the account's replies shows heavy activity in defence of Reed from various allegations throughout his career. However, the account has done more than defend Reed, making numerous critical and disparaging remarks toward Reed's fellow competitors and the PGA Tour.

RELATED: Patrick Reed's runaway win in the Farmers Insurance Open will be shadowed by questions and controversy

The "useGolfFACTS" handle has routinely knocked Justin Thomas, among the complaints that Thomas didn't deserve to be on the cover of the PGA Tour's 2K21 video game, that Thomas "is a taker," and that Thomas shouldn't get his $2 million Wyndham Rewards bonus because he didn't play in the Wyndham Championship. There was also a shot at Thomas' temperament. "His bad attitude and actions were on full display and it was disrespectful to Niemann-his playing partner," the account asserted on Jan. 4, 2020.

Xander Schauffele was another of the account's targets. Also on Jan. 4, 2020, under a Golf Channel headline on Schauffele's odds to repeat at the 2020 TOC, the "useGolfFACTS" handle replied, "Someone should check his new driver to make sure it is conforming," alluding to Schauffele's driver failing R&A compliance at the 2019 Open Championship. The account also alleged Schauffele patted down the rough at the 2020 TOC, attaching a video of Schauffele making practice swings.

The "useGolfFACTS'' account has also routinely criticized the PGA Tour, making complaints about the tour's pay structure ("More like Tour greed will kill the golden goose. They should offer all top 125 players a base salary, every year. And they don't even do that"), pin placements that favour certain players, the tour's leader board app and the tour's selection of featured pairings. Other notable comments from the "useGolfFACTS" account include that the green jacket should not have been awarded at the 2020 Masters since no fans were on property and calling the Ryder Cup team selection process into question.

RELATED: Why Rory McIlroy is now part of the Patrick Reed rules flap, and how he (potentially) helps Reed's cause

But to those who believe Reed's tweet on Saturday is the smoking gun, Reed's attorneys say that's not necessarily the case. In response to a Golf Digest email about Reed's Saturday night Tweet and his connection with "useGolfFACTS," Reed's lawyer, Phillip B. Costa, replied, "Please be advised that the person who manages Patrick Reed's Twitter and Instagram accounts does not run the @ use GolfFACTS account." As of writing, a direct message to the "useGolfFACTS" account from Golf Digest has not been returned.

Why does this matter? In addition to ensuring some awkward tournament pairings, proof of Reed's direct involvement with a Twitter account that disparages the tour and other players would appear to be in breach of a section of the player code of conduct that addresses such public criticism. A PGA Tour spokesperson told Golf Digest the tour has no comment on the matter. As of writing, Golf Digest has not received a response for comment from Thomas or Schauffele.

YOU MIGHT ALSO LIKE:
The Curious Case of Patrick Reed