By Daniel Rapaport
It wasn't the most high-profile cancellation—that goes to the Open Championship—but the nixing of last year's U.S. Open qualifying process proved a bitterly disappointing casualty of the COVID-19 pandemic. The opportunity to play your way into "golf's toughest test" is part of the fabric of the national championship, but the logistics of staging umpteen local and final qualifiers in the throes of the pandemic proved an insurmountable challenge for the USGA. The field at Winged Foot, which was comprised entirely of players who received exemptions, sorely missed the journeyman pros and off-the-radar amateurs who seem to play their way into the show every year.
How lovely it was, then, to ride the emotional roller coaster of "golf's longest day." The USGA successfully staged nine qualifiers across the United States on Monday, and those, in addition to May 24 qualifiers in Japan and Dallas completed this year's process of narrowing down the 8,680 players who signed up for Local Qualifying to the 60 men who earned their tickets to Torrey Pines.
That is, they almost completed it. Storms in Columbus, Ohio, delayed play at that über-stacked site—with the Memorial finishing Sunday in the area, it's chalk-filled with PGA Tour pros—for more than three hours, which will force the contenders to return Tuesday morning to finish things off. With that in mind, here are the seven most intriguing storylines to emerge from final qualifying, at least so far.
Cameron Young is giving us some serious Will Zalatoris vibes
Young, a 24-year-old graduate of Wake Forest, should not move a muscle. Because, as we learned in "The Hangover," you never walk away from the table when you're on a heater.
The torrid stretch began out of nowhere three weeks ago, when he won the Korn Ferry Tour's AdventHealth Championship—which came right after he missed five cuts in his previous six starts. Young followed it with a five-shot victory at the Evans Scholars Invitational to put himself one win short of earning the ultra-rare Battlefield Promotion to the PGA Tour, and giving himself a chance to become the first player to win three Korn Ferry events in back-to-back-to-back weeks. It wasn't to be at last week's Rex Hospital Open; he finished T-78 before boarding a flight back home to New York. Young is something of a Met section hero, having won everything there is to win in the area as an amateur. He added another chapter to his local-legend status by shooting 67 at Old Oaks Country Club and 66 at Century Country Club to breeze to medalist honours. This is the second time he's played his way into the U.S. Open, having done so in 2019. (He shot 75-76 at Pebble Beach to miss the cut).
Young's run is bringing to mind another Korn Ferry star out of Wake Forest who caught a heater and rode it to stardom: Will Zalatoris, who got a spot into last year's Open with his play on the KFT, then finished T-6—and, well, you know the rest.
Branden Grace rides the momentum from Muirfield
He's the only man in golf history to shoot 62 in a major championship. He's won 14 events around the world and two on the PGA Tour, including the Puerto Rico Open earlier this year. He's appeared in the top 10 of the World Ranking and played on three International Presidents Cup teams. He has two top-five finishes in U.S. Opens. He's squarely in his prime at 33 years old. He finished fourth in the Memorial the day before. And yet there Branden Grace was on Monday morning, playing in a 36-hole qualifier, a reminder that professional golf is a meritocracy.
In a stroke of good fortune, the qualifier took place at The Bear's Club, where heaps of touring pros are members—including Patrick Rodgers, who took medalist honours, and Grace, who shot 70-72 to squeak in on the number. He'll now tee it up in his seventh straight U.S. Open, although this one came a bit more difficult than the others.
Akshay Bhatia, still just 19, continues to show signs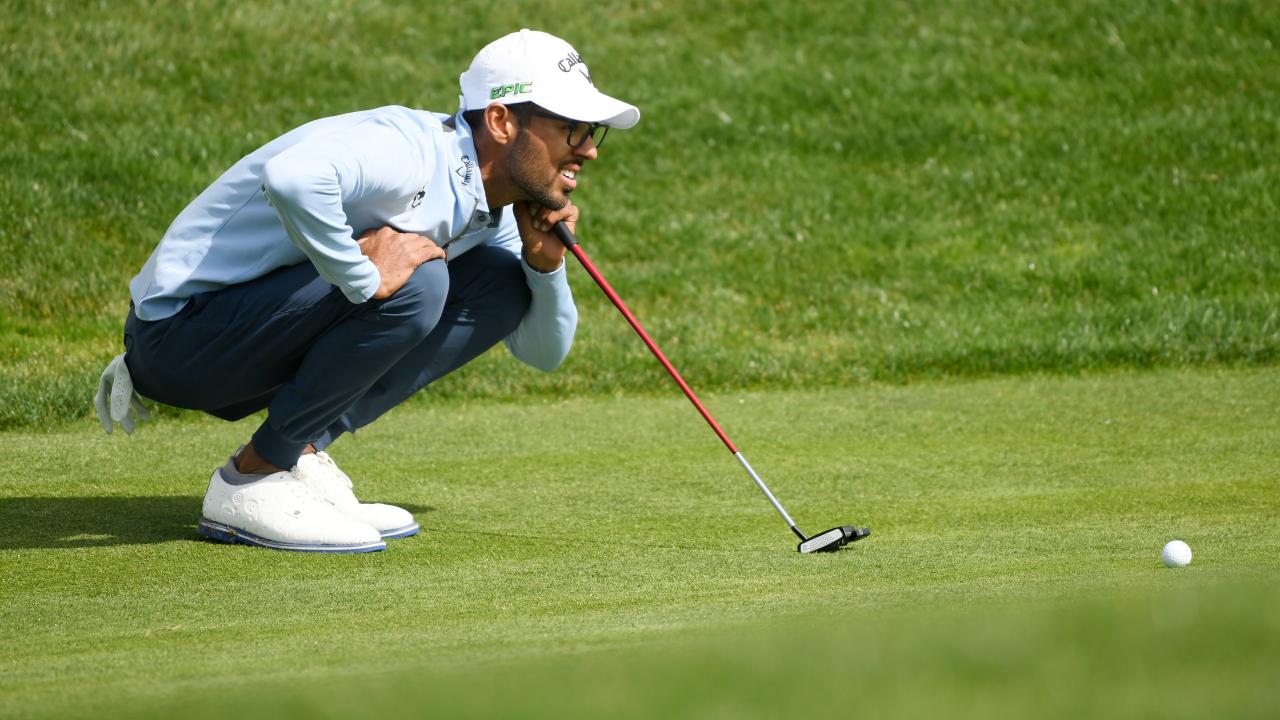 In an age when nearly every great American junior spends at least some time in college, Bhatia raised quite a few eyebrows when the phenom eschewed that option in favour of turning professional as a 17-year-old. After a rough first year-plus as a pro, he's slowly beginning to find his footing. Last fall, he finished T-9 at the Safeway Open. This February, he became the first player since 2008 to hit all 18 greens at Pebble Beach in the first round of the AT&T, eventually finishing T-30.
The rail-thin 19-year-old lefty will now get his first crack at a major after getting through a 3-for-1 playoff at Long Cove Club in Hilton Head, S.C. His first-round 65 was the low round of the day, then he held on for dear life in shooting two-over 73 in the second round, then got up-and-down on the first playoff hole to stay alive, then parred the second to crush the hopes of Ben Martin and Zack Sucher.
Brian Stuard has to run for mayor of Springfield, Ohio
Getting through one Final Qualifying to advance to the U.S. Open is hard. It's a long day, it's hot, and there's significant pressure.
Brian Stuard missed the memo. The 38-year-old, whose one win on the PGA Tour was a rain-shortened Zurich Classic in 2016, qualified from the Springfield site for the fourth straight time (minus last year, when there was no qualifier) and sixth overall. No, seriously. The world No. 217 absolutely loves the place, and it's not like he came in on a great run of form—he has just one top-10 in 25 starts on the PGA Tour this season, and it came in the very first event of the year in September. Doesn't matter, though. There's just something about Stuard in Springfield. Six times through Final Qualifying. Amazing!
Sahith Theegala's first major as a pro will be at home in SoCal
Theegala's senior season at Pepperdine in 2020 was cut short by the COVID-19 pandemic with he, and his team, ranked No. 1 in the nation. He became the fifth player to sweep the Haskins, Ben Hogan and Nicklaus awards—Florida State's John Pak just became the sixth a few days ago—but was forced to end his college career in unceremonious fashion.
The big Californian has been playing solidly on the Korn Ferry Tour in 2021, having made the cut in all six of his starts, and finished a very respectable T-32 last week at the Memorial. He then made the hour trip down I-70 to Springfield Country Club and won a 3-for-1 playoff to get into the U.S. Open at Torrey Pines, which is 80 miles from his hometown of Orange, Calif. He'll be comfortable in that SoCal June gloom, as well as the kikuyu grass that covers Torrey, and surely his family will be able to attend. He's actually played in one U.S. Open before, missing the cut in 2017 at Erin Hills, but this will be his first as a pro, and he couldn't ask for a much better situation.
Joe Highsmith—from the natty to the Open
Highsmith is having quite the golf month. The Pepperdine junior won his final match 4 and 3 at the NCAA Championship to help his Pepperdine Waves beat Oklahoma and win the national title. (If you watched the action on Golf Channel, which was highly compelling, he was the one in the bucket hat). Five days later, and back in his home state of Washington, he took medalist honors at the Meadow Springs Country Club site in Richland to claim a tee time at Torrey. How about that for a golf month?
Carson Schaake boatraces the field … wait, who?
Schaake played his college ball at non-powerhouse Iowa, turned pro in 2017 and hasn't done all that much since. He Monday qualified into a Korn Ferry event last summer only to shoot 77-75 and miss the cut by a million. The 26-year-old has been on the mini-tour grind and had to play a local qualifier to get into the Sprinfield, Ohio, site, where he proceeded to shoot 68-63 to beat the rest of the field by a good three shots.
This is precisely why we love these qualifiers so much—they provide a struggling pro with a lifeline, an opportunity to earn his way into a field with Rory and Dustin and Jordan. We can only imagine the utter joy Schaake and his family are feeling this evening.