By Kent Gray
Ahmad Skaik's ambition to be one of the best Emirati golfers of all time was already well advanced before the weekend but it hasn't stopped the national rep from embellishing his reputation a little more anyway.
The left-hander with pro game goals has doubled-down on the honour of being the first home-grown player to captain the Emirates Golf Federation (EGF) team in the Dubai Golf Trophy by leading the amateurs to a sixth successive victory in the Ryder Cup-style matches.
Mike Bolt's UAE PGA pros, staring down the barrel of an embarrassing defeat after entering the final day 11-5 adrift, rallied on Sunday at Earth, winning the singles 8½ -7½. But in the end, it was a mountain too high as Skaik's amateurs won 18½-13½.
The EGF men got off to a predictable flier with Josh Hill seven under the card through 12 holes before matching threes on 13 saw Malcolm Young shake hands and scratch his head as a 6&5 victim of the best golf game in the UAE.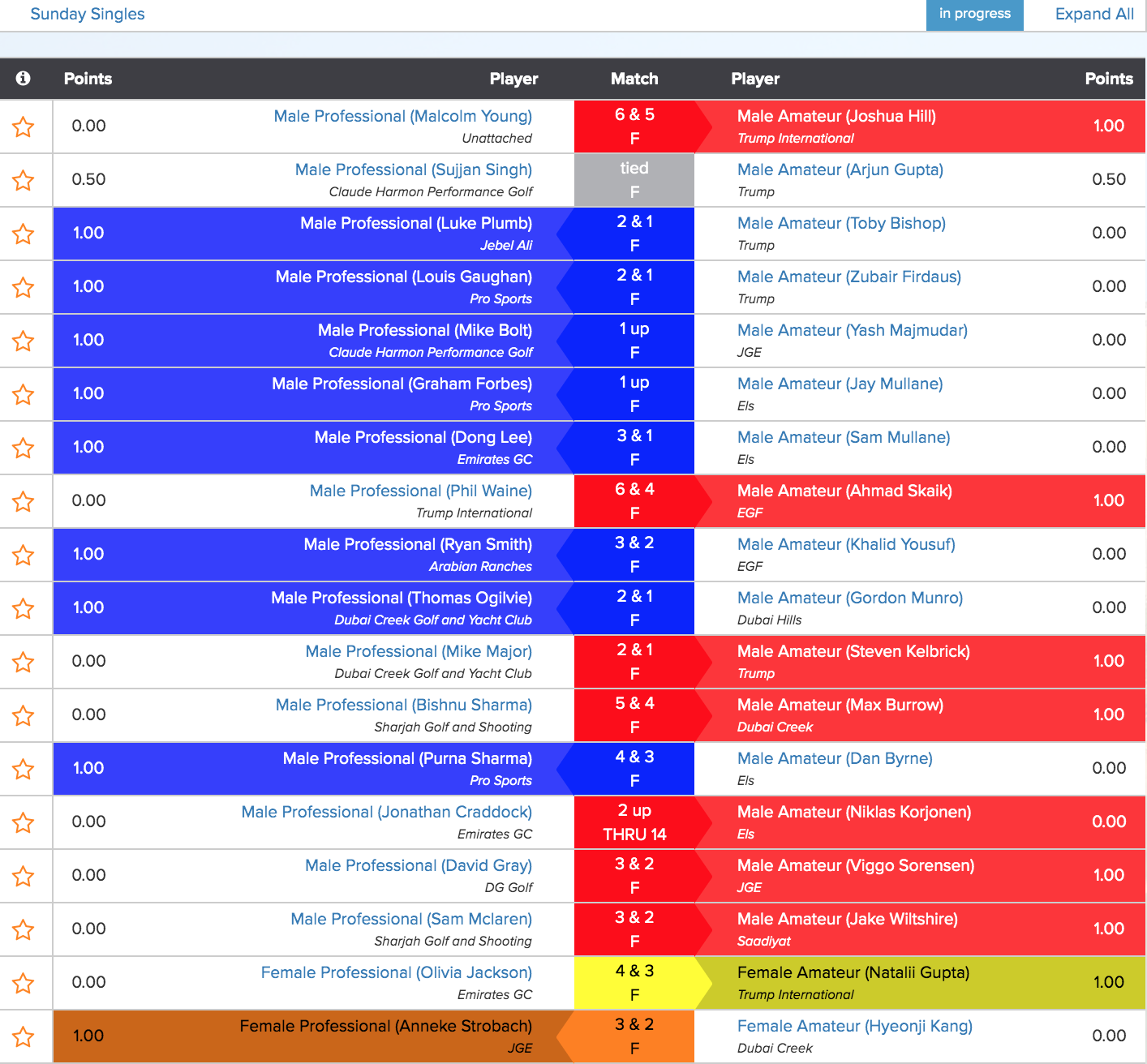 The second match out was a much tighter affair with a par on the 18th earning Indian amateur Arjun Gupta a half with Sujjan Singh. Bolt was one of the five UAE PGA players to win the next five matches out for the pros, leaving it up to the EGF lower order to get the job done. In the end, the amateur's almost utter scoreboard domination in Saturday afternoon's fourballs, which they won 7-1, proved the difference, much as Hideki Matsuyama's back nine after Saturday's weather delay at Augusta National propelled him to a historic green jacket for Japan at The Masters overnight.
In the two-person women's exhibition match, the EGF amateurs made it a double celebration with a 3-1 victory, the UAE pro's sole point coming in the singles via Anneke Strobach's 3&2 victory over Hyeonji Kang.
Skaik's deputy Khalid Yousuf will now likely step up to the captain's role for 2022. Who will take the challenge on for the UAE PGA Tour remains to be seen. One thing is certain – the women will be involved in the matches proper from next year.
RELATED:
Bolt, Skaik name teams as EGF amateurs chase Dubai Golf Trophy six-peat