SBGC has reduced water consumption by more than 30 percent over the past three years.
By Kent Gray
Abu Dhabi's Saadiyat Beach Golf Club has joined Al Mouj Golf in Muscat in gaining a United States Golf Association (USGA)-endorsed certification recognising world-class environmental practices in golf.
The Audubon International certification underpins a club's commitment to the protection of natural resources and the preservation and enhancement of wildlife habitat. Saadiyat Beach Golf Club has achieved the "Certified Audubon Cooperative Sanctuary" designation for the first time while European Tour venue Al Mouj Golf has retained the certification after becoming the first course in the MENA region to claim the certification in 2014.
Fewer than 1000 courses in the world have been granted the Audubon International seal where a club must demonstrate a high degree of environmental quality in categories including Environmental Planning wildlife and habitat management, chemical use reduction and safety, water conservation and water quality management.
Audubon International credited Saadiyat Beach G.C. for the protection of its gazelle population and more than 150 bird species, some endangered, that inhabit the seaside layout. The course has also reduced its water consumption by more than 30 percent over the past three years. Furthermore, a local community partnership to allow for the use of recycled water has seen consumption further reduced.
Clinton Southorn, Troon Abu Dhabi Cluster Director of Agronomy, praised Senior Assistant Superintendent Corey Finn for driving Saadiyat Beach G.C.'s drive toward certification.
"Saadiyat Beach Golf Club was designed with sensitivity to the surrounding natural environment of Saadiyat Island. Through this certification, we demonstrate our responsibility when it comes to environmental stewardship, and in ensuring a safe and healthy environment for the wildlife that inhabit the golf course, and are vital to Abu Dhabi's ecosystem.
"I'm proud of the dedication and work of Corey Finn, who led the certification effort in collaboration with our teams. We look forward to continuing our work with Audubon International to drive sustainable and positive impact in our local community and across the globe."
Francisco de Lancastre David, Cluster General Manager at Abu Dhabi Golf Club, Saadiyat Beach Golf Club and Yas Links Abu Dhabi said: "Our vision for Saadiyat Beach Golf Club is to successfully operate a world-class golf course in full harmony with its natural environment. The club is immensely proud to be a certified Audubon International golf course and we will continue to assess our ongoing practises to ensure we are operating at the most efficient levels."
AL MOUJ GOLF
Al Mouj Golf's recertification by Audubon International means it is one of just 20 courses worldwide to be certified by both Golf Environment Organisation and Audubon.
The Muscat club was first designated as a Certified Audubon Cooperative Sanctuary in 2014 becoming the first golf course in the MENA region to be certified. Al Mouj Golf has now achieved this distinction three times, thanks to the eco-friendly management approach of the wider team and the practices they have adopted toward the maintenance of the club as a habitat for a diverse range of wildlife. These efforts have been escalated by the Al Mouj Golf team, who have conducted regular assessments of the facility to ensure it has once again been recognised for the third time by Audubon International for environmental stewardship in 2020.
Al Mouj Golf is now just one of 200 golf clubs to be Golf Environment Organisation (GEO) certified worldwide and less than 20 courses to be certified by both GEO and Audubon, meaning that Al Mouj Golf is just one from approximately 20 courses worldwide to be certified by both organisations.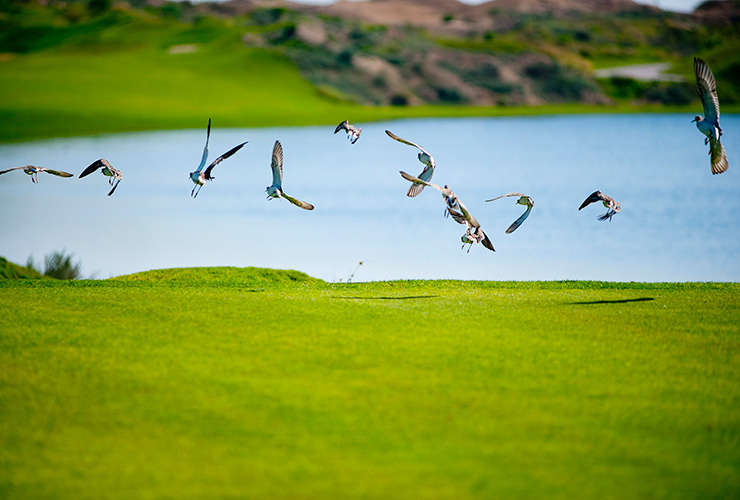 "I am incredibly proud of the team at Al Mouj Golf for successfully retaining the natural heritage of our golf course, as well as being recognised by Audubon for a third time," said Nasser Al Sheibani, CEO of Al Mouj Muscat.
"This is a significant environmental and sustainability achievement in balancing such a wonderful lifestyle asset with nature. Maintaining the biodiversity of the grounds at Al Mouj Golf is central to providing golfers with a world-class facility. Thanks to the efforts of the Al Mouj Golf team, we were able to become the region's first achievers of this outstanding certification back in 2014. By continuing this success and retaining this certification, Al Mouj Golf continues to put Oman on the map as a leading party in environmental protection and management."